3 options give Red Sox catching depth for '16
Vazquez, Hanigan and Swihart will make position one to watch next spring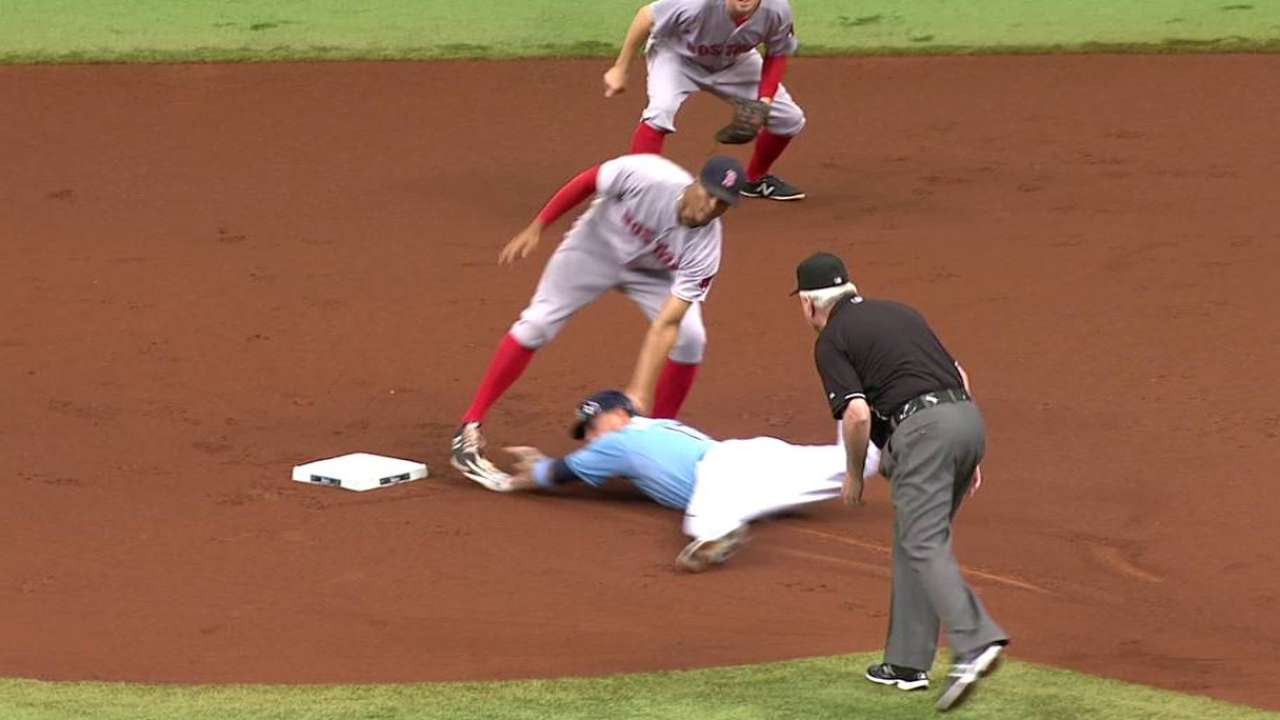 BOSTON -- While most of the Red Sox's everyday lineup looks set for 2016, the one exception is behind the plate, where there could be quite a bit of intrigue come Spring Training.
At a key position where many teams are searching for solid alternatives, the Red Sox are fortunate to have multiple young players who are options.
Christian Vazquez, who has a cannon arm and a slick glove, was supposed to be the starter in 2015. But those plans went awry when Vazquez had to undergo Tommy John surgery late in Spring Training, costing him an entire season.
Veteran Ryan Hanigan had a clear path to be the club's lead catcher, but he broke a finger on his right hand on a fluke ricochet on May 1, and highly touted prospect Blake Swihart was thrust into action.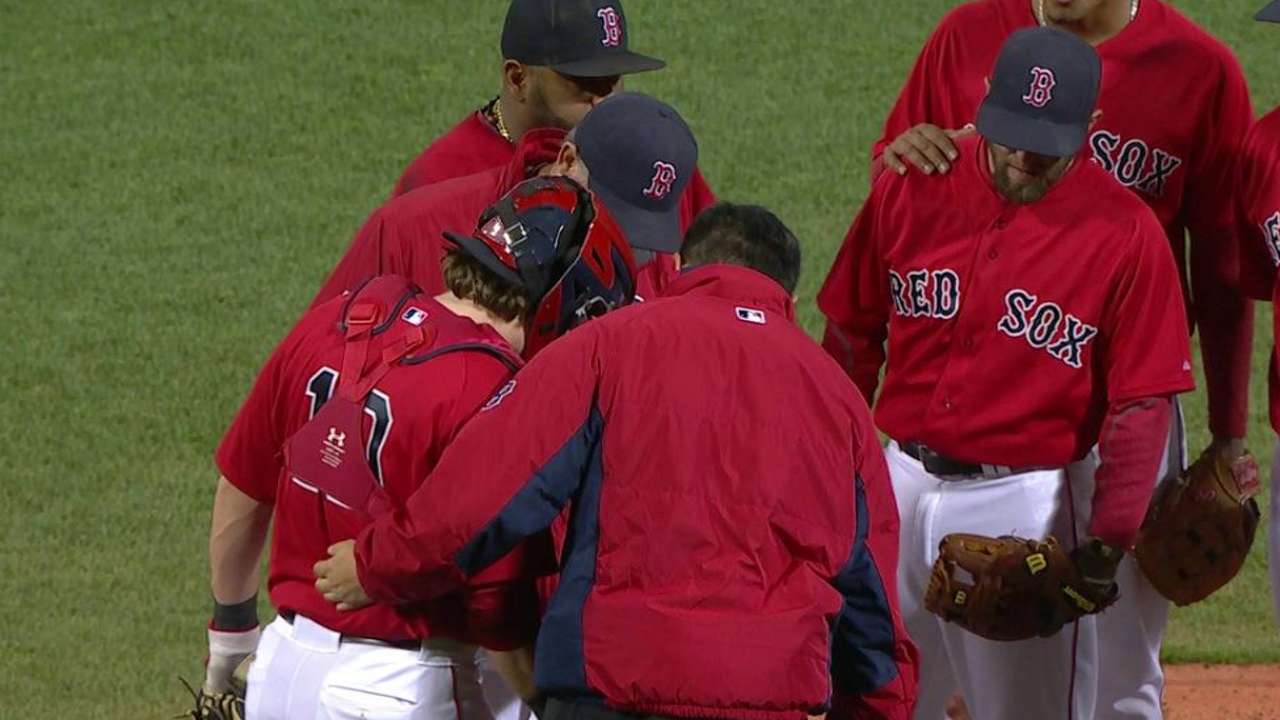 Admittedly, the Red Sox had to call on Swihart earlier than they had planned. But it was worthwhile, as the switch-hitter took steady steps all season long.
To Swihart's credit, he prioritized his defense after his callup from Triple-A Pawtucket, becoming immersed in learning how to handle a pitching staff at the Major League level.
While Swihart had been known for his bat coming up through the Minor Leagues, his offense was quiet due to all the energy he was putting into the defense.
But by the second half, Swihart's bat came alive and he showed why the Red Sox have been excited about him for so long.
"Swihart, I liked a lot, we like a lot," said Red Sox president of baseball operations Dave Dombrowski. "You can see he needs to continue to grow from a defensive perspective, but he works very hard on that. People in the organization tell me that's how he is, he works very hard. He's a switch-hitting offensive guy. He gives you offense. He's athletic. Takes pride in his defense, too. So there's a lot of plusses in that regard."
Dombrowski wasn't working for the Red Sox in 2014, when Vazquez was given his shot to start in the Major Leagues and drew rave reviews for his work behind the plate.
It remains to be seen what type of hitter the 25-year-old Vazquez can be. In his 175 at-bat crash course in 2014, Vazquez hit .240 with one homer and 20 RBIs.
Before reading too much into that small sample size, consider that Swihart's numbers through his first 177 at-bats in 2015 were as follows: A .249 average with one homer and 15 RBIs.
Once Swihart was able to get more comfortable, he hit .315 over his final 111 at-bats with four homers and 16 RBIs.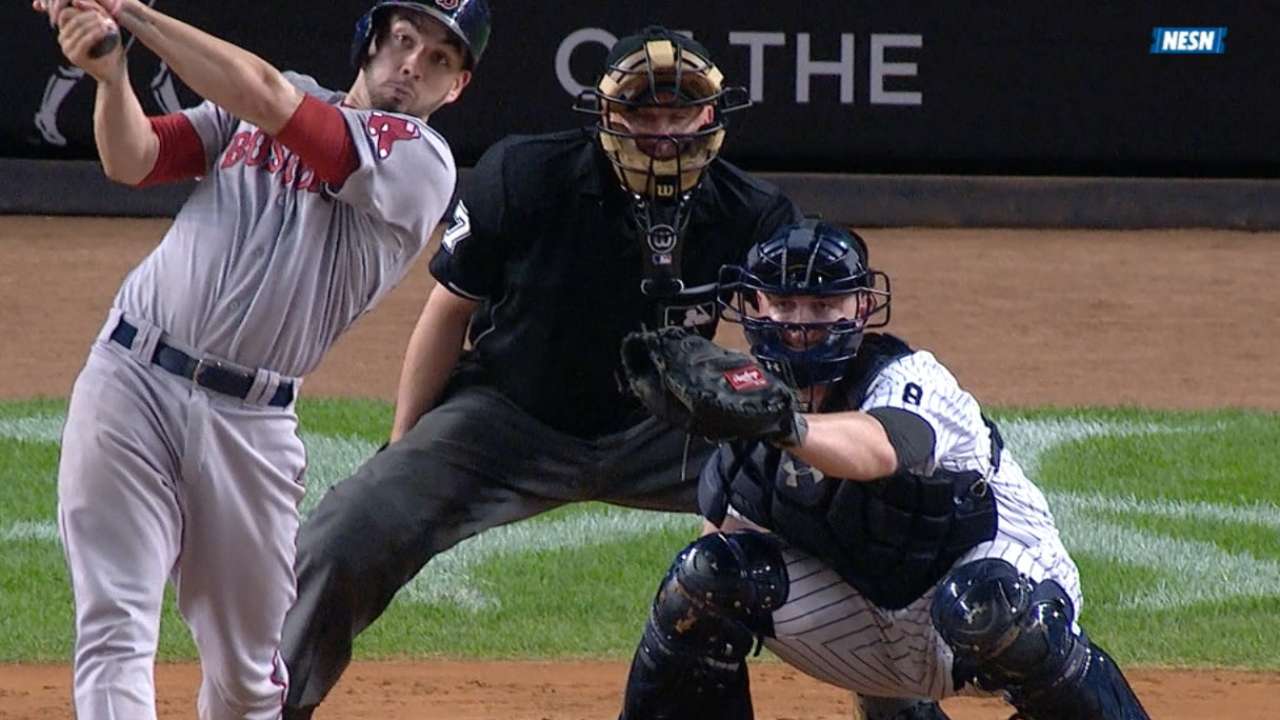 Perhaps Vazquez can become a better hitter as well, once he gets more playing time. The right-handed hitter has raw power. Vazquez, who will DH in Winter Ball, is expected to be fully ready for the start of Spring Training. He has recently started a throwing program.
"Vazquez, I saw him swing the bat in five games in instructional league, and he has been out all year. People tell me he's an outstanding defensive catcher," said Dombrowski. "So I guess from this point, you say, 'OK, let's go to Spring Training and see what happens,' and then of course we have Ryan Hanigan to back up. So I don't know which way it shakes out, but it's good to have depth in that area, if that's what it comes down to. Again, I like Swihart a great deal. People tell me I'm going to like Vazquez a great deal, too."
The Sox also have Hanigan back for another year, and he's a proven backup. Perhaps the depth behind the plate will enable Dombrowski to trade from that pool to help fill another need.
Ian Browne is a reporter for MLB.com. This story was not subject to the approval of Major League Baseball or its clubs.