MLB.com Columnist
Anthony Castrovince
4 patient clubs 1 step away from World Series
Youthful Mets, Cubs square off in NLCS; Royals and Blue Jays get '85 rematch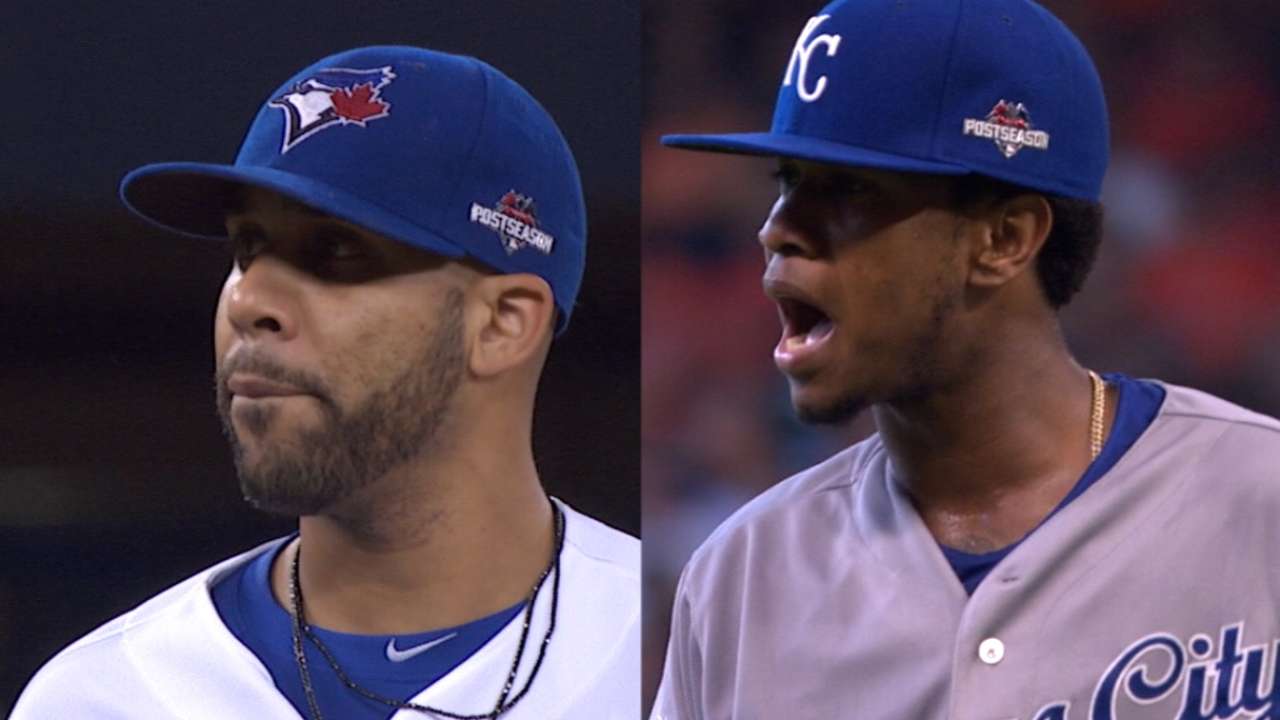 We've got long droughts, past bouts, youth that sprouts and trades you can shout about -- all wrapped into two knockdown, drag-out battles to determined Senior Circuit and Junior Circuit clout.
The League Championship Series that begin this weekend are absolutely loaded with storylines and common components, but the story that matters most is this: Only two of baseball's final four will escape and keep their long-percolating World Series hopes alive.
• Dress for October at the MLB.com Shop
It all gets started Friday night, when the Blue Jays and Royals begin their rematch of the 1985 American League Championship Series, and it continues in a Saturday twin bill that will feature the beginning of an National League Championship Series meeting of the Cubs and Mets that conjures up memories of their famous (or, in Chicago, infamous) division race in 1969.
Here's how the weekend schedule looks:
Friday
Blue Jays at Royals (Marco Estrada vs. Edinson Volquez) Game 1, 7:30 p.m. ET on FOX/Sportsnet
Saturday
Blue Jays at Royals (David Price vs. Yordano Ventura), Game 2, 3:30 p.m. FS1/Sportsnet
Cubs at Mets (Jon Lester vs. Matt Harvey), Game 1, 7:30 p.m., TBS
Sunday
Cubs at Mets (Jake Arrieta vs. TBD), Game 2, 7:30 p.m., TBS
The AL field was set with the help of two dramatic Game 5 winner-take-all affairs, and the two clubs with the league's best records prevailed when pushed to the brink. If you think emotions were running particularly high in the late innings of that Blue Jays-Rangers tilt -- when two benches-clearing incidents were sandwiched around Jose Bautista's mammoth home run and epic bat heave -- get ready for this one. The cold, hard fact of the matter is that these two clubs don't like each other very much, and there are plenty of potential past grievances emanating out of their own altercations -- both on the field and even on social media, after the fact -- from early August. When Kansas City starts pitching inside to those Toronto batters, there could be fireworks.
"I'm not a mind reader, I'm not a fortune teller, I don't know if it's going to be an issue," Royals manager Ned Yost said. "We'll pitch inside aggressively. That's a power-laden club over there. We're going to formulate a really good game plan and try to go out and execute."
There's also some organizational history at play here. The most recent time Kansas City was in the postseason after winning a division title, George Brett and the boys had to get past George Bell and Toronto in the LCS round. The Royals prevailed in Game 7 with the help of Jim Sundberg's three-run triple off Dave Stieb to propel them toward the franchise's first -- and thus far only -- World Series title.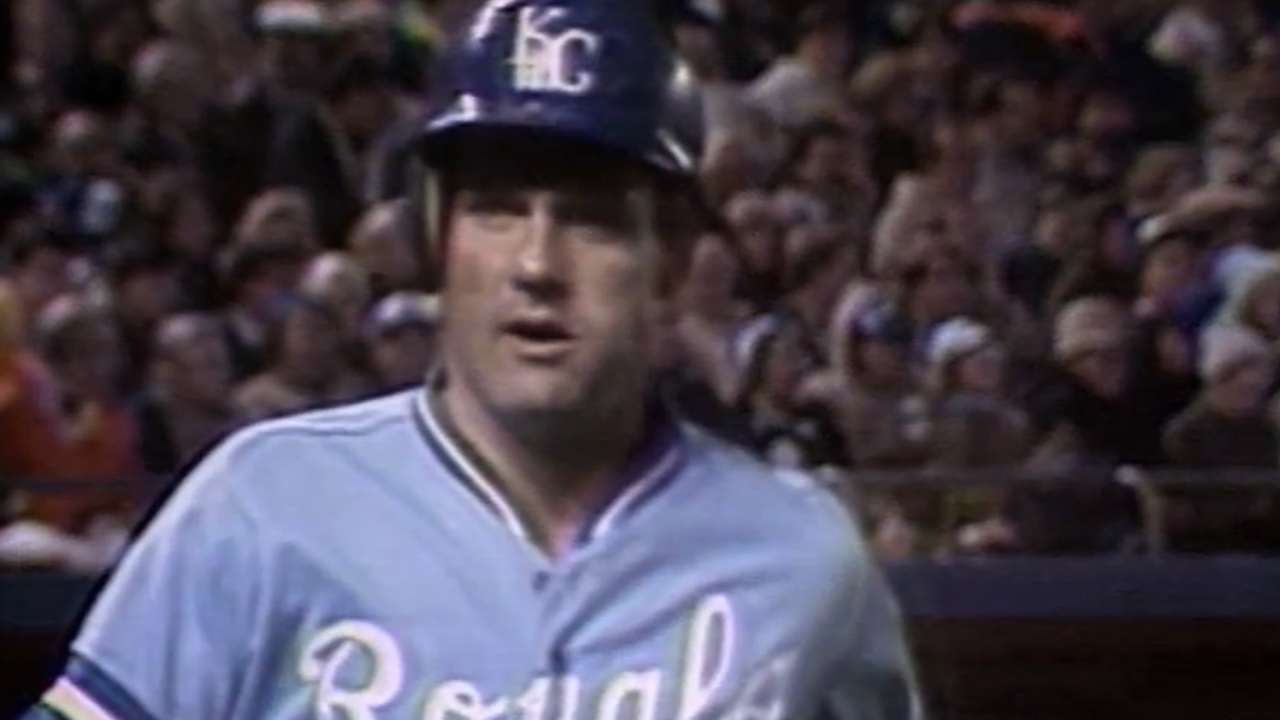 As for the Blue Jays, they wouldn't advance to the Fall Classic for another seven years. But when they did, it proved worth the wait, as they won back-to-back titles in 1992 and '93.
Crazy thing is, while the Blue Jays might have just ended baseball's longest-running postseason drought, they've actually got the shortest time between World Series wins of any of the four clubs left in this field.
Everybody knows the Cubs have endured the longest of those waits, at a staggering 107 years. The Cubbies, by virtue of their Game 4 takedown of a 100-win Cardinals club, also had to wait to find out where they'd be heading for Game 1 of the NLCS, and the Mets responded Thursday night with the Daniel Murphy /Jacob deGrom-led defeat of the Dodgers in Game 5 of the NLDS.
So now it's 1969 all over again, albeit with even higher stakes. Ain't that Amazin'? The Cubs have been trying to shake off the sting of blowing a 9 1/2-game lead on the Mets that year ever since it happened, so it's only fitting that their road to the franchise's first World Series appearance since 1945 runs through Flushing.
All black cats must vacate the premises immediately.
The Mets, of course, haven't endured as long a wait, but 1986 -- when they broke the hearts of the long-suffering Boston faithful to win their most recent title -- was still a long time ago. And the Mets are certainly up for breaking hearts again.
This NLCS is loaded with some of the game's great youth, in both the Mets' hard-throwing rotation and the Cubs' hard-hitting lineup. It will be fascinating to watch those two team strengths match up together. The Mets' rotation (Harvey, deGrom, Noah Syndergaard and Steven Matz) features four guys 27 and younger (deGrom is the oldest, and he's only in his second season), while the Cubs' expected lineup features six guys (Anthony Rizzo, Starlin Castro, Jorge Soler, Kris Bryant, Kyle Schwarber and Javier Baez) aged 26 or younger.
"I think New York is a lot like us," Cubs catcher David Ross said. "They've grown up over the year."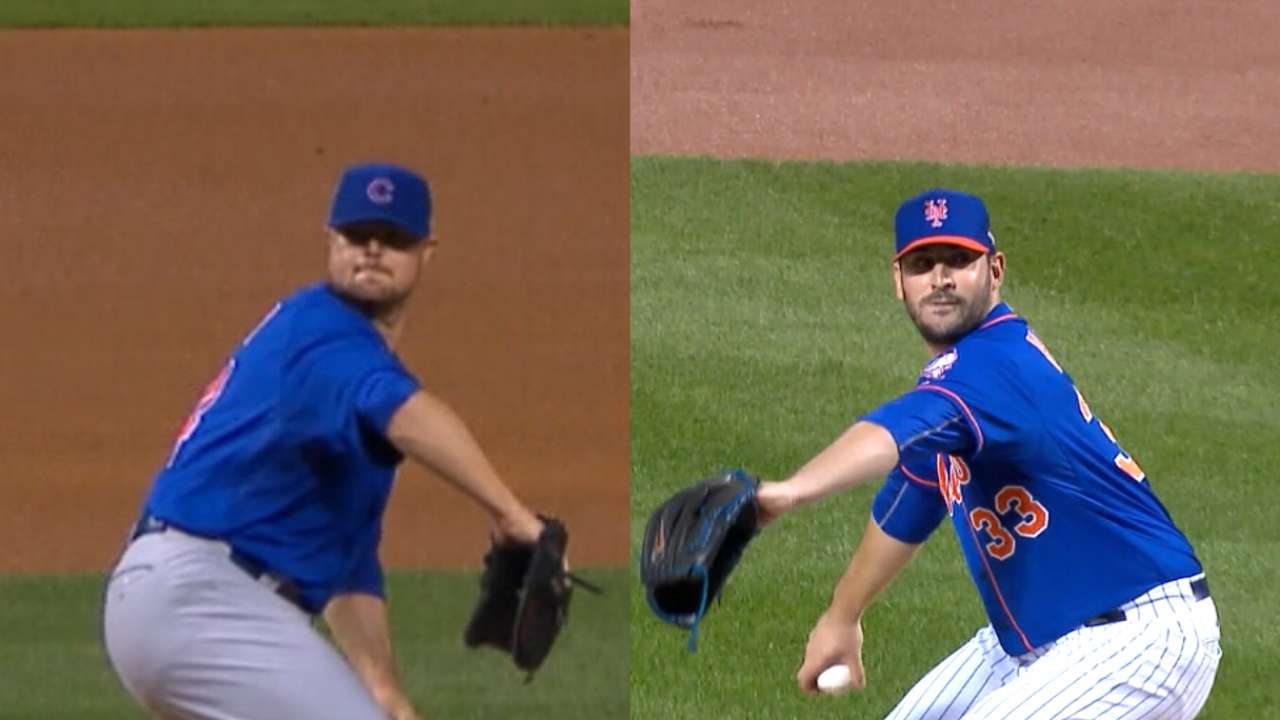 What neither lineup has right now is its starting shortstop. Ruben Tejada had his leg broken on a much-discussed slide by Chase Utley in Game 2 of the Mets' NLDS with the Dodgers, while Addison Russell suffered a moderate hamstring strain in Game 3 of the Cubs' NLDS with the Cardinals. So perhaps this series will come down to which club gets the bigger impact -- especially defensively -- from their backup (Wilmer Flores for New York, Baez for Chicago).
There is one other storyline coursing through these LCS matchups, and that's the impact July is having on October.
The Cubs are the only one of these four clubs that didn't do something totally bold at the non-waiver Trade Deadline. The Mets totally reinvented their once-maligned offense with the addition of Yoenis Cespedes; the Royals patched up the front end of their rotation with Johnny Cueto and their lineup with Ben Zobrist; and the Blue Jays did a major makeover, adding Price, shortstop Troy Tulowitzki, outfielder Ben Revere and relievers LaTroy Hawkins and Mark Lowe.
All those moves and all this history got us here -- to an LCS round featuring four patient fan bases and plenty of possibility.
Anthony Castrovince is a reporter for MLB.com. Read his columns and follow him on Twitter at @Castrovince. This story was not subject to the approval of Major League Baseball or its clubs.