Growing emphasis on analytics driving Marlins
Club seeking manager to line up with front office's evolving view on advanced metrics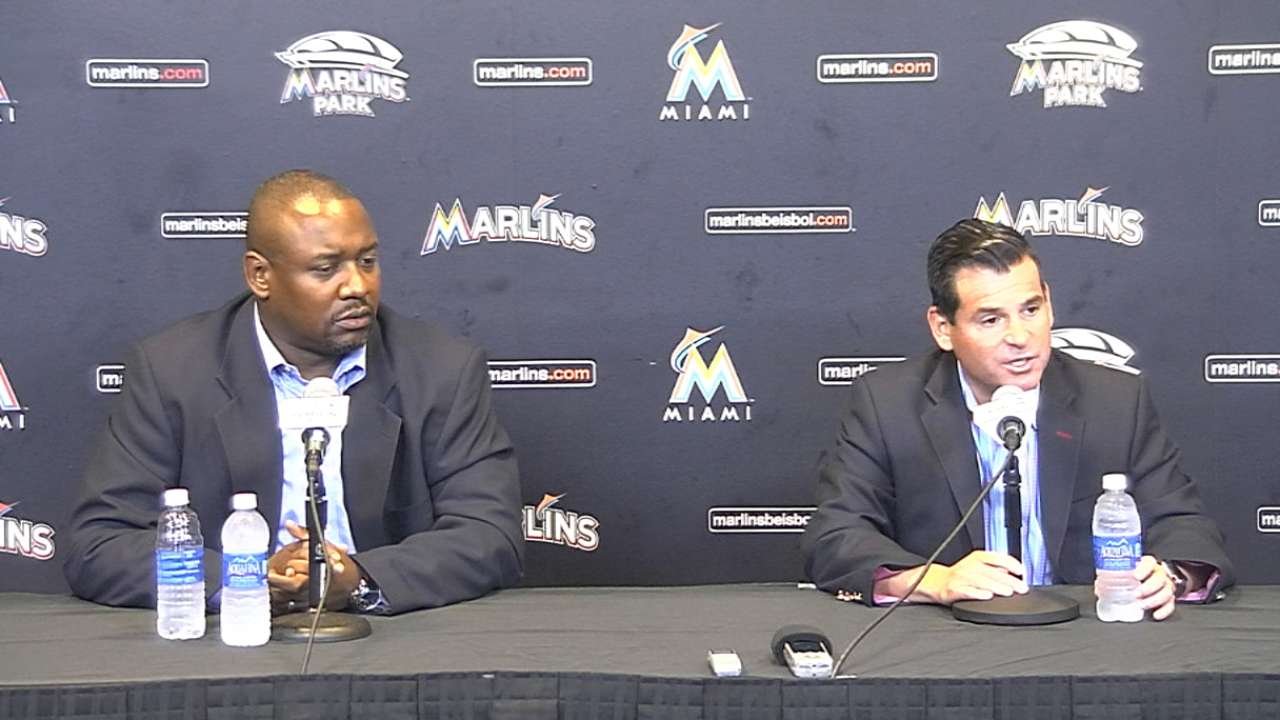 MIAMI -- No matter who manages the club in 2016, the Marlins are looking for someone who is philosophically in step with the front office as well as open to implementing analytics.
Two of the organization's top offseason priorities are finding the right leader in the dugout and clubhouse, along with building an analytics department.
"I think every manager who we are interviewing, one of the questions we talk about is their view of analytics, and making sure their philosophies are in line with ours," team president David Samson said recently.
The Marlins aren't planning on becoming completely reliant on data, but they recognize they've not taken advantage of it enough in recent years. That's mainly because they haven't devoted enough resources into advanced metrics.
Basically, the club leaned on Dan Noffsinger, director of baseball operations, for much of their analytical data.
Now, the plan is to create a three- or four-person department headed by Noffsinger, a Harvard graduate who is highly valued.
"It's an area we are looking to improve and grow," president of baseball operations Michael Hill said. "An analytical department, behind the manager, is probably the second-most important thing we want to take care of. It's just another aspect of the game we want to take advantage of."
Whoever is manager, the Marlins insist they will not force analytics upon him. The front office, for instance, doesn't plan on filling out the lineup card for the manager.
"That is not a way we would go," Samson said. "When we talk about building an analytics departmen,t it's just giving Mike more information. It's just giving the manager more information. It's not to insist on certain ways of doing things."
The managerial search is on-going. On Thursday, Larry Bowa interviewed for the second time.
Alex Cora also is expected to interview.
The club also has interviewed Bo Porter, Manny Acta and Phil Nevin.
With the Dodgers now eliminated from the playoffs, the Marlins will wait to see what is next for Don Mattingly, who is under contract in Los Angeles through next year. If Mattingly doesn't return to the Dodgers, a number of sources and media reports say Miami would have interest.
Joe Frisaro is a reporter for MLB.com. He writes a blog, called The Fish Pond. Follow him on Twitter @JoeFrisaro and listen to his podcast. This story was not subject to the approval of Major League Baseball or its clubs.