MLB.com Columnist
Roger Schlueter
Stats of the Day: Murphy an offensive force
Second baseman concludes productive NLDS with huge night in finale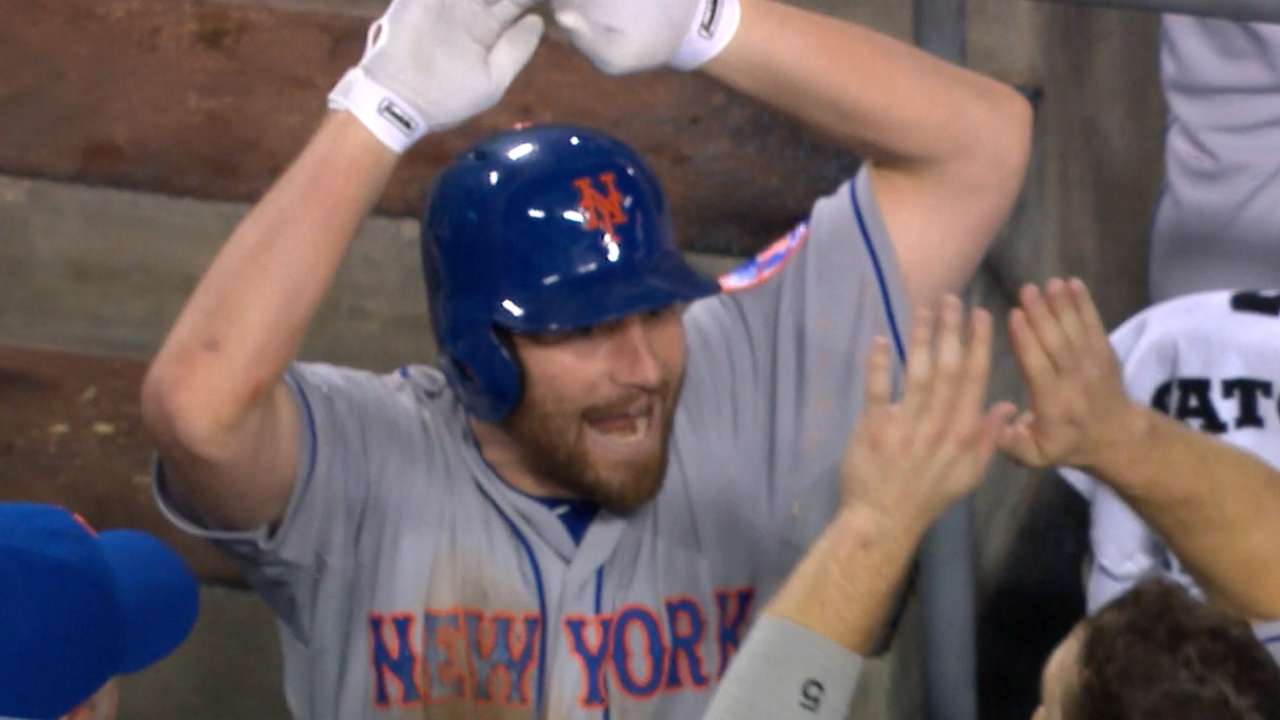 Here are five interesting items from the Mets' 3-2 win over the Dodgers in Game 5 of the National League Division Series on Thursday ...
• Daniel Murphy singled, doubled and homered, scored two runs and drove in two runs for the Mets. His first-inning double opened the scoring, and his sixth-inning solo shot ended it, breaking a 2-2 tie. In the fourth, Murphy singled and advanced to second on a walk, stole third and then helped make it a 2-2 game when he scored on a sacrifice fly. Murphy's line of two runs, two RBIs, one steal and seven total bases had been reached by four players in postseason winner-take-all contests: the Pirates' Max Carey in the 1925 World Series, the Yankees' Chris Chambliss in the '76 American League Championship Series, the Red Sox's Johnny Damon in the 2004 ALCS and the Cardinals' Daniel Descalso in the 2012 NLDS.
• For the series, Murphy went 7-for-21 with a double and three homers, scored five runs and drove in five, and he posted an .810 slugging percentage. The three homers (he out-homered the Dodgers, 3-2) tied a Mets record for a postseason series, accomplished previously by Donn Clendenon (1969 World Series), Rusty Staub ('73 NL Championship Series), Edgardo Alfonzo ('99 NLDS), Carlos Beltran (2006 NLCS) and Carlos Delgado ('06 NLCS). Murphy's four extra-base hits came in 12 combined plate appearances against Clayton Kershaw (two homers) and Zack Greinke (a homer and a double). During the regular season, those two Dodgers pitchers combined to allow 82 extra-base hits while facing 1,733 batters -- or an extra-base hit allowed once for every 21.1 batters faced.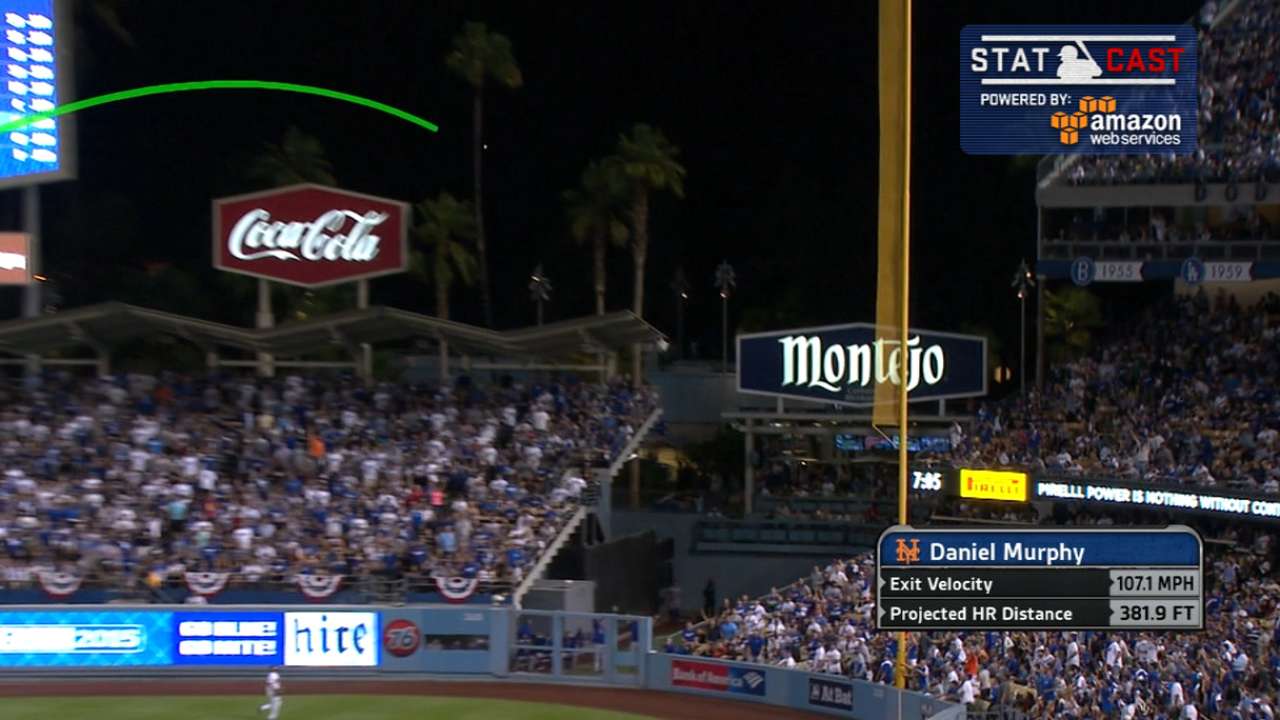 • Facing his former team, the Dodgers' Justin Turner singled, doubled twice and drove in one run. For the series, Turner collected six doubles, was 10-for-19 (.526) and posted an .842 slugging percentage. The six doubles established a new LDS record, eclipsing the four shared by many players, including current Dodgers manager Don Mattingly (1995) and former Dodgers star Hanley Ramirez (2013). Until Turner's 2015 NLDS, Ramirez's four doubles had also represented the most by a Dodgers player in any postseason series.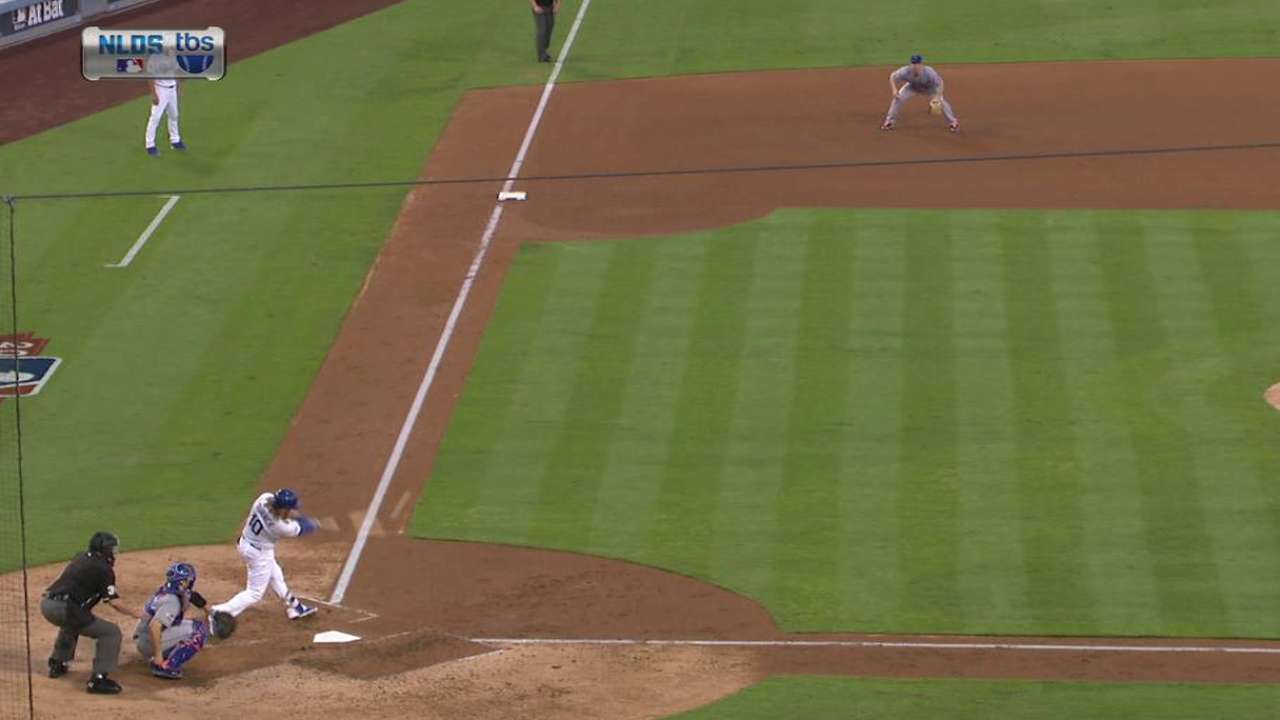 • Mets starter Jacob deGrom struck out seven and picked up the win. He struck out 20 batters in the series for the fifth-highest tally in an LDS. The Tigers' Justin Verlander struck out 22 in 2012 for the record. deGrom, who posted a 1.38 ERA while picking up wins in each of his two starts, was the third Mets pitcher to start and win two games in a postseason series. In the 1969 World Series, Jerry Koosman was 2-0 with a 2.04 ERA in his two starts. In the 2000 NLCS, Mike Hampton was 2-0 with a 0.00 ERA in his two starts.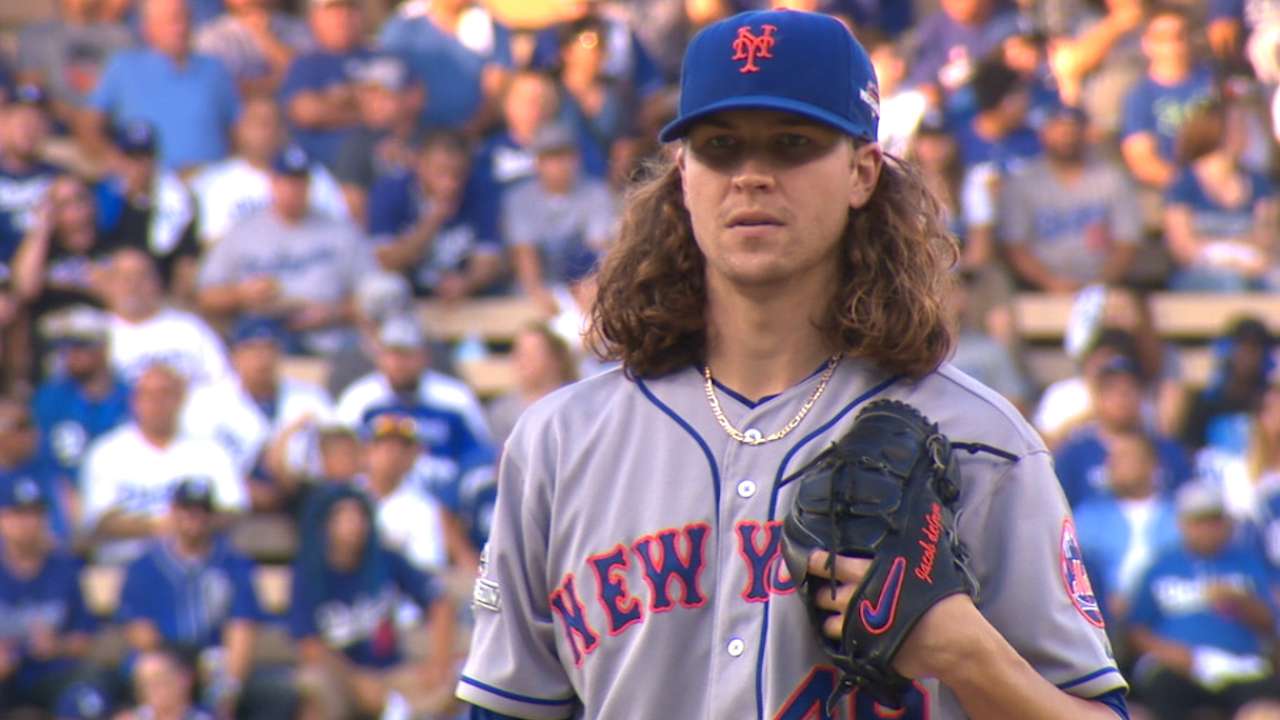 • Jeurys Familia closed out the Mets' victory with a perfect two-inning save. For the series, Familia made four appearances and retired all 16 batters he faced. He is one of three relievers to have four appearances of at least one full inning each in a postseason series and each featuring no hits, no walks and no hit batsmen. The Blue Jays' Roberto Osuna also did this in the 2015 ALDS, and the Cardinals' Jason Motte did it in the '11 NLCS.
Roger Schlueter is a contributor to MLB.com. This story was not subject to the approval of Major League Baseball or its clubs.