Mets, their match: Collins gives club his all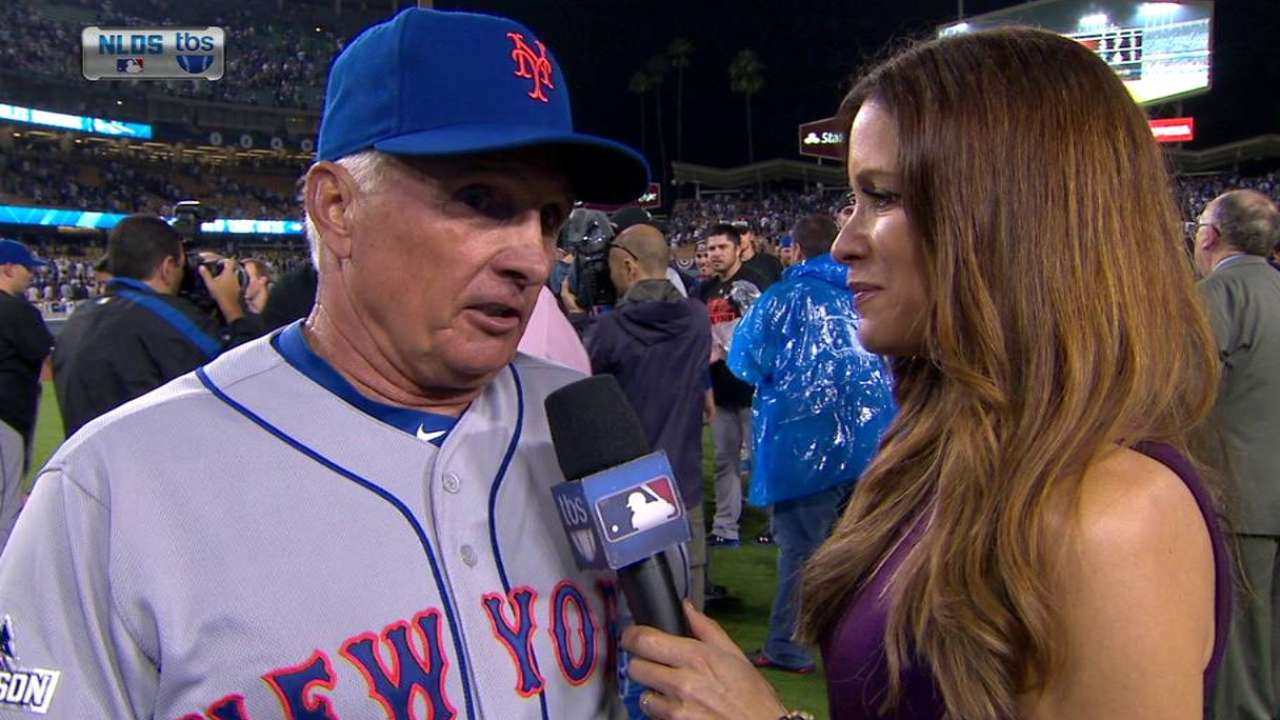 LOS ANGELES -- With Jacob deGrom's signature command flagging, manager Terry Collins marched to the mound with one out in the third inning Thursday night at Dodger Stadium and told -- not asked -- his starting pitcher to induce a double play. Several Mets had seen Noah Syndergaard warming in the bullpen and expected Collins to make a switch. But Collins stuck with deGrom, who induced an inning-ending double play to keep the Mets within one run.
Syndergaard warmed up four times during the Mets' 3-2 National League Division Series-clinching victory over the Dodgers in Game 5. The first three times, Collins asked him to sit back down, leaning on deGrom in what became the manager's most impactful decision of the series. In the seventh inning, he turned to Syndergaard, then to Jeurys Familia in the eighth for the victory's final six outs.
• Get set for the NLCS: Shop for Mets postseason gear
"I honestly didn't know when he came out," deGrom said of what he expected of Collins' mound visit. "I was hoping he would let me pitch."
Collins' bullpen usage and other tactics have been second-guessed throughout his five-year tenure with the Mets, but he made no critical mistakes in his first career postseason series. Though his decision to stick with deGrom stands out most, the manager was also vehement about sticking with his left-handed hitters against Los Angeles' lefty starters, and massaged his bullpen all series by using starting pitcher Bartolo Colon out of the bullpen in three consecutive games.
"We stayed with the plan," said Collins. "And it worked."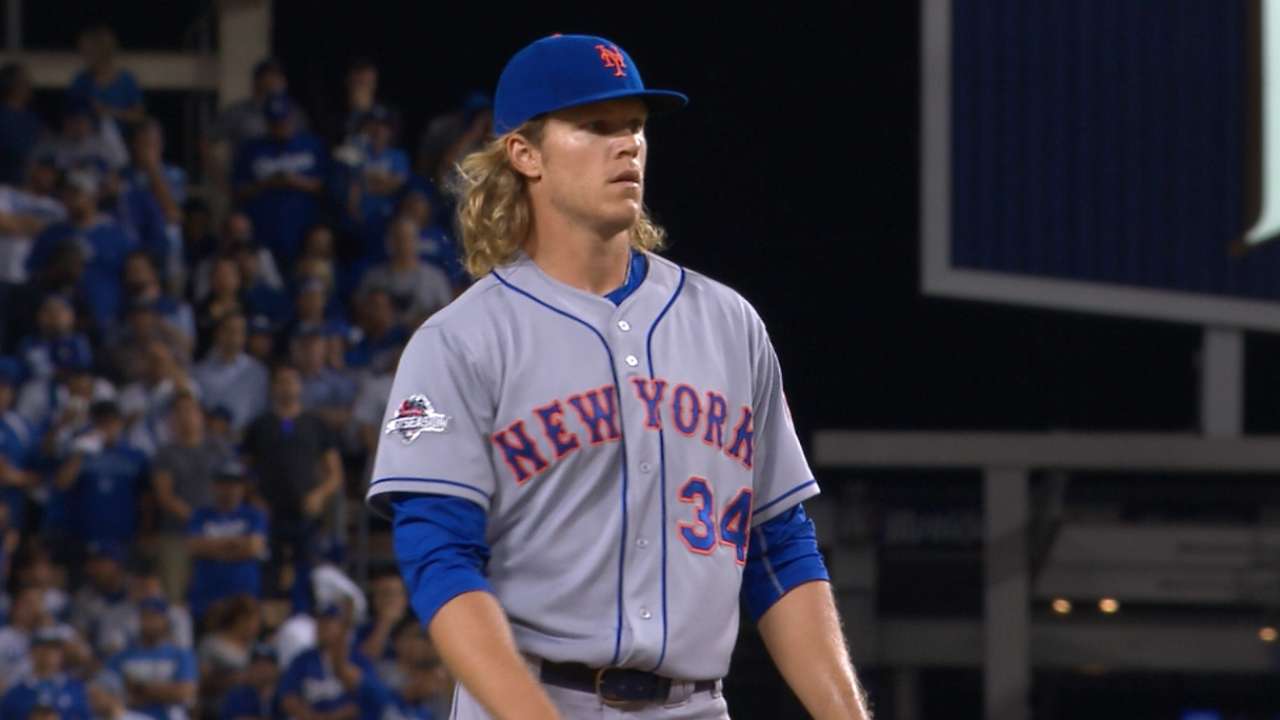 Much will be made of Collins tactics in the upcoming NL Championship Series against the Cubs -- which opens at Citi Field Saturday at 7:30 p.m. ET on TBS -- considering his counterpart, Joe Maddon, is the leading candidate to win the NL Manager of the Year Award. But Collins is a legitimate candidate himself, demonstrating a significant willingness to evolve -- whether it's using a computer program to help construct his lineups or leaning heavily on a 42-year-old career starting pitcher in relief.
Sticking with deGrom in Game 5 would have earned Collins derision had it not worked. Instead, it became the latest example of his propensity for pulling the correct levers.
"It's unbelievable," Collins said. "I don't know. There were four times in the game he was one hit away from coming out of the game. He ended up giving us six innings, so I'm real proud of him."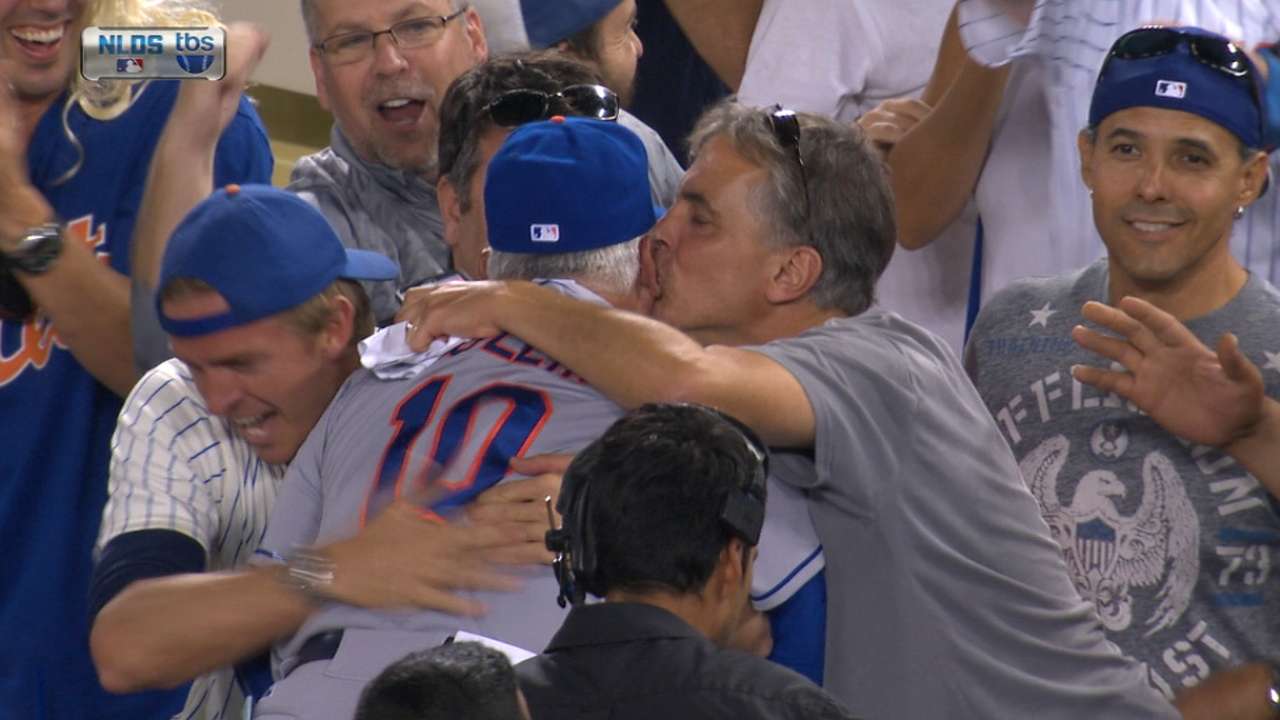 Anthony DiComo is a reporter for MLB.com. Follow him on Twitter @AnthonyDiComo and Facebook, and listen to his podcast. This story was not subject to the approval of Major League Baseball or its clubs.