Boasting a 'different team,' Mets ready for Cubs
New York lost all seven games it played against Chicago in regular season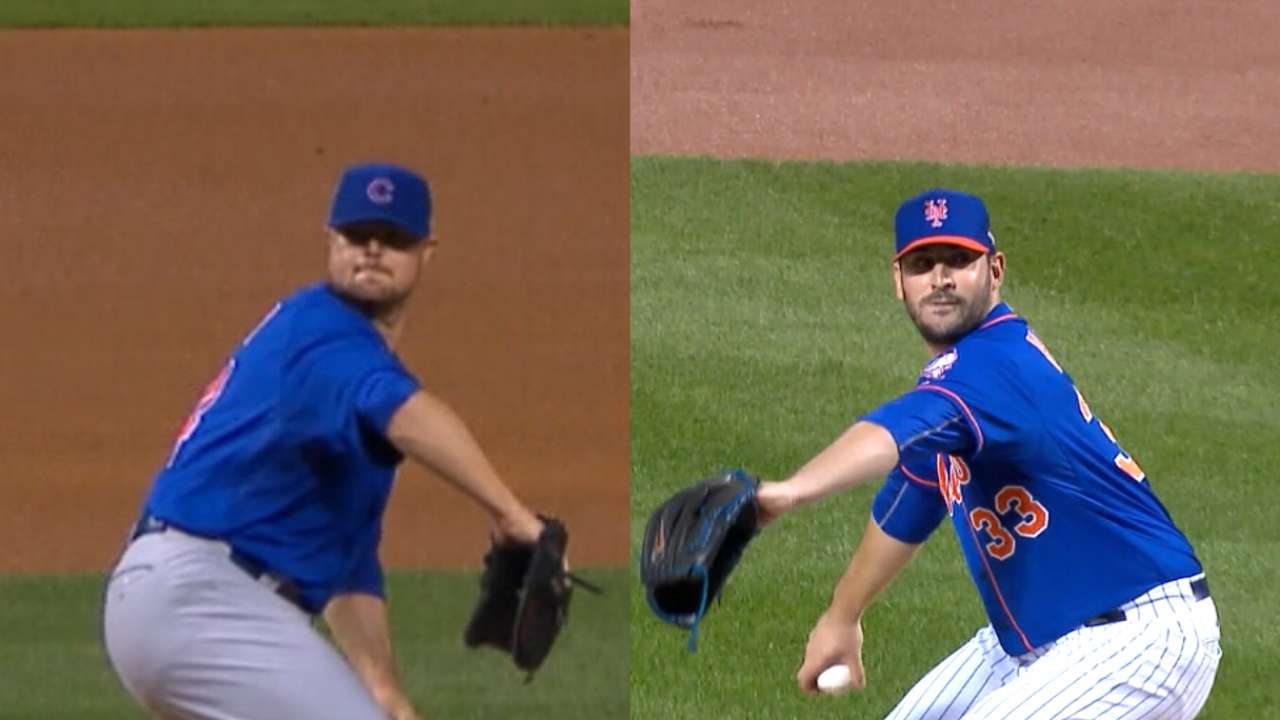 LOS ANGELES -- Seven times this season, the Mets faced the Cubs. Seven times, they lost. The last of those games occurred on July 2, a 6-1 drubbing that wound up being the nadir of their season. The next day, the Mets flew out to Los Angeles and took two of three from the Dodgers, ultimately going 4-2 on a six-game West Coast trip that was billed as their death sentence. Three weeks later, the Mets acquired Yoenis Cespedes, swept the Nationals and began a two-month cruise to the National League East title.
Now, thanks to a 3-2 win over the Dodgers in Game 5 of the NL Division Series, the Mets are contestants in the NL Championship Series, set to begin Saturday at 7:30 p.m. ET on TBS at Citi Field against the same Cubs team that once unearthed their season. But it's not exactly the same Cubs team -- this one has grown and evolved since the Mets last saw them. And it's certainly not the same Mets team, with Cespedes and so many others now in tow.
"The Cubs won 97 [games], we won 90, and the difference between the two records was the 0-7 we had against the Cubs," Mets general manager Sandy Alderson said. "This is a different team. The young pitching we have has a little more experience. The offense is better. But they're a very good team. They have great pitching and an outstanding young lineup."
For the Mets, conquering that lineup will begin with Matt Harvey. Technically, Harvey is their Game 1 starter by default, because both Jacob deGrom and Noah Syndergaard pitched in NL Division Series Game 5. But Harvey has pined for this sort of stage for weeks, ever since drawing public scorn for his mid-September "will he or won't he?" innings drama.
"We're just excited we're going back home," Harvey said. "It's going to be tough for them playing at Citi Field, where it's been rocking. We're excited."
• Harvey named Mets' starter for Game 1 of NLCS
Only once this season did Harvey face the Cubs, shutting them out over seven innings in one of his best starts of the year. No current Cub has more than six career plate appearances against him, making head-to-head statistics all but moot.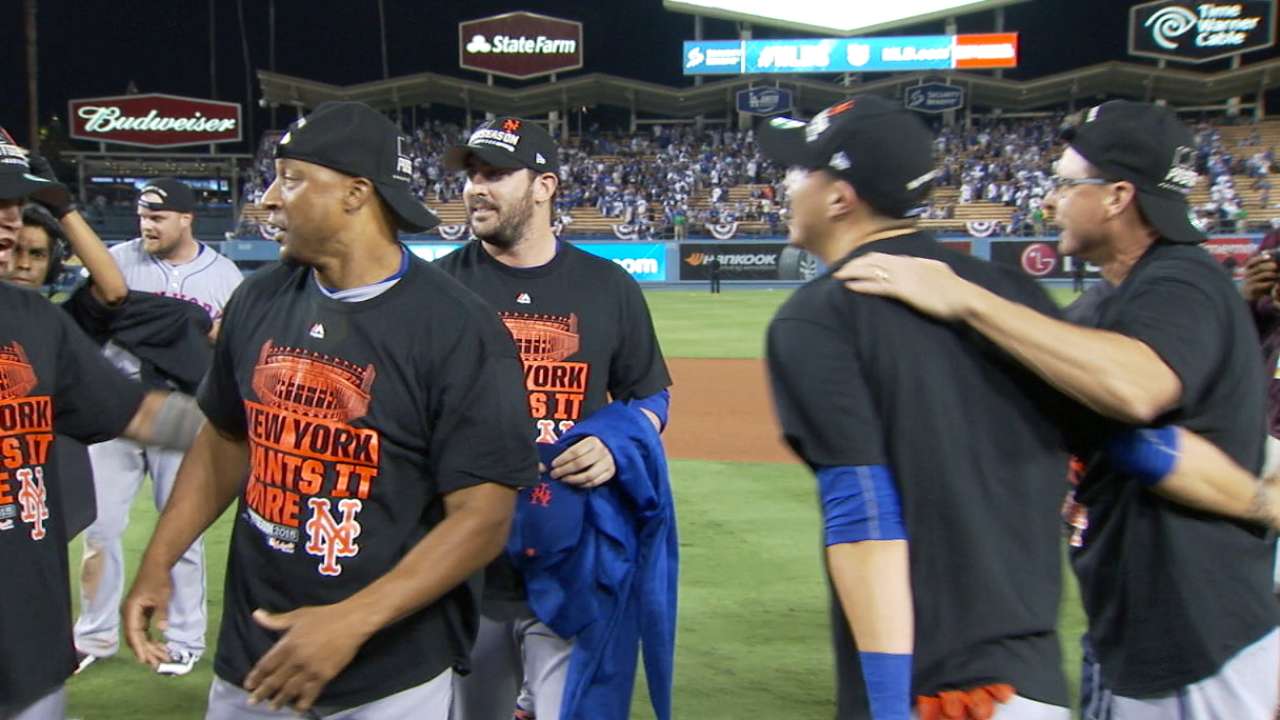 But how the Cubs fare against Harvey should provide insight into the series itself, a battle of two different redevelopment styles. The Cubs have recently stockpiled young hitters, from Kris Bryant to Addison Russell -- who will miss the NLCS due to injury -- to Anthony Rizzo and others. The Mets, meanwhile, built around pitching: Harvey, deGrom, Syndergaard, Steven Matz and others. Their rotation should feature those four in some order.
"It's going to be a different experience," manager Terry Collins said. "We've got to pitch better. They've got [Jon] Lester and [Jake] Arrieta in the first two games, and they're hard to hit. But if we keep battling, we'll give ourselves a chance to win the game."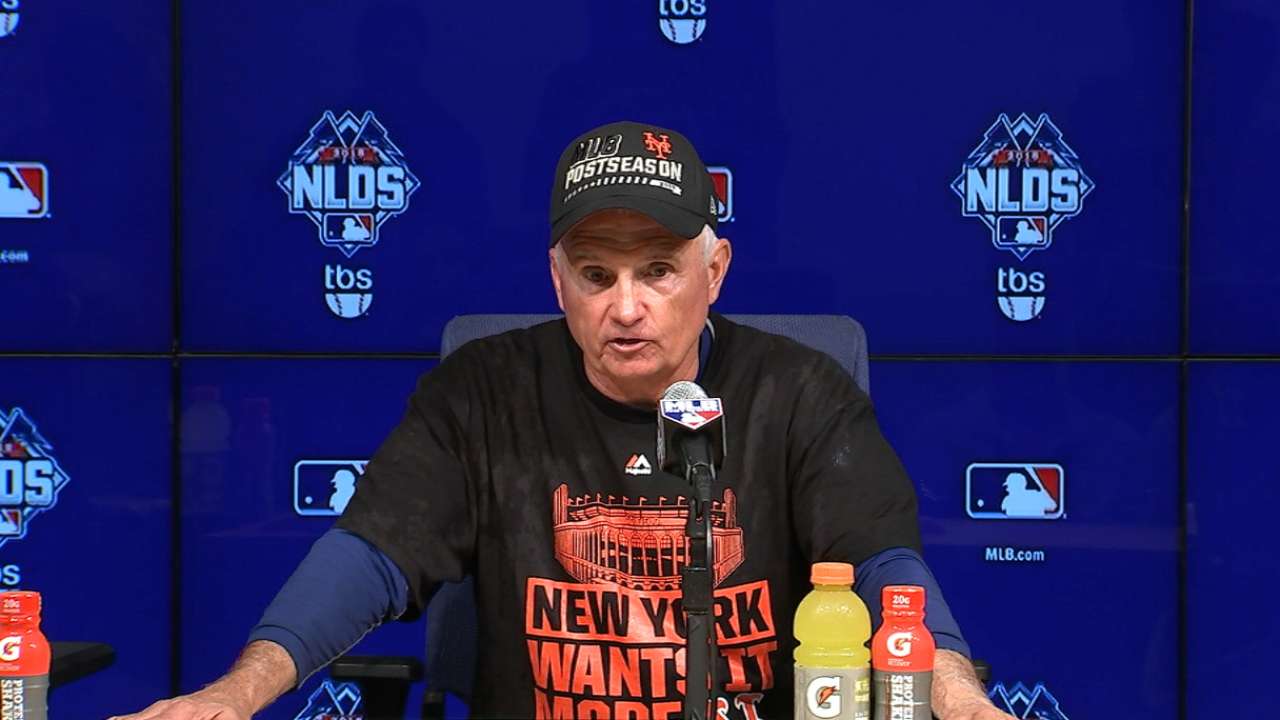 That quest begins Saturday, with a sold-out Citi Field crowd awaiting Harvey vs. Lester.
"It's a big challenge," Mets outfielder Michael Cuddyer said. "They obviously had our number during the regular season. They swing the bats well. They've got good pitching. They've coached well, managed well. It's going to be a tough series. But this was a tough series, too."
Anthony DiComo is a reporter for MLB.com. Follow him on Twitter @AnthonyDiComo and Facebook, and listen to his podcast. This story was not subject to the approval of Major League Baseball or its clubs.