Consistent Greinke concludes with atypical night
Pitcher doesn't cover third on Murphy's steal, throws out of the stretch on go-ahead homer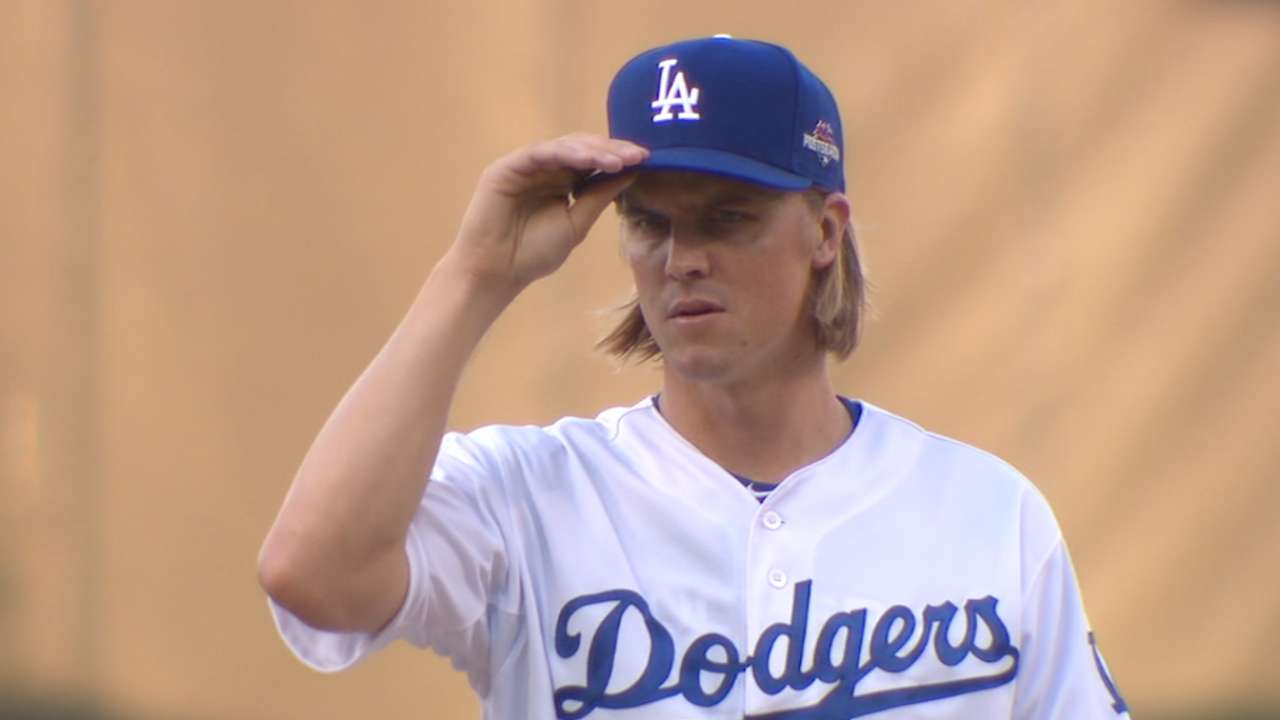 LOS ANGELES -- Dodgers right-hander Zack Greinke tends to be a man of relatively few words, but circumstances prompted him to explain himself Thursday night after his capable yet flawed performance in Los Angeles' 3-2 loss to New York.
Greinke ended his season, and perhaps his Dodgers tenure, with an effort in the Game 5 clincher of the National League Division Series that will be remembered for its oddities, not for the right-hander's typical effectiveness.
Greinke was among a handful of Dodgers caught unaware by New York's Daniel Murphy, who capitalized on Los Angeles' carelessness by stealing an unoccupied third base after trotting from first to second base on Lucas Duda's fourth-inning walk. Murphy proceeded to score the tying run on Travis d'Arnaud's sacrifice fly.
Two innings later, Greinke opted to pitch from the stretch position with nobody on base with the intent of neutralizing Murphy, who doubled and singled in his previous two at-bats. Greinke's stratagem backfired as Murphy homered to deliver the winning run.
"Today I pitched about as good as I have all year," said Greinke, the Major Leagues' leader in winning percentage and ERA who yielded all of New York's runs and six hits while lasting 6 2/3 innings.
Dodgers catcher Yasmani Grandal reinforced that sentiment by complimenting Greinke, who walked one and struck out nine.
"He did everything he had to do," Grandal said. "He did everything we asked for, just like he's done all year."
Whether Greinke will still be with the Dodgers next season remains uncertain. He can become a free agent by opting out of the remaining three years and $71 million on his current contract. Greinke deflected questions about his employment future.
"It's more about today," he said.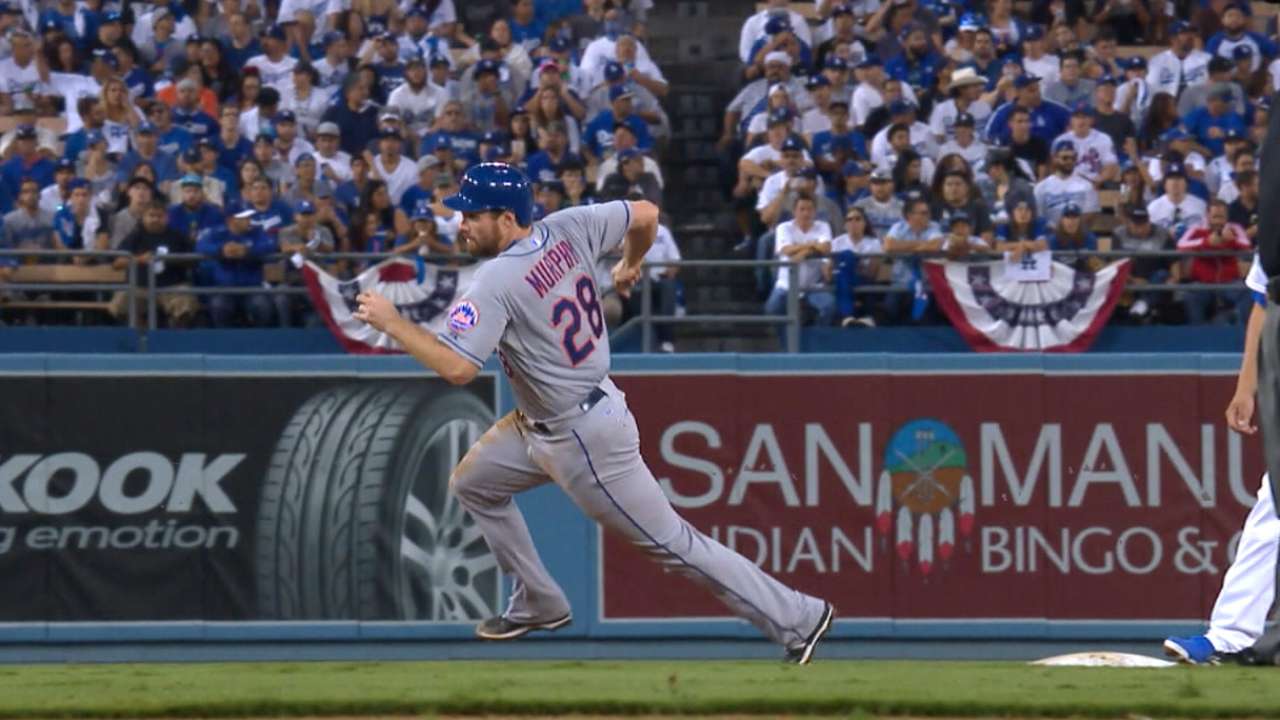 It was far from a perfect day. Greinke was among the culprits who could have or should have covered third base to prevent Murphy's daring fourth-inning foray. Dodgers manager Don Mattingly indicated that shortstop Corey Seager, Los Angeles' lone infielder stationed on the left side in the overshifted defensive alignment on Lucas Duda, bore most of the responsibility for covering third.
Greinke viewed matters differently.
"We made a mental error. It was kind of a fluky thing," he said. "Someone's supposed to be there, either me or Seager or Yaz. A bunch of people made mistakes, not just any one person. That's probably what's disappointing. Various multiple people could have been there."
Grandal said that he hollered at Greinke to get his attention, "but he was kind of looking down." Besides, Grandal added, he couldn't make himself heard above the buzzing of the capacity Dodger Stadium crowd.
Regarding his decision to abandon his windup against Murphy, Greinke explained that he felt comfortable throwing out of the stretch. Thus, Greinke hoped to summon what he considered to be his best available stuff at the time.
"He was taking really good swings and really good takes," Greinke said. "I was trying to do something different."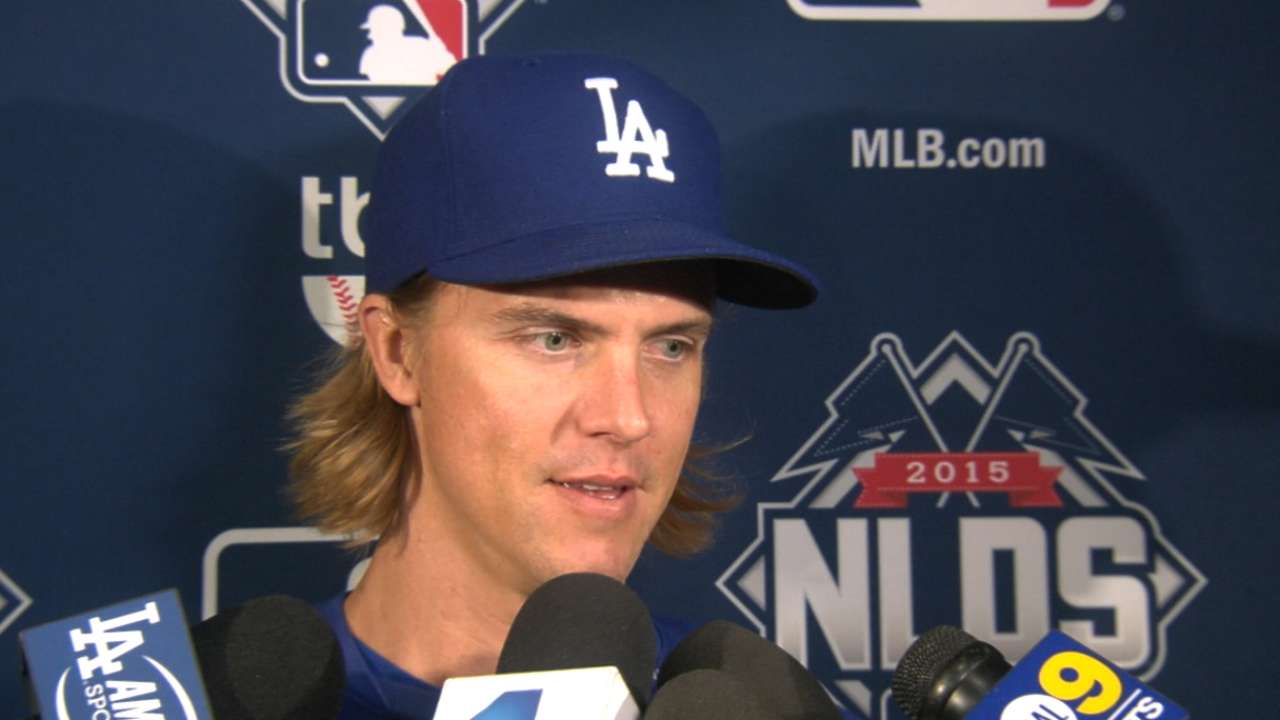 Greinke said that he felt "confident" that his wrinkle would work, until he watched Murphy plant a 93-mph fastball into the right-field seats on a 3-2 count.
A reporter asked Greinke if he considered pitching around Murphy and taking his chances against Yoenis Cespedes, who went 0-for-4 with three strikeouts.
"Maybe that was the right move, looking back at it," Greinke acknowledged. "If I had to do it over, that's probably what I would done [in] the last at-bat.
"I tried to challenge him. Looking back at it, it was the wrong decision."
Chris Haft is a reporter for MLB.com. This story was not subject to the approval of Major League Baseball or its clubs.