Dodgers done in by perfect storm of shortcomings
Lack of big hits, key miscue in the field, rookies' struggles punctuate season-ending loss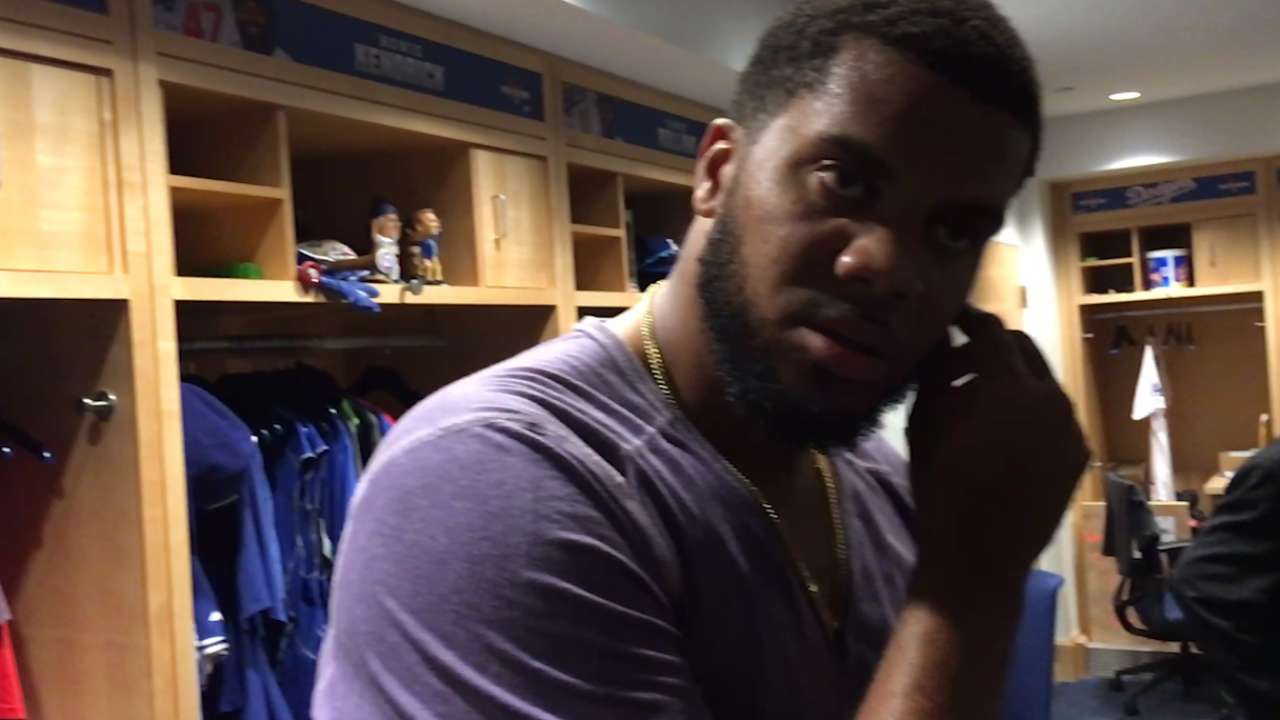 LOS ANGELES -- For the Dodgers, everything changes but remains the same.
A new front office, dozens of new players, yet bounced from the National League Division Series once again, the World Series drought reaching a 27 seasons because of a 3-2 loss to the Mets in Game 5 on Thursday night.
The Mets deserved to advance by beating the Dodgers' best, reigning NL MVP Award winner Clayton Kershaw in Game 1 and 2015 NL Cy Young Award candidate Zack Greinke in Game 5. It was the first loss in a winner-take-all game in Los Angeles Dodgers history after four wins.
The Dodgers made it easier for the Mets by giving away a free run when they fell asleep on a shift defense. The offense also suffered a relapse of squandered opportunities by going 0-for-11 with runners in scoring position after a quick two runs in the first inning off Jacob deGrom. Combined, all the ingredients came together in a perfect recipe for another bitter ending to a Dodgers season.
"Two-for-13 speaks for itself, with runners in scoring position," said Andre Ethier, who singled in one of the two first-inning runs. "You can't put anything on the starting pitcher, you can't put anything on Zack, you can't put anything on our defense. It's just that our offense didn't execute and didn't come through when they had to."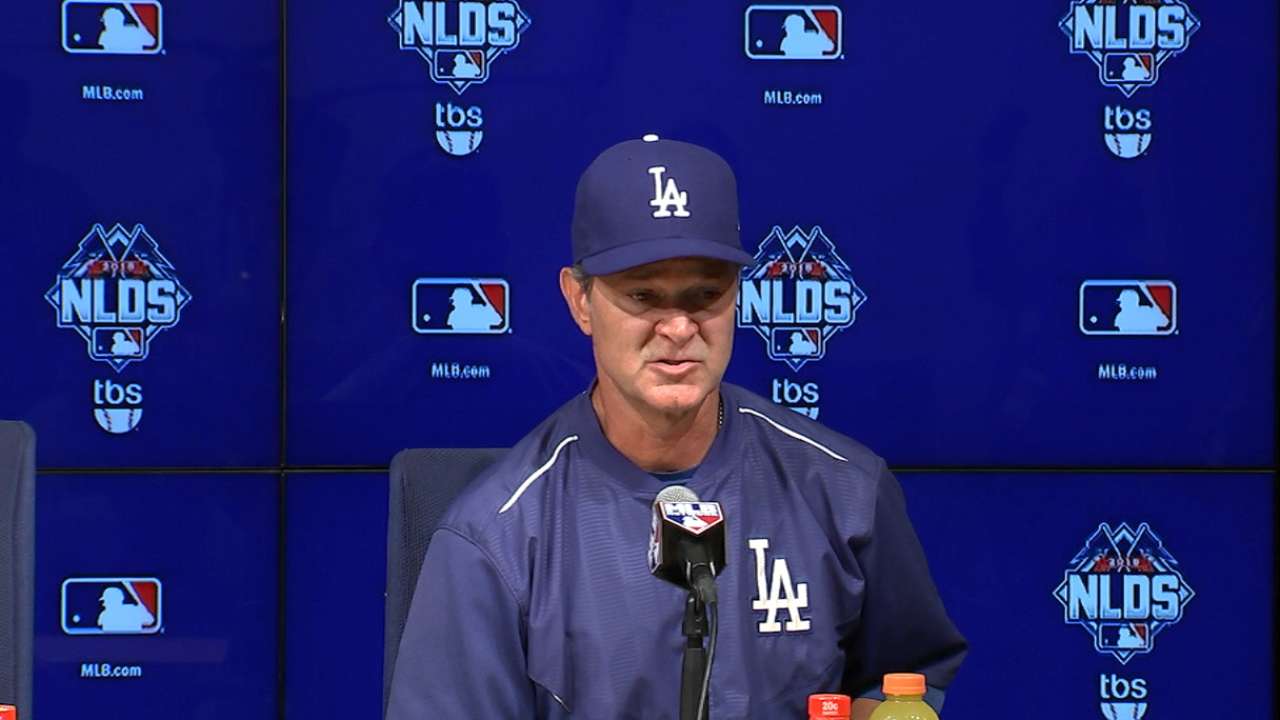 Greinke -- who may have made his last Dodgers start, if he opts out of his contract next month -- served up a game-winning home run in the sixth inning to Daniel Murphy, a player the previous management team tried hard to acquire four years ago.
"It's just disappointing," said manager Don Mattingly, who was incredulous when his job security was raised in the postgame news conference. "That's what I told the guys in there. There are really no words to describe how you feel right now. You come to Spring Training, you work all winter, you scratch, you fight all year long to get into this situation and you have a chance. It comes to a crash.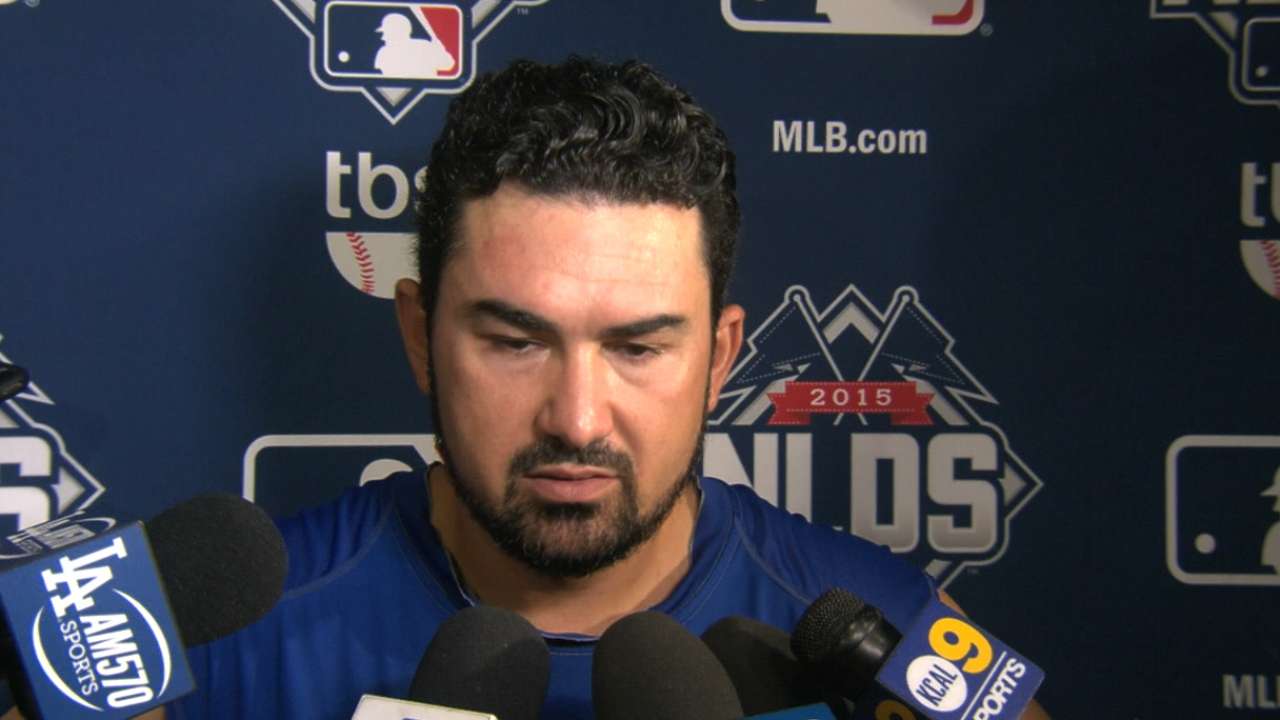 "It doesn't matter if you expect it or whatever, we played three rookies tonight, so it's not like we're firing out whatever. But it's disappointing no matter what the situation is. You work too hard. You put in too many hours. You travel, you do things that guys go through to get here is extraordinary, and it comes to a crash and you can't ... I don't think there is any way to soften that blow."
As Mattingly mentioned, despite a nearly $300 million payroll, the Dodgers started three rookies in this loser-go-home showdown, and each had rough moments.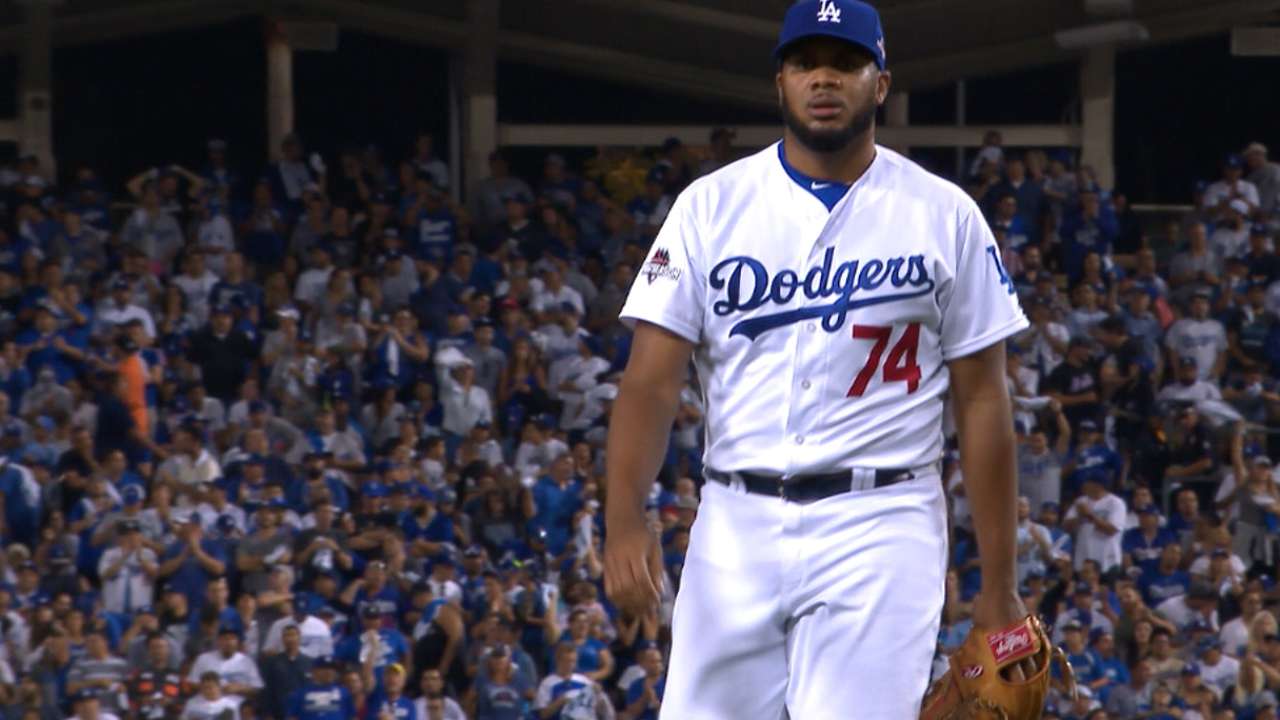 Joc Pederson let Murphy's first-inning double carom off the fence and back over his head. Enrique Hernandez, backing up the play, slipped and fell as he picked up the ball and Curtis Granderson raced home.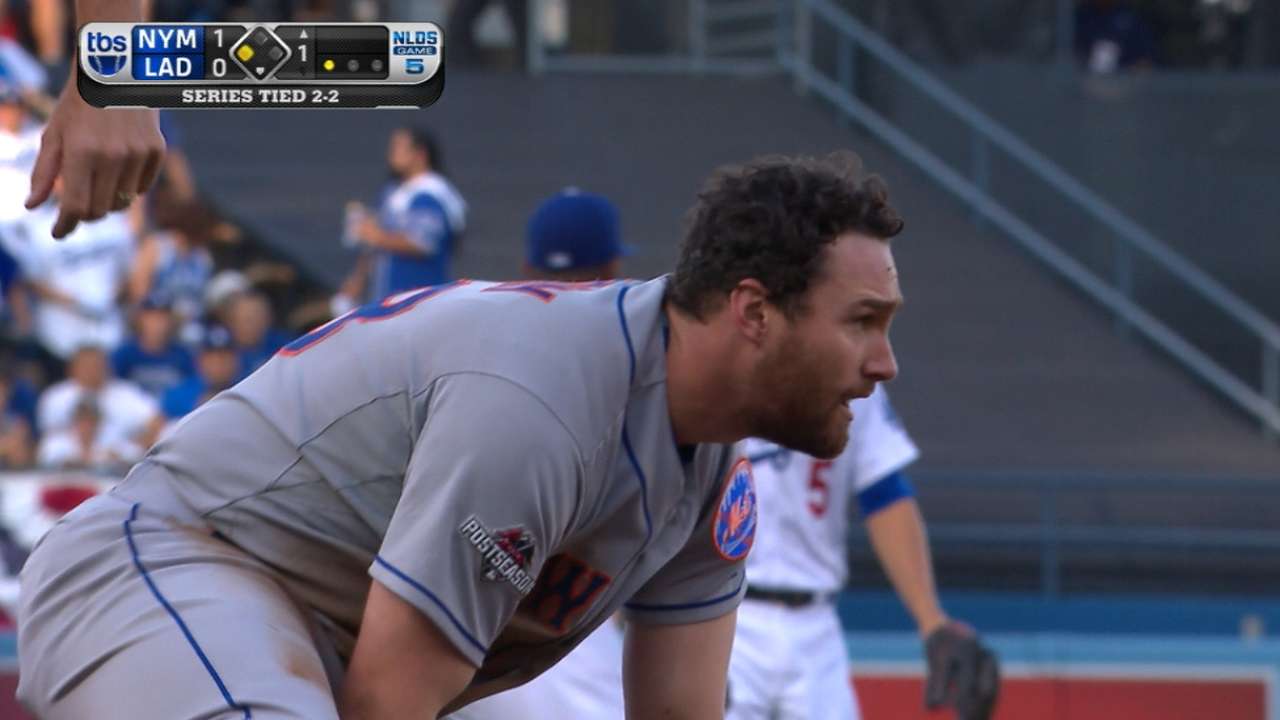 "Wrong day to have the worst game of the season," said Hernandez, who hit .308 in the series, but was 0-for-3 in Game 5.
And shortstop Corey Seager, although he singled in the two-run first inning, was the key defender who fell asleep coming out of a defensive shift to allow a heads-up Murphy to go from first to an unguarded third base on a Lucas Duda walk. Murphy then tagged and scored on a long foul sacrifice fly to right field that Ethier caught, prompting a Twitter flurry that he should have let the ball drop.
"Obviously when you play a shift like that, you put yourself vulnerable to things like that, and we weren't heads-up," said veteran first baseman Adrian Gonzalez. "That ended up being the difference in the game. It's something that cannot happen in a game this big, of this magnitude."
Mattingly singled out Seager as the ultimate culprit. With third baseman Justin Turner playing on the right side, Seager was the infielder positioned closest to third base. The rookie shortstop, playing ahead of veteran Jimmy Rollins, hadn't done much shifting until his callup, but he said that was no excuse. Greinke cast the widest net for blame.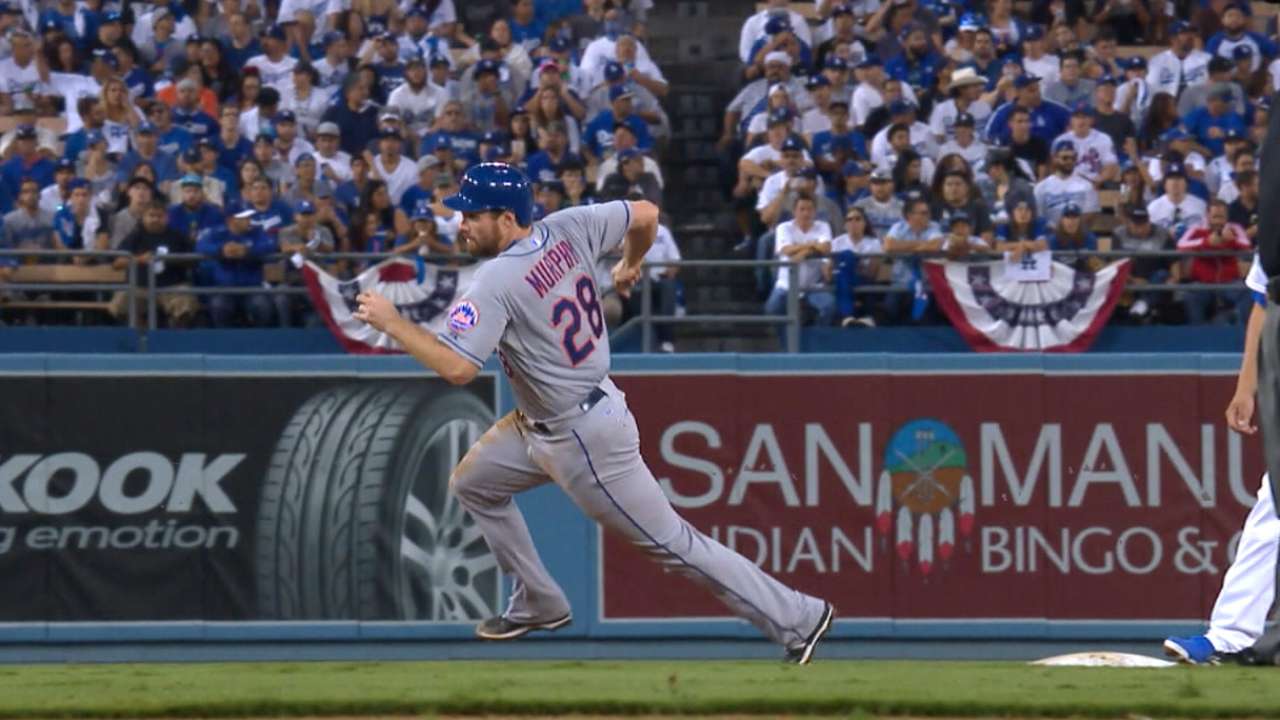 "Someone is supposed to be there, either me or Seager or Yaz [catcher Yasmani Grandal] or someone should be there," Greinke said. "So a bunch of people made mistakes. It wasn't any one person, and that's probably what's more disappointing about it. There were multiple people that could've been there."
It was the ultimate backfire of the controversial practice of dramatic defensive shifts that the Dodgers have deployed -- along with many other clubs -- more this year than ever. But as they tweak traditional fundamental approaches, occasionally they forget the basics, and that can be decisive, as Murphy pointed out.
"I've never been in the playoffs before," Murphy said, "but I'm starting to understand how valuable 90 feet are. It's absolutely massive."
Mattingly also went with Greinke's favorite catcher, Grandal, even though he has an MRI exam scheduled for Tuesday to determine if he needs clean-up surgery on a left shoulder that contributed to his .100 postseason average, including two strikeouts and a walk in this game. Mattingly said he started Grandal because of Greinke's comfort level pitching to him.
Ken Gurnick is a reporter for MLB.com. This story was not subject to the approval of Major League Baseball or its clubs.