Statcast delves into Murphy's plays in clincher
Mets advance to NLCS with help from second baseman's effort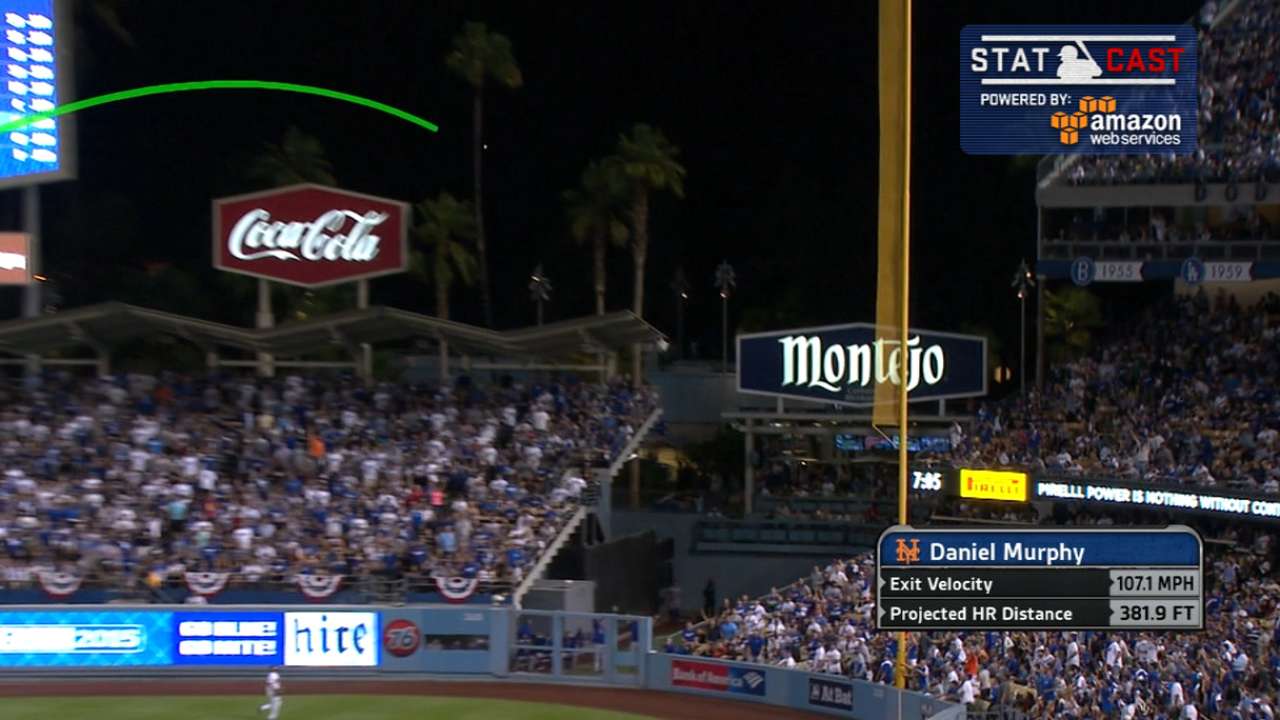 The Mets clinched a spot in the National League Championship Series with a 3-2 victory Thursday night over the Dodgers in Game 5 of the NL Division Series behind an impressive all-around game from second baseman Daniel Murphy.
Murphy not only hit the decisive home run and helped manufacture another run with his wily baserunning, but Statcast™ will show that he actually took his game to another level in leading his club to the NLDS-clinching game.
Here's an in-depth look, courtesy of Statcast™, at those two key plays from Murphy, as well as one of Thursday's top defensive plays.
• Shop for MLB postseason gear
Murphy crushes his hardest HR of 2015
Murphy picked a good time to connect for his hardest-hit home run of the year, slugging a go-ahead shot in the sixth inning. Murphy turned around a 94-mph pitch from Zack Greinke at a scorching 106.5 mph, his highest exit velocity on a home run this season. His previous high was a 105.9-mph blast on April 14 against the Phillies. Distance-wise, Murphy's sixth-inning homer traveled a projected 382 feet into the right-field seats at Dodger Stadium.
Murphy swipes third on heads-up play
Prior to hitting his crucial home run, Murphy helped manufacture the game-tying run when he went from first to third on a walk. Following ball four to teammate Lucas Duda, Murphy jogged down to second base before breaking into a full sprint for an unoccupied third base, due to the Dodgers' defensive shift for Duda.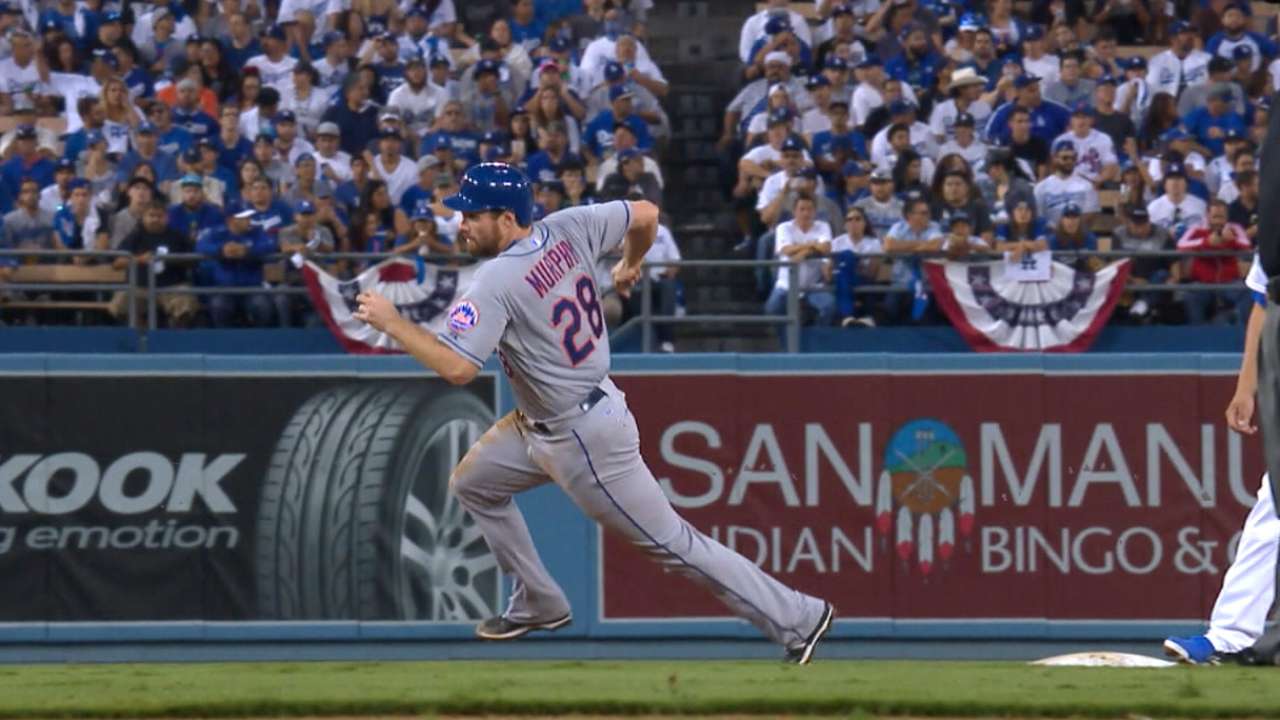 After trotting to second, Murphy kicked it into another gear over the next 90 feet, reaching a max speed of 18.9 mph to easily swipe third without a throw. It ultimately took Murphy just 3.9 seconds to go from second to third, leaving Greinke with no chance to race over to the vacant base to make a play.
Ethier makes early diving grab
Andre Ethier made arguably his best catch of the season in the second inning to take an extra-base hit away from Michael Conforto.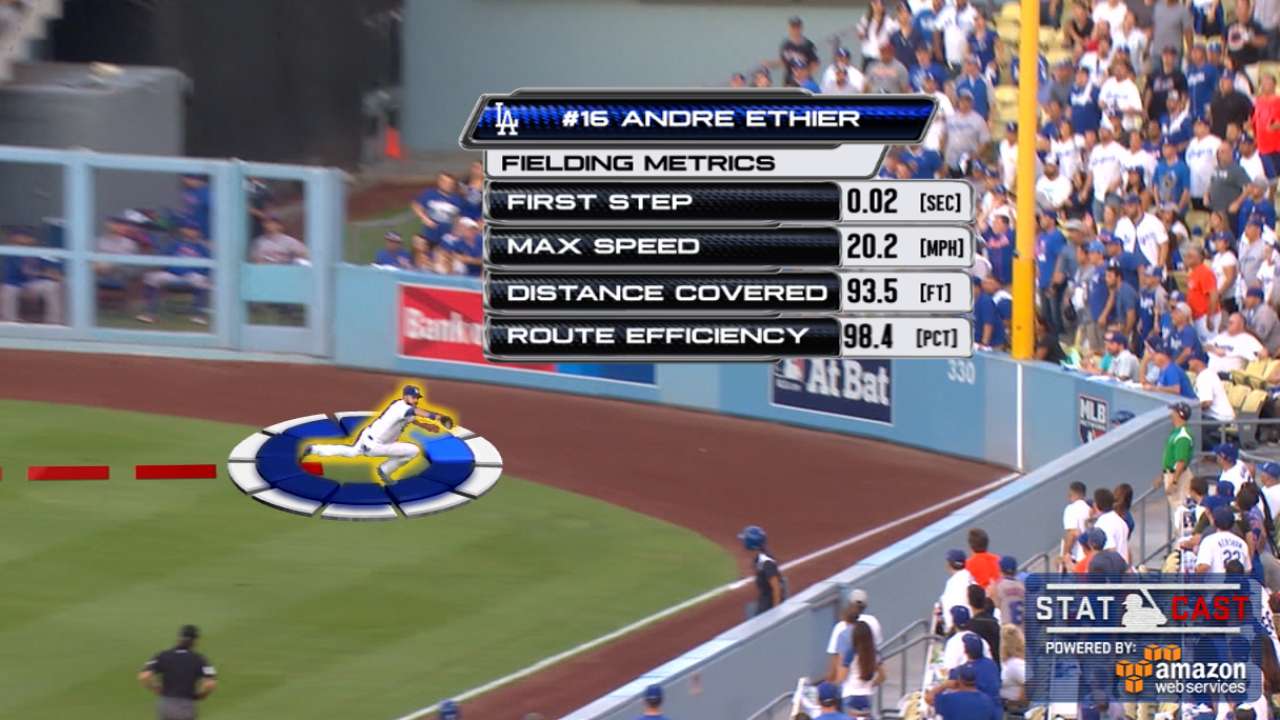 Ethier reacted almost instantly on the play, taking his first step just 0.02 seconds after the ball left Conforto's bat. He reached a max speed of 20.2 mph, as he raced into the right-field corner before laying out to make the diving catch. Ethier logged his season-best route efficiency of 98.4 percent on the play, while covering a total distance of 94 feet. The distance covered by Ethier was also his season high, easily eclipsing his previous best of 78 feet.
Paul Casella is a reporter for MLB.com. This story was not subject to the approval of Major League Baseball or its clubs.