Mets' front office enjoys fruits of its labor
GM Alderson's second-half moves paved way for club's postseason success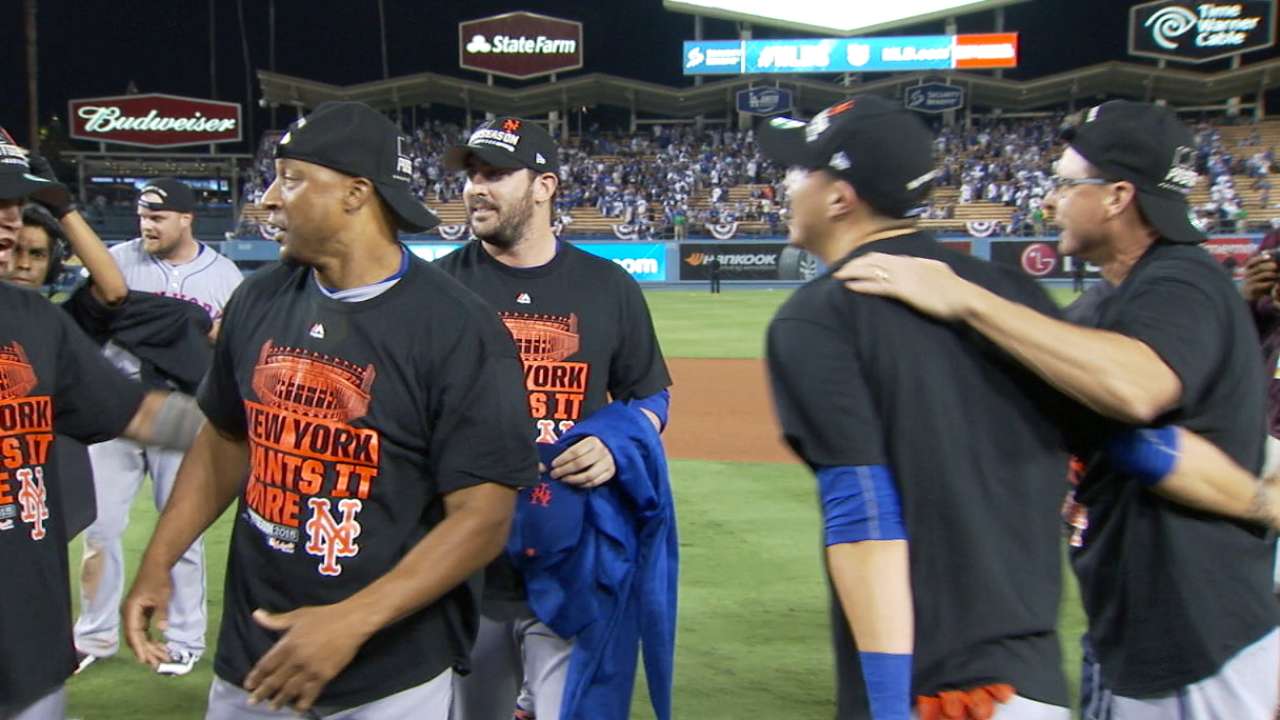 LOS ANGELES -- As a smiling Mets general manager Sandy Alderson neared a celebratory clubhouse approximately 20 minutes after his team had bounced the Dodgers and earned a spot in the National League Championship Series, he had no clue what awaited him.
Alderson had taken just two steps into the clubhouse before his dress slacks and starched dress shirt were drenched with beer and champagne by his players, who recognized that his shrewd midseason moves had put them in position to celebrate Thursday night's 3-2 win over the Dodgers in Game 5 of the NL Division Series.
• Shop for Mets postseason gear
"I just think this team was so resilient," Game 5 winner Jacob deGrom said. "It was true throughout the season. It was true in this series. It was true in this game."
Given how the Mets rose from mediocrity after the All-Star break, it was seemingly fitting that they showed more resiliency while ending the NLDS in triumphant fashion. On a night when deGrom lost a first-inning lead and seemed destined for an early exit, the club Alderson assembled saw veteran Daniel Murphy find ways to score the two runs needed to doom Zack Greinke and the Dodgers.
Now the Mets will face the challenge of cooling off the Cubs in the NLCS (Game 1 on Saturday at 7:30 p.m. ET on TBS). But after winning a series in which they faced either Clayton Kershaw or Greinke four times within a five-game span, they certainly had reason to enjoy the raucous celebration within the crammed visiting clubhouse at Dodger Stadium.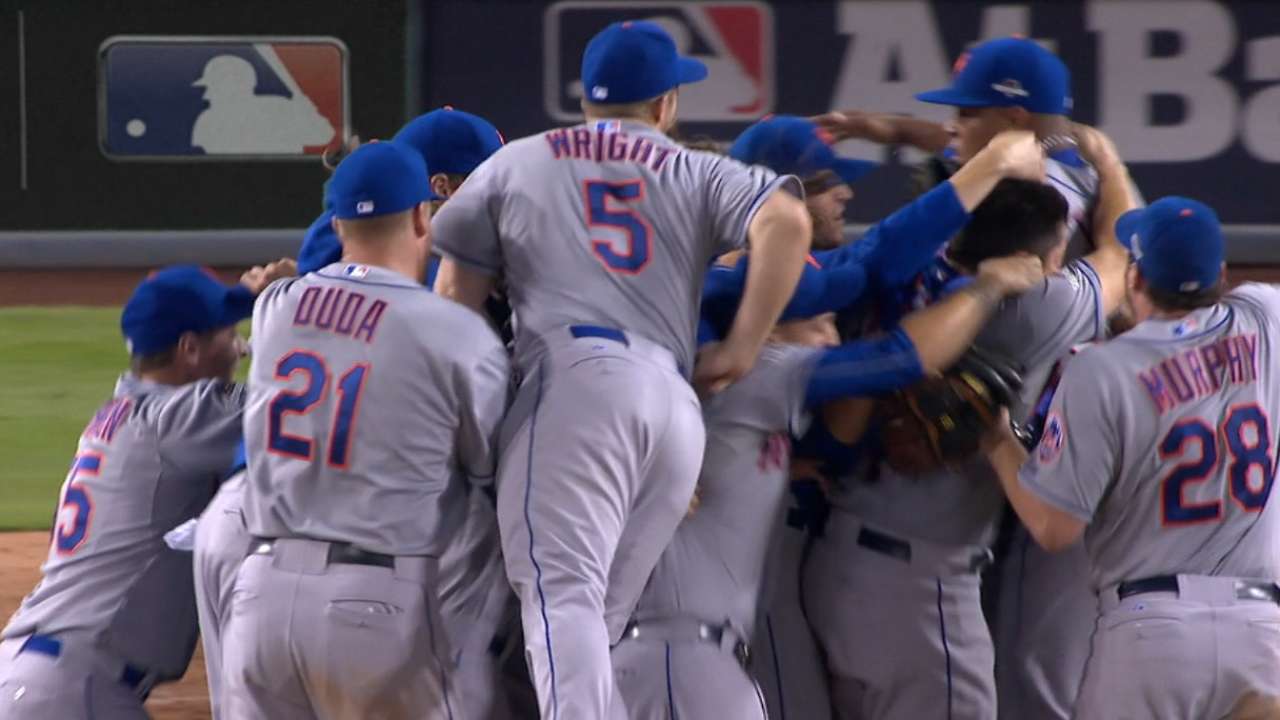 "There's nothing sexy about it," Mets third baseman David Wright said. "We grind it out, both on the mound today and at the plate. We knew runs were going to be at a premium [in Game 5], and it just seems like every day, somebody steps up, a new guy, to get that big hit or make that big pitch. Today was no different. Every day is somebody new, and that's what makes this team dangerous."
This was a special night for so many involved, including CEO Jeff Wilpon, who strolled through the clubhouse with a champagne-soaked T-shirt and the satisfaction of knowing the many moves Alderson made after the All-Star break had created this opportunity.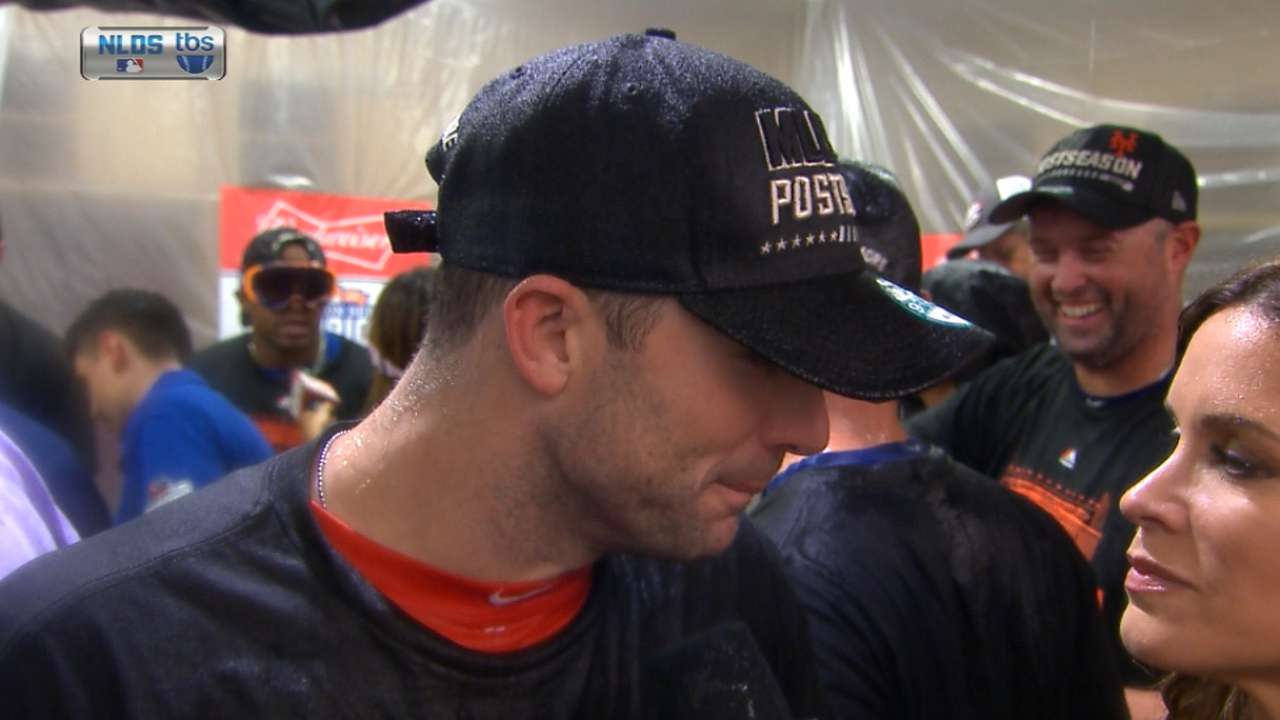 Coincidently, this marked the first time the Mets had enjoyed a postseason celebration since they bounced the Dodgers from the 2006 NLDS, also in Los Angeles. Wright was present for that celebration, but this one might have been even sweeter given all that he has endured over the past nine years, including the back ailment that sidelined him for four months and threatened his career this year.
"I think 2006 was a little less stressful, because we ended up sweeping that series," Wright said. "This is probably more gratifying and sweeter."
Somewhere in the midst of acquiring Yoenis Cespedes, Kelly Johnson, Juan Uribe, Tyler Clippard and Addison Reed in the second half, Alderson turned the tide of a season that also became much more memorable when Travis d'Arnaud and Wright ended their long stints on the disabled list.
Manager Terry Collins has skillfully navigated this sometimes turbulent journey in a manner appreciated by his players and the front office. The Mets have ascended to a height that seemed unthinkable just three months ago. Now they will aim for that ultimate mountaintop that will make all of this season's experiences and the celebrations that will follow even sweeter.
"This is what the game's all about," Collins said. "It's about the competition. You're going against the best in the world. There's nothing like it."
Mark Bowman is a reporter for MLB.com. This story was not subject to the approval of Major League Baseball or its clubs.