Mets-Dodgers NLDS Game 5: DYK?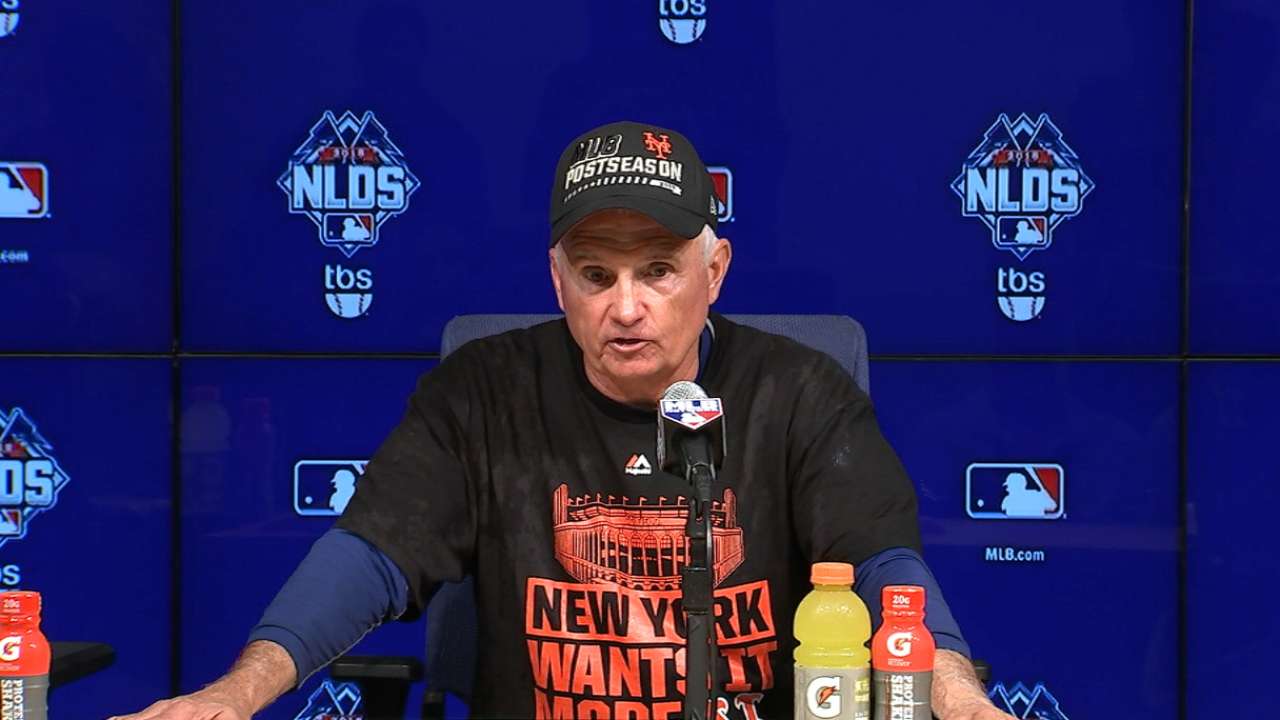 The Mets advanced to their first NLCS since 2006 with Thursday's tense 3-2 Game 5 victory behind Jacob deGrom at Dodger Stadium. Before they square off against the Cubs on Saturday at Citi Field (7:30 p.m. ET, TBS), take a look at some of the numbers that made Thursday's tilt between deGrom and Zack Greinke such a high-wire affair.
• With this pitching matchup, it was clear runs would be at a premium. Greinke and deGrom combined for the lowest regular-season ERA for pitchers facing off in a winner-take-all postseason game since Nolan Ryan (1.69) and Jerry Reuss (2.30) in Game 5 of the 1981 NLDS. They didn't disappoint. Despite not having his best stuff, deGrom gritted out six innings. Greinke struck out nine over 6 2/3 innings, allowing three runs.
• Greinke allowed three or more runs for just the sixth time in 34 total starts this season. He was 19-0 when the Dodgers gave him a lead, as they did Thursday. He's now 19-1.
• deGrom wasn't sharp, but he battled to earn his second win of this NLDS. He became the sixth starter to win two road games in a single NLDS, and the first since Cliff Lee in 2010.
• deGrom allowed two runs in the first, then none for five additional innings. More than 27 percent of his runs allowed this season (16 of 59) had come in the first inning.
• deGrom struggled with his command and control all night. He walked three batters for just the fifth time in 31 total starts this season. How did he overcome that?
• deGrom limited the Dodgers to just 2-for-13 with runners in scoring position. The righty threw a whopping 57 of his 105 pitches with runners in scoring position.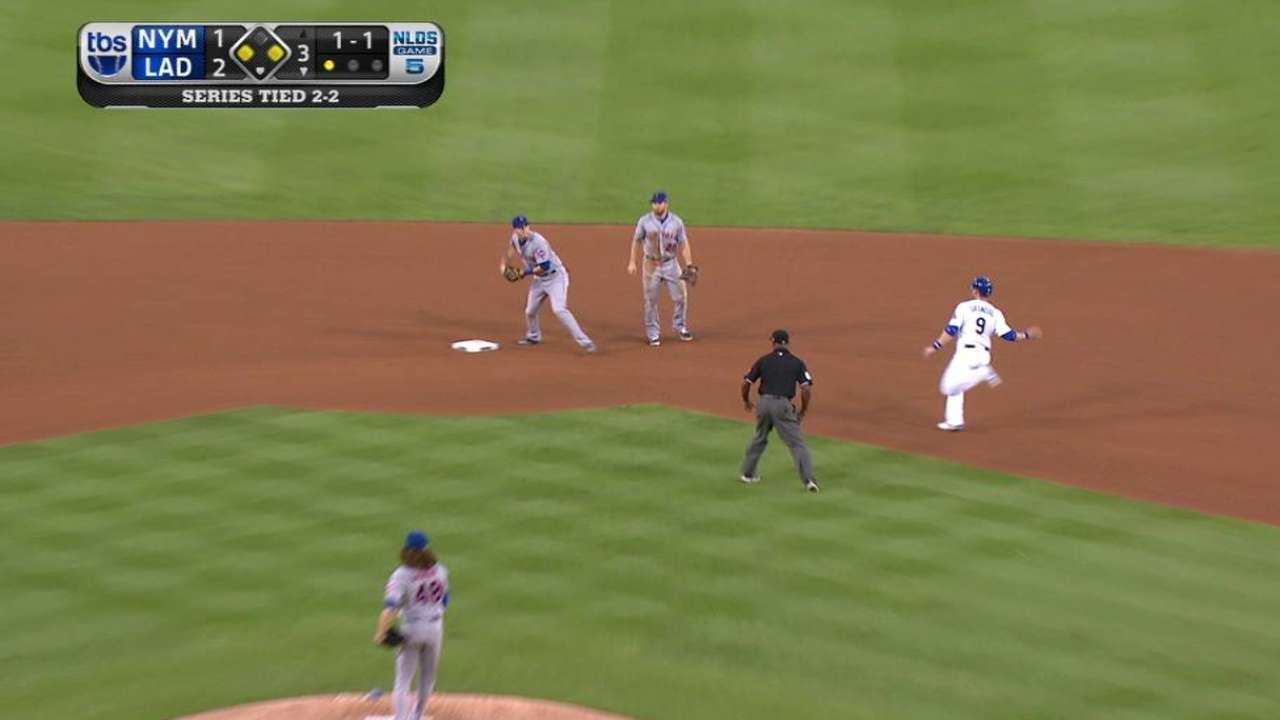 • Replacing deGrom in the seventh, Noah Syndergaard threw a scoreless inning in his first Major League relief appearance. Syndergaard made 10 Minor League relief appearances, his last in 2012 with Class A Lansing of the Midwest League.
• Daniel Murphy went 3-for-4 with a home run off Greinke and a crucial stolen base in the fourth. Murphy became the seventh player to homer off both Greinke and Clayton Kershaw since Greinke became a Dodger in 2013. Only Carlos Gomez in 2014 and Kole Calhoun this season had done it in the same series.
• Murphy has 62 career regular-season homers over his seven-year career. Only one had come against a Cy Young Award winner (Justin Verlander) before Murphy homered off Greinke and Kershaw this series.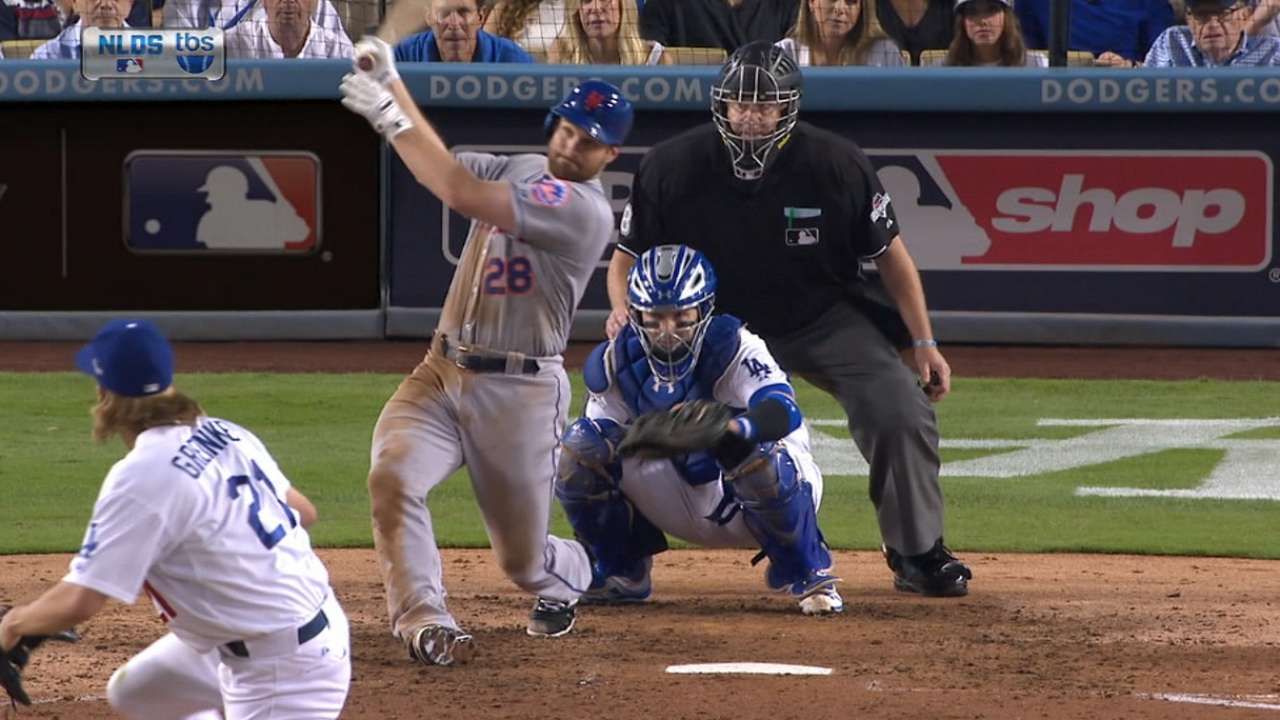 • The last three players to homer off two Cy Young Award winners in the same postseason series: Nelson Cruz off Max Scherzer and David Price (2014); Barry Bonds vs. John Smoltz and Greg Maddux (2002); John Olerud vs. Smoltz and Maddux (1999).
• Murphy became the sixth player to collect three hits, a homer and a stolen base in a winner-take-all postseason game. Dexter Fowler also did it in the NL Wild Card Game presented by Budweiser.
• Dodgers infielder Justin Turner burned his former team all series. His six doubles set a division series record, and tied the record for the most by a player in any one postseason series.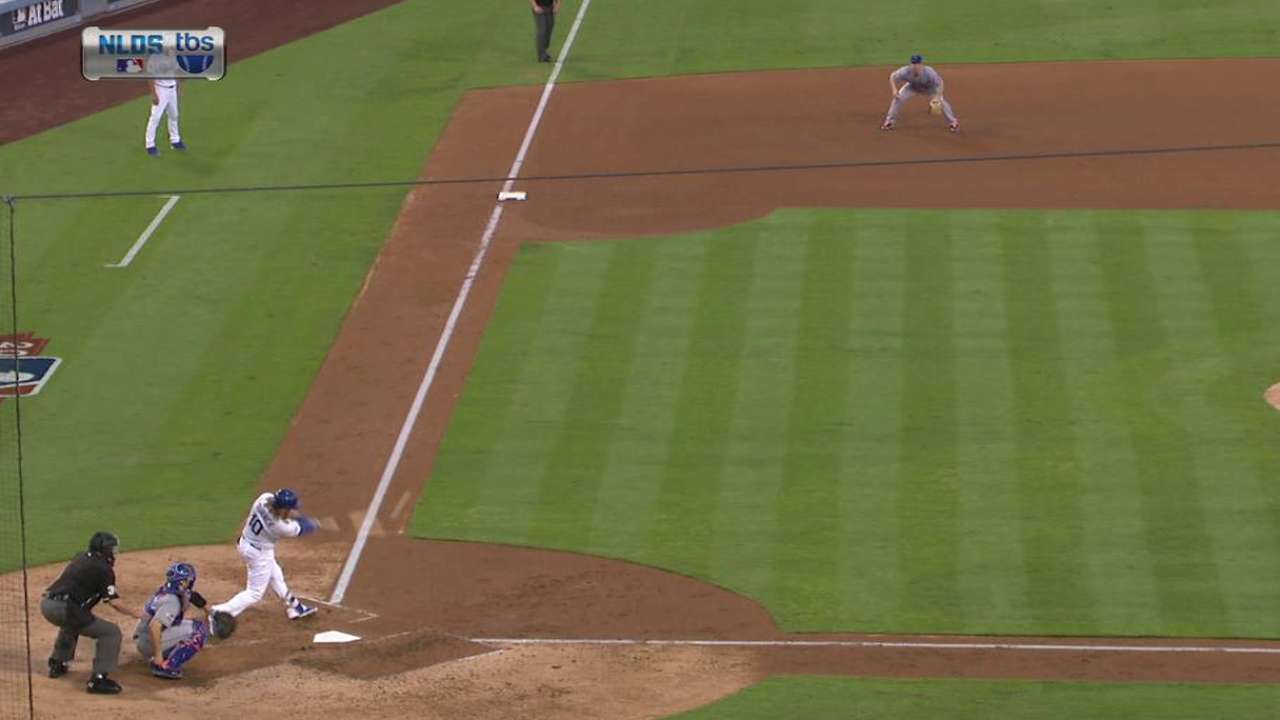 • Including this series, Turner is hitting .364 with 11 doubles and two homers in 55 at-bats against the Mets since they non-tendered him after the 2013 campaign.
• A.J. Ellis struck out in a pinch-hitting appearance in the ninth. That snapped a franchise-best 12-game postseason hitting streak.
• Los Angeles fell to 1-7 in postseason games played on Oct. 15. The only win? Their dramatic victory in Game 1 of the 1988 World Series, when Kirk Gibson homered off Dennis Eckersley.
Joe Trezza is an associate reporter for MLB.com. This story was not subject to the approval of Major League Baseball or its clubs.