Oct. 15 Terry Collins postgame interview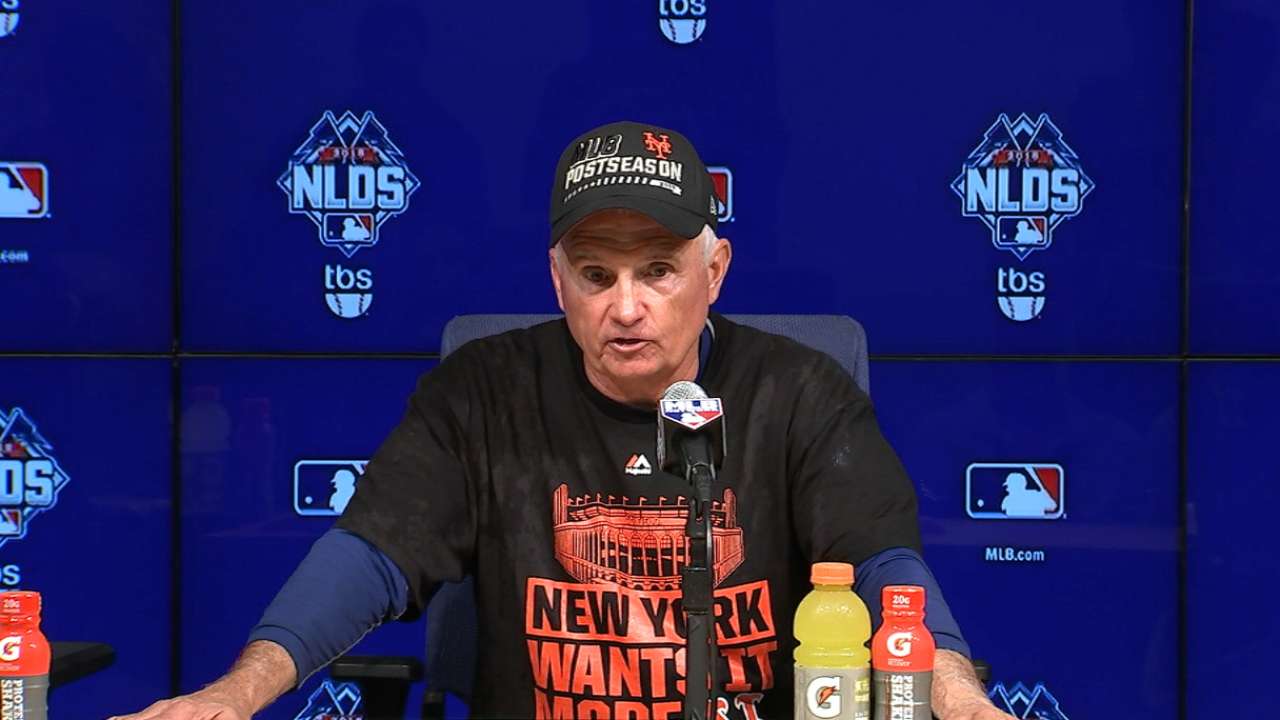 Q. Just what was it like sitting there through that game, all the emotions, twists and turns and everything going into it?
TERRY COLLINS: I haven't been through one anything close to that, of course I've never been in Game 5 of the playoffs before either. But you guys, and you've been around all the time, but everybody asks me, it seems like when there's a big game and Jake's out there, what kind of make-up do you think -- is he the guy for the job? Why did you pick him?

If he didn't show you tonight, he had command to nothing, and all he did was battle and battle and battle to give you six innings. It's unbelievable. I don't know. There were four times in the game he was one hit away from coming out of the game. Ended up giving us six innings, so I'm real proud of him.

Q. Could you comment on your entire pitching staff? Some of us haven't seen it as much as obviously you have, but after two runs in the first, it was just you shut everything down.
TERRY COLLINS: Well, we got here because we have very, very good pitching. In the middle of summer when we weren't scoring any runs, we were still in games. We'd still win close games because our pitching kept us in it. Our starters, our bullpens, they're young, yeah, they're inexperienced. But they've got quality stuff, and that still pays off. That's why we've said all along, no matter what the outcome of the season is, the light at the end of the tunnel is here, and this is going to be a bright future for this organization.

Q. Just the Syndergaard and Familia, him getting the six-out save, and Noah --
TERRY COLLINS: You know, Dan and I talked before the game today about Syndergaard, and there was a point in the game where one of the things Dan said to me, look, the middle of their lineup, we need to have somebody with power to get through that part. And I said, do you think the kid can handle it? And he said, by all means. So he talked me into it. We brought him in the 7th inning, and he was about as good as you can possibly ask for in that spot.

Q. The turner at bat?
TERRY COLLINS: Yeah, and that's what happens. This game's going 10 miles an hour, and all of a sudden he's throwing you 500 mile an hour fastballs and throws a slider. It's pretty hard to keep from swinging.

Q. Murphy taking third on the walk, is that something that's relaid to him ahead of time, hey, keep an eye on this?
TERRY COLLINS: No, that's all Dan Murphy. That was all Dan Murphy. He said when he was on the base-on balls he was jogging. He looked up and he knew, he saw all the infielders in the middle of the infield, so he said he didn't want to try to speed up. He just kept jogging.

As soon as he hit second he took off for third and obviously made it. That tells you the player Dan Murphy is. He's alert. He's always trying to find an edge. Sometimes it doesn't work, but tonight it worked.

Q. Speaking of Murphy, can you just talk about the game he had tonight in the series?
TERRY COLLINS: Well, been around Dan Murphy for six years. He's a baseball player. He's a baseball junky. He loves to hit. He loves to play the game. Plays every night all-out. When he's swinging the bat, he's dangerous. When he's hot, he is really dangerous. The home runs, you know, I think Kevin Long gets a lot of credit. They got him to pull the ball a little bit more, and he's hitting the ball over the fence. That's the kind of power. But Kevin saw it, and together they worked hard at it, and now Dan's doing what he's been doing.

Q. You said all along about whole team effort and everything, but when you have two guys like Duda and David, who really didn't put up the numbers, and yet you still come out, what's that say?
TERRY COLLINS: Well, it says a lot. Tonight, you knew we weren't going to score a lot of runs. I mean, that was -- Murph's play saved us from going to third base. That just saved us. But you knew it was going to be a close game. And a lot has been said about, geez, you're not hitting, you're not hitting. Look who we're facing.

We came into a five-game series and you saw Kershaw twice and Greinke twice. That may not be fair. But we'll take what we got. We got the wins that we needed, and we're going to go party for a little while, and take a day off and get ready for the NLCS and it will be a lot of fun.

Q. Any thoughts on what went into the thinking on Familia for six? Did you think at all about leaving Syndergaard in for the 8th?
TERRY COLLINS: We did not -- the answer to that is yes, we did, as well as he threw. But before the game tonight, Dan, myself, Ricky, Sandy, just said I told them here's my thoughts. If we've got the lead in the 8th inning, we've got to roll the dice. We've got, in my opinion, if he's not the best closer in the National League, he's one of the best closers in all of baseball. You've got to go to him. You can't -- you'd be kicking yourself if they scored a run off somebody else when that guy should be in the game in a game like tonight that means everything. So we stayed with the plan, and it worked.

Q. They get those first couple runs in the first inning, but then after that they go 0 for 11 with runners in scoring positions. What did Jake do differently or what changed?
TERRY COLLINS: He made pitches. He made better pitches. He used his changeup a lot better, better located, better located his fastball better. I thought in the middle of the game he started to pitch inside a little bit better, which speeds the bats up, so the off speed stuff is a little more effective.

Like I said, I almost took him out four times, and in the sixth inning, going into the sixth he's at a hundred pitches and Dan said I think he's throwing the ball better than he has the entire night, and he went out and had an easy six, fortunately for us. We just thought we had to score some more runs, then I saw we hit more than what we started at the bottom of the 7th inning.