A look at the Mets' storied NLCS history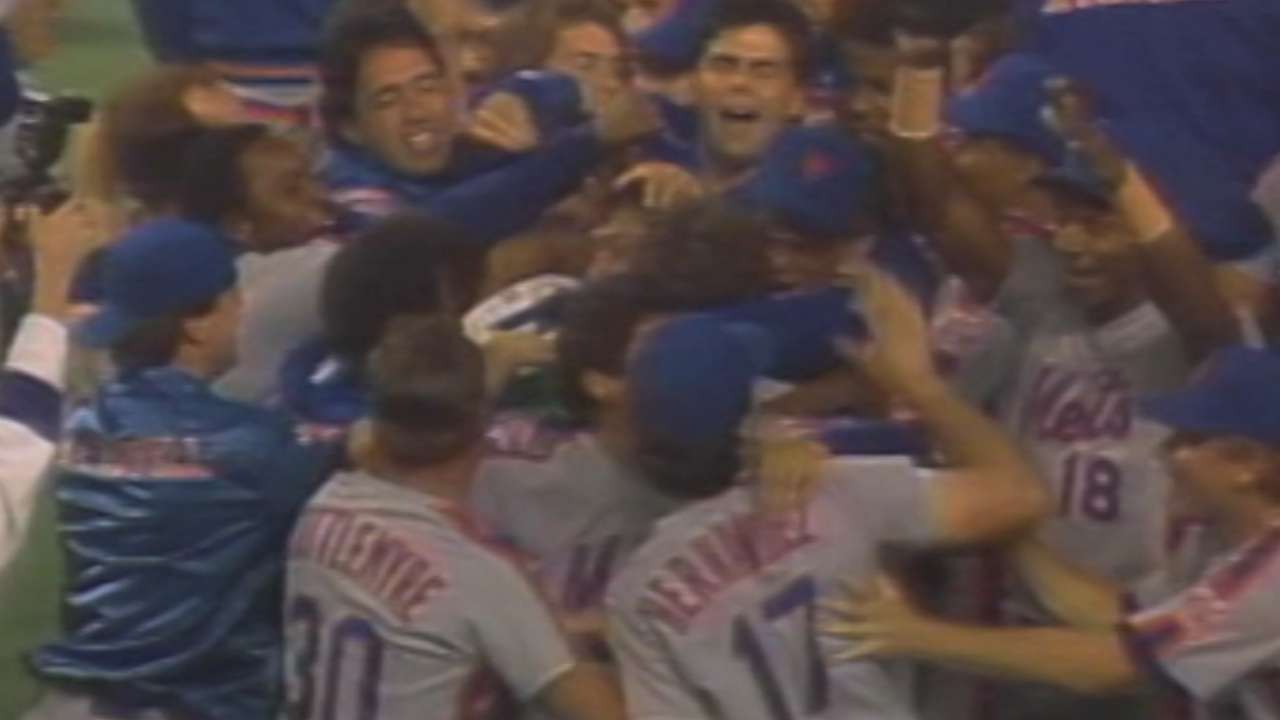 The Mets' 3-2 win over the Dodgers on Thursday night set up what could be a cosmic twist of fate.
The Mets' National League Championship Series against the Cubs begins Saturday (7:30 p.m. ET on TBS) almost exactly nine years removed from Adam Wainwright's most famous curveball, the one that froze Carlos Beltran in the batter's box and in time and silenced 56,357 at Shea Stadium. The Mets' most heartbreaking NLCS moment came in that Game 7 loss to the Cardinals, late in the night of Oct. 19, 2006.
Today, Shea Stadium is a parking lot. Just three players from New York's 2006 postseason roster are still in the Majors, and only David Wright is still with the organization. And for the first time since that day, the Mets are again in a showdown for the NL pennant.
Get set for the NLCS: Shop for Mets postseason gear
They've been here seven times before, advancing to the World Series four times. New York is 22-17 in NLCS games, a record that has produced a slew of memorable moments, triumphant and tissue-filling alike.
Join us for a quick stroll down memory lane.
1969 NLCS
Opponent: Atlanta Braves
Outcome: Mets win, 3-0
The Miracle Mets swept the first NLCS in history, a best-of-five series, by sandwiching Game 2's 11-6 shootout win between victories from Tom Seaver and Nolan Ryan. The Mets went on to shock the powerhouse Orioles in five games to clinch their first World Series championship.
1973 NLCS
Opponent: Cincinnati Reds
Outcome: Mets win, 3-2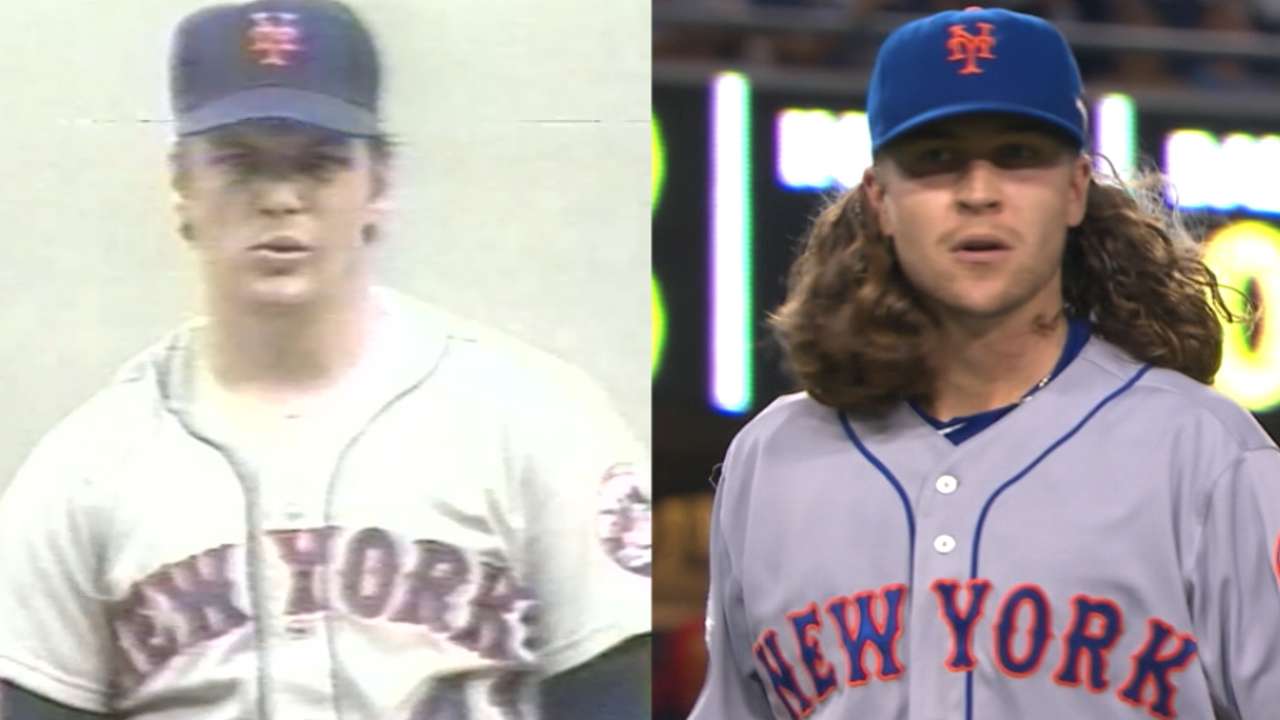 Sparky Anderson's Reds won 17 more games than Yogi Berra's Mets during the regular season, but New York took this series in five to advance to its second World Series. This series is best remembered for reliever Tug McGraw's infectious "Ya Gotta Believe!" motto and the on-field fight that broke out between Pete Rose and Bud Harrelson in Game 3.
1986 NLCS
Opponent: Houston Astros
Outcome: Mets win, 4-2
With the best-of-seven series tied after four games, the 108-win Mets needed a combined 28 innings to close out Games 5 and 6 to advance to their third World Series. Game 6's iconic image of reliever Jesse Orosco leaping in joy came after New York won 7-6 in 16 innings.
1988 NLCS
Opponent: Los Angeles Dodgers
Outcome: Dodgers win, 4-3
The Mets' first loss in the NLCS round came with New York as heavy favorites. The Dodgers used 18 dominant innings from series MVP Orel Hershiser and two big Game 4 homers -- a game-tying homer from Mike Scioscia in the ninth and Kirk Gibson's go-ahead blast in the 12th -- to shock Dwight Gooden, Keith Hernandez, Gary Carter and the last of the dominant mid-1980s Mets teams.
1999 NLCS
Opponent: Atlanta Braves
Outcome: Braves win, 4-2
The Wild Card Mets fell behind 3-0 in the series before climbing back with two consecutive late-inning wins. John Olerud's eighth-inning single off despised Braves reliever John Rocker put New York ahead in Game 4. In Game 5, Robin Ventura hit his fabled walk-off "grand slam single" and the Mets won in 15 innings. New York came back from five runs down to tie Game 6 before Kenny Rogers surrendered a walk-off walk to Andruw Jones in the bottom of the 11th.
2000 NLCS
Opponent: St. Louis Cardinals
Outcome: Mets win, 4-0
NLCS MVP Mike Hampton won two games, Mike Piazza hit .412 and the Mets moved on to face the Yankees in the only all-New York World Series since 1956.
2006 NLCS
Opponent: St. Louis Cardinals
Outcome: Cardinals win, 4-3
Carlos Delgado hit three homers, Albert Pujols called out Tom Glavine, Endy Chavez made "The Catch" and then Yadier Molina hit one even Chavez couldn't reach. Wainwright silenced Shea Stadium, and Mets fans have been waiting for a return trip ever since.
2015 NLCS
Opponent: Chicago Cubs
Outcome: Watch the series on TBS to find out. Game 1 starts at 7:30 p.m. ET on Saturday.
Joe Trezza is an associate reporter for MLB.com. This story was not subject to the approval of Major League Baseball or its clubs.