Cecil expects to return if Blue Jays make World Series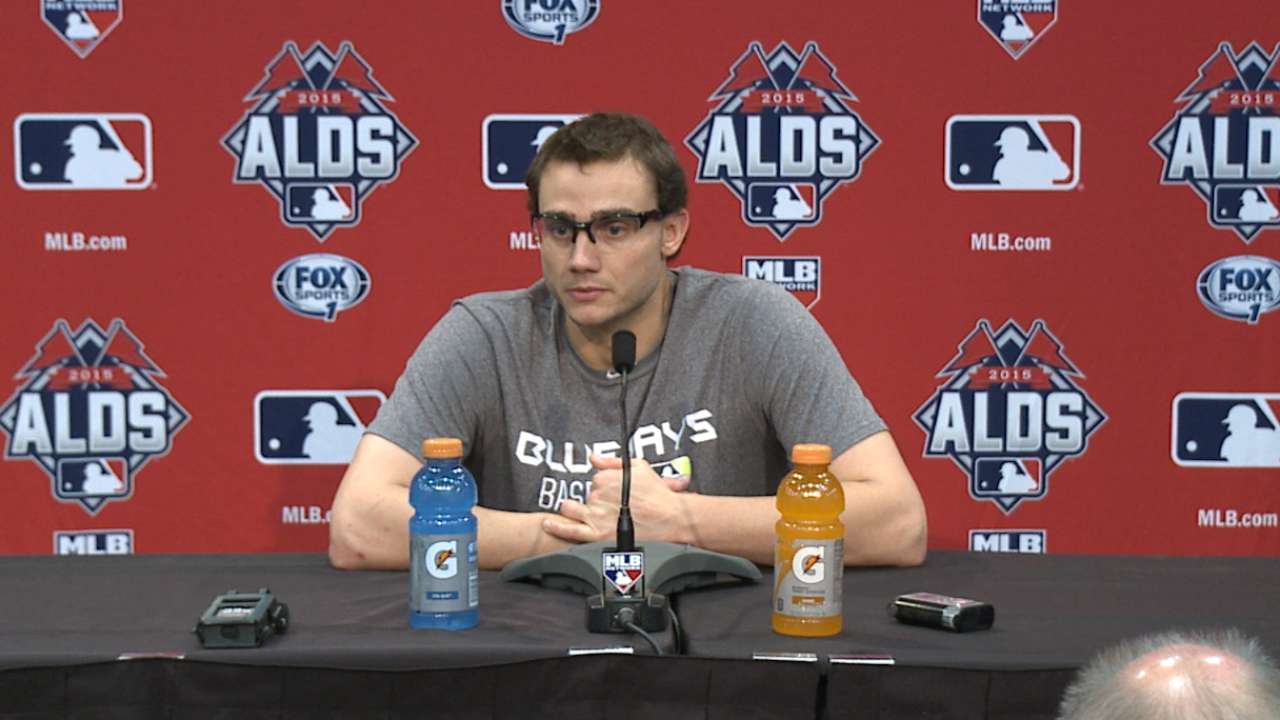 KANSAS CITY -- Brett Cecil appears to be in the midst of a miraculous recovery from a torn left calf muscle, and if the Blue Jays' season continues beyond the American League Championship Series, he's expected to return.
Cecil still has a lot of progress to make, but he declared himself ready for the World Series while working out at Kauffman Stadium on Thursday evening. He'll need to pass a series of tests before his optimism turns into reality, but the fact that he is working out and doing some agility work is nothing short of stunning.
Toronto's set-up man was expected to be out for the remainder of the year after he tore his calf muscle during a rundown between first and second base in Game 2 of the ALDS. At the time, Cecil broke down into tears because he thought there was zero chance of him returning during the postseason. Apparently, all it took was one week to completely change his outlook.
"I wasn't planning on testing it at all, I was planning to cheer my [tail] off, get treatment and that would be the end of it, but then it felt so good after the first couple of days," said Cecil, who has been closely monitored by Blue Jays trainer George Poulis.
"I think it was right after somebody hit a home run in Texas. George was right next to me, and I looked at him and I said, 'George, I'm going to pitch in the World Series,' and he was just like, 'Sounds good.'"
Cecil threw off flat ground on Thursday for the second consecutive day. That process will continue for the next several days, and he's not expected to attempt throwing off a mound until near the conclusion of the ALCS. He's a week removed from the injury, so discomfort should be expected. Cecil said he has "no pain whatsoever," and that his leg just feels a little weak.
The goal for him over the next week will to be build up the strength in the weakened calf muscle. Cecil is mixing treatment with resistance exercises that involve Poulis holding onto his foot, and then having Cecil pull back, push forward and move side to side. He combines that with calf raises, and the hope is that over time the strength will return.
There's no set timetable for Cecil to begin running, which will likely be one of the final steps he needs to clear before receiving clearance to return.
"The way things look right now, I'll be ready for the World Series," said Cecil, who hasn't allowed a run since June 21. "I told George, 'I think the biggest thing for me is going to be running.' Pitching doesn't make me do the action that I did it on, obviously I did it trying to run. Pitching wise, as long as the strength is there and everything, I think that will be fine. It's about being able to get off the mound if I need to."
Gregor Chisholm is a reporter for MLB.com. Read his blog, North of the Border, follow him on Twitter @gregorMLB and Facebook, and listen to his podcast. This story was not subject to the approval of Major League Baseball or its clubs.