Royals' pitchers ready to go on regular rest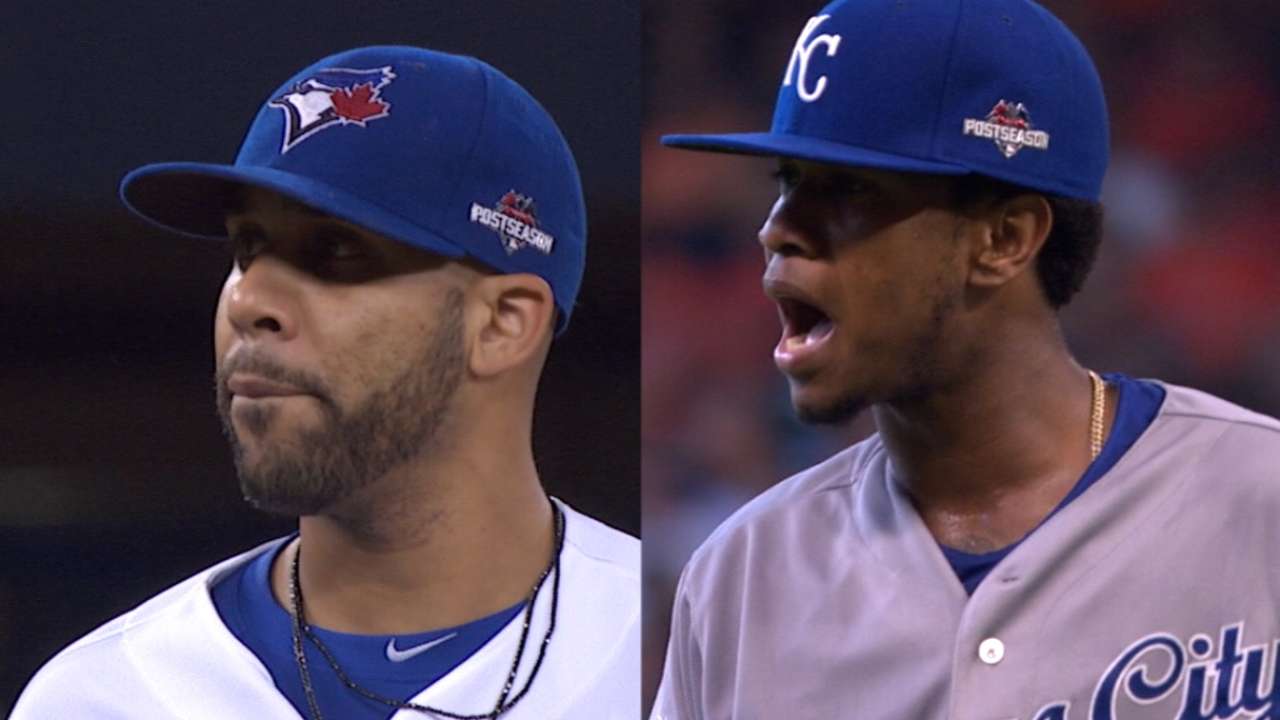 KANSAS CITY -- Royals manager Ned Yost said on Thursday that he has his top three pitchers set for the American League Championship Series against the Blue Jays: Edinson Volquez, Yordano Ventura and Johnny Cueto for Games 1, 2 and 3.
All three pitchers will be working on their full four days' rest. Game 1 is set for Friday (7:30 p.m. ET on FOX/Sportsnet) at Kauffman Stadium.
• Shop for official Royals postseason gear
Yost said he would not consider bringing back Volquez on three days' rest for Game 4, which means Yost will have to choose between Chris Young or Kris Medlen for that start.
Yost also indicated he did not anticipate any changes to his 25-man roster for the series.
Volquez says Cueto knew
Right-hander Edinson Volquez, a good friend of Johnny Cueto's, said Cueto knew right away that he was on his game before tossing eight strong innings in the Royals' 7-2 win over the Astros in Game 5 of the AL Division Series on Wednesday.
"We talked about it before the game and he told me he was on his game," Volquez said. "That was very impressive, what he did. The way he was pitching before the playoffs and with all the people talking that it was a bad move for the Kansas City Royals [to acquire him] ... we listened to all that and read that. He was a little mad last night and he wanted to show people who Johnny Cueto was. And he did. He might have pitched the best game ever in his life."
The send
One of the key moments in Wednesday's Game 5 win over the Astros was third-base coach Mike Jirschele's send of Lorenzo Cain on Eric Hosmer's bloop single to center that plated the Royals' first run.
Cain was running from first when Hosmer looped a single to center. Cain slowed a little heading toward third, but when Astros center fielder Carlos Gomez slipped and fell, Jirschele waved Cain home.
"I think Lorenzo knew something was up because as he was getting to third, I started backing up toward home to see the play in center better," Jirschele said. "He was really running hard. That was really a big run for us because we hadn't done anything and we just needed to get something going."
Jeffrey Flanagan is a reporter for MLB.com. Follow him on Twitter at @FlannyMLB. This story was not subject to the approval of Major League Baseball or its clubs.