Position player prospects participate in AFL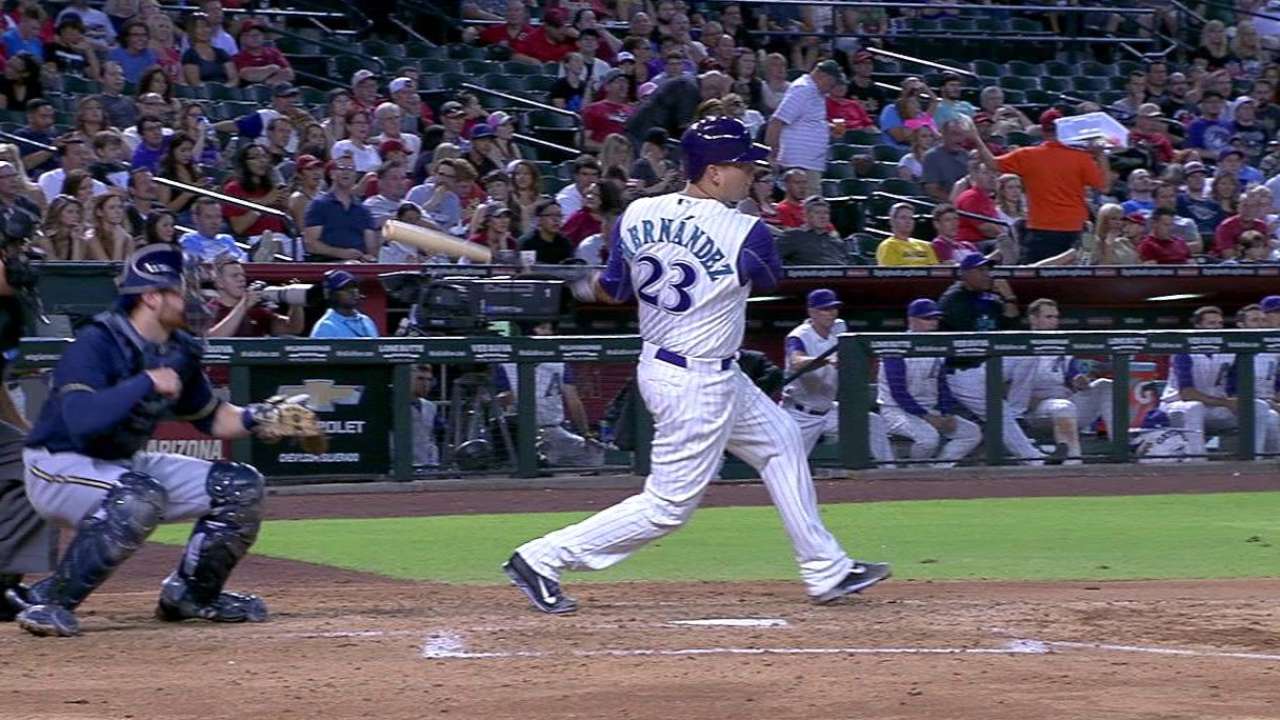 PHOENIX -- The Arizona Fall League got underway this week, and the D-backs have eight players on the Salt River Rafters.
Previously, we looked at the four pitchers. Here's a look at each of the position players, along with some comments from D-backs farm director Mike Bell:
C Oscar Hernandez
Selected in the Rule 5 Draft last December, Hernandez had to remain on the D-backs roster all season or be offered back to the Rays. Prior to 2015, Hernandez had never played above the Class A Midwest League. This year, in the Majors, Hernandez only got 36 plate appearances.
Bell's take: "He just needs to play. Hopefully he plays a lot. We want him to catch as many games and get as many at-bats as he can get."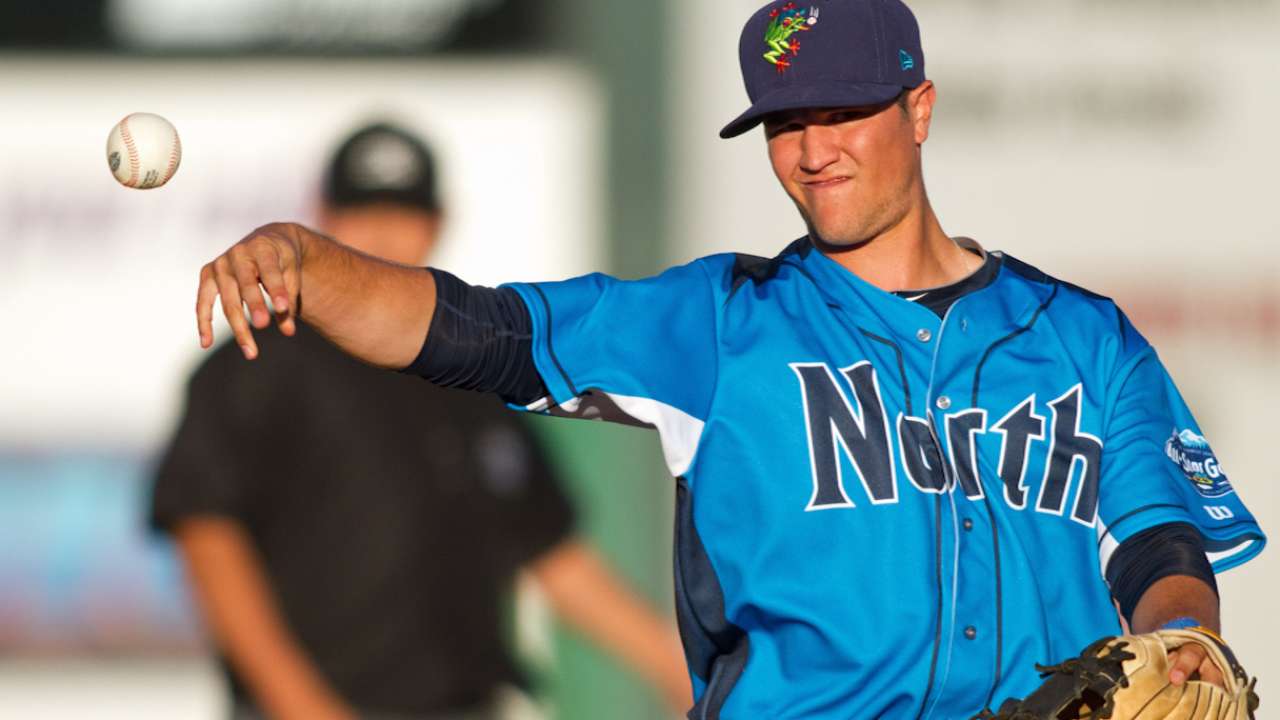 SS Jack Reinheimer
Acquired from the Mariners in the Mark Trumbo deal in early June, Reinheimer hit .265 with an on-base plus slugging of .726 for Double-A Mobile.
Bell's take: "I enjoyed watching him play. He's a good shortstop, he can stay at short, he's a good runner, he has good at-bats, but your eyes kind of gravitate towards him because of his presence on the field. He looks like a leader, he acts like a leader -- good game or bad game, he has the same presence and energy about him out there."
OF Gabby Guerrero
Guerrero also came to the D-backs from the Mariners in the Trumbo deal. He is the nephew of former big leaguer Vladimir Guerrero. Gabby Guerrero, who hit .226 with a .623 OPS with Mobile this year, is on the Rafters' taxi squad, meaning he is only eligible to play on Wednesdays and Saturdays.
Bell's take: "He's fun to watch. His mannerisms are so much like his uncle, it's crazy. He's got some big-time tools. He's on the taxi squad, but hopefully at some point he'll be on the everyday roster and get a lot of at-bats. He's got a big arm. He's got, if not the best arm in the system, he's right there in the top two or three. He's a right fielder, he can play center and he's a middle-of-the-lineup guy."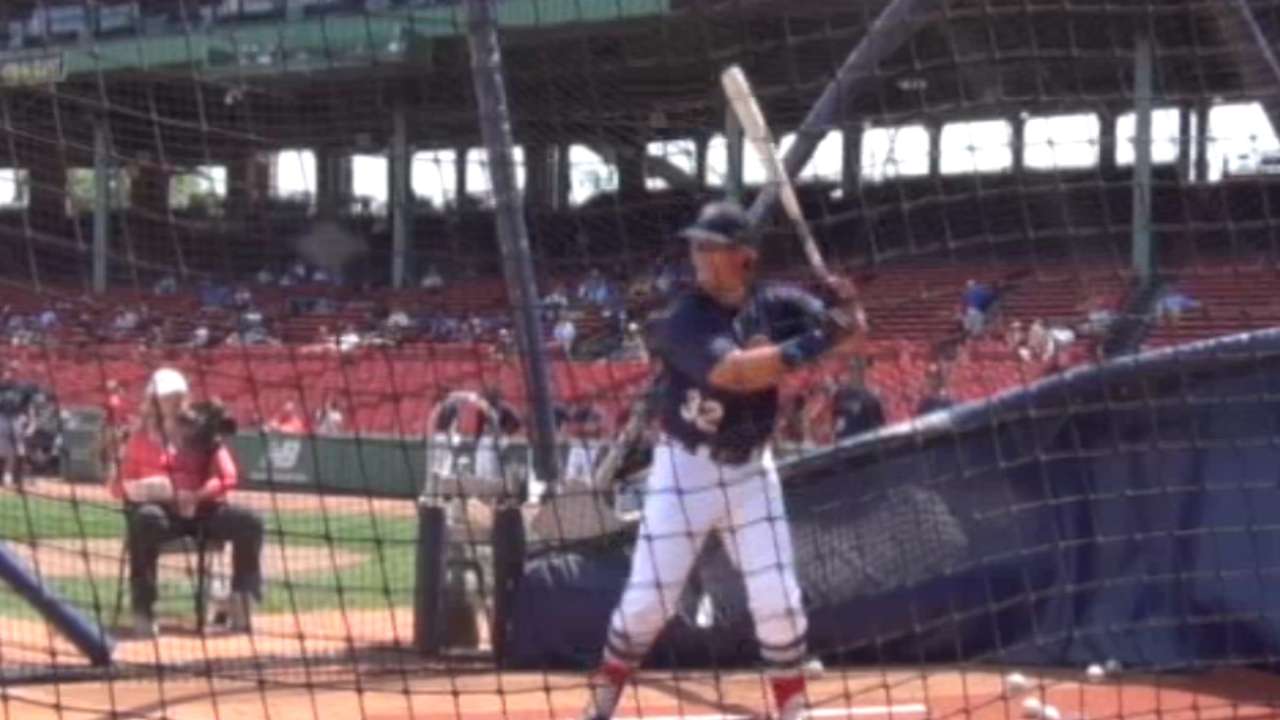 OF Daniel Palka
Selected by the D-backs in the third round of the 2013 First-Year Player Draft out of Georgia Tech, Palka hit .280 with 29 homers and 90 RBIs for Class A Visalia this past season.
Bell's take: " He's a strong guy, strong build and he can run. He was running sub 4.2 [seconds] down the line. We put him in the outfield this year. He hadn't played a ton of outfield for us, but he did in college. He improved defensively as the year went on. He's got a good arm, and he's got tools for every part of the game. He's an exciting player, and he's got incredible power."
Steve Gilbert is a reporter for MLB.com. Read his blog, Inside the D-backs, and follow him on Twitter @SteveGilbertMLB. This story was not subject to the approval of Major League Baseball or its clubs.