Nats' Bostick bashes his way to Fall League win
Washington's No. 23 prospect hits pair of homers in Salt River victory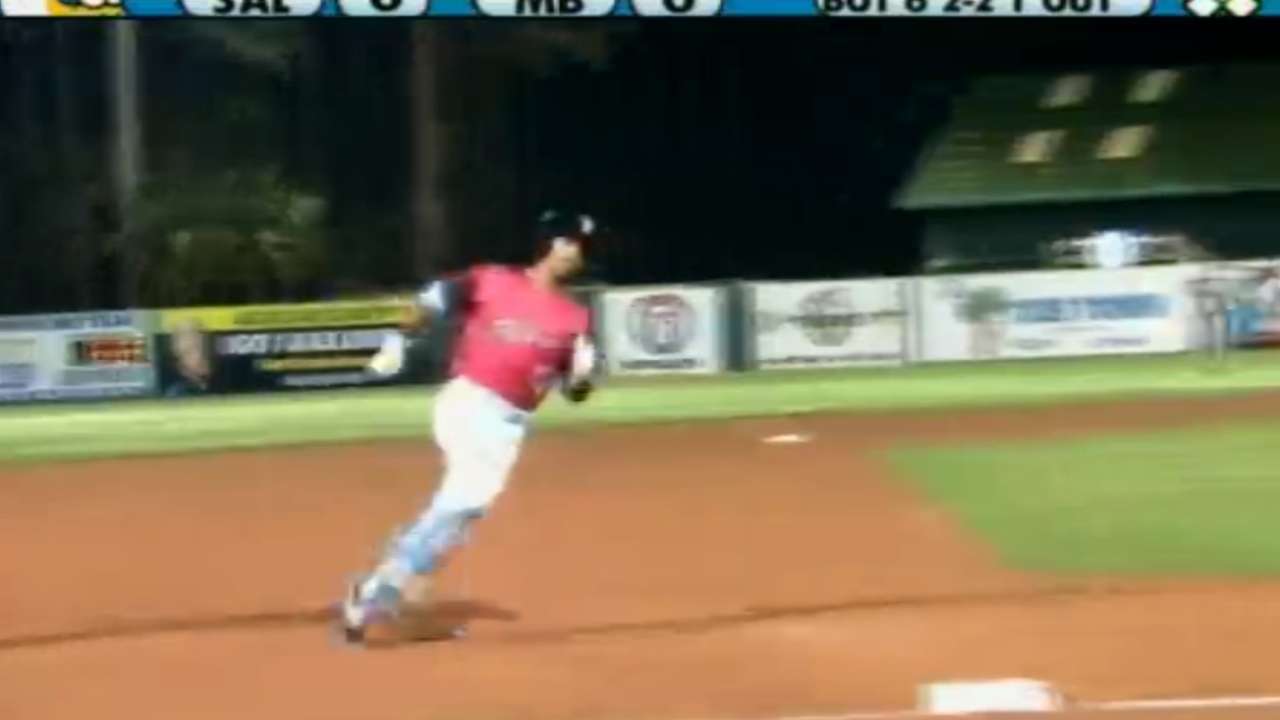 PEORIA, Ariz. -- Nationals prospect Chris Bostick isn't known for his power, but the second baseman had no trouble putting the ball over the wall on Thursday as he led the Salt River Rafters to a 9-7 victory over the Peoria Javelinas.
Although power is not a big part of his game, Bostick has hit double-digit home runs in each of the last three seasons. But, he hadn't had a multi-homer game since June 13, 2015.
That changed Wednesday at the Peoria Sports Complex when the Nationals' No. 23-ranked prospect hit a pair of homers and finished the afternoon 3-for-4 with four RBIs.
"It was good. It's always good on days like today," Bostick said. "It's just something you want to keep going. I'm down here trying to be aggressive toward pitches I can handle and lay off pitches that I can't and trying to see some results from that."
Not only did Bostick hit two home runs, but he hit them in big spots.
Bostick had a pair of two-run shots -- in the sixth and eighth -- and both gave his team the lead.
While the second homer was a line drive that easily cleared the wall, the first one didn't appear gone off the bat. However, it had enough carry and was able to get out.
"That one was up a little bit, probably an Arizona home run," Bostick said. "You don't get too many of those in the Eastern League."
The bulk of Salt River's scoring came late in the afternoon because Peoria's starter -- right-hander Jason Garcia -- was dominant in his two innings of work.
Garcia, Baltimore's No. 16 prospect, threw two shutout innings, allowing one hit and striking out five.
"He's got a live fastball, good arm," Bostick said. "He looked like he commanded it well, had a few strikeouts in the first two innings. Unfortunately, I didn't get a chance to face him, but he was definitely working his pitches and doing a good job out there."
Bostick was not one of Garcia's strikeout victims, but strikeouts have been a problem for Bostick in his young career.
Although he has cut down on the number of strikeouts in each professional season -- 122 in 2013, 116 in '14 and 100 in '15 -- Bostick is still not where he'd like to be in that regard.
"That's always been part of the game that I've been working on, everybody's working on that," Bostick said. "I'm just trying to be more disciplined at the plate, make solid contact. It's more of that than anything. I'm not up there trying not to strike out, it's trying to make solid contact. Once the approach and everything falls together, then the strikeouts start to dwindle a little bit."
While Bostick's homers gave Salt River a pair of leads, Blue Jays prospect Rowdy Tellez put an exclamation mark on the game with a mammoth two-run homer that ended up being the difference after a pair of ninth-inning runs.
"That's power," Bostick said. "Everyone can hit home runs, but power like that is hard to find -- him and Joey Gallo maybe."
William Boor is a reporter for MLB.com. Follow him on Twitter at @wboor. This story was not subject to the approval of Major League Baseball or its clubs.