MLB.com Columnist
Anthony Castrovince
Bat flips are here to stay, enjoy them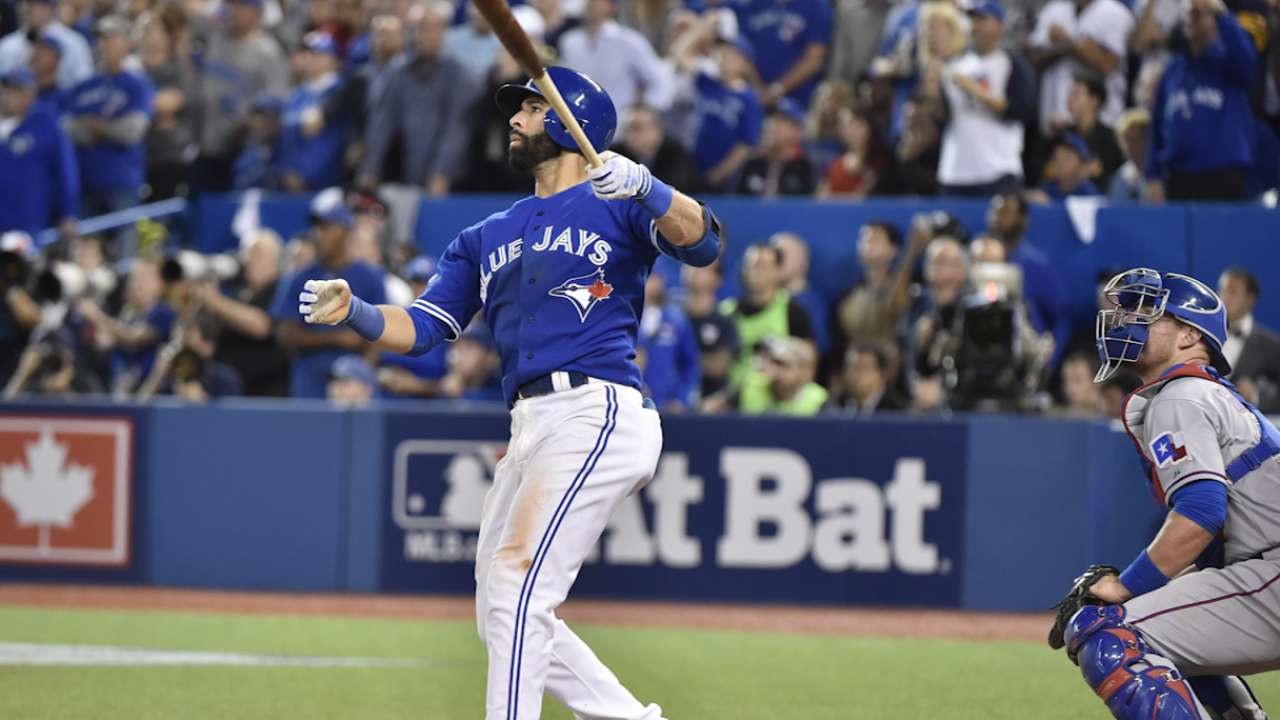 He had just hit the hugest home run of his life in what was, quite clearly, the biggest game of his life to that point. And he stood there for several seconds admiring the prodigious blast before violently heaving his bat to the sky while the adoring masses went bananas.
Man, that Tom Lawless bat flip in the 1987 World Series was really something, wasn't it?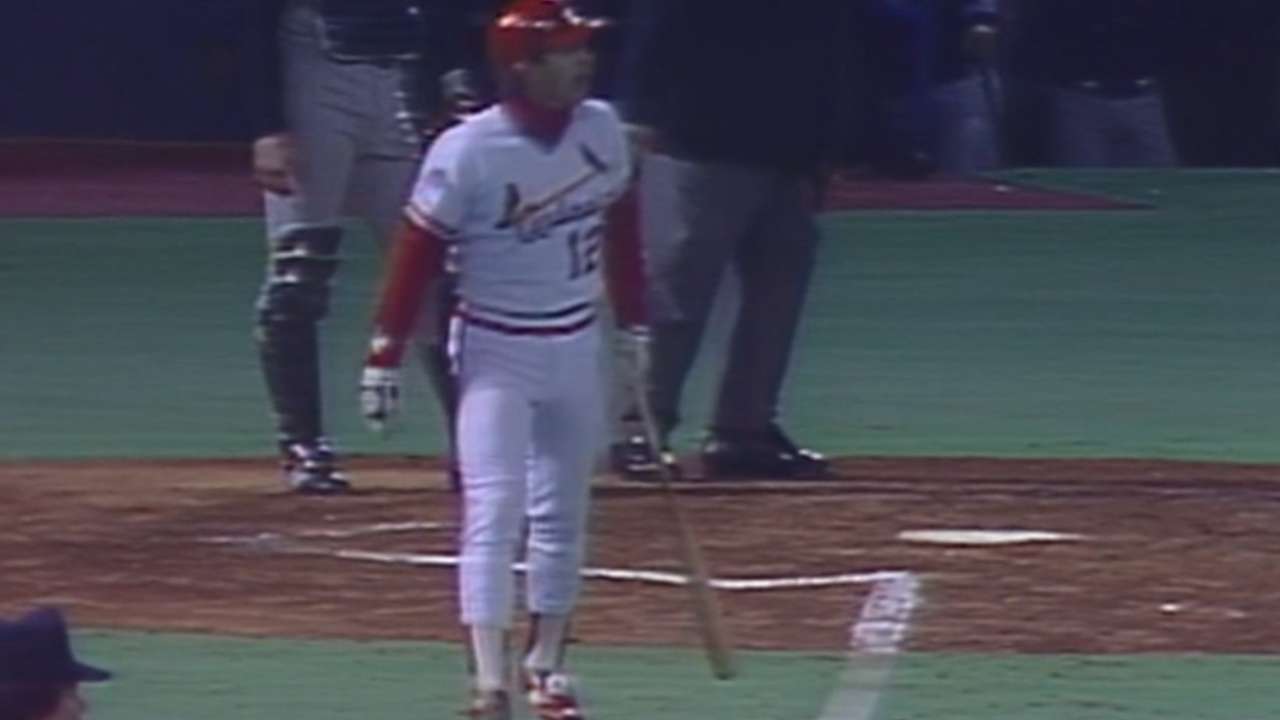 Indeed, what Jose Bautista did Wednesday night was neither unprofessional nor unprecedented. Anybody citing it as some sort of sign that the game is becoming increasingly amateurish ought to consider the fact that Lawless' original flip happened 28 years ago, and nobody raised a stink about it or intentionally plunked him with a pitch or cried out that baseball was thereby ruined forever and ever.
Leave it to a guy named Lawless to break an all-too-stringent code of conduct, and leave it to a guy known as "Joey Bats" to get us all discussing bats and where and when it's appropriate to flip them.
One bottom line, in 1987 as now, is that big moments sometimes inspire big reactions.
Another bottom line is that sports should be fun wherever possible, and bat flips -- provided they don't, you know, break Ruben Tejada's other leg or something -- can be great fun. They are an emotional response that can elicit an emotional response, as evidenced by the fact that this vine, as of this writing, has more than 13 million loops.
The good news is, judging by the majority of reaction to Bautista's epic bat heave after his decisive home run in Game 5 of the American League Division Series against the Rangers, attitudes on this sort of thing are evolving. Yes, Rangers reliever Sam Dyson, who said Bautista needed to "calm down" and "respect the game," obviously took issue with Bautista's reaction, as tends to be the case when you're the pitcher who coughs it up.
But given the high stakes and the incredibly high intensity, there were many people in the industry who had no problem with the moment whatsoever.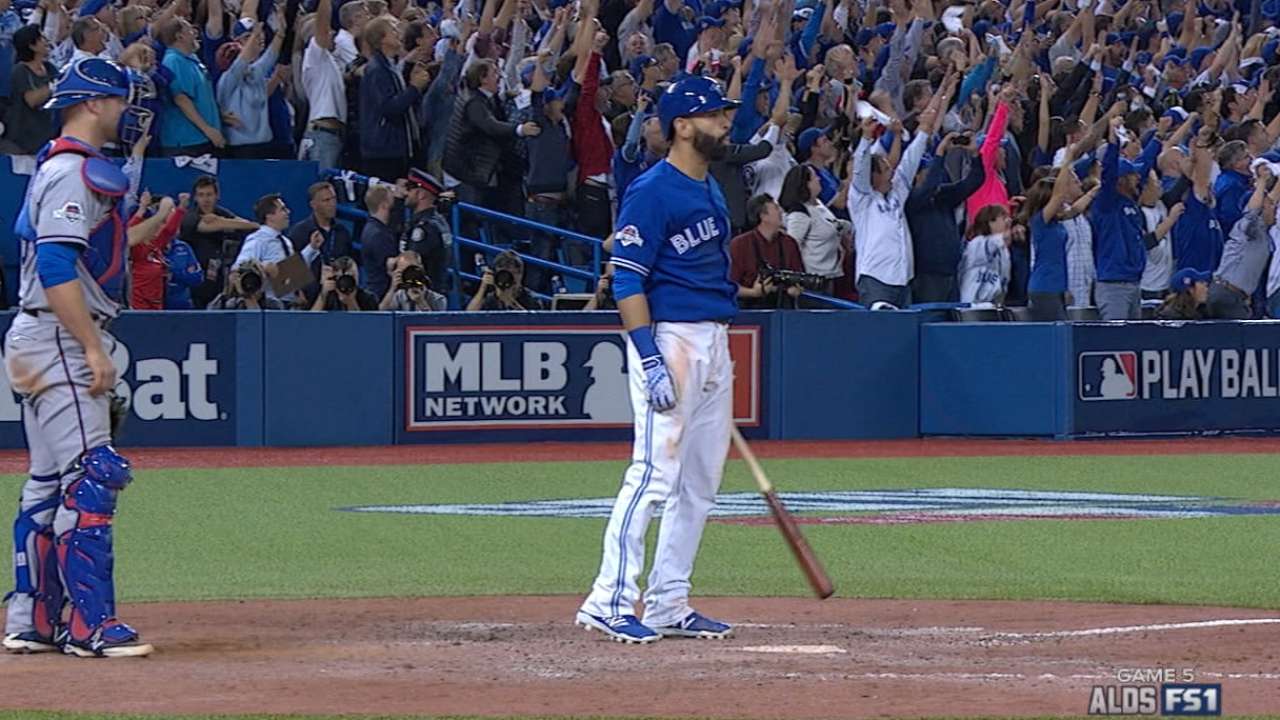 Here are just a few observations:
From Royals reliever Ryan Madson: "A lot of teams do that. He's not the only guy who does that. It seems like every team has their real excitable moments, and they show it. That's just the way the game is today. Viewers, they're not stopping watching the game because of it. If anything, people like it and they like the show of emotion. It is what it is. I just think we've got to get over that and don't let it affect our game and try to do too much because of it, and let emotions get the best of us."
From former Padres manager (and current Nationals candidate) Bud Black, as told to MLB Network Radio: "I've become a little bit more lenient on the bat flip. The key to the bat flip is, you flip it, but if you run hard after the bat flip, I'm good. The slow trot, I'm off."
From D-backs general manager Dave Stewart: "In today's game, what Jose Bautista did, that's acceptable. I've got to tell you, there's no better professional than he is, there's no better guy and no better teammate than he is. So I don't think it was to show up the other side. I don't believe that. I just think that's how they play today, and displays of emotion when you do something great -- especially on that platform in that moment -- that's just today's game."
• Touch 'em all, Jose: Legacy secured
From Astros manager A.J. Hinch (actually, prior to Bautista's bat flip): "I never read a book that's told people how they have to play. I realize how things used to be; I realize how things are going. We're in an entertainment business; there's certainly a fine line. You never want to disrespect the game or disrespect your opponent. But you got to live it up a little bit. You got to enjoy it a little bit. Otherwise this game will really beat you down with the amount of failure that's there."
From Hall of Famer George Brett, to the Washington Post: "If I hit one that far, I'd probably do it, too."
From Hall of Famer and former Phillies manager Ryne Sandberg, to MLB Network Radio: "I think you have to change with the times, from what I've witnessed, from what I've seen, from what I've learned. I think there's a borderline of a guy flipping his bat 100 feet in the air and standing there for five minutes and watching the home run. But as far as showing the enthusiasm and the high fives on the field and the excitement in the dugout, all those things in a way that you're celebrating something good happening and something good for the team … the fans feed off of that."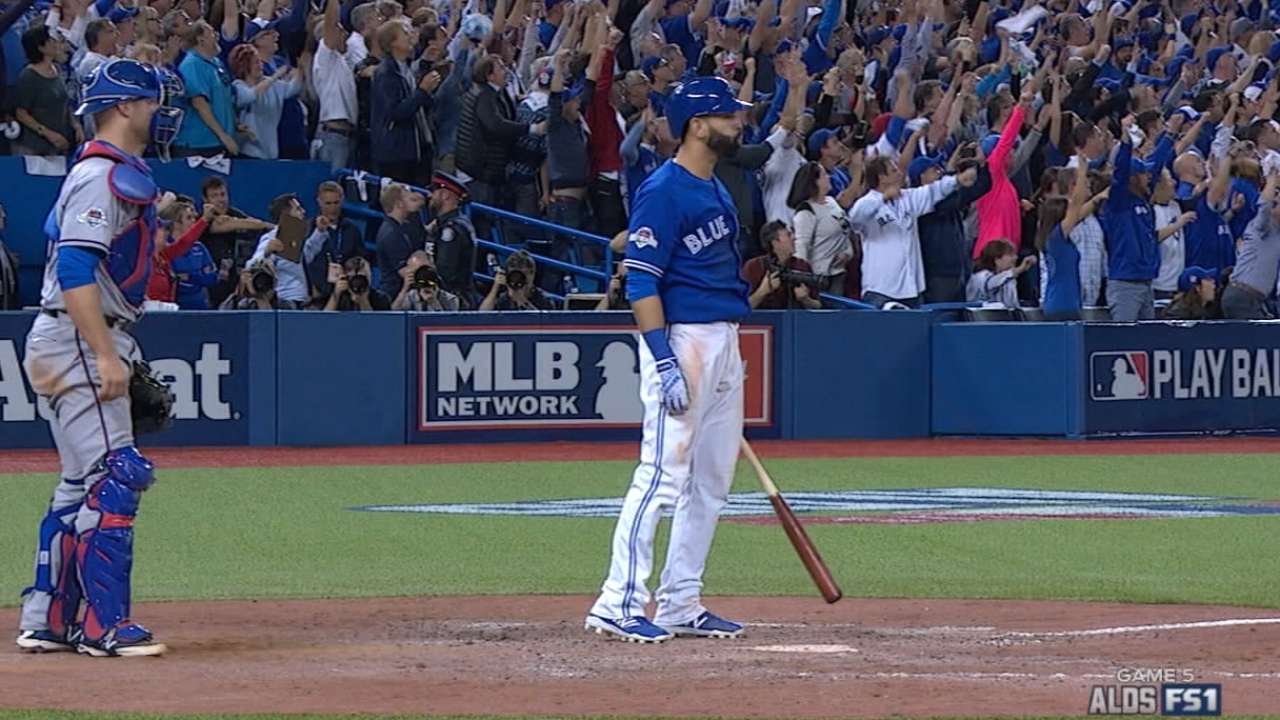 That last one really hits the nail on the head, as far as I'm concerned, because one criticism of Sandberg's brief tenure in Philly was his inability to relate to today's players. And even he has come around on bat flips.
There are certainly moments where a player could cross the "unwritten" line with this sort of thing. This Jose Ramirez eighth-inning bat flip after he hit a homer that gave the Indians a 10-1 lead on the Twins was ill-advised, because, really, why rub it in? I think Ramirez got swept up in that homer simply because he's not used to hitting homers.
But come on. A postseason elimination game? A game the Blue Jays could have lost on a little-known wrinkle in the rule book? A game Bautista has waited his entire, illustrious career to play, in a city that has been dying for meaningful baseball for more than two decades? The man is free to soak it in for a few seconds.
• Dress for ALCS: Celebrate Blue Jays' postseason run
With one fervent fling of the bat after a home run as big as can be in an inning as emotional as you'll see, Bautista created an image that was instantly iconic (and almost instantly impersonated) -- a perfect picture of what makes sports so enlivening, so enrapturing and so entertaining.
Watch @ARizzo44's dramatic re-enactment of @JoeyBats19's epic Game 5 bat flip: http://t.co/SX5U7ulzTb pic.twitter.com/Pj9xp2ASK1

— Cut4 (@Cut4) October 15, 2015
He wasn't pointing at Dyson or the Blue Jays' bench. He wasn't instigating, he was celebrating. It's quite clear from the fan response on social media that it was a moment that entertained. And it's clear from the comments of even some folks who have been around this sport for decades that it wasn't a moment that inflamed.
It's OK, sometimes, to get a little swept up in celebration.
So don't flip out.
Anthony Castrovince is a reporter for MLB.com. Read his columns and follow him on Twitter at @Castrovince. This story was not subject to the approval of Major League Baseball or its clubs.