3 keys for Royals in Game 1 of the ALCS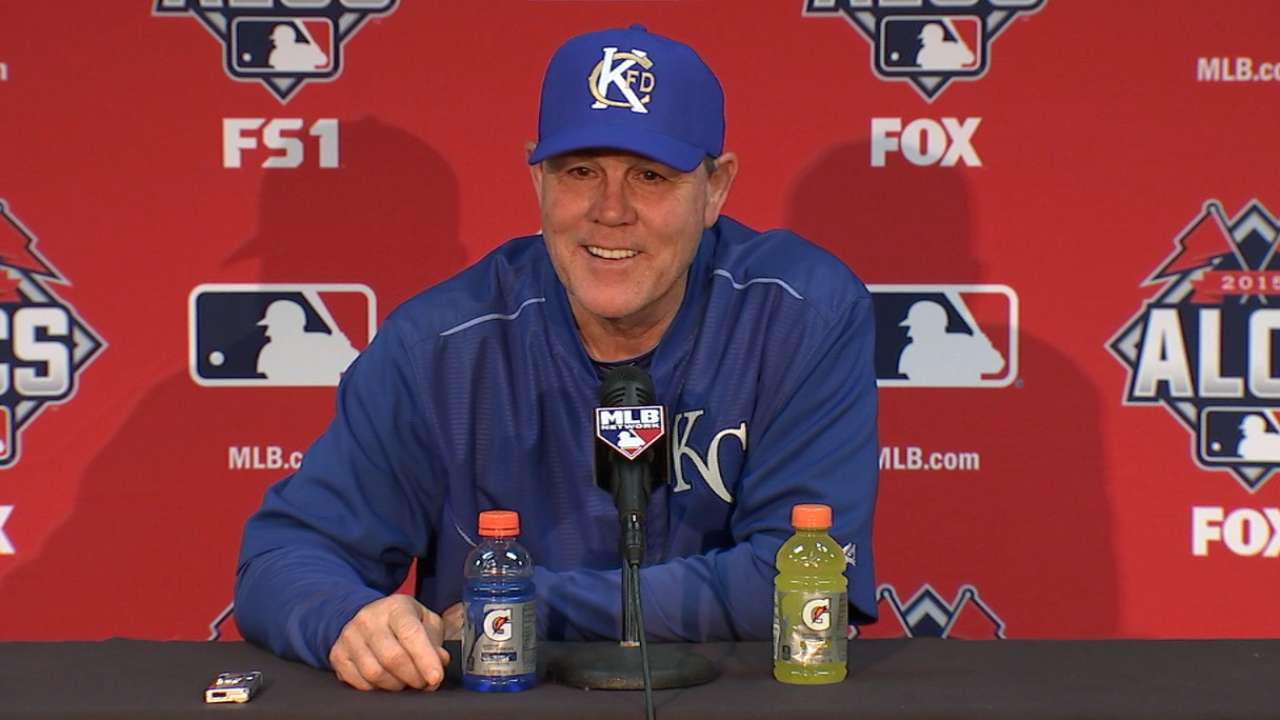 KANSAS CITY -- Emotions ran high during the Royals' last tango with the Blue Jays in Toronto, and one can anticipate such will be the case again in the American League Championship Series, which starts tonight(7:30 p.m. ET on FOX/Sportsnet) at Kauffman Stadium.
"On top of everything else, you have two teams who are really good, who really want to get to the World Series," Royals reliever Ryan Madson said. "So yeah, it's going to get intense."
• Shop for official Royals postseason gear
But aside from the emotions, what will be the strategic keys for Kansas City to win Game 1? Here are three that will be vital:
1. Attack, attack, attack
The Royals used a very patient approach at the plate beginning in the big five-run eighth inning that fueled the Game 4 win over the Astros in the AL Division Series, and then again in the decisive Game 5 win. But expect the Royals' hitters to go after Blue Jays starter Marco Estrada early in the count on Friday. Estrada is not a pitcher prone to wildness or walks -- just 2.7 walks per nine innings. The Royals prefer to be aggressive at the plate anyway (fewest walks in the league), and they usually have success against pitchers who are around the plate. That being said, they haven't had a ton of success against Estrada this season. He gave up just two runs in 6 2/3 innings in a start at Kauffman Stadium, then gave up just two runs in 5 2/3 innings in a Jays' win at Toronto. But in the start at The K, the Royals peppered him for nine hits -- they just couldn't deliver the knockout blow.
"Be aggressive in the zone, but don't chase," said one Royals coach. "And hope you can string some stuff together."
2. Be aggressive on the basepaths
The Royals will try to exploit Blue Jays left fielder Ben Revere, who does not possess a strong arm. So expect plenty of sends from third-base coach Mike Jirschele on balls to left field. The Royals have used their team speed less this year than 2014 -- mainly because they have hit for more power this season. But against a high-powered offense like the Blue Jays', the Royals will need offensive production any way they can get it.
3. Be fearless
That Blue Jays' offense can make pitchers timid, but the Royals' staff knows it can't back down this series.
"If you let them lean over toward the outside pitch," Edinson Volquez said, "you're in trouble."
The Royals will pound the Jays inside, but only up to a point.
"Each game is different and you have to gauge how their swings are early," Madson said. "But if your starters have backed them off the plate, you don't have to be wasting pitchers there later in the game. Pitch your game and be effective, and don't back down."
Jeffrey Flanagan is a reporter for MLB.com. Follow him on Twitter at @FlannyMLB. This story was not subject to the approval of Major League Baseball or its clubs.