Blue Jays tab Estrada for Game 1, Price for Game 2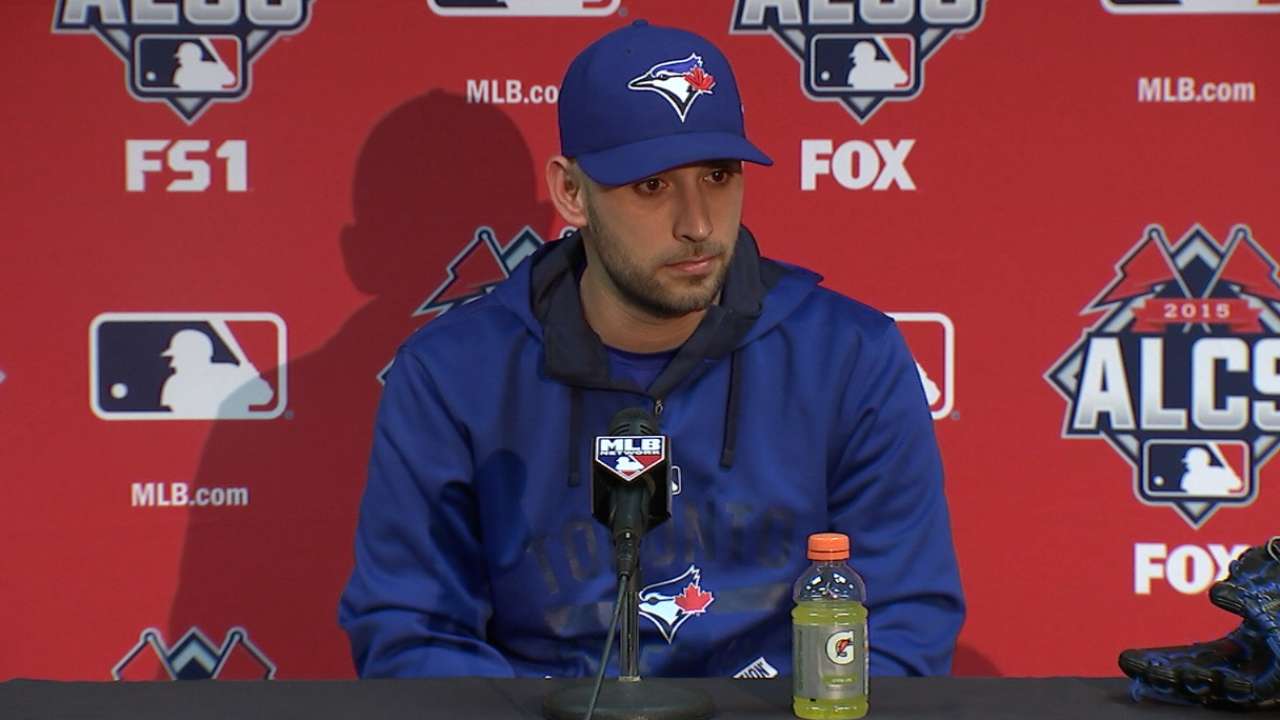 KANSAS CITY -- The announcement may have come a little late, but Marco Estrada was always an ideal choice to kick off this American League Championship Series for the Blue Jays, partly because Kauffman Stadium plays favorably to his fly-ball tendencies and largely because it allowed Toronto's starters to stay on normal rest. But look a little closer and you'll notice an overriding aspect to this, something Blue Jays center fielder Kevin Pillar touched on during Thursday's workout.
"He's arguably been our best pitcher all year," Pillar said of Estrada before Friday's Game 1, set for 7:30 p.m. ET on FOX and Sportsnet. "We're extremely confident in him."
Yes, in a rotation that boasts a pair of Cy Young Award winners in David Price and R.A. Dickey and a budding talent in Marcus Stroman, Estrada -- perpetual long reliever, former trade throw-in, relative unknown until, well, now -- may be the Blue Jays' best shot.
Over his last 24 regular-season starts, Estrada posted a 2.97 ERA while surrendering three earned runs or fewer 21 times. And while Price has struggled once again to find his footing in the postseason, Estrada has excelled, limiting the Rangers to one run and zero walks in 6 1/3 innings during Game 3 of the AL Division Series.
Now here he is, starting opposite Royals right-hander Edinson Volquez and opposing the reigning AL champions in the ALCS opener.
"It's awesome," Estrada said. "I'm excited to get this started."
Price gave up three runs in a three-inning, 50-pitch relief appearance in Game 4 of the ALDS and could have conceivably taken the ball on three days' rest for ALCS Game 1. But Blue Jays manager John Gibbons announced Thursday that Price would instead start Game 2, with Stroman in Game 3 and Dickey in Game 4.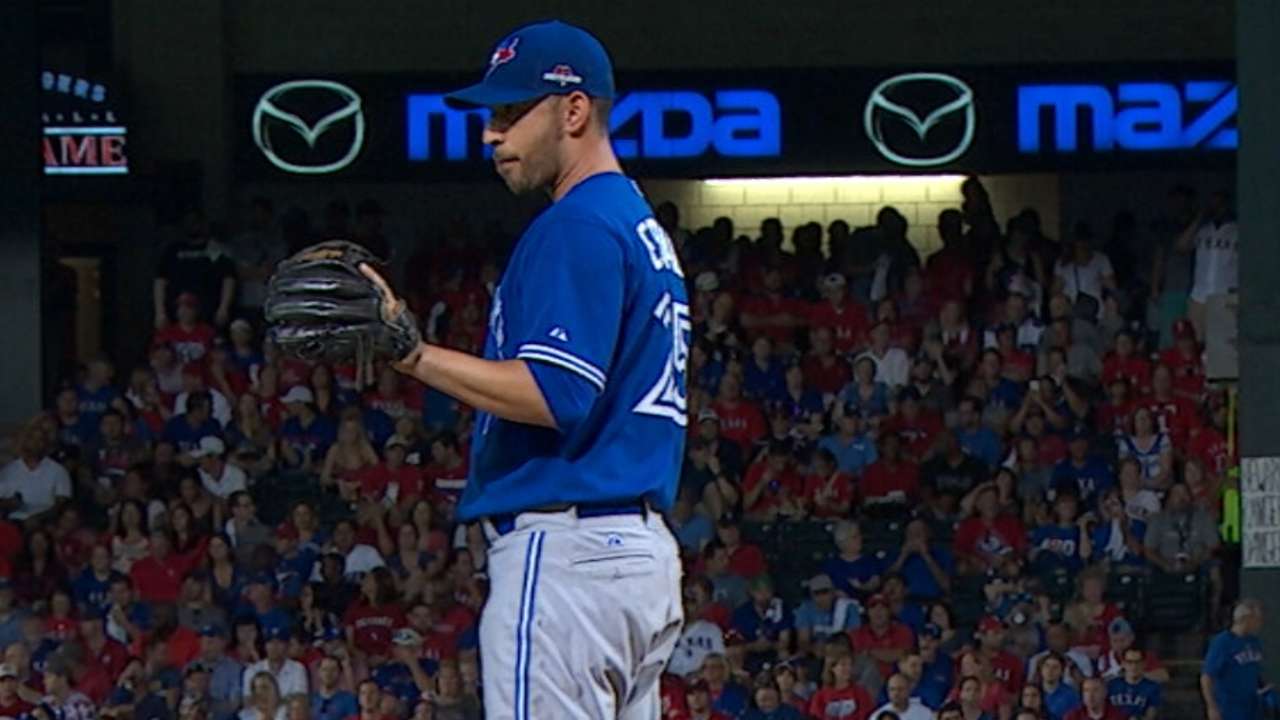 "What it came down to is these guys all have a lot of innings under their belt," Gibbons said. "Let's try to get some normalcy back to them a little bit, where you're not pitching on short rest. Dave threw 50 pitches the other day, but he was coming back, he was up the night before. That's wear and tear. So let's get him back on his normal [day], just like everybody else. And Estrada -- we felt that would be the best way to go."
The decision to start Estrada likely means Dioner Navarro, his batterymate for the last three or so months, will replace Russell Martin behind the plate.
It also means the Blue Jays could benefit from the spacious dimensions of Kauffman Stadium.
Estrada has been hindered by the home-run ball throughout his eight-year career, and while he improved somewhat in that area in 2015, it was still an issue. His fly-ball rate (52.3 percent) ranked second among qualified starters. His home-runs-per-nine-innings rate (1.19) ranked 16th. But Kauffman Stadium -- 330 feet down the line, about 390 in the power alleys and 410 to center field -- ranked 25th in home-run park factor during the regular season.
It's an ideal fit.
"I'm not trying to get pop flies all the time," Estrada said. "It just happens because I elevate so much. Part of it is just what I do. And this field, I think, is going to help me out a little bit."
Estrada came over from the Brewers on Nov. 1, mainly because the Blue Jays wanted to clear Adam Lind's $7.5 million salary for 2015. He arrived as a swingman, but stepped in for a struggling Daniel Norris in the middle of May. Right around that time, the 32-year-old right-hander finally learned to throw a cutter and began spotting his curveball for strikes.
Somewhere along the way, he emerged as perhaps the Blue Jays' best hope.
"You know, you make a trade like that -- and I know how good a player Lind is -- you expect to get that same type of quality player back," Pillar said. "He didn't get his opportunity early on to start. He was adjusting to a new role in the bullpen. When the opportunity arose, he ran with it."
Alden Gonzalez is a reporter for MLB.com. Follow him on Twitter @Alden_Gonzalez and Facebook , and listen to his podcast. This story was not subject to the approval of Major League Baseball or its clubs.