Cubs ready for NLCS showdown with Mets
Chicago won all 7 meetings in 2015, but before NY added key pieces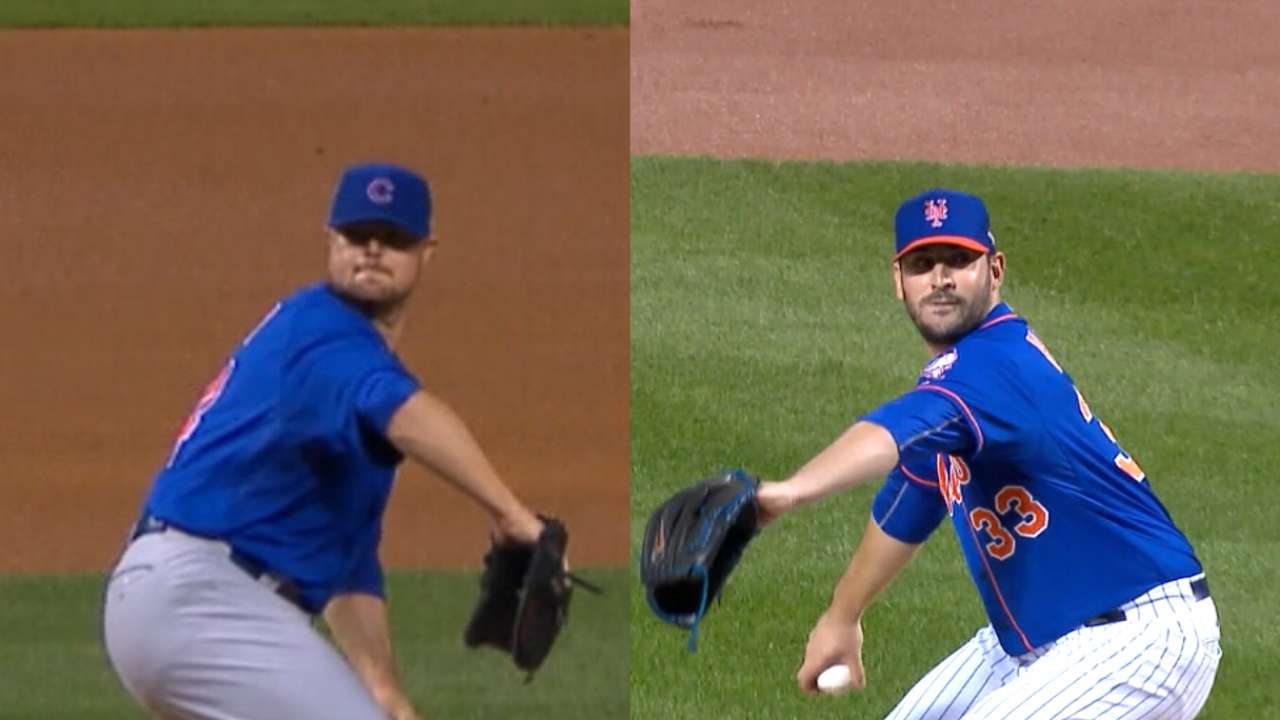 CHICAGO -- The Cubs swept the Mets in the seven games they faced off during the regular season, but that doesn't matter any more. It'll be Chicago vs. New York, Cubs vs. Mets in the National League Championship Series, starting Saturday (7:30 p.m. ET on TBS) at Citi Field.
New York advanced with a 3-2 victory over the Dodgers on Thursday night in Game 5 of the NL Division Series at Dodger Stadium.
The Cubs will travel early Friday for their first postseason meeting with the Mets. The two teams do have a little history, and you'll hear a lot about the 1969 season. Chicago had a 2 1/2-game lead over New York that season after a loss to Pittsburgh on Sept. 7, in which Willie Stargell tied the game with two outs in the ninth, hitting a gut-wrenching home run off Phil Regan. The Cubs then faced the Mets at Shea Stadium and lost both of those games, including one in which a black cat ran onto the field as Ron Santo was standing in the on-deck circle. Chicago lost 11 of 12 games in that stretch, from Sept. 3-15, as well as its lead in the NL East, and the Mets went on a run.
The Cubs would finish 1969 in second at 92-70, while the Mets went on to win the World Series, beating the Orioles in five games.
None of the current Cubs players was born yet in 1969, so they'll probably just shrug when stories about that season are rekindled.
Game 1 at Citi Field will feature lefty Jon Lester against New York's Matt Harvey. One thing that won't be on the Cubs' minds during the trip will be their season sweep over the Mets. New York didn't have Yoenis Cespedes, acquired later in a non-waiver Trade Deadline deal, in the lineup at that time. Nor did the Mets have third baseman David Wright and catcher Travis d'Arnaud, both out due to injury, or rookie outfielder Michael Conforto, who was still in the Minors.
"That's over with," catcher Miguel Montero said of the regular-season statistics. "You can't rely on that or say, 'We swept this series against them,' or, 'We did this against those two guys.' That's over. I think the Mets are a totally different team. ... The Mets have Yoenis Cespedes -- they're totally different. You know they're all good players."
There was no watch party planned for Cubs players Thursday night as they waited for the Mets and Dodgers to finish the NLDS.
Cubs manager Joe Maddon joked that he didn't need another party. The Cubs celebrated following their victory over the Cardinals in Game 4 of the NLDS on Tuesday, and some were still recovering.
"I've got so few brain cells left, I have to protect them," Maddon quipped. "They're on the endangered-species list now."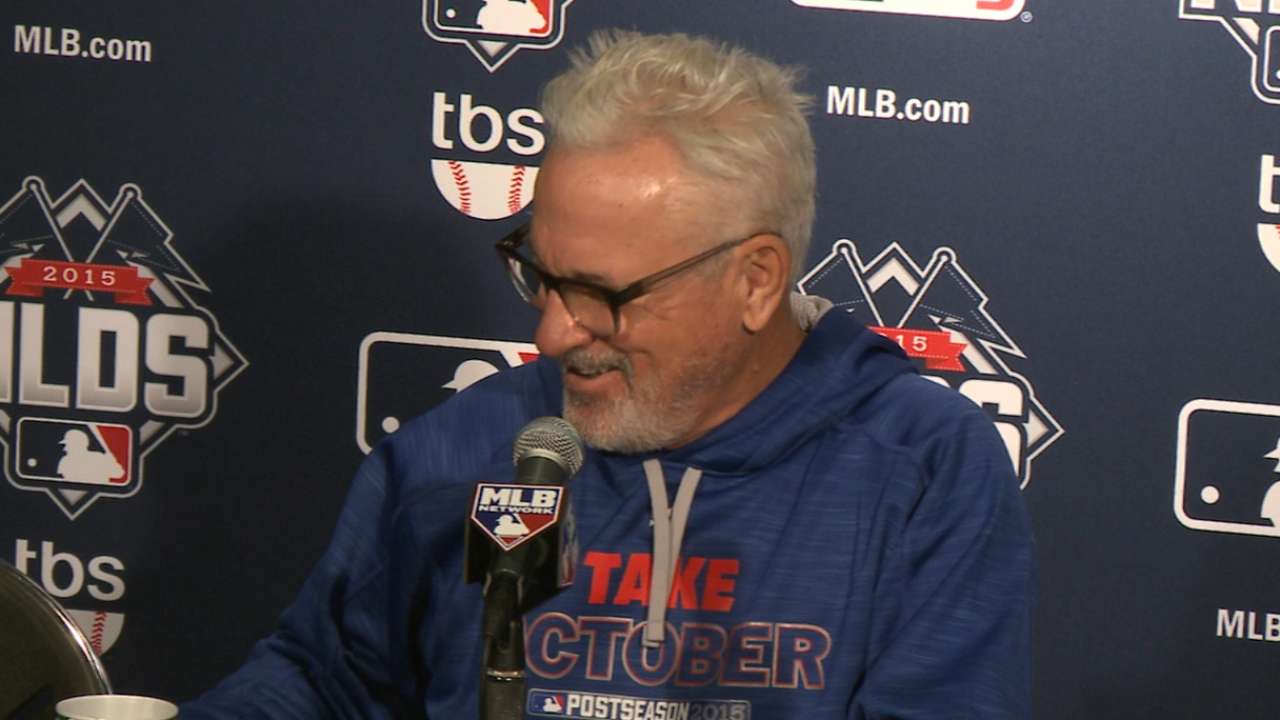 Maddon and Mets manager Terry Collins do have a connection. When Collins was let go as manager of the 1999 Angels, Maddon, who was his bench coach, took over as interim manager.
The Cubs did work out at Wrigley Field on Thursday in preparation for the NLCS, and all that was certain was Lester will start Game 1, Jake Arrieta will get the nod in Game 2 on Sunday, and rookie shortstop Addison Russell will not be available because of a hamstring strain.
"We'd rather travel to New York than L.A., and that's the extent of who we'd rather play," Cubs catcher David Ross said before the Mets won. "I think New York is a lot like us -- they've grown up over the year. They're a much different team than when we played them early in the year. When you get to this time of year, whoever you play, they're going to be really good and very talented and you have to play good baseball to beat them."
Maddon said he didn't recognize the Mets now. Noah Syndergaard made his Major League debut against the Cubs at Wrigley Field on May 12, and took the loss. Jacob deGrom faced Chicago twice, losing both games while totaling seven strikeouts over 10 1/3 innings.
"It's an entirely different team," Ross said of the Mets. "Their young pitching has really evolved. Getting to watch some of their games now, you can see how sharp they are."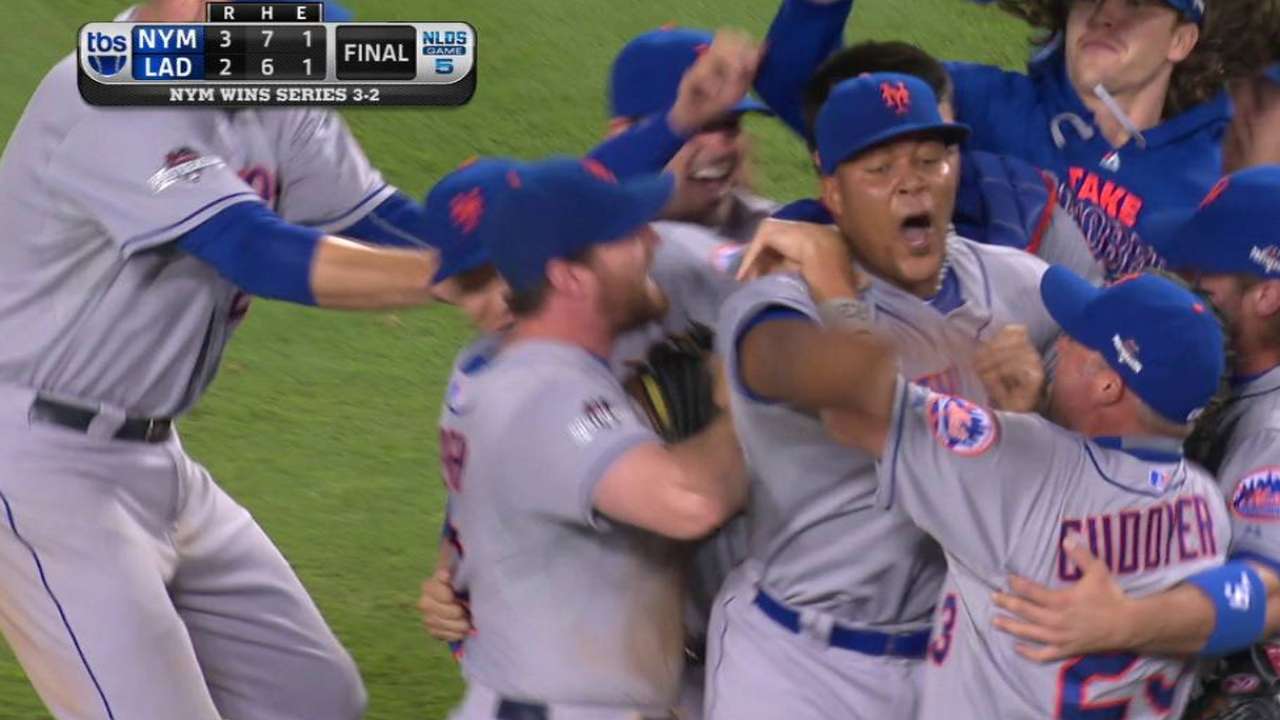 Since clinching the NLDS, Ross said it's been "exhausting," but in a good sense.
"I'm tired from smiling, if that can ever get old," he said. "It's just been fun, celebrating with these guys who have never done it -- and I'm talking about guys who have never been past the first round."
The Cubs were ready to go.
"There's no 'worn out' this time of year," Ross said. "It's a new season. When the postseason hits, it's like Spring Training all over again. You get a newfound energy. It's a young group. I don't know how much fatigue will play into it."
Carrie Muskat is a reporter for MLB.com. She writes a blog, Muskat Ramblings, and you can follow her on Twitter @CarrieMuskat. This story was not subject to the approval of Major League Baseball or its clubs.