Conforto in for Mets; Turner, Grandal for Dodgers
Starting lineups for Game 5 of the NL Division Series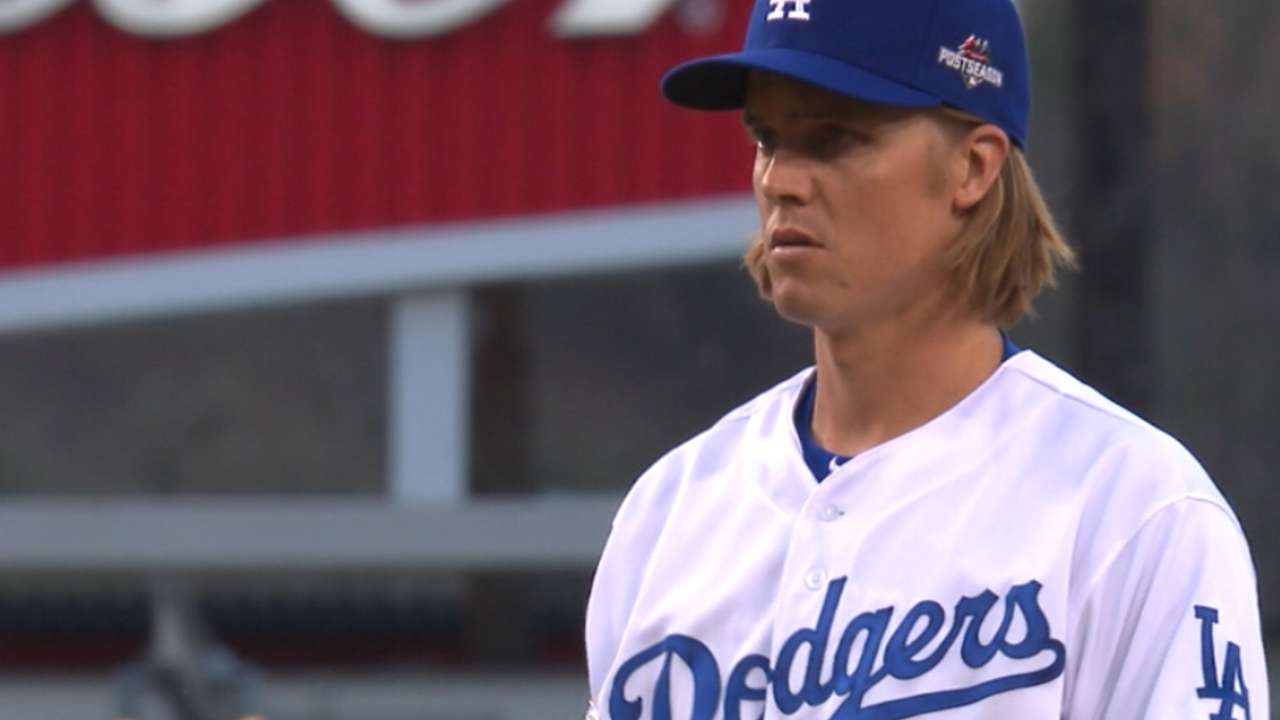 LOS ANGELES -- The Mets and Dodgers made some slight changes to their lineups for tonight's decisive National League Division Series game at Dodger Stadium.
Game 5 of the series, tied 2-2, is scheduled to begin at 8 p.m. ET (TBS).
Conforto starts in left for Mets
Michael Conforto is back in the Mets' lineup, after coming off the bench in Games 3 and 4 against left-handed starters. The Mets' Game 5 lineup is identical to the one they used against Dodgers starter Zack Greinke in Game 2, save for Wilmer Flores at shortstop in place of the injured Ruben Tejada.
That lineup scored just two runs in Game 2, a 5-2 Dodgers win, on solo homers by Conforto and Yoenis Cespedes. Cespedes moves from left field to center.
METS LINEUP
Curtis Granderson, RF
David Wright, 3B
Daniel Murphy, 2B
Yoenis Cespedes, CF
Lucas Duda, 1B
Travis d'Arnaud, C
Michael Conforto, LF
Wilmer Flores, SS
Jacob deGrom, P
Turner, Grandal start for Dodgers
Third baseman Justin Turner and catcher Yasmani Grandal are in the Dodgers' starting lineup.
Turner is battling several leg injuries, while Grandal has a very sore left (non-throwing) shoulder. On Wednesday, manager Don Mattingly said he expected Turner to play, but he listed Grandal as 50-50.
"Yas came in yesterday, they looked at him. He was feeling a lot better, doing a lot better," said Mattingly. "We planned on playing him today, him and [starting pitcher] Zack [Greinke] have worked really good. That's probably our main reasoning right there. I think they're really comfortable. Zack's really comfortable, and that's kind of the main thing to today.
"I just think they've worked good together all year. Zack's comfortable. He's pretty much calling his game. I think they just seemed to have worked good all year. I think Zack would be comfortable either way, if Yasmani couldn't lift his arm or something."
Mattingly also came up with his fifth batting order in as many games. He is starting Joc Pederson in center field and Kiké Hernandez in left field and benching Carl Crawford, who is 1-for-11 in the series. Howie Kendrick bats leadoff at second base and Corey Seager bats second, as he did in Game 2.
"We just thought Joc gave us the best chance today," Mattingly said.
DODGERS LINEUP
Howie Kendrick, 2B
Corey Seager, SS
Adrian Gonzalez, 1B
Justin Turner, 3B
Andre Ethier, RF
Yasmani Grandal, C
Kiké Hernandez, LF
Joc Pederson, CF
Zack Greinke, P
Anthony DiComo is a reporter for MLB.com. Follow him on Twitter @AnthonyDiComo and Facebook, and listen to his podcast. Ken Gurnick is a reporter for MLB.com. This story was not subject to the approval of Major League Baseball or its clubs.