Lester will start NLCS opener for Cubs
Arrieta gets nod in Game 2 vs. Mets at Citi Field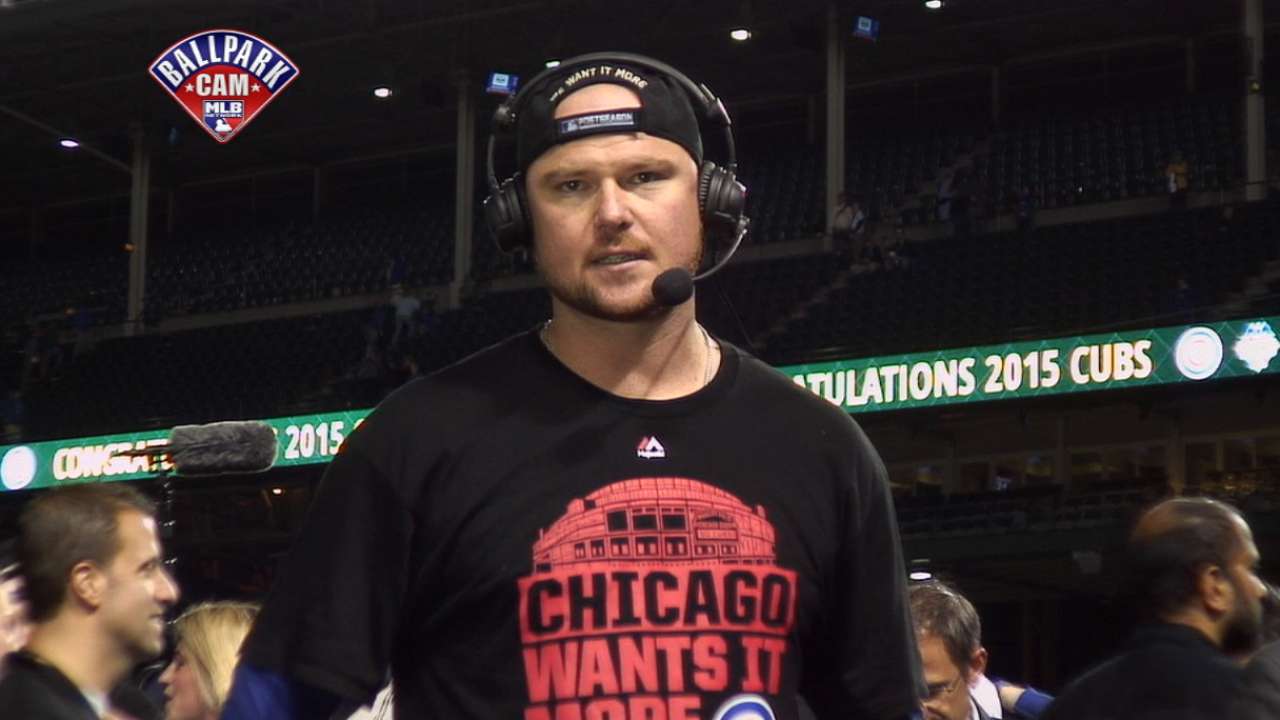 CHICAGO -- Jon Lester will start Game 1 of the National League Championship Series on Saturday (6:30 p.m. CT on TBS) vs. the Mets at Citi Field, and he will be followed by Jake Arrieta in Game 2, manager Joe Maddon said Thursday.
"Jon Lester in a big game is always tasty," Maddon said of the left-hander, who has a career 6-5 record and 2.66 ERA in 15 postseason games. "You'll always take that. I have no problem with that. I know he's very confident. I think the extra rest will help, too."
• Dress for the NLCS with Cubs gear
Arrieta threw a shutout against the Pirates in the NL Wild Card Game presented by Budweiser, and started Game 3 of the NL Division Series against the Cardinals on Monday, giving up four runs over 5 2/3 innings. Lester pitched last Friday in Game 1 of the NLDS, and was scheduled to go in Game 5 if necessary. The Cubs beat the Cardinals in four games to advance to the NLCS.
"It's nice giving Jake an extra day," Maddon said of the right-hander. "I'm really comfortable with them being starters in two games [in the series]."
Arrieta posted career highs in innings pitched this season (229) en route to a 22-6 record and a 1.77 ERA.
"He'll probably tell you he does not [need the rest], but I like the idea he gets it," Maddon said. "I think we've been pushing him pretty hard. His innings are way up compared to what they've been in the past."
Arrieta admitted that his heart rate was pumping at an accelerated pace on Monday, and said he'll adjust his pregame routine accordingly.
"The biggest thing is trying to conserve energy when you can," Arrieta said. "The biggest part of that is early in the day. Try to sleep in as late as you can, try to relax and try to keep your mind off certain things early in the day. Everyone knows once you get to the park, that adrenaline and that energy is just going to continue to flow."
The Cubs are expected to go with four starters in the NLCS, so Jason Hammel and Kyle Hendricks would join Lester and Arrieta, but Maddon wasn't ready to reveal the rotation order.
"We have not finalized anything," Maddon said. "Possibly who we're playing will impact that decision, too."
Carrie Muskat is a reporter for MLB.com. She writes a blog, Muskat Ramblings, and you can follow her on Twitter @CarrieMuskat. This story was not subject to the approval of Major League Baseball or its clubs.