Who has the ALCS advantage, position-by-position?
The race for the American League pennant is officially down to two teams, with the Blue Jays and Royals set to square off in the American League Championship Series.
The battle of division winners -- not to mention, the AL's two best regular season teams record-wise -- features a number of star players, both at the plate and on the mound. Those matchups will take center stage Friday night on FOX and Sportsnet when the ALCS begins at 7:30 p.m. ET at Kauffman Stadium.
• Postseason gear: Blue Jays | Royals
Here's a position-by-position breakdown for the upcoming series.
Catcher: Salvador Perez is undoubtedly a key cog in the Royals' lineup, providing superb defense behind the plate, as well as some occasional pop. After connecting for a career-high 21 homers during the regular season, he added two more in the ALDS against the Astros. That said, no catcher threw out a higher-percentage of baserunners this season than Blue Jays backstop Russell Martin, something that could play a key role against the speedy Royals. Along with throwing out 44 percent of potential basestealers, Martin also recorded a new career high in home runs with 23. Slight advantage: Blue Jays
First base: The tandem of Chris Colabello and Justin Smoak combined to form a serviceable platoon for the Blue Jays this season, but Eric Hosmer's all-around contributions in an everyday role for the Royals wins out here. Hosmer, who's won back-to-back AL Gold Glove Awards, had a strong bounceback season at the plate, hitting .297/.363/.459 with 18 home runs. Advantage: Royals
Second base: The Blue Jays continued to miss rookie second baseman Devon Travis in the ALDS. Travis, who was in the midst of an impressive rookie campaign before suffering a season-ending injury to his left shoulder in July, has been replaced in the lineup by Ryan Goins, who went 0-for-17 in Toronto's series against the Rangers. Meanwhile, the Royals acquired veteran Ben Zobrist at the Trade Deadline to bolster their production at second base, and he hit .284/.364/.453 with seven homers over 59 regular season games with the Royals before going 6-for-18 (.333) with two walks in the ALDS. Big advantage: Royals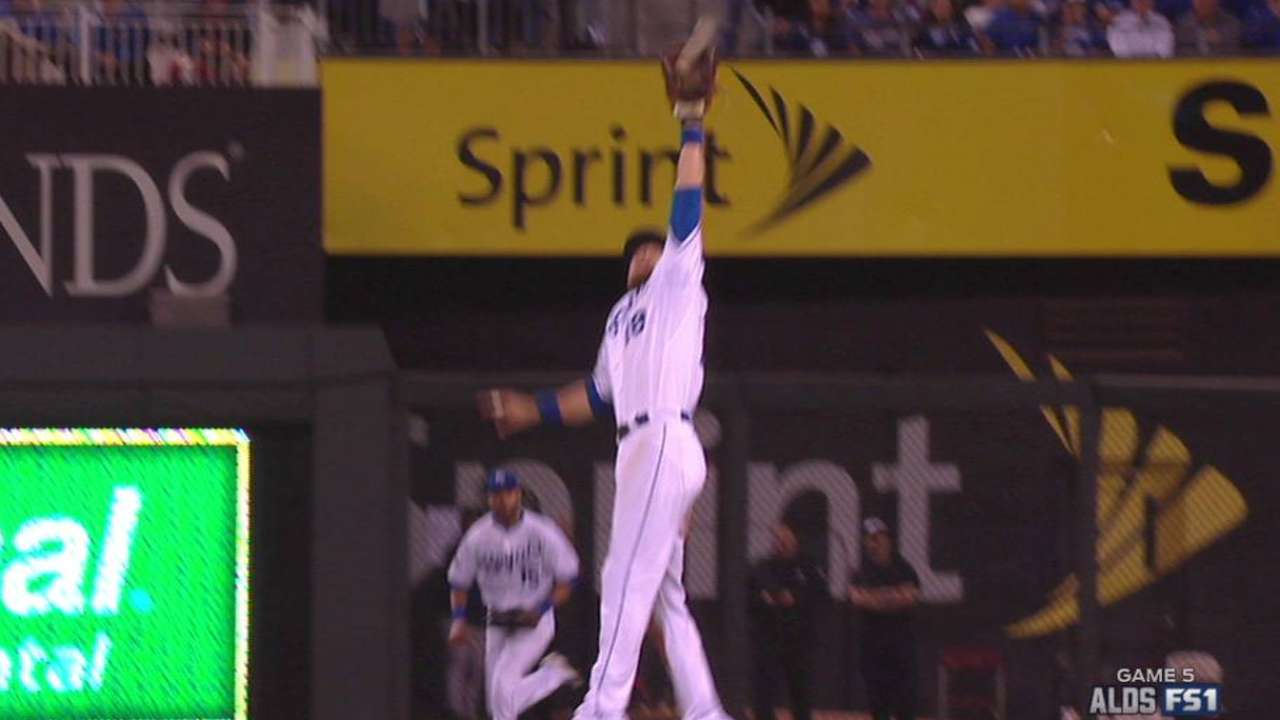 Shortstop: The Blue Jays made a key Trade Deadline acquisition of their own up the middle, landing five-time All-Star shortstop Troy Tulowitzki from the Rockies in late July. Though Tulowitzki may not be fully healthy after missing most of the final three weeks of the regular season due to a cracked bone in his shoulder blade, he did connect for a home run in the ALDS, while also making a couple highlight-reel plays defensively. Alcides Escobar, meanwhile, earned his first All-Star selection this season while primarily setting the table atop the Royals' order. Concerns surrounding Tulo's health make this a closer battle, but he's still a far more dangerous hitter. Advantage: Blue Jays
Third base: Nothing against Mike Moustakas, who has enjoyed a career year of his own, but the Blue Jays boast the AL MVP Award frontrunner at third base in Josh Donaldson. In his first year with Toronto, Donaldson hit .297/.371/.568 with 41 home runs, 123 RBIs and 122 runs scored and added two more homers in the ALDS. Big advantage: Blue Jays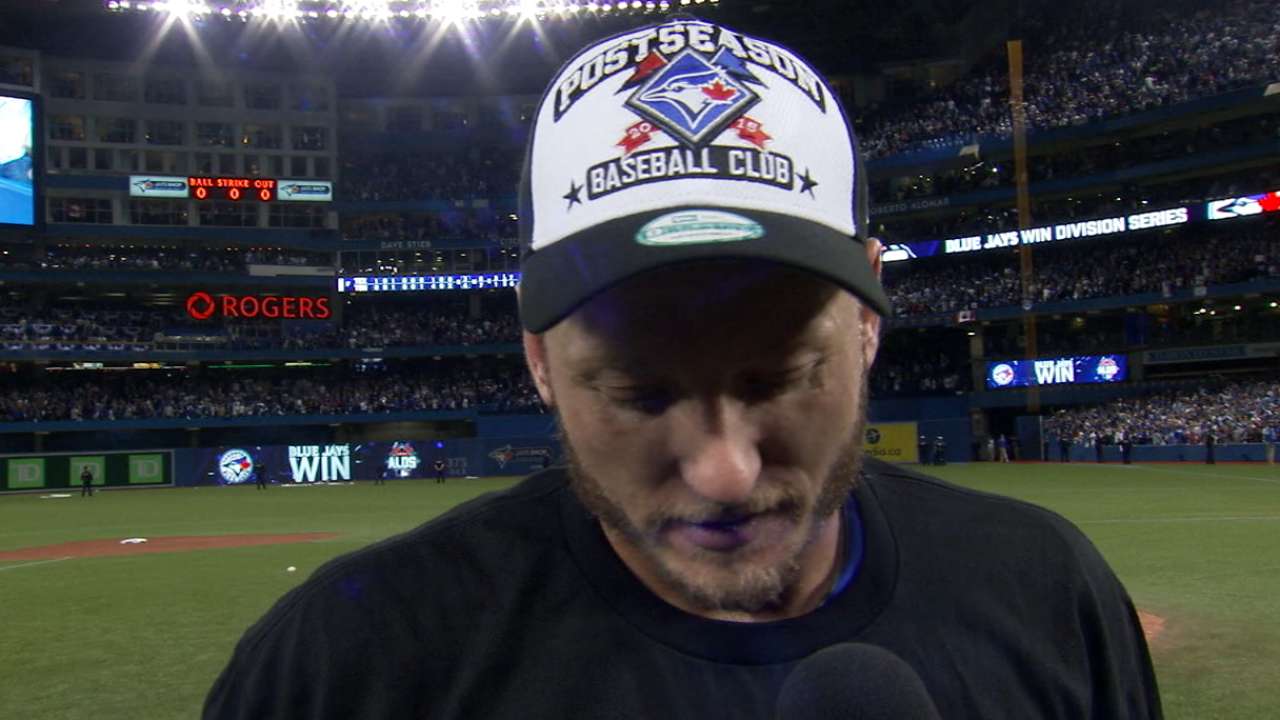 Left field: Alex Gordon was just beginning to heat up before suffering a severe groin strain in early July. He hit only .250/.327/.365 following his return in September then hit .235 (4-for-17) in the ALDS, though he did add a home run. The Blue Jays have enjoyed solid production out of Ben Revere, another Trade Deadline acquisition, after acquiring him from the Phillies. Revere hit .319/.354/.381 over 56 regular season games with Toronto, and swiped 31 bases during the regular season and two more in the ALDS. Close call, but track record wins out.Slight advantage: Royals
Center field: This matchup is far closer than it may appear to the naked eye. Though Lorenzo Cain had a breakout postseason a year ago as an elite five-tool outfielder, Kevin Pillar as established himself as one of the best defensive outfielders in the game this year with a seemingly endless highlight-reel of defensive gems. He also chipped in a .278/.314/.399 line at the plate. Even so, Cain either achieved or matched career highs across the board, hitting .307/.361/.477 with 16 homers and 28 stolen bases -- and he, too, homered in the ALDS. Advantage: Royals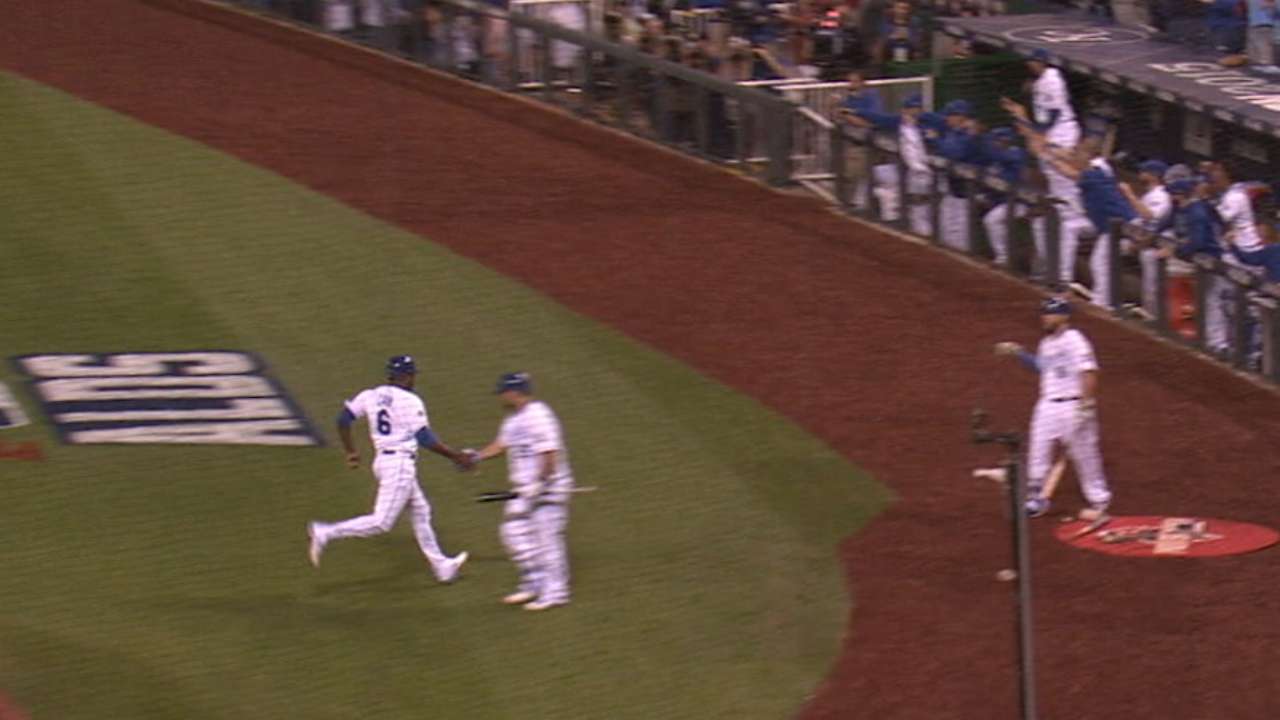 Right field: Alex Rios waited a dozen seasons to experience his first postseason action, but the 34-year-old outfielder hit just .255/.287/.353 with only four homers during the regular season, though he did come through with a crucial two-run double in Game 5 of the ALDS. Needless to say, that pales in comparison to Jose Bautista's 40-homer, 114-RBI campaign that also saw the slugger work an AL-best 110 walks. Big advantage: Blue Jays
Designated hitter: Kendrys Morales had an impressive bounceback year with the Royals, highlighted by a three-run blast in Game 5 of the ALDS. On the other side, Edwin Encarnacion completes Toronto's tantalizing trio of sluggers, hitting beyond Donaldson and Bautista. Encarnacion clobbered 39 homers and drove in 111 runs for the Jays during the regular season then crushed a game-tying moonshot in Game 5 of the ALDS to set the stage for the game's bizarre seventh inning. Advantage: Blue Jays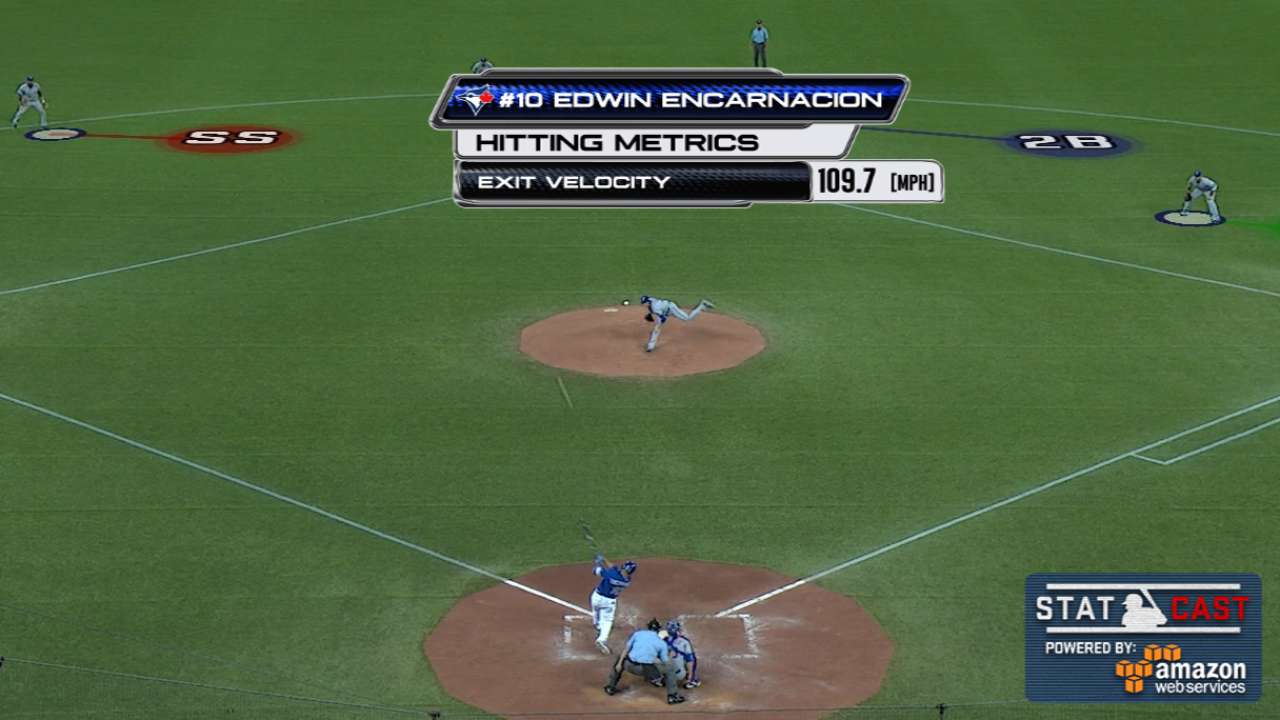 Bench: Both teams have enticing options off their bench, with the Blue Jays being able to turn to either Smoak or Colabello (depending which one starts) as a source of power and the Royals being able to call on Jarrod Dyson or Terrance Gore for speed purposes. The Jays also have a speed threat in Dalton Pompey lurking on the bench, but the Royals proved last postseason how significantly -- and quickly -- their running game, and particularly their pinch-runners, can impact a game. Slight advantage: Royals
Rotation: The good news for the Royals is that Johnny Cueto looked like his dominant old self in Kansas City's ALDS-clinching victory. The bad news is that by starting that winner-take-all game, Cueto won't be available until Game 3 of the ALCS. The Blue Jays, meanwhile, will have the luxury of turning to their ace David Price in the series opener. The two clubs are relatively even beyond their respective aces, with the Jays lining up Marco Estrada, Marcus Stroman and R.A. Dickey opposite Yordano Ventura, Edinson Volquez and either Chris Young or Kris Medlen. Slight advantage: Blue Jays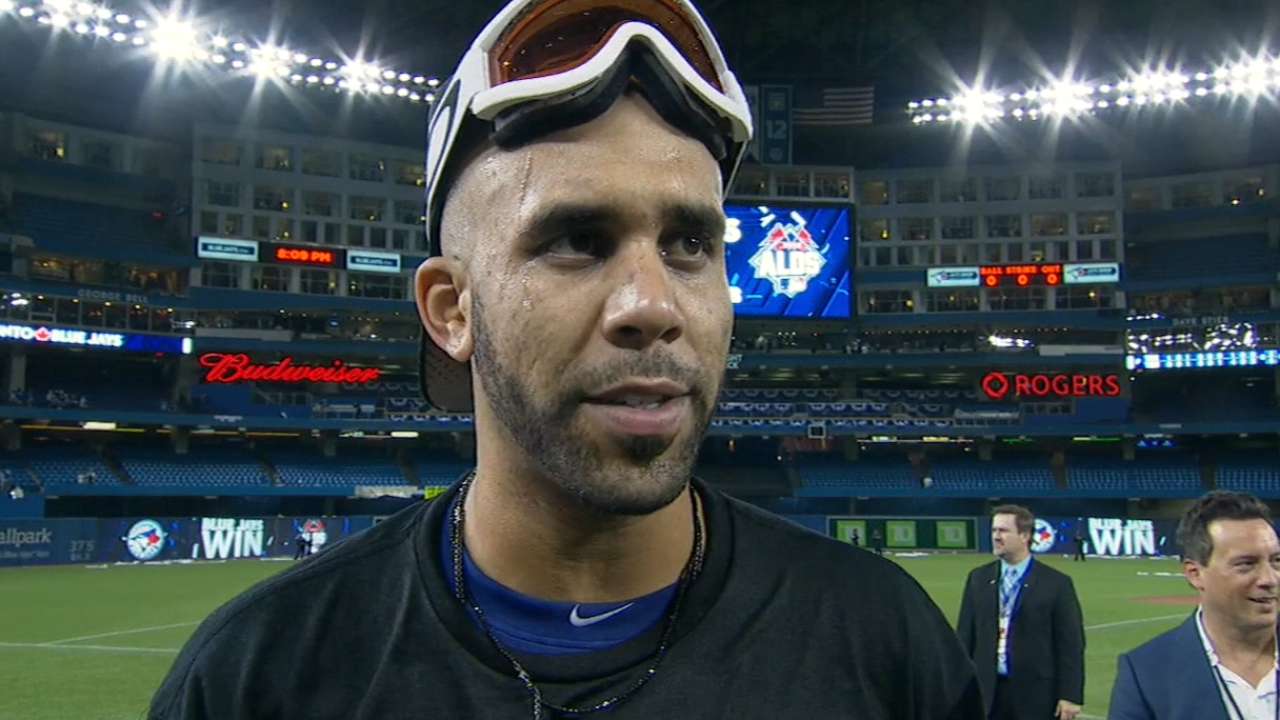 Bullpen: The Blue Jays' bullpen took a major hit in Game 2 of the ALDS when reliever Brett Cecil suffered a torn left calf muscle that will sideline him for the remainder of the postseason. Cecil, who racked up a 2.48 regular-season ERA over 63 appearances, hadn't allowed an earned run since June 24. As for the Royals, they boast a formidable core of relievers even without an injured Greg Holland. Kansas City's late-inning options include Kelvin Herrera, Ryan Madson, Luke Hochevar and lefty specialist Danny Duffy, giving the Royals a bullpen that rivals the one that led them to the 2014 AL pennant. Big advantage: Royals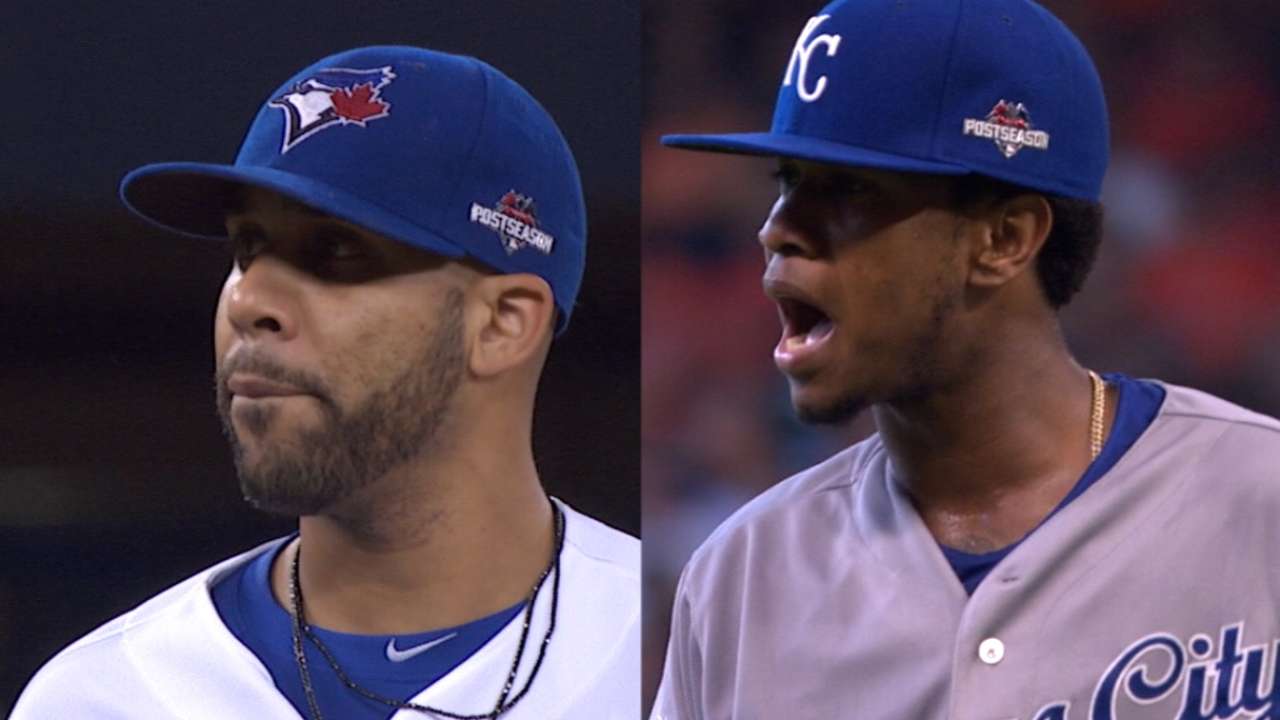 Closer: Jays closer Roberto Osuna pitched like anything but a 20-year-old rookie getting his first taste of the postseason in Toronto's ALDS victory over the Rangers. The youngster did not allow a single run while pitching in each of the final four games of the series, including locking down a five-out save in the winner-take-all Game 5. That said, Osuna has a long ways to go to match Royals shutdown closer Wade Davis, who saved all three of Kansas City's victories in the ALDS. Big advantage: Royals
Paul Casella is a reporter for MLB.com. This story was not subject to the approval of Major League Baseball or its clubs.