Volquez ready for Game 1 start against Jays
Royals right-hander to be followed by Ventura, Cueto in Games 2 and 3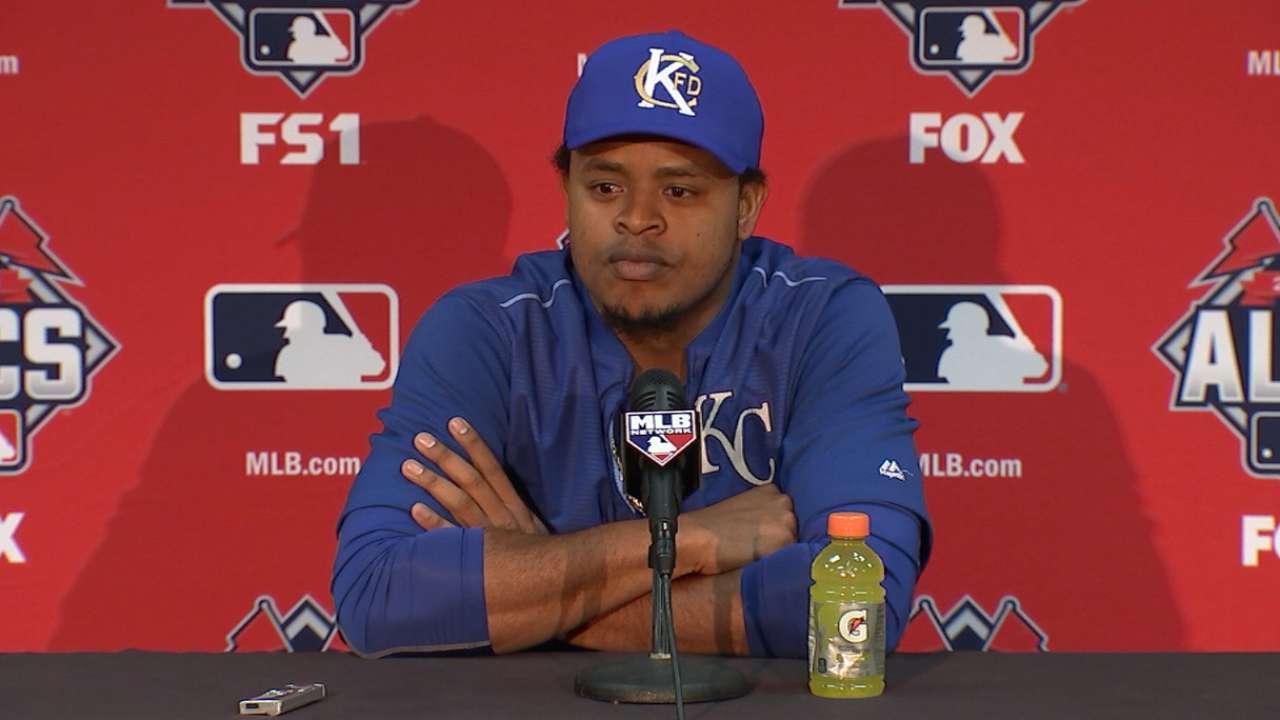 KANSAS CITY -- Right-hander Edinson Volquez will get the start for the Royals in Game 1 of the American League Championship Series on Friday (7:30 p.m. ET on FOX/Sportsnet) against Marco Estrada and the Blue Jays, and all eyes will be on Volquez when he first faces Josh Donaldson.
Royals manager Ned Yost said on Thursday that he has his top three pitchers set for the ALCS: Volquez, Yordano Ventura and Johnny Cueto for Games 1, 2 and 3.
• Shop for official Royals postseason gear
Volquez and Donaldson clashed during a memorable series at Rogers Centre in late July-early August. Volquez hit Donaldson with a changeup in the first inning, and in Donaldson's next two plate appearances, Donaldson objected to the umpires each time a pitch came remotely inside.
The Royals thought Donaldson's objections were over the top.
Afterward, Volquez told MLB.com that Donaldson was "crying like a baby." Donaldson responded that he didn't want Volquez tossed from that game because he was "good hittin'."
Volquez insists any bad blood between the two is gone.
"No, it's over with," Volquez said during Thursday's workout at Kauffman Stadium.
But make no mistake, Volquez isn't going to back down and he will continue to pitch inside to Donaldson and the rest of the Blue Jays.
"He's a great hitter," Volquez said of Donaldson. "No doubt about it. But I got to stick with the plan. I don't know what the plan is right now, but I will stick with it."
During that four-game set with the Blue Jays, the Royals lost three and got battered by homers. That's why Volquez and the rest of the Royals plan on keeping pitches in on the hitters' hands.
"A little bit, yes," Volquez said. "There's a lot of pull power there and you have to pitch inside."
Volquez doesn't anticipate that the umpires will be overly sensitive about Royals pitchers pitching inside.
"I don't think so," he said. "If something happens, they'll issue a warning. If nothing happens I got to pitch my own game, and that's pitching inside."
Volquez also said he's not concerned about the Blue Jays' open displays of emotions, such as Jose Bautista's now famous bat flip in Game 5 of the AL Division Series with the Rangers.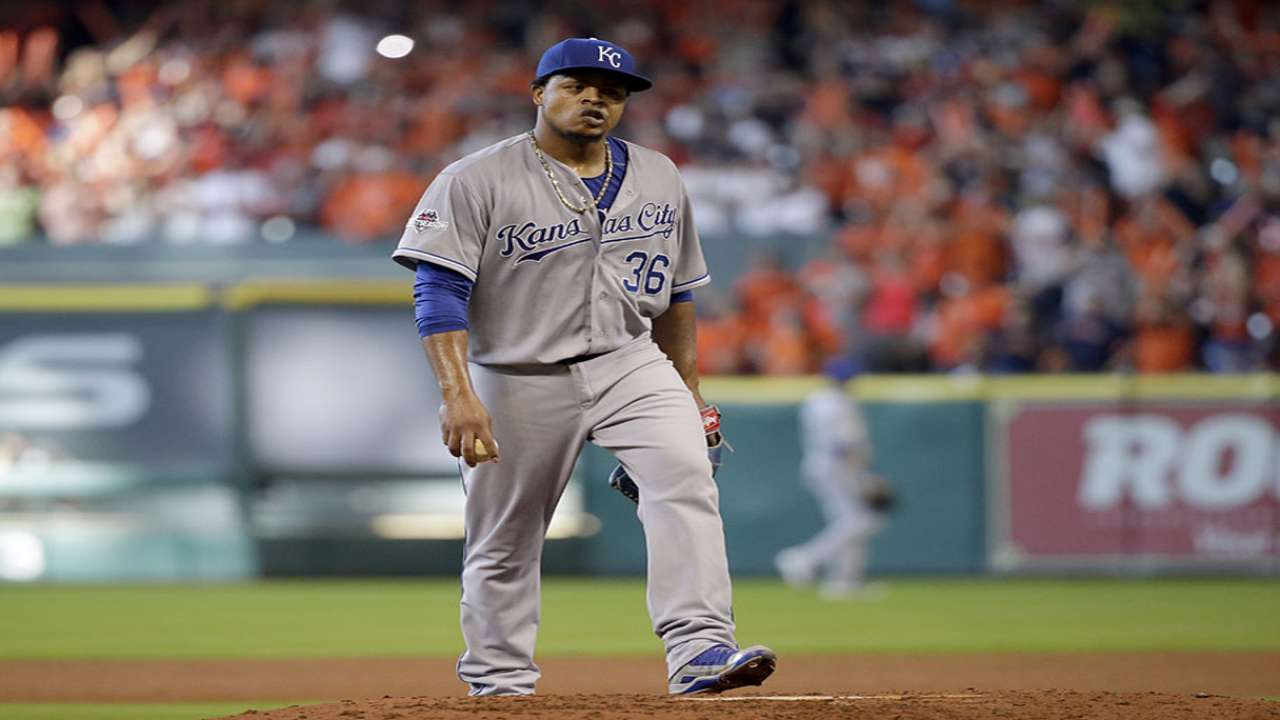 "There's nothing wrong with emotions," Volquez said. "We got emotional guys, too. We have to enjoy the game, too."
Volquez said he wouldn't even considering retaliating if the Blue Jays indulged in some bat flips.
"Maybe when I was younger, I might have done something," Volquez said, laughing. "But now that I'm an old guy, you kind of take it."
Lost in the emotions of Volquez's start in Toronto was the fact he pitched effectively that day. Volquez gave up just four hits and two runs in six innings.
"They've got great hitters," he said. "You got all that pull power. So you better make good pitches."
Yost agreed, saying, "You can't just leave the ball over the plate. You have to be down in the zone and inside. If you miss, they'll make you pay."
Jeffrey Flanagan is a reporter for MLB.com. Follow him on Twitter at @FlannyMLB. This story was not subject to the approval of Major League Baseball or its clubs.