Best of Statcast: Gordon's gem, Delino's dash
KC, Toronto advance to ALCS on day of wild plays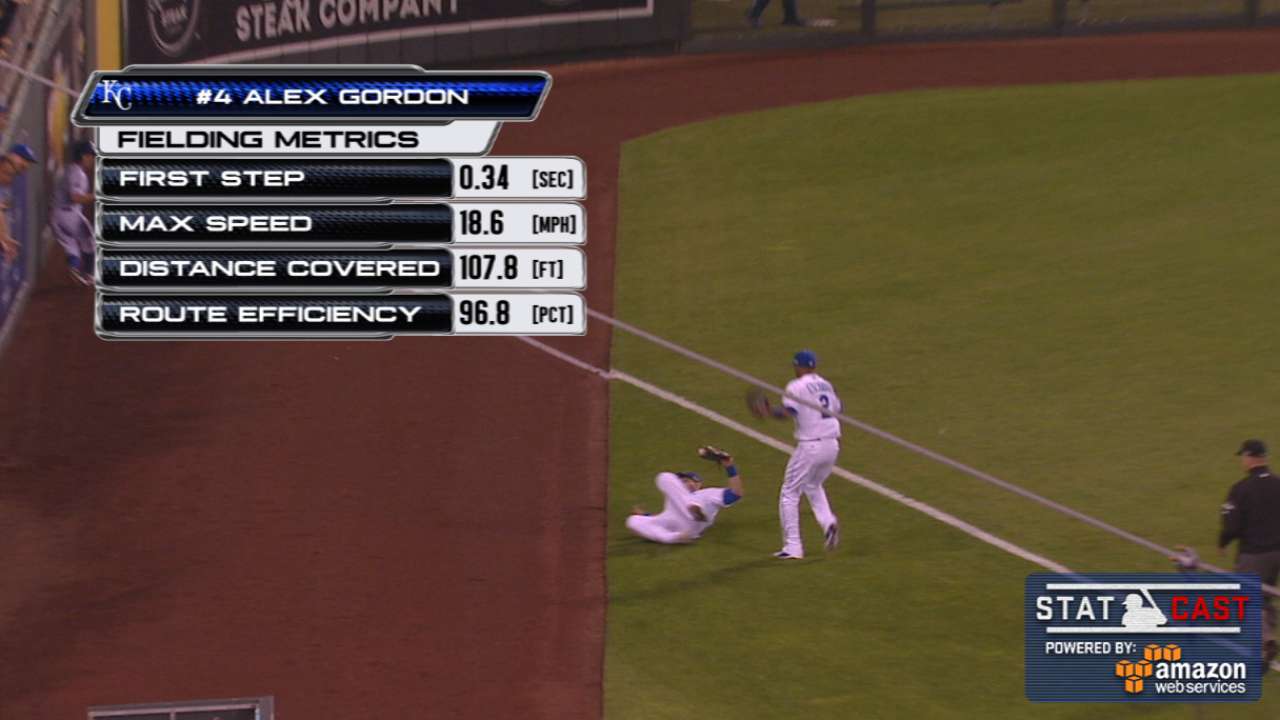 The Royals and Blue Jays each punched their ticket to the American League Championship Series on Wednesday in a day that seemingly had a little bit of everything.
From diving catches to towering home runs to a runner scoring from first base on a single, Statcast™ had plenty of key plays to track in Wednesday's pair of decisive Game 5s.
• Shop for MLB postseason gear
Here's a closer look, courtesy of Statcast™, at some of the key plays that led to ALDS victories for both Toronto and Kansas City.
Gordon makes running, sliding catch
Royals left fielder Alex Gordon made a highlight-reel grab for the second out of the sixth inning, racing more than 100 feet before making a sliding catch in foul territory. On the play, Gordon took his first step just 0.34 seconds after the ball left Jose Altuve's bat, then reached a max speed of 18.6 mph as he sprinted toward the left-field line. He ultimately covered a total distance of 108 feet, all while logging a route efficiency of 96.8 percent on the sprawling catch. For reference, there were only 17 catches made all season by players who registered a route efficiency of at least 96 percent while covering a distance of 105 feet or more.
Pillar adds to personal highlight reel
Blue Jays outfielder Kevin Pillar continued to dazzle defensively on Wednesday, making yet another diving catch in center field. Pillar's latest gem involved him taking his first step only 0.39 seconds after the ball left Josh Hamilton's bat, then reaching a max speed of 21.1 mph as he raced in to take a potential leadoff hit away from Hamilton to start the fourth inning. Along with his quick reaction time and blazing speed, Pillar logged a route efficiency of 94.8 percent, all while covering a total distance of 94 feet before laying out for the full-extension grab.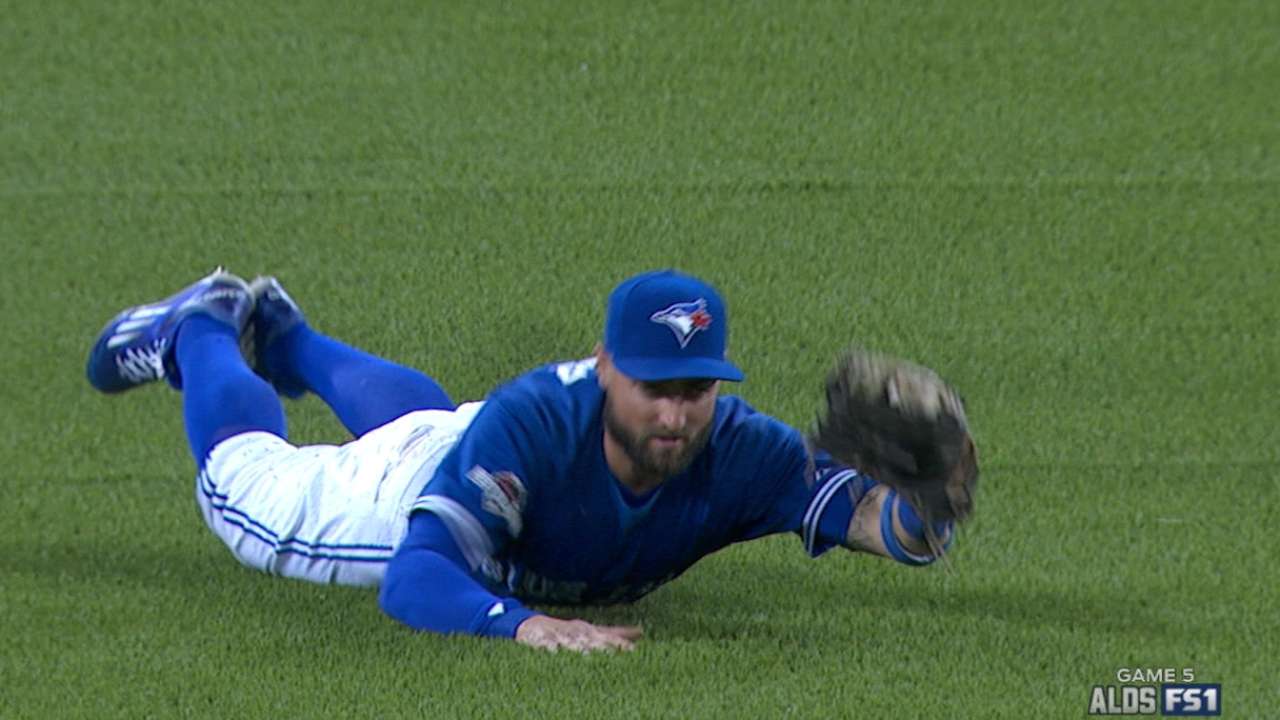 Cain's mad dash around the bases
Lorenzo Cain used his wheels to provide the Royals with a spark -- and, more importantly, their first run of the game -- in the fourth inning. Standing on first base with Eric Hosmer at the plate, Cain broke for second on the pitch then never stopped as he dashed all the way home on Hosmer's base hit to center field. Though center fielder Carlos Gomez slipped to the ground on the play, Cain forced the issue by reaching a max speed of 20.8 mph as he went from first to home in just 9.3 seconds. That's the second-fastest first-to-home time logged by Cain this season, just one-tenth of a second shy of the 9.2 seconds it took him to score from first on Aug. 29 against the Rays.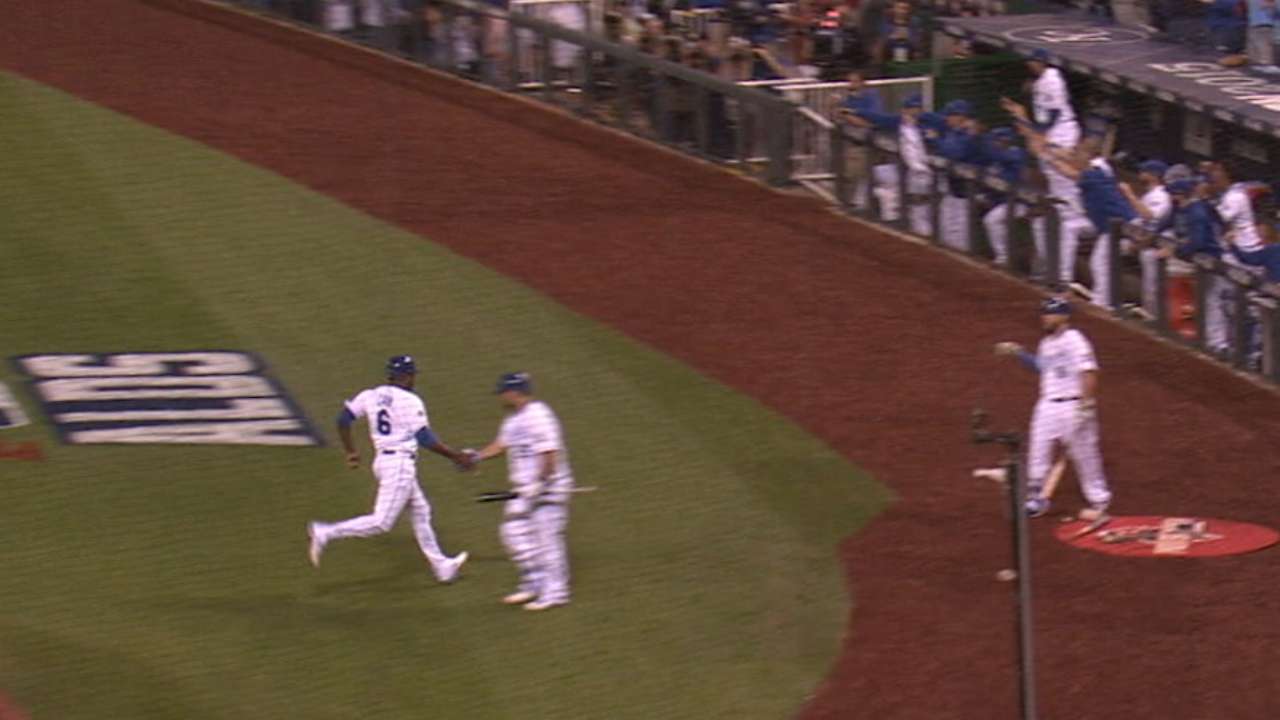 Morales scorches insurance homer
Kendrys Morales capped off a strong showing in the ALDS by crushing one of his hardest-hit home runs of the season on Wednesday night. Morales provided the Royals with three big insurance runs in the eighth inning of their Game 5 victory when he teed off for a monster three-run homer off Dallas Keuchel. Despite the pitch being just an 80-mph breaking ball, Morales sent it off his bat at 111.4 mph, his second-highest exit velocity on a home run this year. The ball traveled a projected 443 feet, easily clearing the right-center-field wall in one of the deepest parts of the park.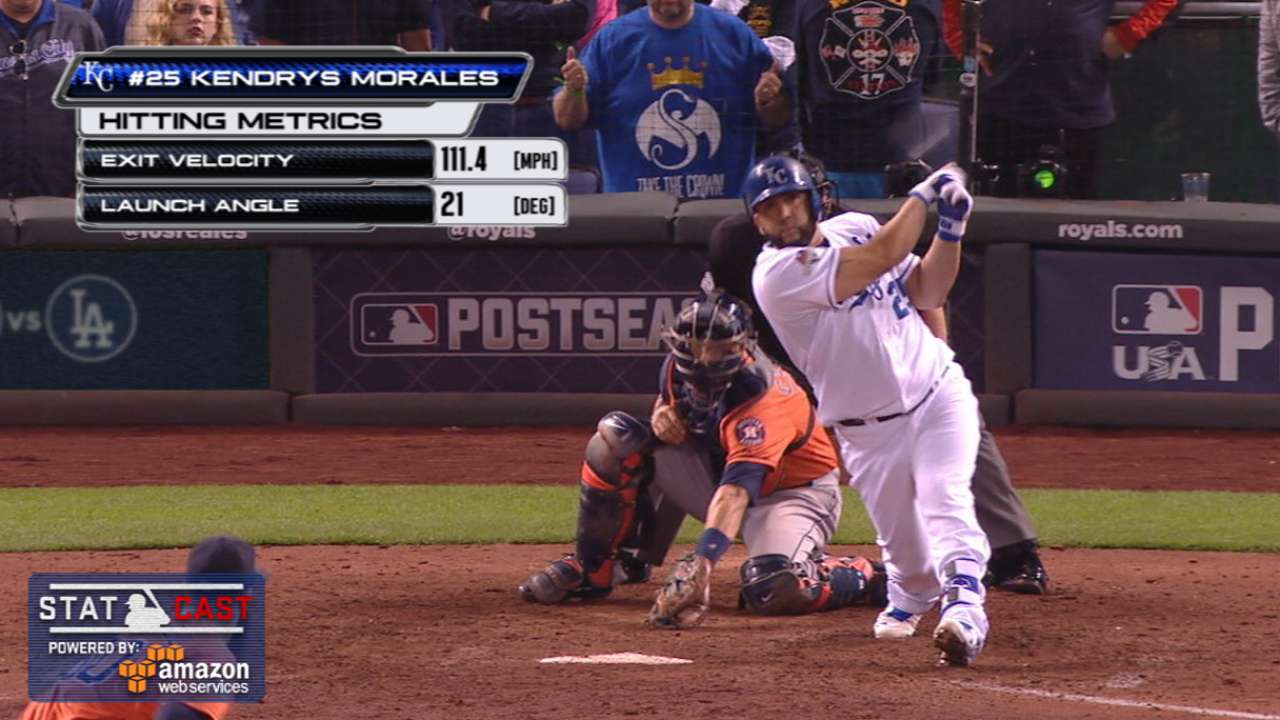 Encarnacion ties it up with moonshot
Edwin Encarnacion set the stage for the bizarre events of Wednesday's seventh inning by crushing an absolute no-doubter to left-center field. The Blue Jays slugger jumped all over a 93-mph offering from Cole Hamels, turning it around at a scorching 109.7 mph and sending it a projected 436 feet. Those marks made the game-tying shot Encarnacion's sixth-hardest and seventh-longest homer of the year.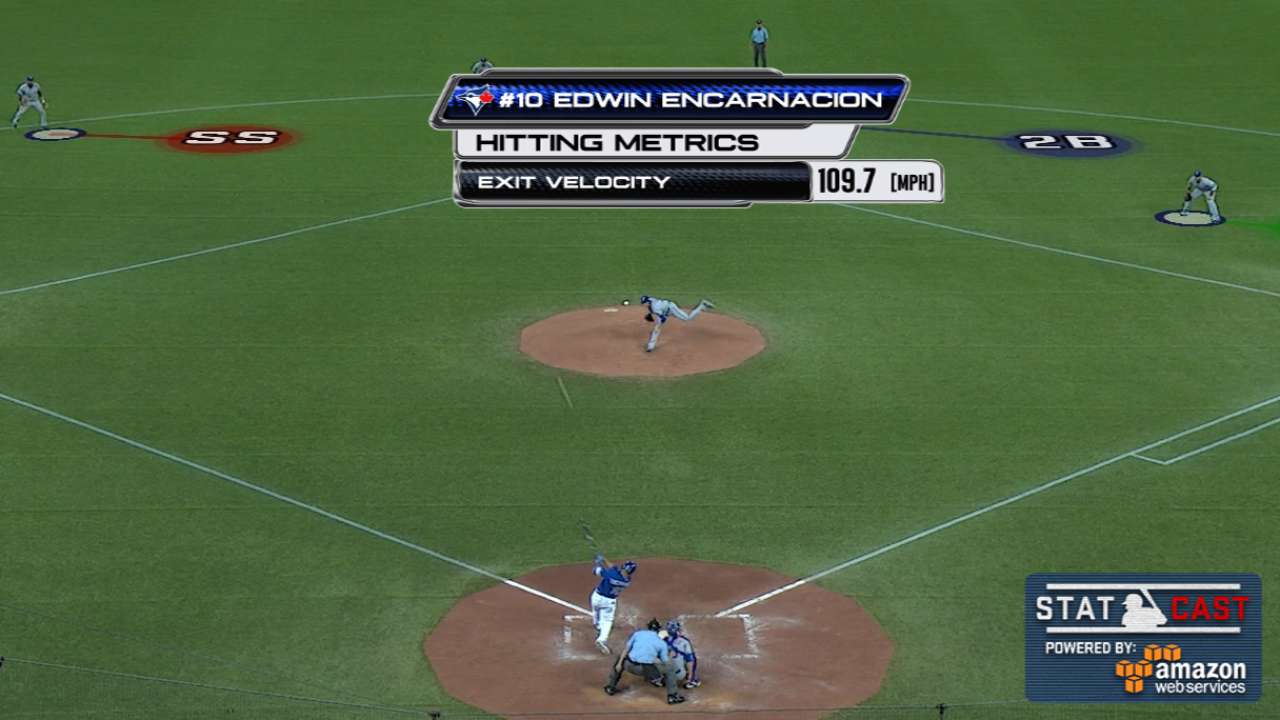 Bautista's difference-making blast
After the Rangers retook the lead on the wacky, controversial play in the top of the seventh, Jose Bautista took matters into his own hands in the bottom-half of the inning. With two on and two outs in a once again tied ballgame, Bautista teed off on a 97-mph pitch from reliever Sam Dyson, sending it off the bat at 106 mph. Bautista flipped his bat and watched momentarily as the ball traveled a projected 431 feet into the left-field seats, putting Toronto ahead 6-3 and sending the Rogers Centre crowd into a frenzy.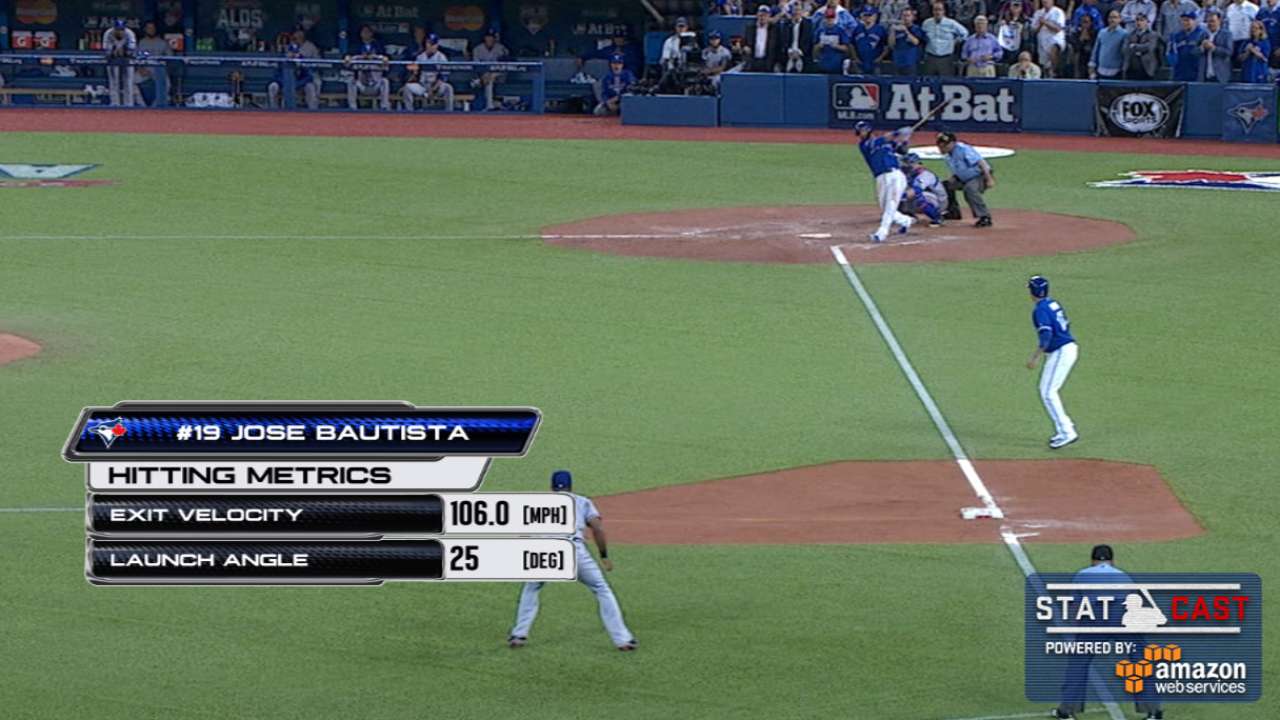 DeShields' speed produces yet another run
Delino DeShields wreaked havoc on the basepaths all series long for the Rangers, and Game 5 was no different. The speedy Texas outfielder made an immediate impact in an eventual losing effort on Wednesday, using his wheels to score the game's first run on a slow chopper to first base. DeShields reached a blistering max speed of 21.1 mph as he sprinted home from third base on Prince Fielder's slow roller, allowing him to slide in just ahead of the tag and stake the Rangers to an early Game 5 lead.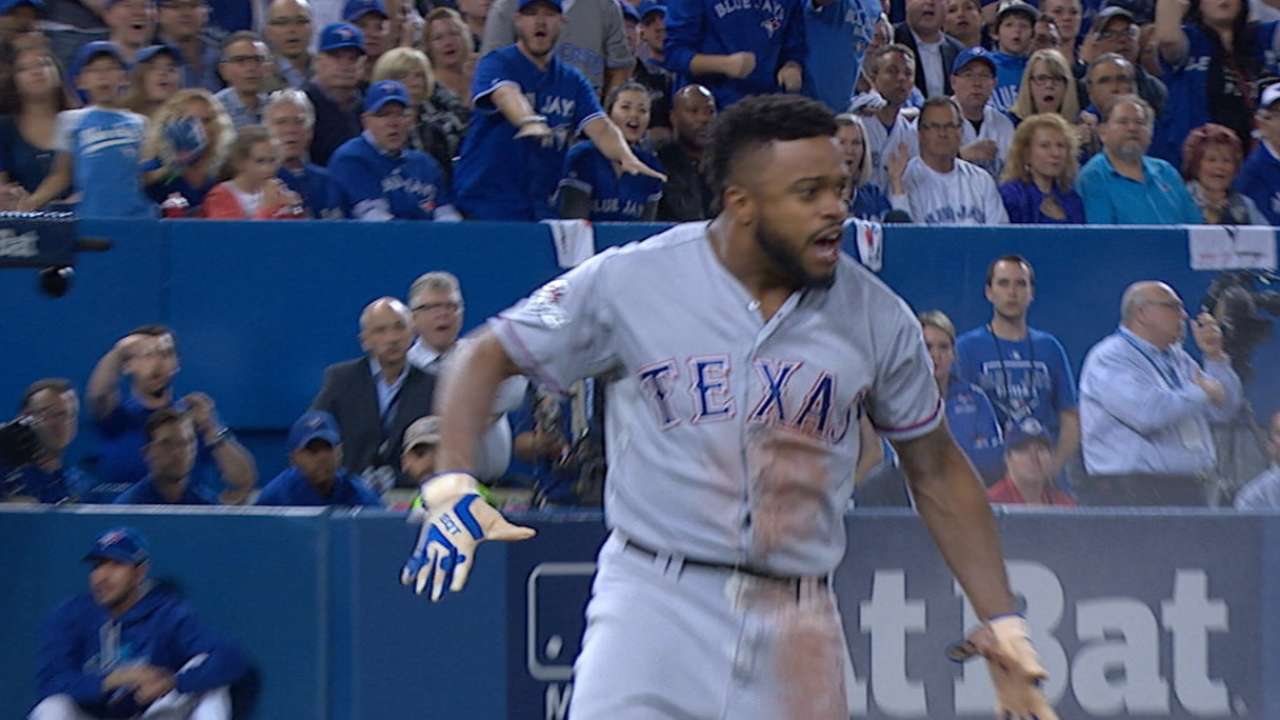 Paul Casella is a reporter for MLB.com. This story was not subject to the approval of Major League Baseball or its clubs.