Determined Cueto superb in winning clincher
Royals starter allows two hits, retires 19 straight in eight-inning gem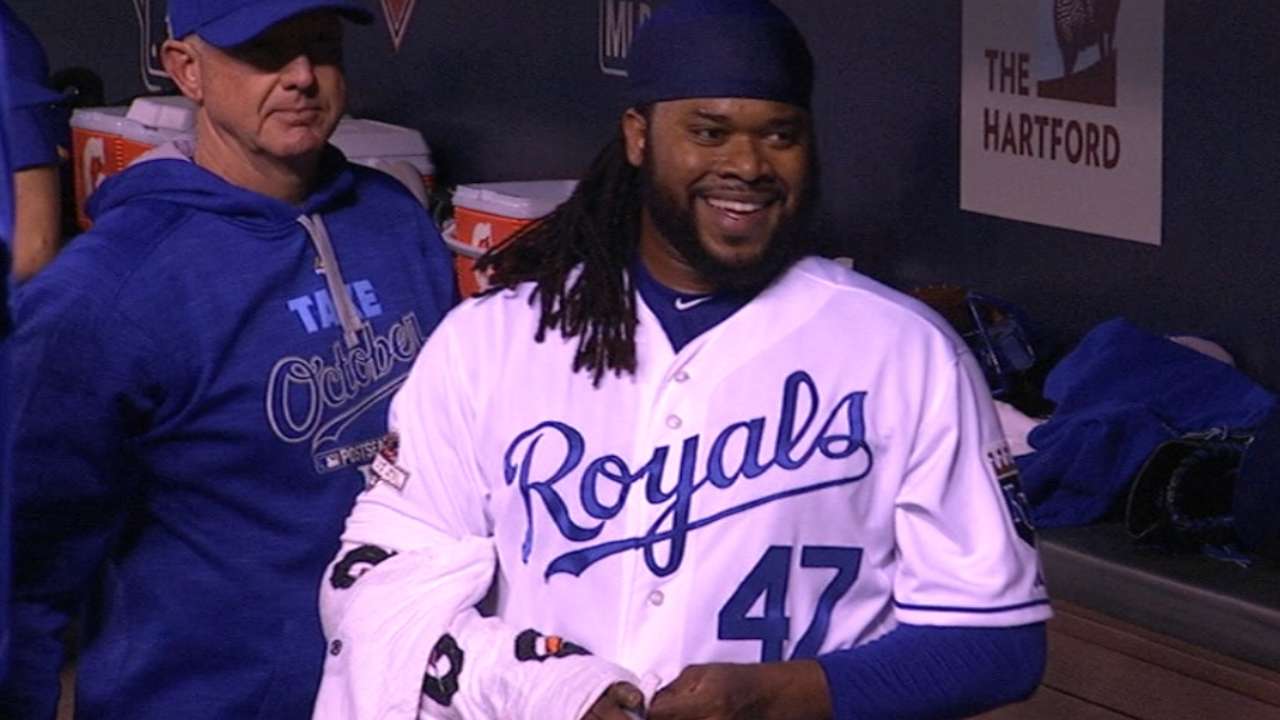 KANSAS CITY -- In the biggest start of his career, ace Johnny Cueto turned in a magnificent performance, punctuated by retiring the final 19 batters he faced to lead the Royals to a series-clinching 7-2 win over the Astros in Game 5 of the American League Division Series at Kauffman Stadium on Wednesday.
The 19 consecutive batters retired were the most by an AL pitcher in the postseason since Don Larsen's perfect game for the Yankees in the 1956 World Series. It was also the fourth-longest string in postseason history, trailing Larsen (27), Roy Halladay (21 with the Phillies in 2011) and Jose Rios (20 with the Reds in '90), according to the Elias Sports Bureau. Additionally, Cueto allowed two baserunners in eight innings, which is the fewest by a pitcher in at least eight innings in a winner-take-all game in postseason history, per ESPN Stats and Information.
• Shop for Royals postseason gear
"He knew the magnitude of this game, I think we all did, and he came out from the first pitch, just had everything going," Royals manager Ned Yost said after the victory that set up a date with the Blue Jays in the best-of-seven AL Championship Series, starting Friday in Kansas City (7:30 p.m. ET, FOX). "Had his two-seamer, had his changeup, had his cutter. He was fantastic."
Cueto said he woke up knowing it was going to be his day, and he said he even told teammate Edinson Volquez before the game that he was going to end the series with a dominant performance. He delivered on his word.
"He told me before the game, 'Hey, I got this game tonight,'" Volquez said. "And he came out strong and did it."
Said Cueto: "As soon as I woke up, I felt something magic that this was Game 5 and I had to show up for everybody, my team and the fans."
Cueto was one of the biggest acquisitions before the non-waiver Trade Deadline, and while he was uncharacteristically uneven during the regular season -- he had a 4.76 ERA in 13 starts after the trade -- this start more than made up for it.
"That's why we got him, to pitch in games like this," Royals pitching coach Dave Eiland said. "He showed up big for us. He was attacking and really getting out in front and finishing his pitches better than he has since he's been here. He rose to the occasion."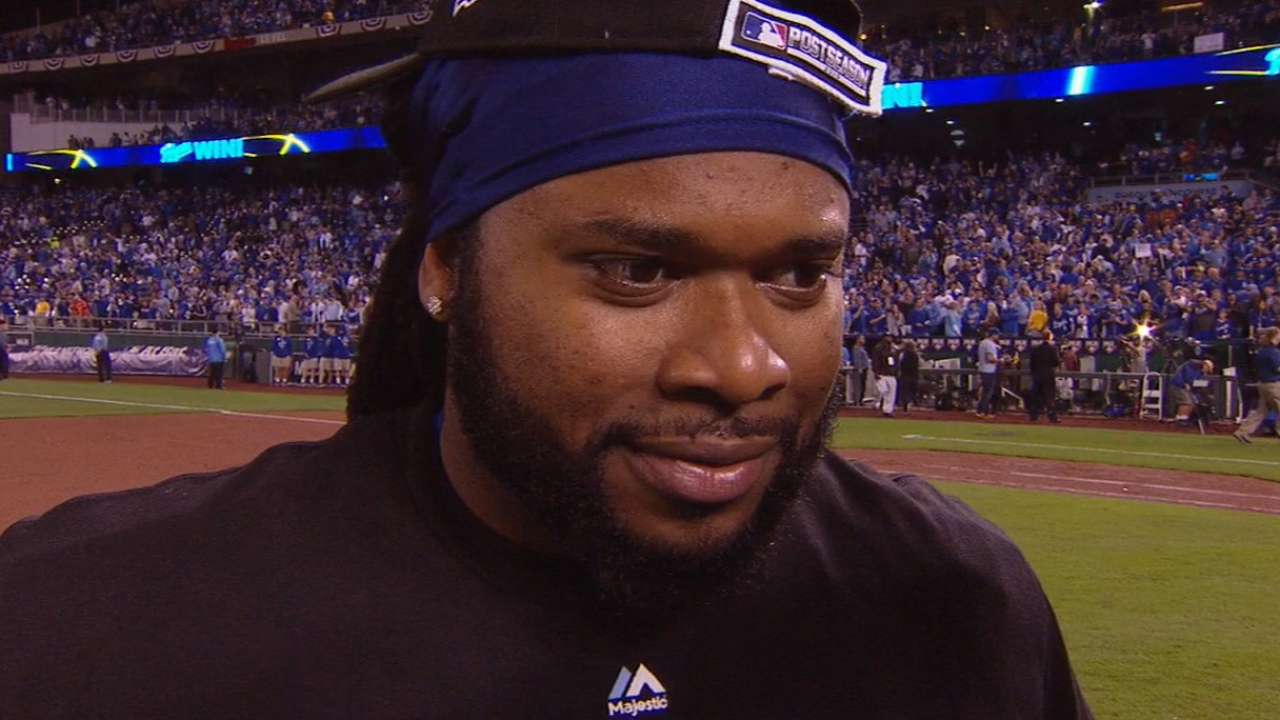 The Astros said Cueto was able to paint the corners with his assortment of pitches, as he never left the ball over the plate to give them something to hit.
"Tonight was Johnny Cueto's night," Houston manager A.J. Hinch said. "He had the strike little cutter-slider thing that he throws. He threw a couple good changeups. I thought the crowd got behind him. And he pitches with emotion."
Cueto's lone mistake was allowing a two-run homer to Luis Valbuena on a first-pitch fastball on the inside part of the plate in the second inning. It came after Evan Gattis reached on a two-out infield single, as Mike Moustakas' throw to first was offline, and the ball came out of Eric Hosmer's glove as he tagged Gattis.
"It was the right pitch, but he just missed it by a couple inches," Eiland said of the homer. "You can't really second-guess that pitch."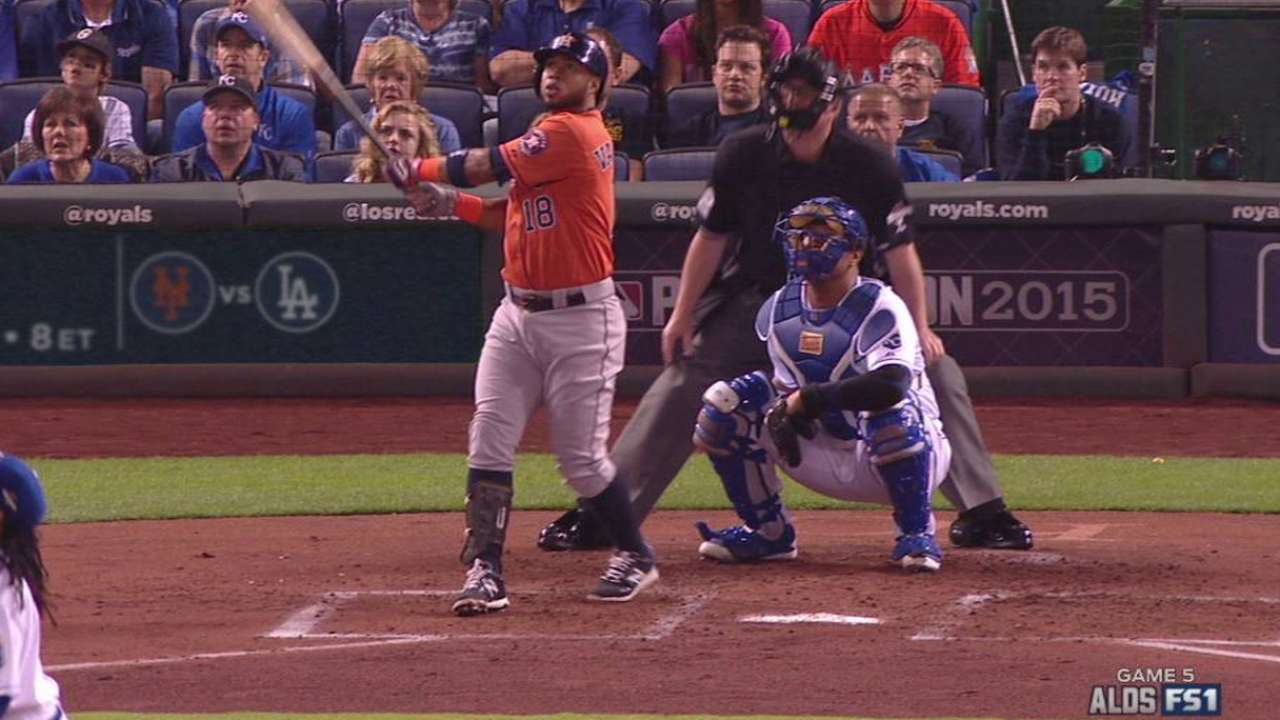 Cueto cruised from there, retiring the next 19 batters, and finished the game with eight strikeouts, his most since Aug. 26. He threw 91 pitches and wanted to come back out for the ninth, but Yost went with closer Wade Davis to secure the victory.
"He came in after the eighth inning and was lobbying to go back out in the ninth," Yost said. "And I'm like, 'Look, I got the best reliever in the game down there; he's going to come in and close it out.'"
But even as Davis came out for the ninth, fans chanted Cueto's name over and over throughout the stadium, which was a welcome feeling for Cueto, who was able to prove his doubters wrong and show he's still one of baseball's best pitchers.
"There's no doubt that I knew there was some talk out there [about] what was wrong with Johnny Cueto, but today was the game that I was going to show everybody what I'm all about in big games," Cueto said. "And that's what I did."
Rhett Bollinger is a reporter for MLB.com. Read his blog, Bollinger Beat, follow him on Twitter @RhettBollinger and listen to his podcast. This story was not subject to the approval of Major League Baseball or its clubs.