DYK? Royals edge Astros to win ALDS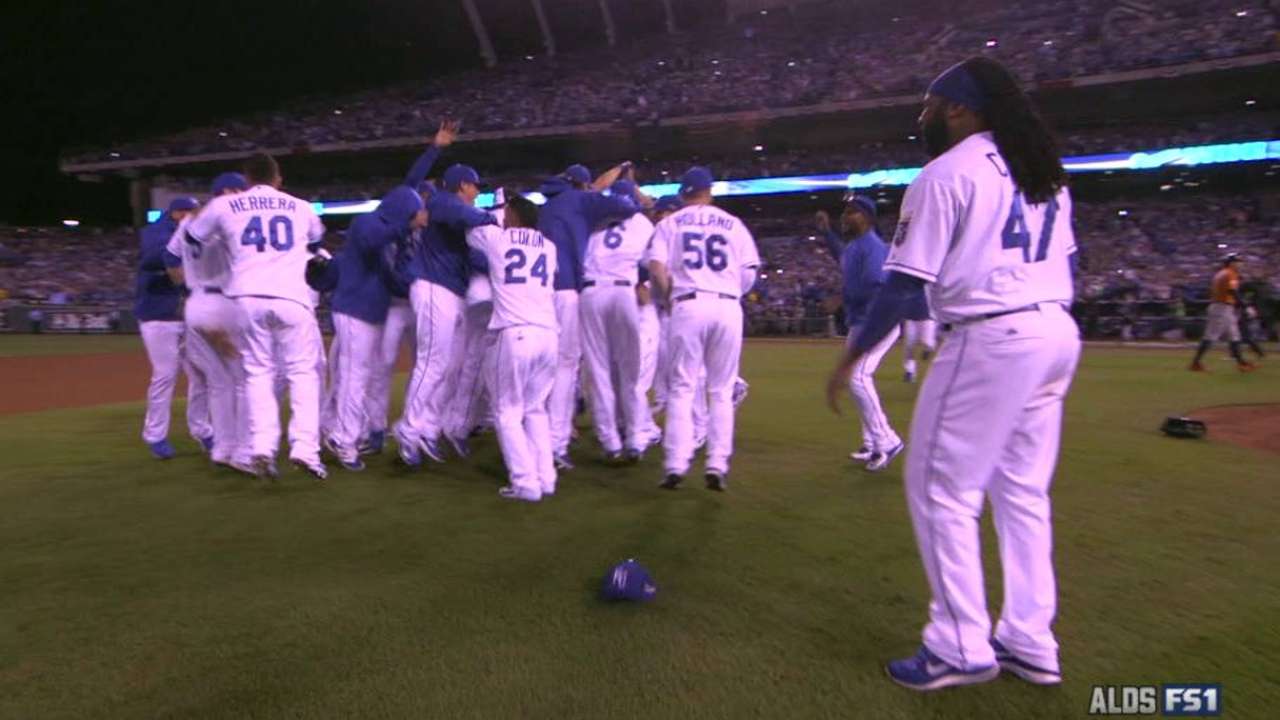 The Royals got eight brilliant innings from Johnny Cueto and were able to chase Astros starter Collin McHugh in the fifth, winning 7-2 in Game 5 of the American League Division Series to advance to their second straight AL Championship Series.
Here are some stats and facts you should know from the game:
• Kansas City advanced to its second straight ALCS. It's the first time the Royals have accomplished that since the 1984-85 seasons. In that '85 ALCS, the Royals faced the Blue Jays, whom they'll face in this ALCS again. In 1985, Kansas City came back from a 3-1 deficit to win it, and eventually to win the World Series.
• The Royals have now won 10 of their past 11 postseason games when facing elimination.
• Royals starter Cueto retired the last 19 batters he faced, becoming the first AL pitcher to accomplish that feat since the Yankees' Don Larsen tossed a perfect game against the Brooklyn Dodgers in the World Series in 1956.
• As a whole, Kansas City's pitching retired the final 22 batters it faced, the most ever to end a winner-take-all postseason game.
• Cueto allowed just two baserunners through eight innings, the fewest anyone's allowed in a winner-take-all game since Justin Verlander allowed three in the 2013 ALDS.
• Alex Rios' go-ahead two-run double in the fifth was his first go-ahead hit since Aug. 7. He had just three go-ahead hits in the entire regular season.
• Kendrys Morales' home run was his first career home run off Houston ace Dallas Keuchel, and it was his third of the ALDS. Morales had just two career postseason home runs coming into the series.
• Luis Valbuena was 1-for-10 with six strikeouts in the postseason before his two-run home run opened the scoring.
• Valbuena's homer was the Astros' ninth of the series -- the most by a team in the ALDS since the Angels in 2002.
• The Astros are the first team to lose a five-game series where they led in every game since the Yankees lost the 2005 ALDS to the Angels.
Chandler Rome is an associate reporter for MLB.com. This story was not subject to the approval of Major League Baseball or its clubs.