Astros fans excited for franchise's future
Game 5 loss in ALDS ends thrilling turnaround season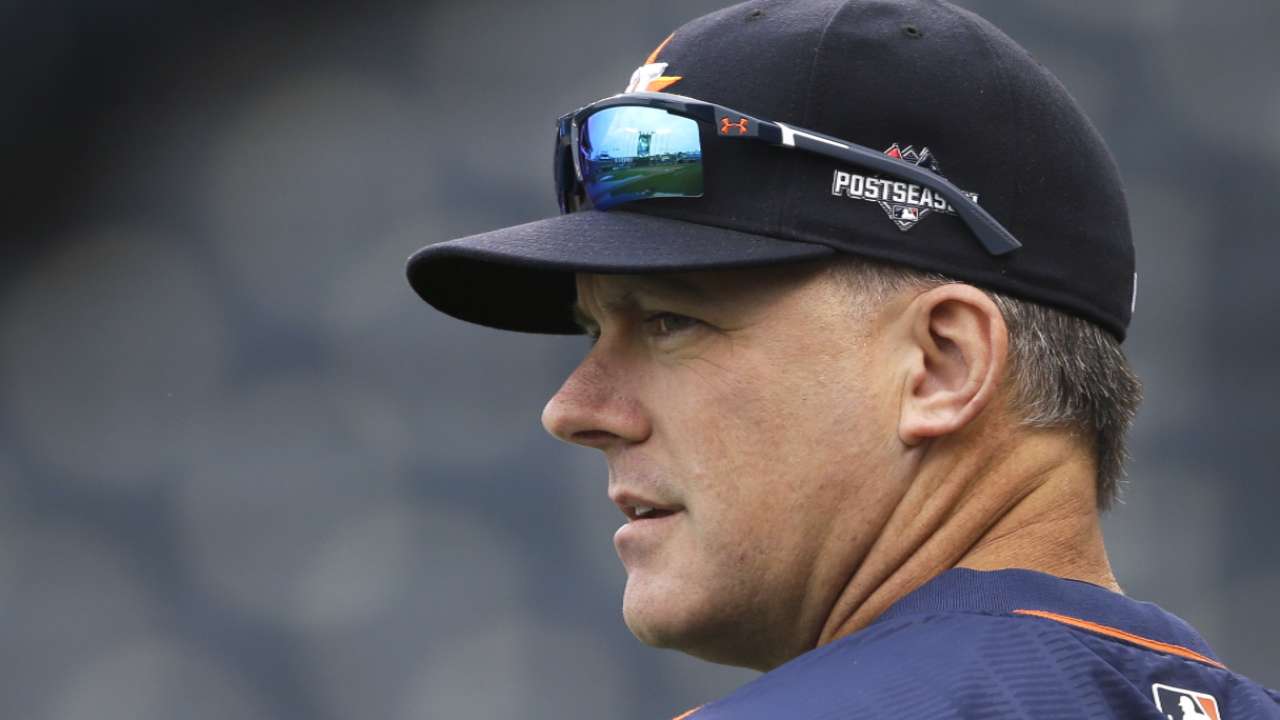 HOUSTON -- He stood, like so many of them, eyes affixed to the television with an orange "Hustle Town" rally towel over his head. Ulises Garza took his Astros cap from under the towel, contorted it upside down and inside out to form a "rally cap" while his beloved team of 22 years was down two runs in the eighth inning.
None of it worked. Two minutes later, Kendrys Morales launched Dallas Keuchel's 2-2 offering into the night, sending Garza and the hundreds of Astros fans and employees who gathered at Pluckers Wing Bar into a stunned silence. The Astros fell to the Royals, 7-2, in Game 5 of the American League Division Series.
Garza, a lifelong Houstonian, knew the team's fertile farm system gave it postseason hope before the season, but even he didn't expect to be watching Game 5 of the ALDS alongside about 150 rowdy fans packed in, their cheers getting louder with every hard-hit ball or Collin McHugh called strike.
"They fear us now," Garza said, shortly after the eighth inning concluded. "They were sleeping on us. Someone used the analogy that the [Astros] were like bears on the front lawn, and they said we'll go away eventually. We haven't gone away yet. And we're not going away any time soon."
Standing 15 feet from Garza along a back wall, Daniel Ortiz wore no orange. Barcelona born, this is Ortiz's first year in Houston. He lived in Boston when he was 16, and, naturally, became a Red Sox fan, but he said he watched every Astros game he could this season, along with attending the Boston-Houston series earlier in the summer.
That almost didn't happen. The day his flight landed in Houston, Ortiz hailed a taxi to take him to his new home. Unfamiliar with the city's sports teams, Ortiz asked his driver to analyze.
"Rockets are OK, Texans are OK," the driver told him. "The Astros, they suck."
Ortiz watched anyway.
"I didn't expect anything because of that," Ortiz said. "They've been playing pretty well this season, so it's pretty amazing."
Negative taxi driver aside, Ortiz's outlook was like most of those who huddled inside the sports bar on Wednesday night. They cared about the outcome, but most marveled at the very existence of the watch party, some still unable to believe the team they figured would finish around .500 was, at one point, six outs away from an ALDS win.
Take Holly Webb, for example.
She stood outside the restaurant as George Springer's fly ball ended her team's season, still with a smile on her face, and still taking selfies in her orange "Crush City" shirt.
A child of a military father, Webb bounced around throughout her childhood -- so much so she struggled to name a hometown. A Texas set of parents ensured she'd be an Astros fan. She, like so many, thought this watch party, and many like it, was in store next year.
Now, she's got a taste of the postseason.
"It's been incredible. We're so young, and honestly I'm hopeful for the future," Webb said. "I'm starving. I need more."
Chandler Rome is an associate reporter for MLB.com. This story was not subject to the approval of Major League Baseball or its clubs.