Blue Jays applaud Rangers for spirited ALDS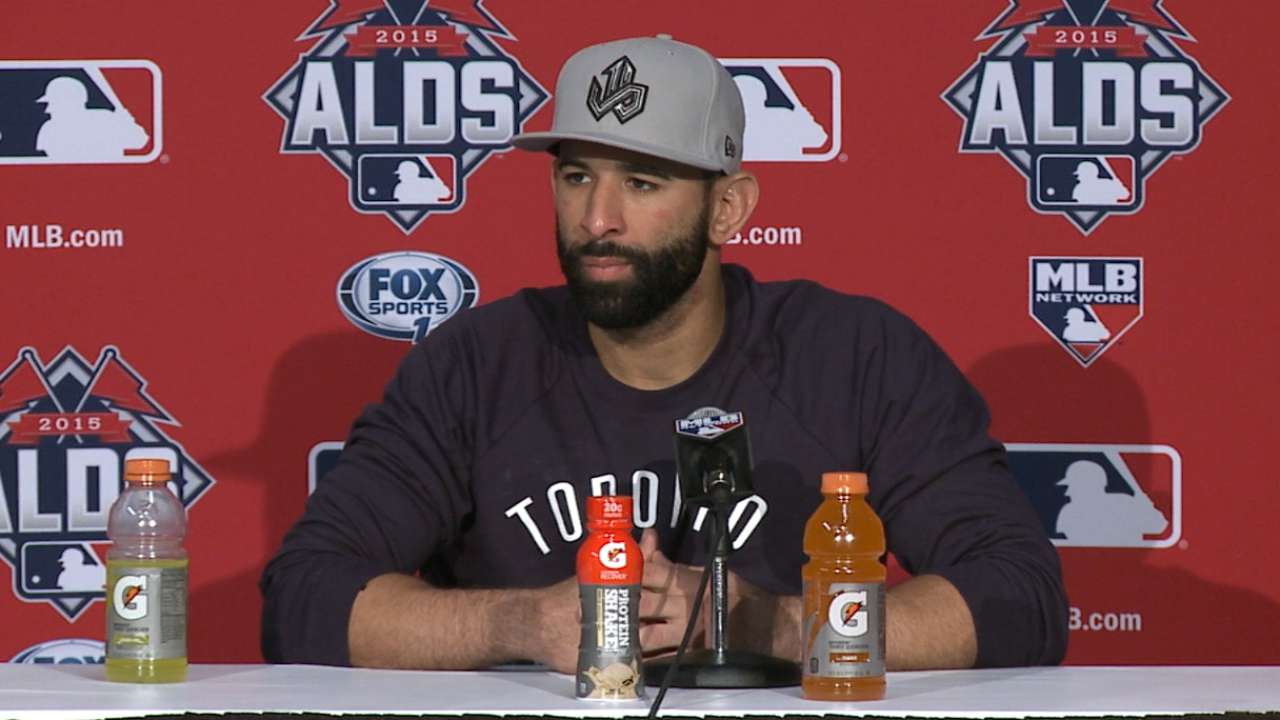 TORONTO -- The Blue Jays knew after they won their American League Division Series against the Rangers on Wednesday that they had beaten a strong opponent. Texas pushed Toronto to the brink, taking an early 2-0 series lead before dropping three in a row to the AL East champions.
"Obviously a good team. They had us on the ropes," Blue Jays shortstop Troy Tulowitzki said after a 6-3 win that sent Toronto to the best-of-seven AL Championship Series against the Royals, starting Friday in Kansas City (7:30 p.m. ET, FOX/Sportsnet).
"We thought we were too good to bow out in the first round, but they were just as good over there," Blue Jays manager John Gibbons said.
• Shop for Blue Jays postseason gear
While the Blue Jays paid respect to their opponents, the series wasn't without its tense moments, especially in the finale.
Tempers flared in the seventh inning as both benches cleared twice, signifying just how heated a competition had developed over the course of the last week.
For Blue Jays slugger Jose Bautista, that was indicative of the competitiveness shown by both teams throughout the series.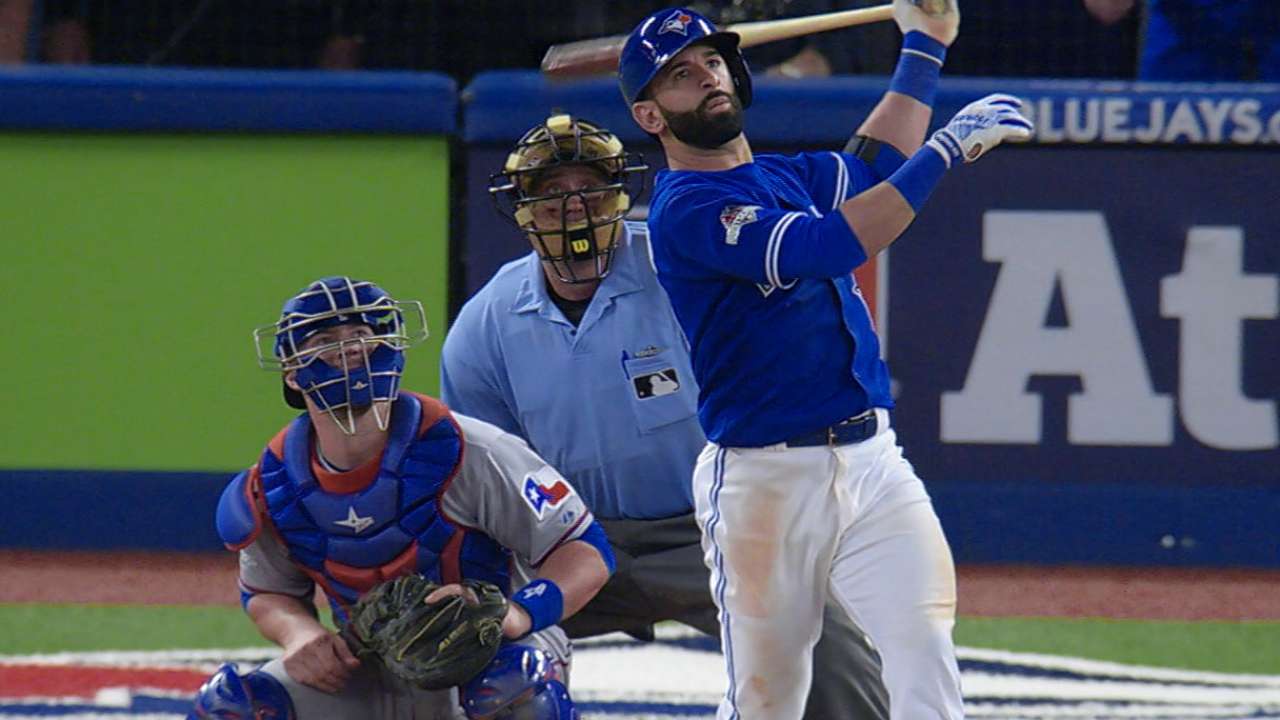 "Everybody was trying to win for their team and you see it on a slide at second base, a reaction after a strikeout, a reaction after a base hit, and I think that's what baseball's all about," Bautista said. "Just play with your heart, play with emotion and just try to win. I think I like watching players play that way because I know they're giving it their all. I enjoyed the whole series."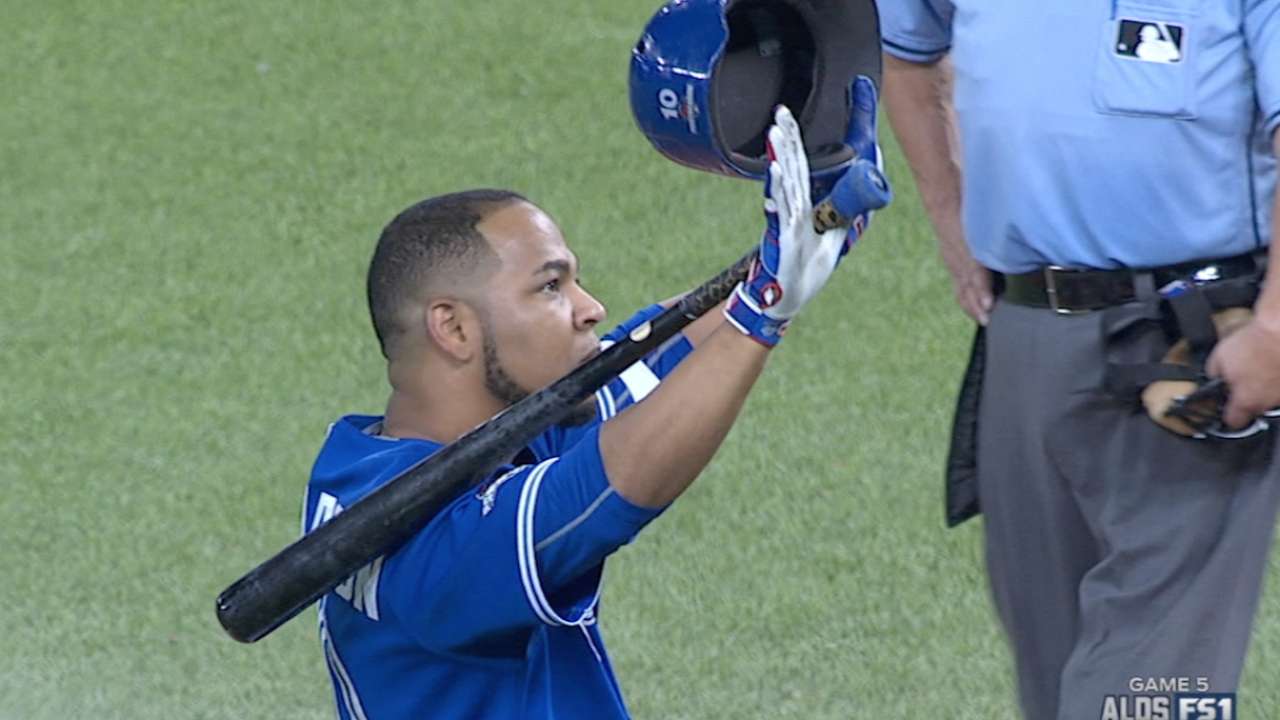 Rangers outfielder Josh Hamilton shared that assessment of the series.
"Both teams fought hard. They came out on top. We came up a little short, but we'll remember throughout the offseason and come in ready to go," he said.
Jamie Ross is an associate reporter for MLB.com. This story was not subject to the approval of Major League Baseball or its clubs.