MLB.com Columnist
Mike Petriello
Forget the aces: The relievers who will decide NLDS Game 5
Starter has gone 7 1/3 innings or fewer in 18 of 20 postseason games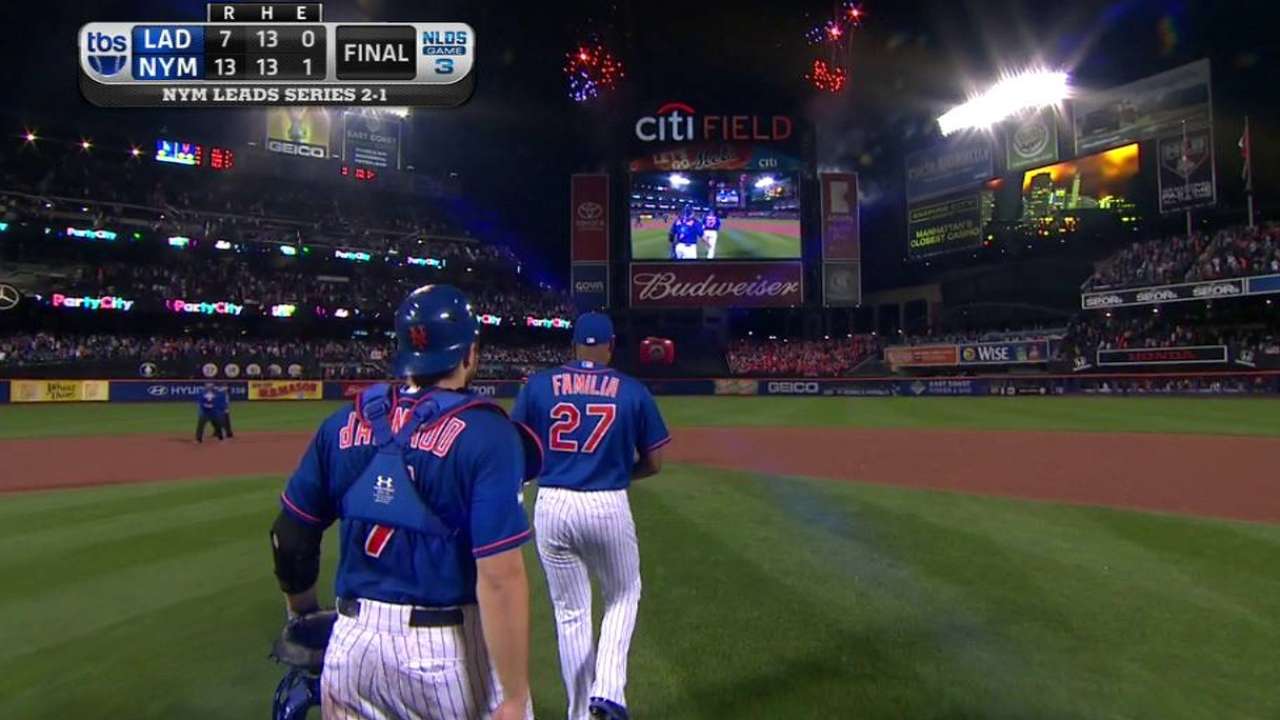 For all the deserved hype over the spectacular Jacob deGrom vs. Zack Greinke matchup in Thursday's NLDS Game 5 (8 p.m. on TBS), the truth is that the deciding moment in the game very well may come without either one on the mound.
Just look at what's happened already. Though Clayton Kershaw took the heat for Game 1, David Wright's key seventh-inning hit that pushed the Mets lead from 1-0 to 3-0 came against Pedro Baez. In Game 2, the three seventh-inning Dodgers runs came with Mets relievers Bartolo Colon and Addison Reed on the hill. On Tuesday night in Game 4, the runs came off the starters, but the highest-leverage moment of the night came when Kenley Jansen got Daniel Murphy to fly out with two on in the eighth.
Thus far this postseason, only two starts from any pitcher have gone further than 7 1/3 innings, and that's not likely to change on Thursday. Greinke made it past seven innings just three times in his final 12 starts, while deGrom hasn't done it once since Aug. 18, doing so just eight times overall in 31 starts. Since neither manager is likely to ask for six outs from his closer, that means that a pair of often-maligned bullpens -- sporting the two highest bullpen ERAs in the postseason, in fact -- are probably going to have to come up with some big outs in tight spots.
You already know about Jansen's deadly cutter, because we've written about it here before. Beyond him, though? Both sides are full of arms who may play an enormously pivotal role on Thursday. Here's what you need to know about two crucial relievers from each team.
DODGERS
Chris Hatcher, RHP. Hatcher was quietly a big part of the December trade that sent Dee Gordon to Miami, as he'd put up an excellent 60/12 K/BB in 56 innings in his first full season with the Marlins. However, he quickly became a focal point of fan angst as he put up ERA marks of 7.56 in April and 6.14 in May. While a .388 Batting Average on Balls in Play in the first two months pointed to some amount of bad luck, the truth was that he simply wasn't getting the job done, as evidenced by allowing three times as many runs (six) as strikeouts (two) in May.
Hatcher landed on the disabled list with a strained oblique on June 18 and missed two months, to the disappointment of few. But he's been a different pitcher since his return in August, putting up a 26/6 K/BB in 20.2 innings with a sparkling 1.31 ERA, then throwing 3 1/3 shutout innings over three games of this NLDS. It's not hard to see what changed: Hatcher averages 96.4 mph on his fastball, but he was too predictable with it early on, throwing it 64.3 percent of the time before his injury. He's now added a cutter since his return, and worked in his slider and splitter more often, making his high-velocity fastball more effective.
Joel Peralta, RHP. Like Hatcher, Peralta came in an offseason trade from the Sunshine State, and like Hatcher, it didn't go well (5.40 ERA) around a pair of trips to the disabled list, the second for a sprained neck in early August. When he returned in September, he was stellar, striking out 11 without a walk over nine games. Looking at his velocity chart, it's very easy to see what was different -- and his spin rate followed the pattern as well:
Finally healthy, Peralta was able to return to his previous velocity levels, and better results came with them. Peralta appeared in Game 1 to retire Murphy, Travis d'Arnaud, and Lucas Duda.
METS
Jeurys Familia, RHP. Familia wasn't necessarily intended to be the closer this year, really, but the various absences of Jenrry Mejia and Bobby Parnell forced him into the role. He turned what was intended to be a temporary arrangement into a permanent home, putting up a sparkling 1.85 ERA and striking out 86 hitters in 78 innings. He was so dominant, in fact, that he really shouldn't even be on this list, because you should already know all about him and we should be focusing on Hansel Robles or Addison Reed.
Yet when you're confronted with a scenario like the split-finger fastball that Familia suddenly began throwing in August, well, you pretty much have to wedge it in wherever possible.
The average splitter is thrown around 84 mph. According to Statcast™, 40 pitchers threw the split at least 20 times, and unsurprisingly, 18 of them averaged below 84 mph. It's now time to point out that Familia didn't just lead the velocity leaderboards for the split, he absolutely destroyed the competition:
Fastest average velocity, split-finger fastball
1) Familia, 94.5 mph
2) Arquimedes Caminero, 89.9 mph
3) Nathan Eovaldi, 89.5 mph
4) Mark Melancon, 89.3 mph
5) Taijuan Walker, 89.0 mph
That's a difference of nearly five miles per hour over the second-place Caminero. Familia first threw the split on Aug. 12, and his strikeout percentage jumped from a very good 26 percent to an outstanding 32.6 percent. After seeing it, Red Sox infielder Brock Holt called him "the nastiest pitcher in the world."
Tyler Clippard, RHP. If the Mets are lacking in the bullpen, it's that they don't have a true lefty reliever, with only regular starter Jon Niese throwing from the left side. Enter Clippard, who was acquired from Oakland in late July and found himself facing lefties 56 percent of the time as a Met, despite the fact he throws from the right side. It's not hard to see why; for his career, lefties have had a .257 wOBA against him while righties have had a .285 mark, numbers that are even more strongly divergent this year. (.211 against lefties, .327 against righties.)
That's in large part due to Clippard's excellent changeup, which he used 31 percent of the time when ahead to lefties as compared to only 13 percent when ahead to righties. Lefties had only three extra-base hits on the change all year, hitting .141 against it. With Niese inexperienced in a relief role and Steven Matz, the only other active lefty, unlikely to be available after starting Game 4, Clippard may be New York's best option against lefties like Andre Ethier, Corey Seager, and Joc Pederson.
Mike Petriello is an analyst for MLB.com and the host of the Statcast podcast. This story was not subject to the approval of Major League Baseball or its clubs.