Bautista flips, Morales seals deal in top GIFs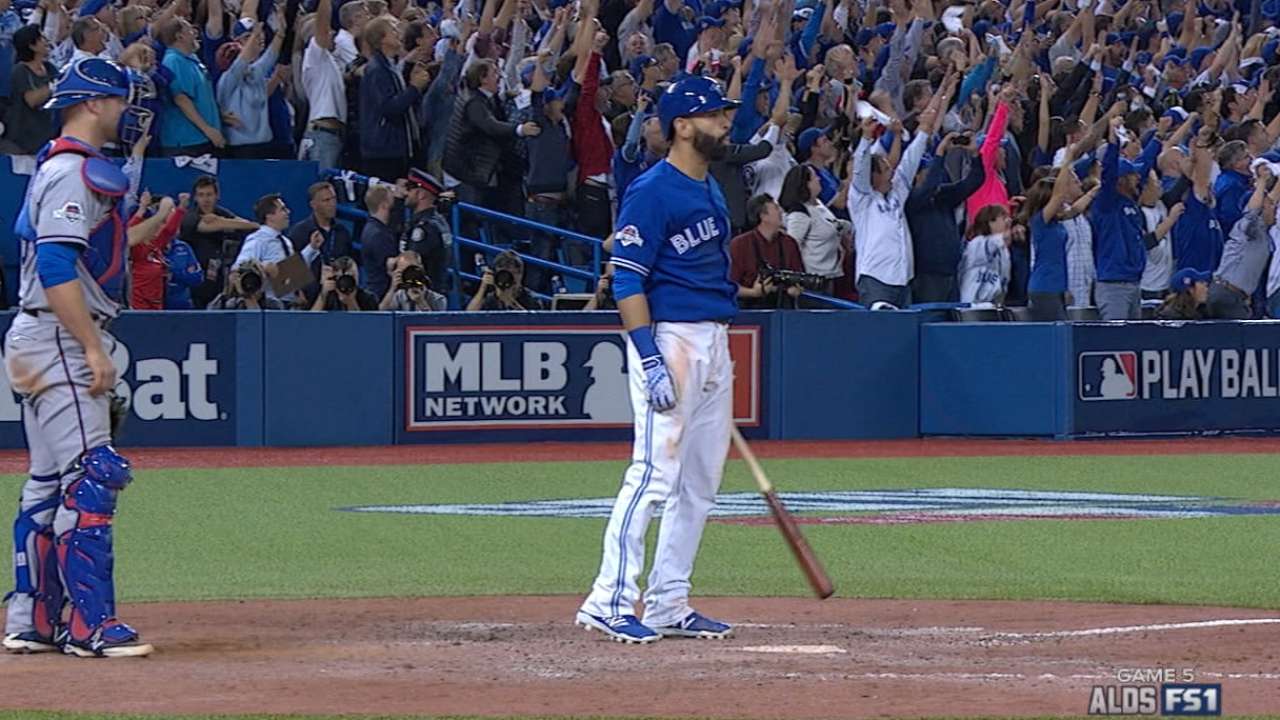 Here are the top GIFs of the night, courtesy of @MLBGIFs.
1. Joey Bat(s) flip
Jose Bautista sent the Rogers Centre crowd into a frenzy with a three-run homer and bat flip to lead the Blue Jays to a 6-3 win over the Rangers in a winner-take-all Game 5 in their American League Division Series.
2. Encarnacion tees off
Edwin Encarnacion knew this ball was gone. His first career postseason homer was a big one, tying the game in the sixth inning.
3. Bizzare play
You don't see this every day. Catcher Russell Martin's return throw to the mound caromed off Shin-Soo Choo's hand and was ruled a live ball, sending Rougned Odor home from third base as the Rangers took a brief, 3-2 lead in the seventh.
4. Rush the field
The dugout emptied in a hurry after the final out of the Blue Jays' series-clinching win.
5. Many faces of Hamels
Rangers left-hander Cole Hamels had a wide array of expressions during his Game 5 start.
6. Colabello swing fail
Chris Colabello somehow ended up on the ground after this funky swing.
7. Mini Bautista
This Blue Jays fan has Bautista's swing, and beard, down to a T.
8. Morales seals the deal
Kendrys Morales celebrates after putting the finishing touch on the Royals' Game 5 win over the Astros with a three-run homer in the bottom of the eighth. Kansas City is headed back to the AL Championship Series for the second time in as many years.
Austin Laymance is a reporter for MLB.com. This story was not subject to the approval of Major League Baseball or its clubs.