MLB.com Columnist
Alyson Footer
Royals' celebration party hits home with fans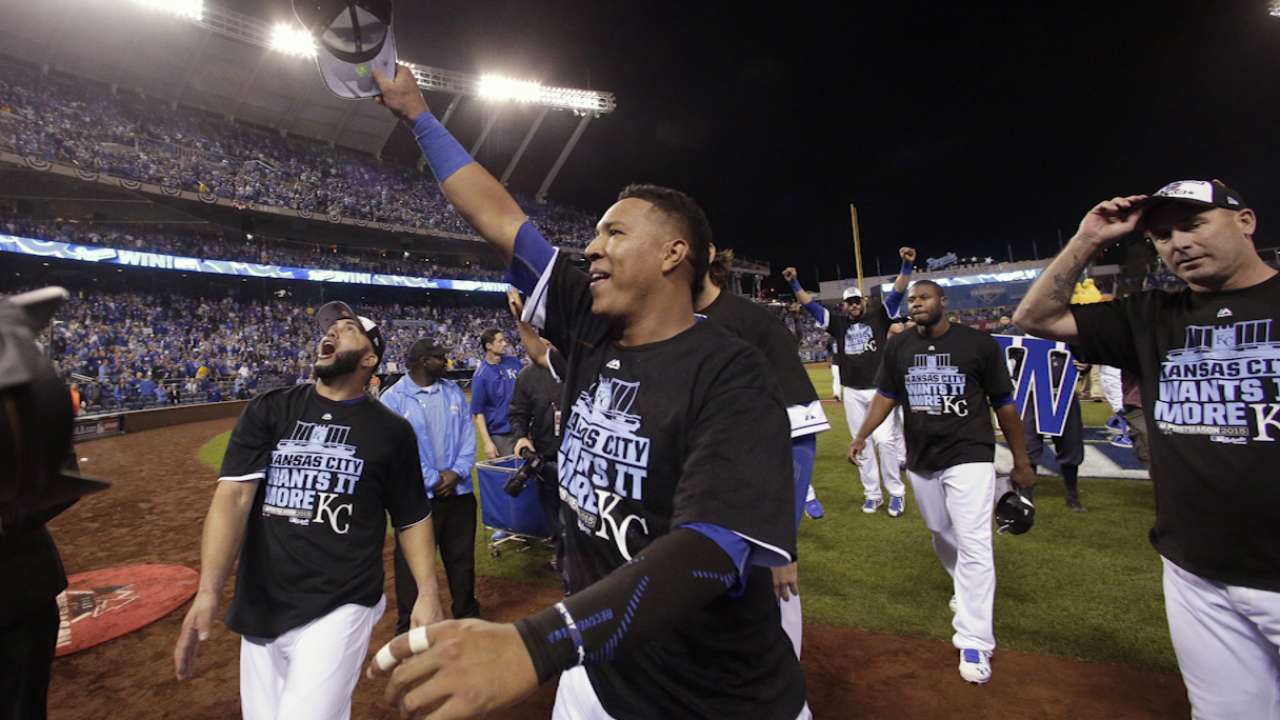 KANSAS CITY -- The scene was familiar, but that's to be expected when a team that has clinched and celebrated as much as the Royals have in the past year returns for a repeat performance.
Players wore goggles. They sprayed champagne. They screamed and laughed and shouted and hugged. And Salvador Perez danced.
• Shop for official Royals postseason gear
In other words, the Royals celebrated their 7-2 win over the Astros in Game 5 of the American League Division Series on Wednesday night in typical Kansas City fashion, with a festive celebration that first took place on the field, then moved into to the clubhouse, then went back out onto the field, where the club could celebrate with the fans.
For a team that a year ago was just happy to be there, these Royals looked entirely comfortable in celebratory mode. It helped that they were fueled by more than 40,000 royal-blue clad fans that remained typically loud and rambunctious throughout the game.
"This is a phenomenal place to be the home team," manager Ned Yost said. "That's why we fought so hard for home-field advantage, because we feel like our crowds, the energy that it brings us, does give us a home-field advantage."
Thousands of fans were still lined up behind Kansas City's dugout an hour after the game had concluded, unwilling to let the good times end for the night. Their presence long after the party moved inside the clubhouse prompted one of the veteran players to shout to his teammates to get back out onto the field.
"To come back here and have our home fans with our backs, it was awesome," Mike Moustakas said. "We had a great fan base out there tonight, and it was electric. We kept battling until the end and found a way to win."
Inside the clubhouse, several Royals dignitaries stood off to the side and enjoyed the show. Fan favorite Mike Sweeney. Hall of Famer George Brett. And owner David Glass, dignified, calm, wearing a blue button-down shirt stained with champagne, bubbly dripping down the tip of his nose.
Glass marveled at not only what the Royals did in this series, but that they continued what they started last year, an effort spearheaded by general manager Dayton Moore.
"He prepared us to do this on an ongoing basis, not a one-shot wonder," Glass said. "It's one thing to bring kids up through your farm system and have one shot at it and then turn it over. It's something else to build it to where you've got something for that pipeline to sustain it. He's done it."
Most of the chatter inside the clubhouse was about Johnny Cueto, who turned in a very Cueto-like performance in the decisive clincher, reigniting the phrase we've heard many times before -- "This is why we got him."
• Determined Cueto superb in winning clincher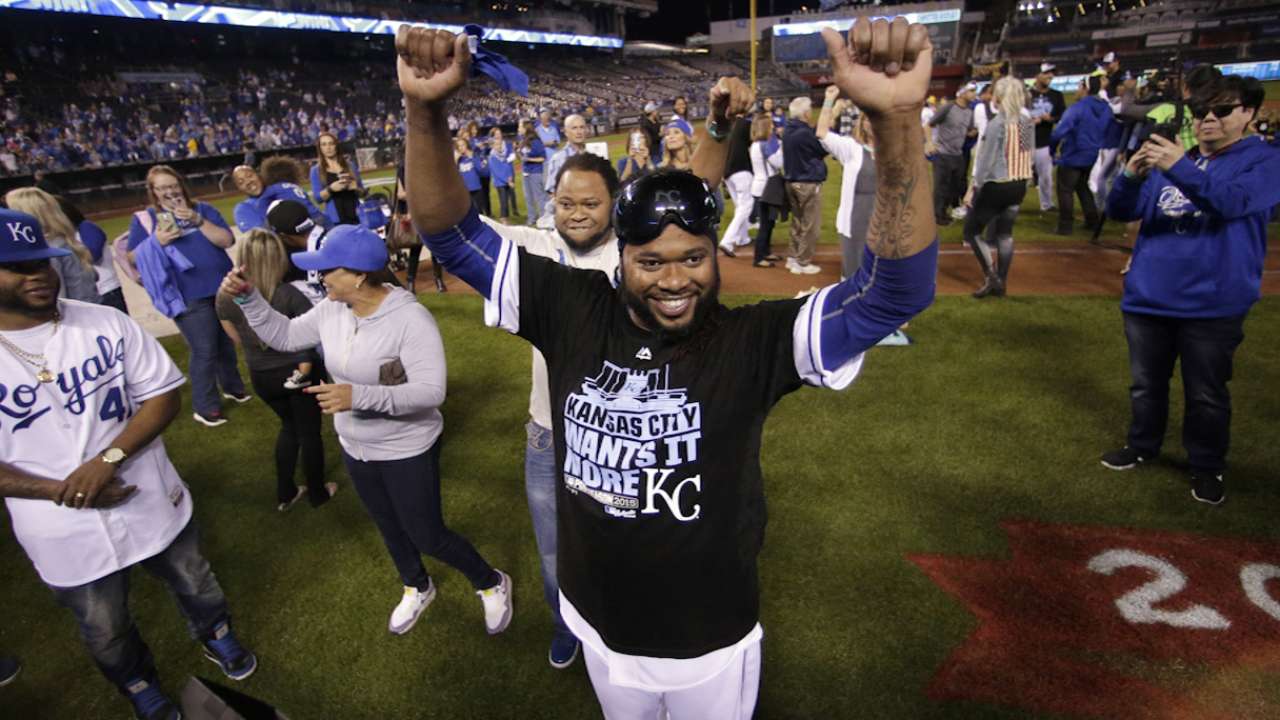 "He was phenomenal," Ben Zobrist said of Cueto's eight-inning performance. "He's an ace. He struggled toward the end of the season, but he proved tonight that he is as good as advertised. He is that guy that we thought he was coming over in the trade [with the Reds]. He came through in the biggest way tonight."
Kansas City has two more rounds to go, the first of which begins on Friday when it hosts Toronto in the AL Championship Series (7:30 p.m. ET on FOX). The Royals let loose when they took Game 5 from the Astros, but they know there is still work to do.
"We can't worry about what everybody thinks from the outside," Lorenzo Cain said. "We've got to believe in each other. If we want to get back to where we want to be, we must believe in each other.
"The confidence is always high, we're going to back each other. We need all of the above and everybody playing their best baseball so we can get back to the World Series."
Alyson Footer is a national correspondent for MLB.com. Follow her on Twitter @alysonfooter. This story was not subject to the approval of Major League Baseball or its clubs.