Game 5 brings out fan in GM Anthopoulos
Architect behind Blue Jays' success credits work of staff, scouts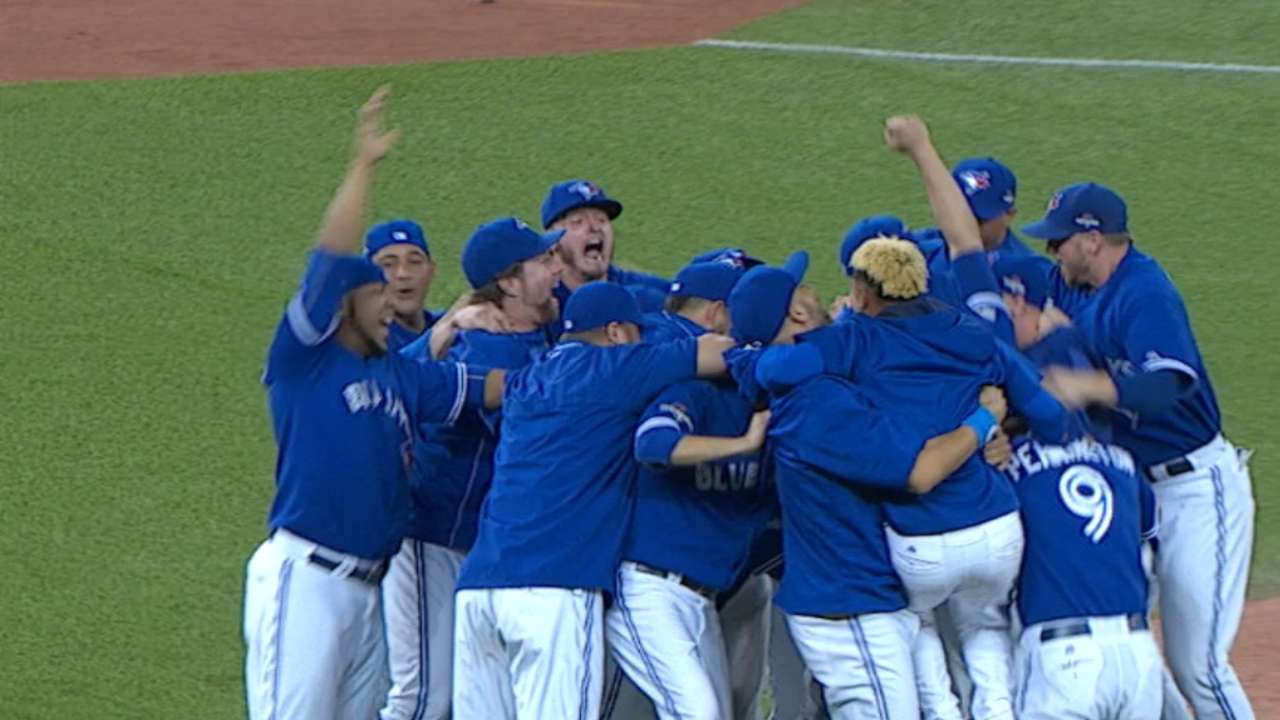 TORONTO -- Alex Anthopoulos is the architect behind this 2015 Blue Jays team that is headed to the American League Championship Series for the first time since 1993, with Game 1 of the best of seven against the Royals set for Friday at 7:30 p.m. ET (FOX/Sportsnet), but on Wednesday night he was a fan.
Toronto's general manager screamed, kicked and then yelled some more as he went through a roller coaster of emotions in the decisive Game 5 of the AL Division Series against the Rangers. The Blue Jays went on to win, 6-3, and while that was probably good for Anthopoulos' sanity, it wasn't good for his voice.
Anthopoulos could barely talk when he met with the media less than an hour after Jose Bautista hit a three-run shot that eventually gave the Blue Jays the ALDS over Texas. His voice was hoarse, his nerves were shot but he wouldn't have had it any other way.
"We're all happy, I'm happy, our staff is happy, but for everybody else who has been here a lot longer than I have, for the fans, it's amazing," Anthopoulos said. "We were talking about it up in the box, you want to talk about home-field advantage, it was amazing to see this and this is going to go down, I think, as one of the great games that we ever played here. For everyone that got a chance to be here, and got a chance to watch, it was great."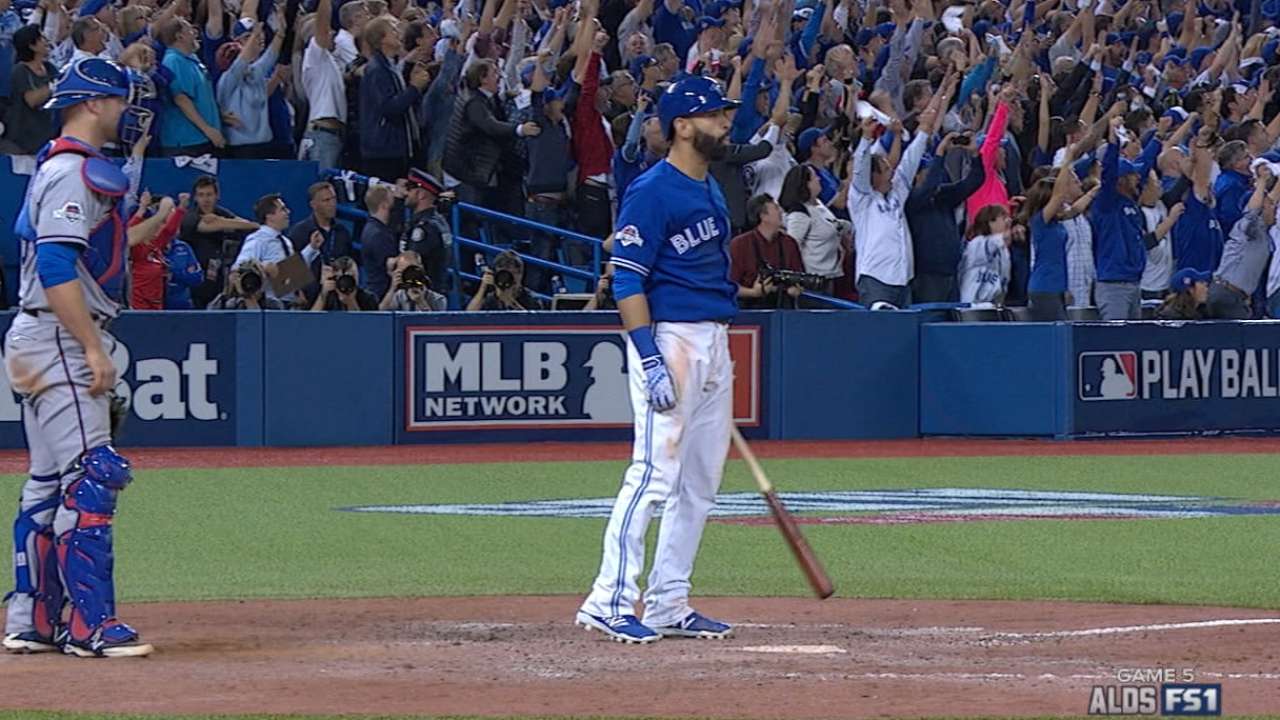 It's easy to forget based on how the Blue Jays played over the last 2 1/2 months, but it wasn't that long ago Anthopoulos was feeling pressure. The 38-year-old entered this year with all kinds of speculation about his future.
All of that talk can now be forgotten. He technically still doesn't have a contract beyond the current season, but the doubts about his future in Toronto have all but been erased. It seems like only a matter of time before a contract extension will be sent his way, and based on the makeover of the Blue Jays' roster, nobody can argue he doesn't deserve it.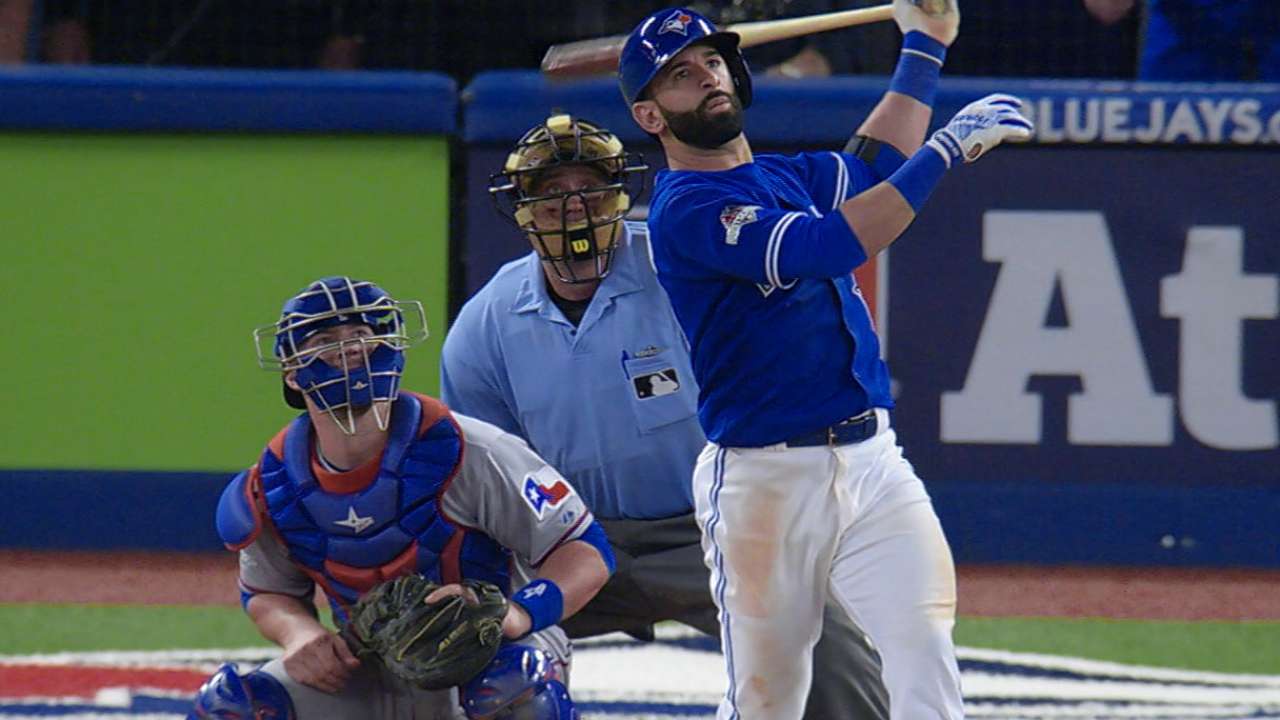 So there was Anthopoulos, in the middle of the Blue Jays' clubhouse after Game 5, reveling in the moment. He was surrounded by the franchise star in Bautista that he took a chance on in 2011 with a lucrative long-term contract, an MVP candidate in Josh Donaldson that he traded for during the offseason and a Cy Young Award candidate in David Price, who helped define the Blue Jays' Trade Deadline.
Along with them were the players the Blue Jays developed, the prospects who became something and the assets that were acquired to make it all work. Anthopoulos is modest at the best of times, and while this should be one of those moments he basks in the sun, he was quick to hand off credit to all of the other people in the organization who made this possible.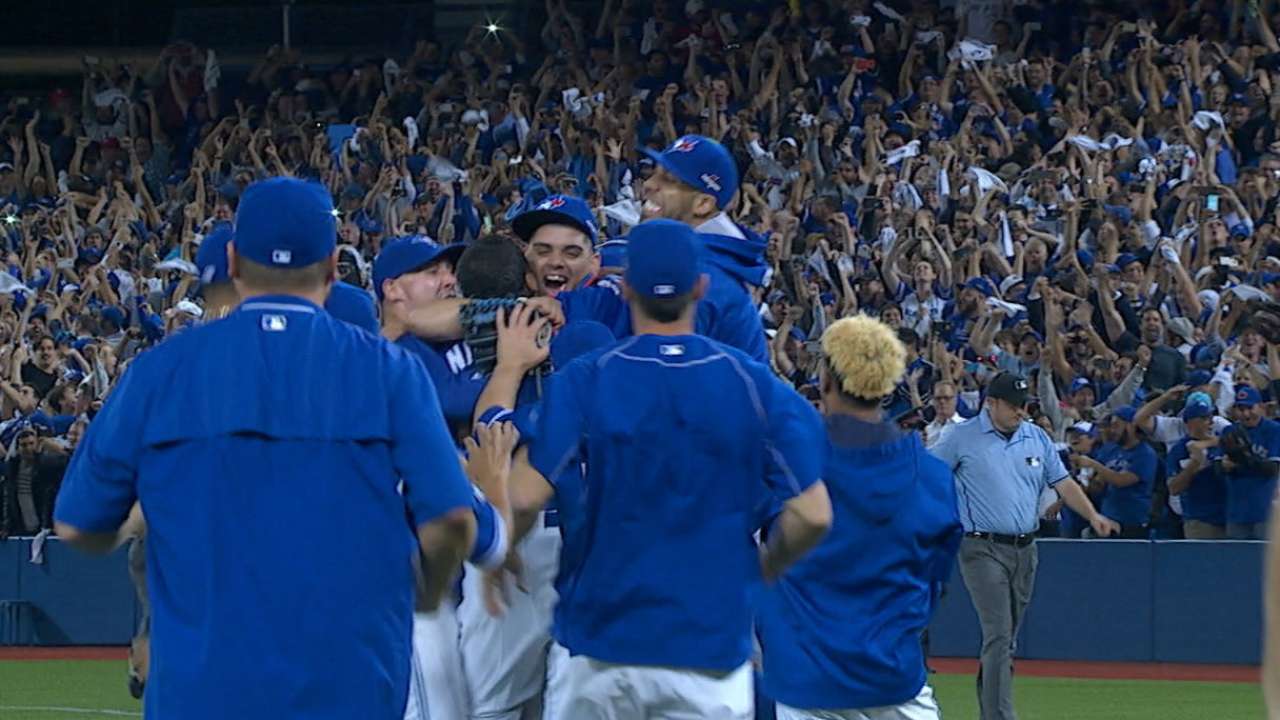 "You think of the scouts, of the development staff, everyone that ended up putting time in the job," Anthopoulos said. "You can't say enough for them, they gave us the assets to make the trades, they put a lot of those guys on the field, and I can't give our scouts and development staff enough of the credit."
Knuckleballer R.A. Dickey was asked in the middle of the postgame celebration about the team that Anthopoulos has assembled over the last 12 months. He felt all along there was something special about this unit, and he felt the same after the monumental comeback that kept their season alive.
"You'll hear at the end of the year, that this team, or that team, is a team of destiny," Dickey said. "You'll hear that a lot, it's a sports cliché, a lot of it goes back to games just like the one we had. I'm not going to say we're a team of destiny, but I am going to say that we're a team that plays hard every day and we're not scared of anybody."
Gregor Chisholm is a reporter for MLB.com. Read his blog, North of the Border, follow him on Twitter @gregorMLB and Facebook, and listen to his podcast. This story was not subject to the approval of Major League Baseball or its clubs.