MLB.com Columnist
Alyson Footer
Cain's hustle lets Jirschele wave him home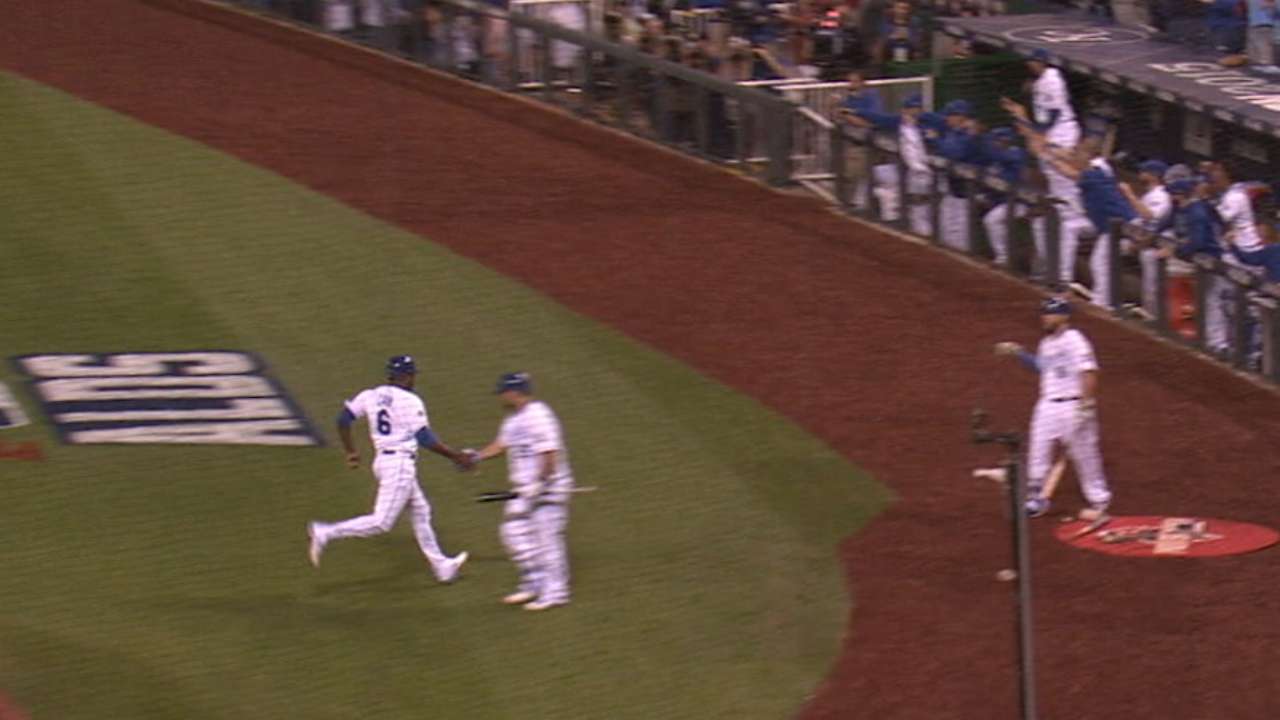 KANSAS CITY -- The first thing Royals third-base coach Mike Jirschele said when approached to talk about sending a baserunner home in a crucial moment in Wednesday night's 7-2 win over the Astros in Game 5 of the American League Division Series was, "I'm glad we're not talking about [Alex] Gordon from last year."
Jirschele said it in jest, and he chuckled after he said it. But he does have a point -- it's a lot more pleasant to talk about something that had a positive outcome and affected a win, rather than what he had to do last year, which was discussed at length (and ad nauseam) about his decision to stop Gordon at third after the outfielder sprinted around the bases on a single and an error in the ninth inning of Game 7 of the World Series.
• Shop for official Royals postseason gear
This time, a split-second decision made by Jirschele worked in Kansas City's favor.
With Eric Hosmer at the plate, Lorenzo Cain, who had singled, took off for second on the pitch and looked to make it easily into third on Hosmer's base hit to center. Cain didn't notice, however, that Houston center fielder Carlos Gomez slipped and fell while fielding the ball and made a half-hearted throw from a sitting position to second baseman Jose Altuve.
Suddenly, Jirschele was frantically waving Cain around, sending him home. The signal confused Cain, who didn't know Gomez had fallen.
"Honestly, I was like, 'What are we doing?' at first," Cain said. "I didn't see him slip and fall. It was definitely another huge run for us and showed what kind of hustle this team has."
The run put the Royals on the board for the first time and cut the Astros' lead to 2-1. Given the final score, it wouldn't seem like a big play, but at the time, it was seemingly a momentum-shifter.
In the dugout later, Jirschele and Cain had a laugh about it.
"He said, 'That's what I'm talking about, that's the way to keep hustling,'" Cain said.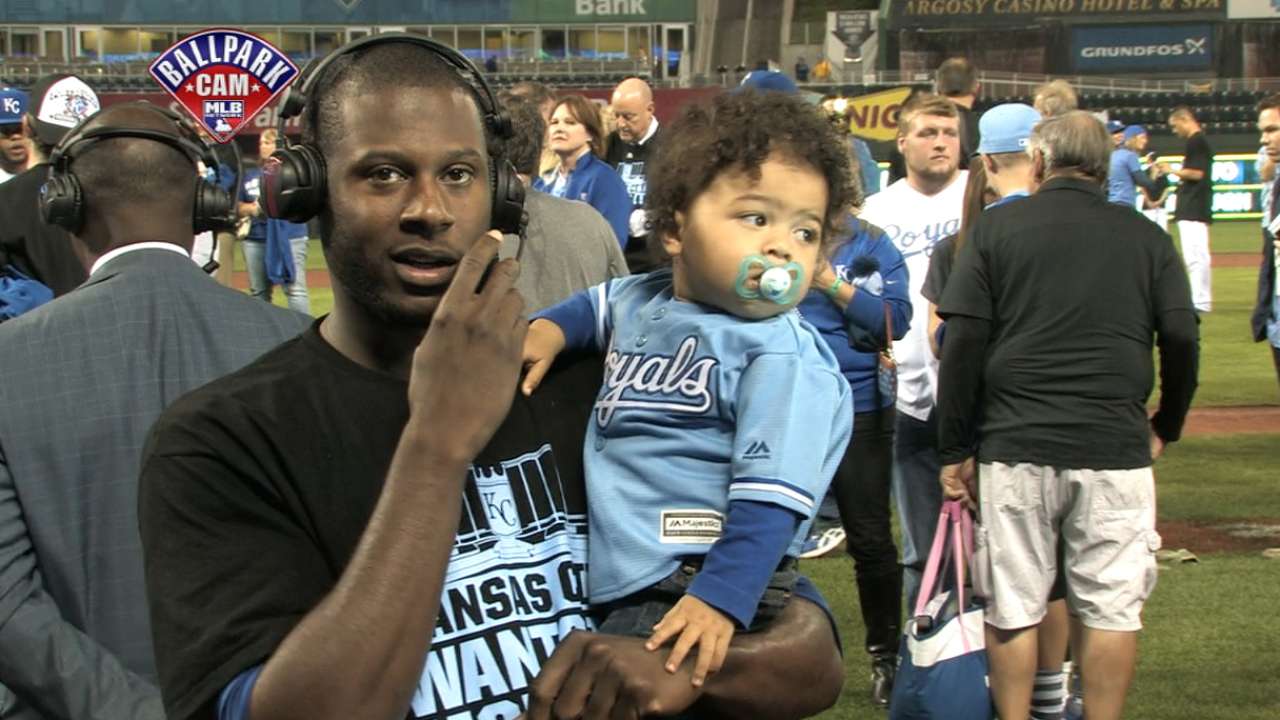 Had Cain not been running full speed, Jirschele contended, the scoring play could have never happened.
"I give all the credit to Lorenzo," Jirschele said. "He was coming in full speed right there. I'm just watching how Gomez fields the ball. If he secures that ball and he's on his feet, I can't send him. But as soon as I see [Gomez] slip, and he wasn't in a rush to get up, I said, 'I'm sending him.' I give Lorenzo all the credit right there. He made it an easy call for me."
Cain's initial confusion as to why his coach was sending him made Jirschele laugh.
"That's the thing -- they've got to trust me to make that call and he did it," Jirschele said. "He turned on the afterburners as soon as I sent him. There was no play."
But was it reminiscent of last year's Game 7 call? Jirschele said he rarely thinks about that anymore and definitely did not have that in mind when this play unfolded.
"That really didn't come to my mind," Jirschele said. "I just get so excited over there to have the opportunity to make the call, because you feel like you're a part of the game. When we have runners coming into third and you're making a decision whether or not to send him or hold him ... Lorenzo made that call easy because he was running hard. If he's not running hard, I probably can't send him."
Alyson Footer is a national correspondent for MLB.com. Follow her on Twitter @alysonfooter. This story was not subject to the approval of Major League Baseball or its clubs.