Rios savoring 'sweet' time in postseason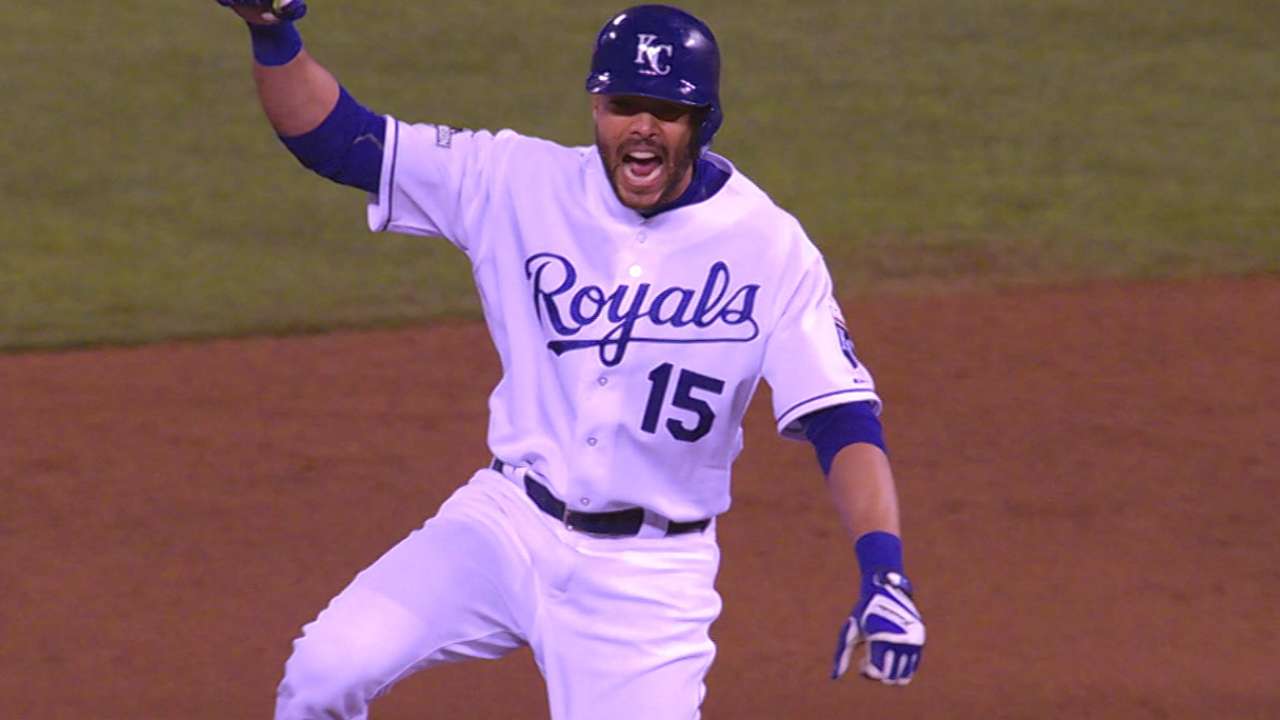 KANSAS CITY -- For 12 seasons, Alex Rios has waited for this moment, when he could pop champagne in the postseason.
"It tastes particularly sweet," Rios said, drenched in champagne following the Royals' 7-2 win over the Astros on Wednesday in the American League Division Series-clinching Game 5. "I've waited a long time."
• Shop for Royals postseason gear
It has been a trying campaign for Rios, signed last offseason to fill the void in right field. After a terrific Spring Training, Rios had a strong start in the first week of the season, as Kansas City won its first seven games. But in that seventh game, his hand was broken by a pitch, and he missed nearly two months.
Rios was slow to regain his offensive timing, and he often drew the ire of fans. He heated up in August but was then struck with chicken pox. Again he persevered.
Now Rios can savor his biggest postseason moment so far -- it was his two-run double in the fifth inning that put the Royals up for good on Wednesday.
"After all he's been through," manager Ned Yost said, "it was great to see Alex get out there and get the big hit. I mean, that was huge."
Rios, who had singled in the second, stepped to the plate with Salvador Perez on third and Alex Gordon on second with none out in the fifth and Kansas City trailing, 2-1. Rios ripped a Collin McHugh pitch down the third-base line and into left field, and the Royals had the lead.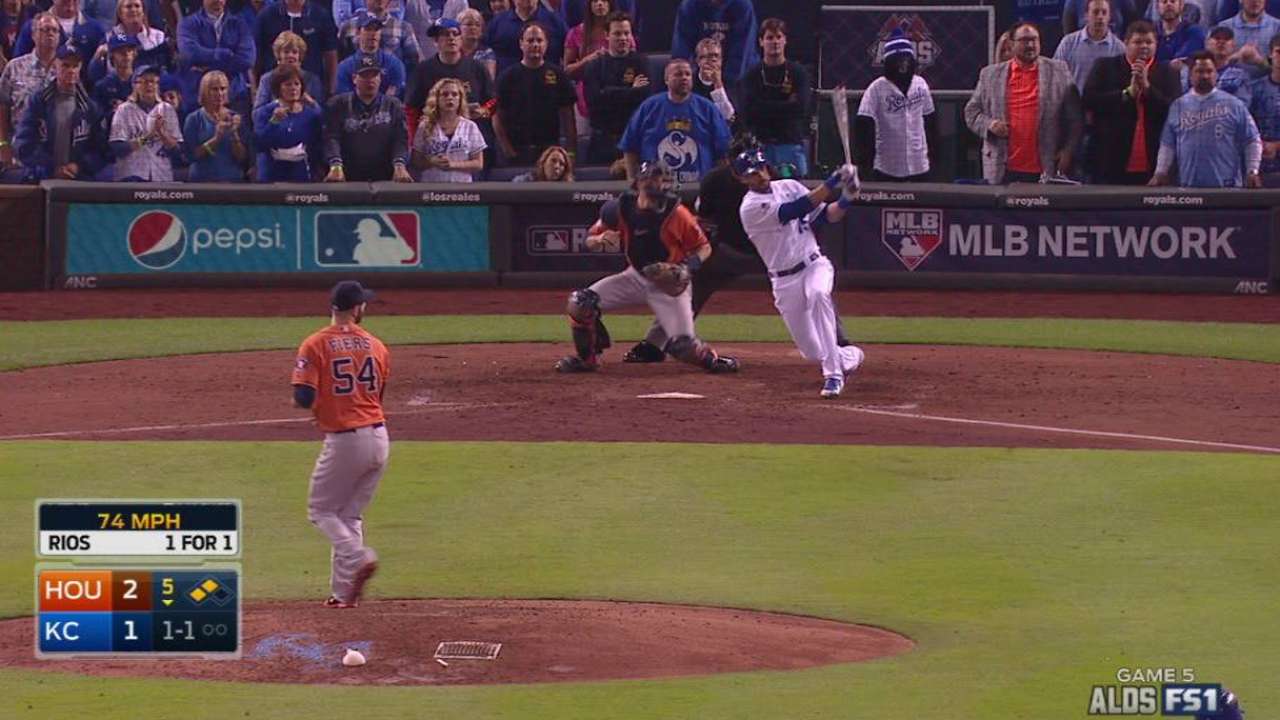 Rios later scored on Ben Zobrist's sacrifice fly.
"It was very close," Rios said of his grounder, which was barely fair. "When I got to third, I saw where the ball bounced, and it was very close to the line."
Rios sensed an inning earlier that Kansas City was starting to get to McHugh.
"In the fourth, we started putting up good at-bats," Rios said. "That tells you that we were conscious at the plate and we knew what we were doing. We put a good game together."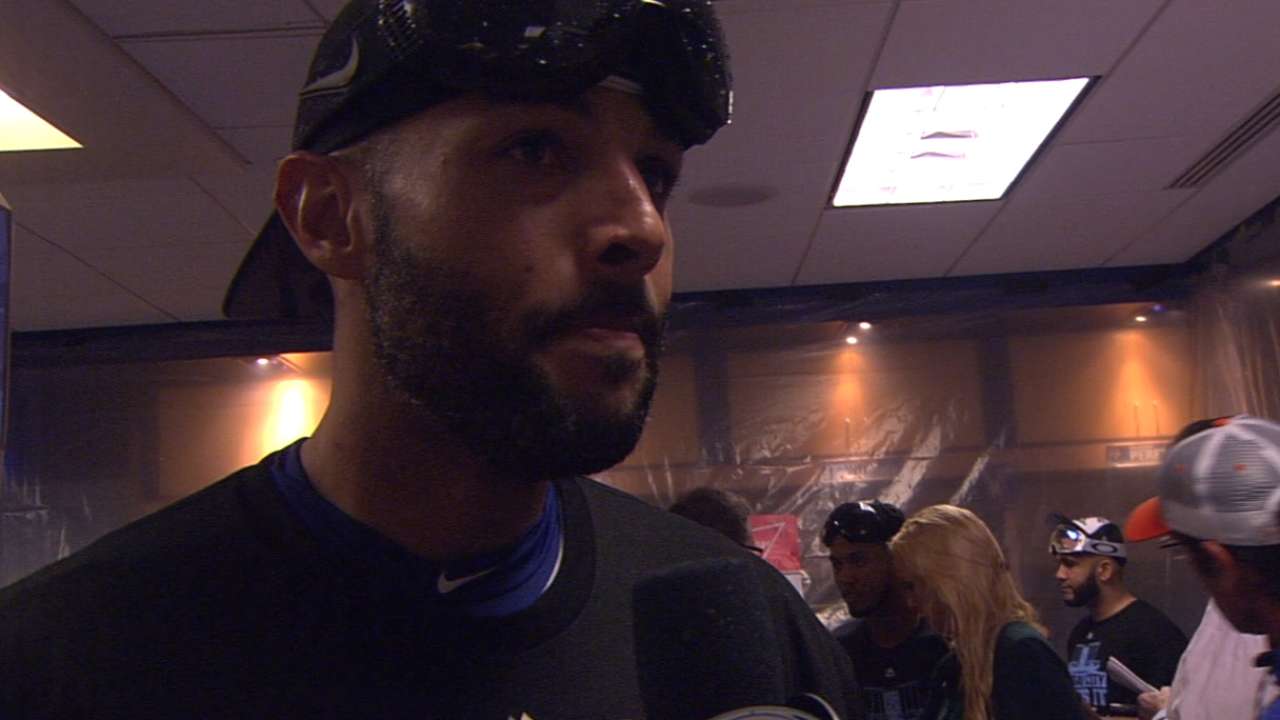 And now Rios has a memory that will last -- a trip to the AL Championship Series.
"I think it is a memorable moment for me," he said. "I've been playing for a long time and waiting for this a long time. I'm glad to do it with this group of guys. We've had a lot of fun during the season, and now we're having even more fun. I'm glad to be part of it."
Next up are the Blue Jays, the team Rios broke into the big leagues with in 2004.
"They have a pretty good team, and we have a good team as well," he said. "They have a strong offense, and we have good pitching. It should be fun."
Jeffrey Flanagan is a reporter for MLB.com. Follow him on Twitter at @FlannyMLB. This story was not subject to the approval of Major League Baseball or its clubs.