McHugh's promising start fizzles vs. Royals
Handed two-run lead, Astros starter runs into trouble in fourth, exits in fifth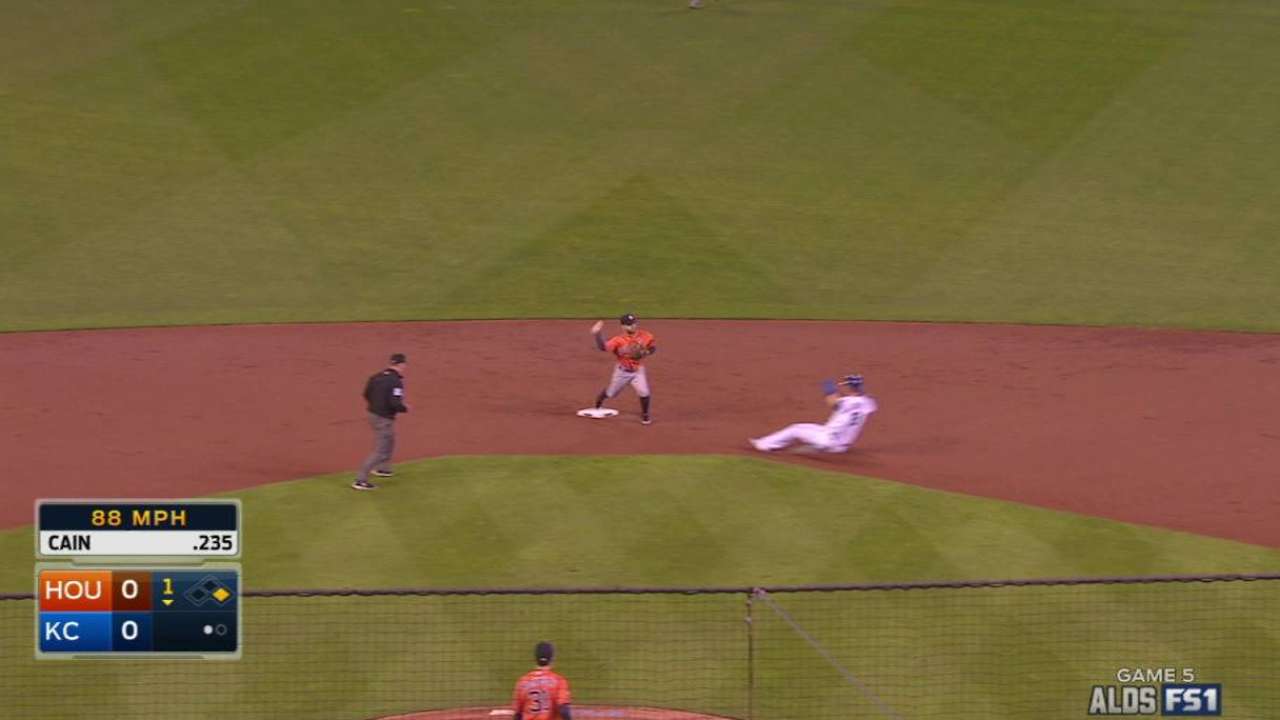 KANSAS CITY -- Astros starter Collin McHugh fell victim to the Royals' pesky ways in front of a boisterous Kauffman Stadium crowd during a 7-2 season-ending loss in Game 5 of the American League Division Series on Wednesday night.
McHugh came out firing in his final hurrah of the 2015 campaign, facing the minimum over each of his first two innings, and needing only 16 pitches to do so. He was handed a two-run lead in the second, and the Astros momentarily appeared bound for a better fate than the one that awaited them.
"They weren't really on him too much early on," Astros catcher Jason Castro said.
McHugh made it through the third unscathed, though the outs rang loud, foretelling trouble that found him in the fourth.
The inning began inauspiciously when Ben Zobrist struck out on a perfect curveball -- the infielder's first swing that didn't result in contact in the entire series -- before Lorenzo Cain dumped a ball into right field for a one-out single. Cain was on the go when Eric Hosmer connected on his own bloop hit, scoring all the way from first to cut into Houston's lead.
McHugh, who needed 31 pitches in the inning, sat at 60 total when he returned for the fifth. His 66th pitch hit Salvador Perez, prompting Astros manager A.J. Hinch to get Mike Fiers up in the bullpen, and Alex Gordon proceeded to lace a ground-rule double to right field to put runners on second and third for Alex Rios.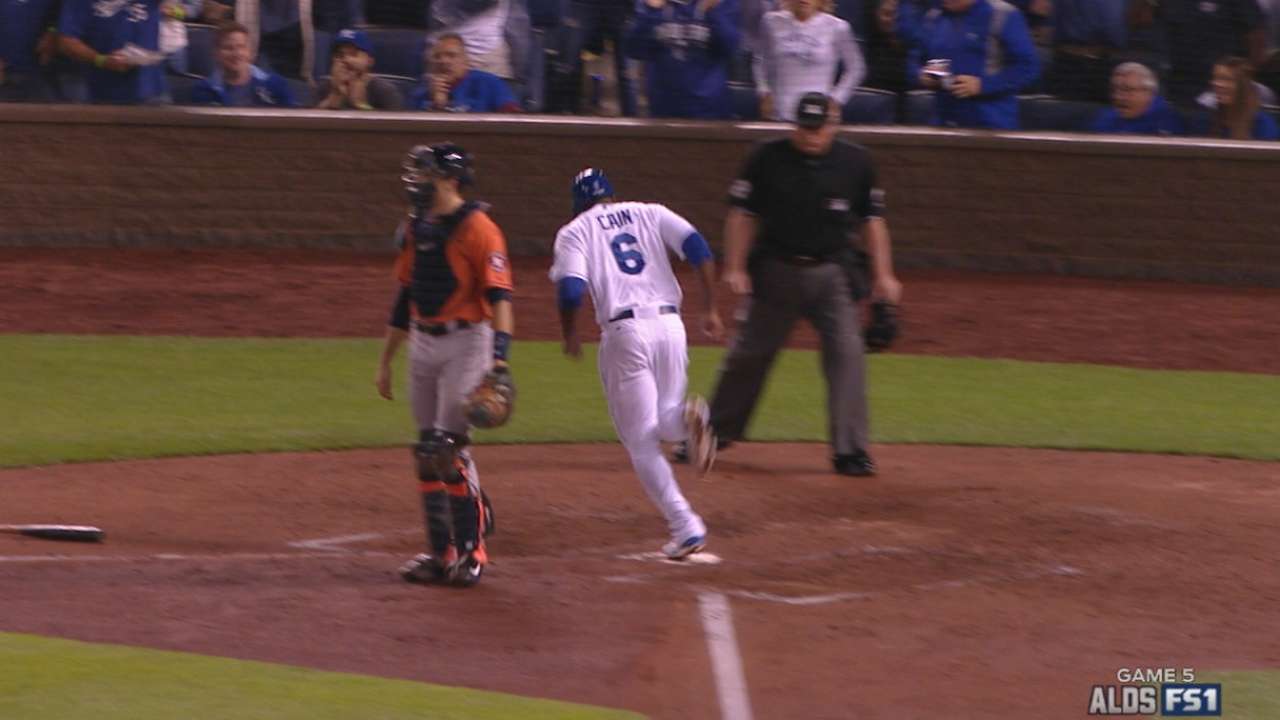 McHugh then exited as Kansas City was just getting started, and he was charged with two more runs when Rios doubled home Perez and Gordon.
"I actually felt good," McHugh said. "Gordon put a good swing on that one pitch, and really that was the only hard ball they hit. It stings a little bit, it hurts. It's tough, but I thought I had pretty good stuff.
"We put together a really good game plan against these guys, and I thought we executed pretty well, but you have to take your hats off to this team. They grind, just like we do. They put together really good at-bats, can flare a couple, find a couple holes, and that's when they're at their best."
"This is a group that finds a way to put the bat on the ball," Royals manager Ned Yost said. "And that's the strength of our club. It kind of goes a little bit unnoticed, but the ability to put the ball in play is key. It's a club that's built around defense, speed and the ability not to strike out."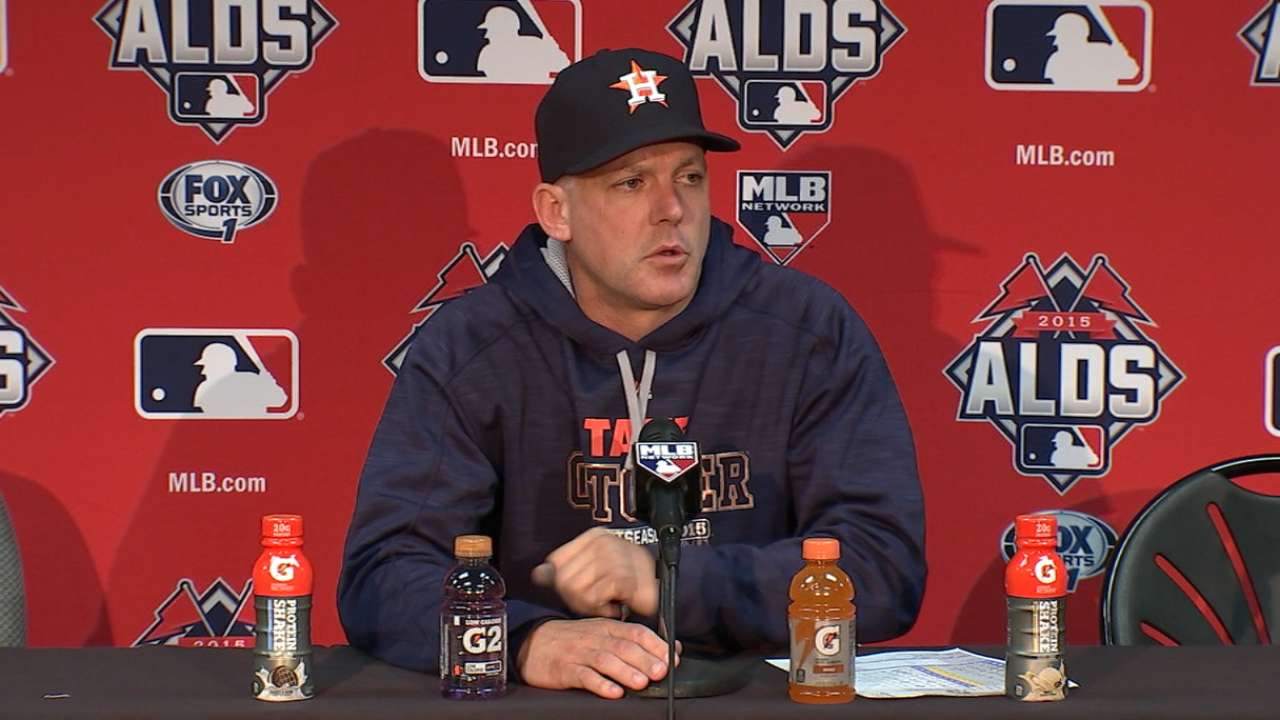 As was the case six days prior, in Houston's 5-2 Game 1 victory, McHugh struck out only one batter. But he induced nine ground-ball outs in six innings the last go-around, this time managing only two, compared to five fly-ball outs.
"I made good pitches to them in a similar way that we did last time, and we got some quick outs early in the game," McHugh said. "They put a couple balls in play that happened to find holes. They didn't hit the ball super hard, but they're good hitters. They've got a really good professional approach at the plate."
Jane Lee is a reporter for MLB.com. This story was not subject to the approval of Major League Baseball or its clubs.