Oct. 14 Ned Yost postgame interview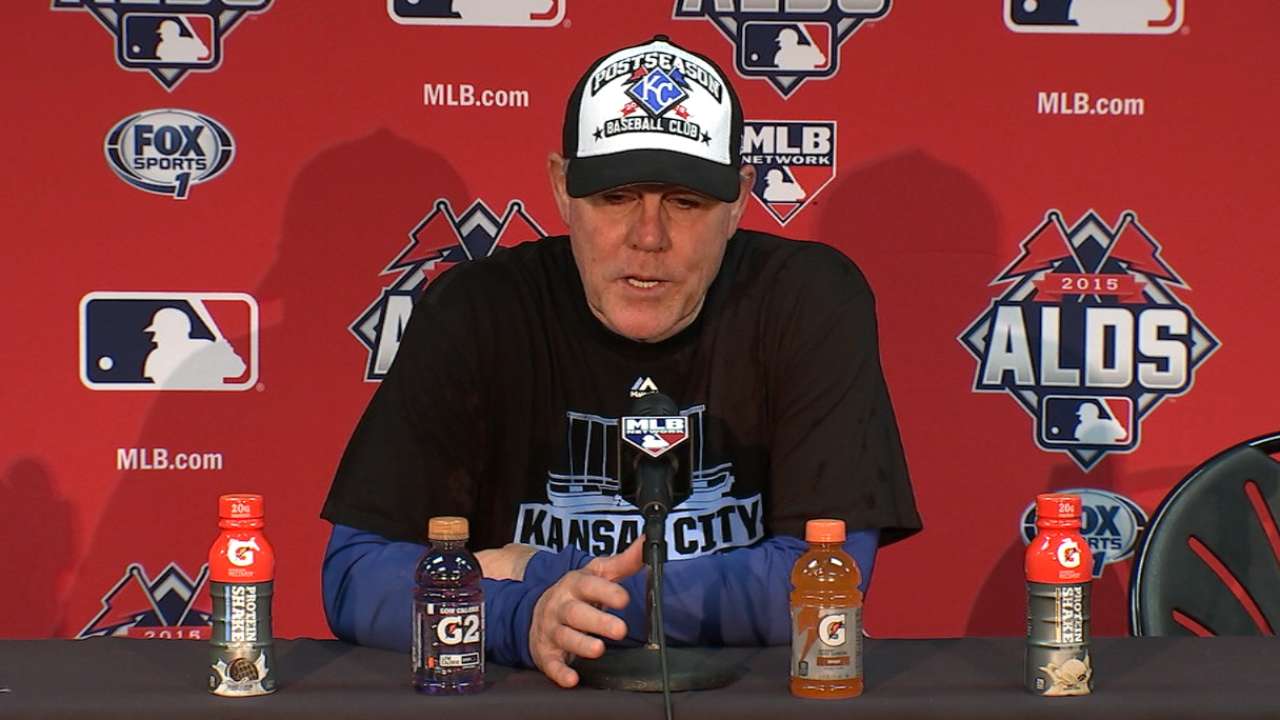 THE MODERATOR: We'll take questions for Ned Yost.

Q. How good was Johnny Cueto tonight?
NED YOST: He was unbelievably good. He didn't make a bad pitch all night. That pitch that Valbuena hit was a good pitch. He came in after the eighth inning and was lobbying to go back out in the ninth. And I'm like, look, I got the best reliever in the game down there; he's going to come in and close it out.

And then Morales hit the three-run homer, and he's like: Let me go, let me go. You get to that point and Wade is already hot, there's two outs, if you sit Wade down and you got to get him back up, it's just best to go straight to Wade and finish that game. But Johnny Cueto was unbelievable.

He knew the magnitude of this game, I think we all did, and he came out from the first pitch, just had everything going. Had his two-seamer, had his change-up, had his cutter. He was fantastic.

Q. He was going so good, did it kind of change the way the back went? And, secondly, why did you think of having -- why was Davis only saved for the ninth and was Madson -- Madson was the one that was heating up in the 8th?
NED YOST: Because at that point Johnny was rolling in the eighth inning. Wade threw -- we got confidence in all of our relievers down there. We got as much confidence in Ryan Madson as we do as Kelvin Herrera, and we had Herrera and Duffy warming up in the 5th, so it was just a mix-and-match scenario.

Q. All three games you won you trailed in at some point in this series. What does that say about this club?
NED YOST: Well, this team's not afraid to play with its back against the wall. They have got a lot of confidence in themselves. And we fell behind 2-0 early, and McHugh's -- man, he's good. He's good.

But I just kept telling myself have patience. These guys are going to find a way to put some runs on the board. And we got the one run, and then I was really pleased, Alex Gordon, the bottom of the order, Alex with the big double and then Alex Rios who has worked so hard and been through so much this year to get the big hit to give us the lead, that was huge. And then Morales capping it off in the ninth was -- or in the eighth inning was equally big.

Q. Your team's done such a great job of not striking out, far and away the best in baseball, and in this series, time after time, when they would have 0-2 counts and they foul a bunch of pitches off, I mean, just great at-bats when they would get behind in the count, and that happened a lot again tonight, right?
NED YOST: Right. It happened a lot again tonight. But this is a group that finds a way to put the bat on the ball.

And that's the strength of our club. It kind of goes a little bit unnoticed, but the ability to put the ball in play is key. A lot of times it could be a ground out, it could be a pop-up, it could be a flyout, but it's crucial in situations where you got runners in scoring position, Ben Zobrist with a huge sacrifice fly to give us a two-run lead at that point which was really, really big.

It's a club that's built around defense, speed and the ability not to strike out.

Q. A.J. mentioned how great the crowd was tonight and how Johnny fueled off that. Can you speak to that?
NED YOST: No, he absolutely did. And Johnny spoke to it yesterday. He said he's going to really expect the crowd to give him energy out there. And right from the first pitch on, the crowd -- I don't know how -- I really don't know. If you take a clock and put how long our fans sat down compared to how much they were standing up, I think it would be 50/50.

This is a phenomenal place to be the home team. That's why we fought so hard for home-field advantage is because we feel like our crowds, the energy that it brings us does give us a home-field advantage.

Q. Seemed like this was absolutely your cleanest game of the series. Had you felt like you were playing your best ball up to then? Seemed like you fought and clawed your way to a 2-2 tie, but tonight was more like maybe you play when you're at your best?
NED YOST: Yeah, well, it felt like we were fighting and clawing tonight too. Again, we talked about this series being a dogfight because I thought that both teams were pretty evenly matched. Both are young, energetic, athletic, really, really good defenses, guys that were aggressive on the bases, good pitching.

I just felt -- even this game here, I didn't really feel totally comfortable until Morales hit the three-run homer, and knowing that we had Wade coming in that ballgame.

But I talked to A.J. after the game, and I told him, I said: Man, you got a team that's going to be good for years to come. And what they accomplished this year I thought was special, and the job that A.J. did over there with that group I thought was unbelievable. So, my hats are off to them. They're going to be a tough foe in the American League for years and years to come.

Q. How important was Rios' big hit to get you guys ahead?
NED YOST: Well, it was huge at that point. We're kind of -- McHugh was really throwing the ball well at that point, and Gordy's big hit set it up. Gordy had a 3-2 double over the right fielder's head, and then for Alex to come up and hit that ball down the third baseline to give us the lead, we felt really good at that point because we felt we were at a point in the game where we could involve our bullpen if we needed it. But Johnny was still throwing the ball extremely well. So we felt like at that point we were in really, really good shape.

THE MODERATOR: Thanks, Ned.