Oct. 14 A.J. Hinch postgame interview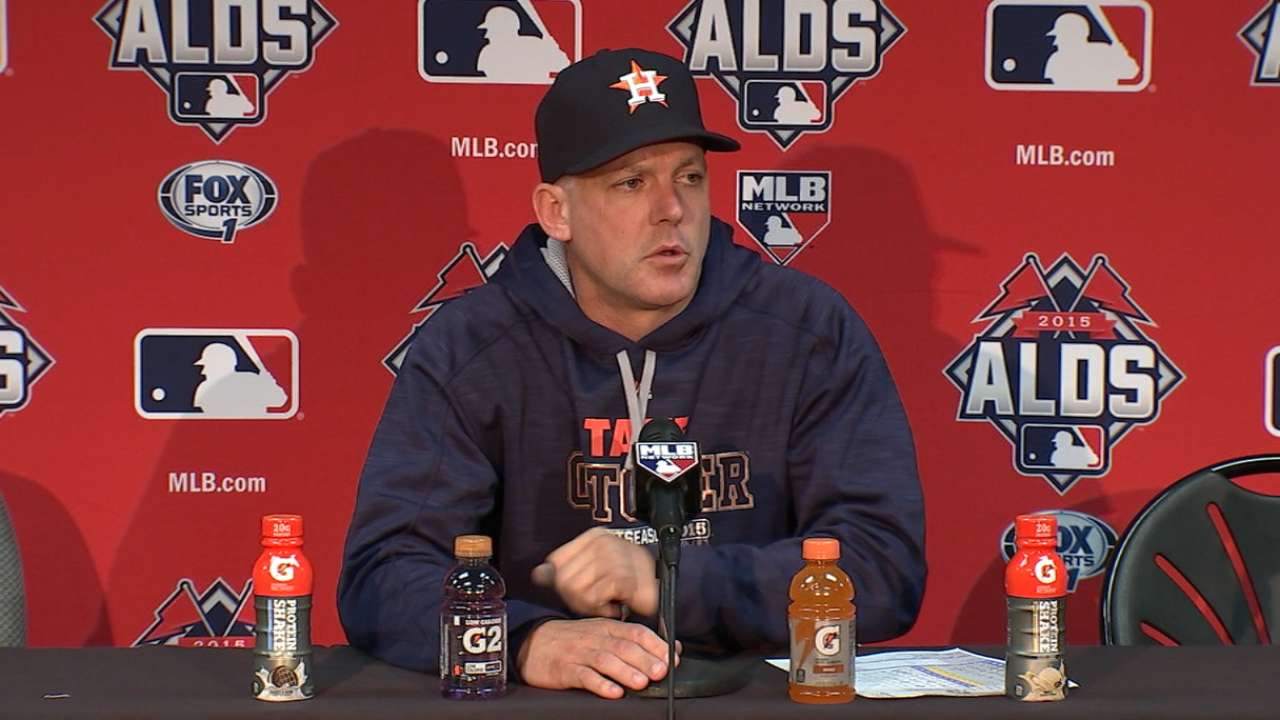 THE MODERATOR: Questions?

Q. You guys have had such a special season, it's lasted longer than anyone thought it would. But how tough is it for all of it all of a sudden to end right now?
A.J. HINCH: It's very tough. There's not a man in that room that wanted the season to end. There's going to be 29 teams that go through what we're going through today. There's going to be one champion. So it hurts. It hurts to know that we put everything that we could into this season and it end abruptly. Seasons like this end really quickly, and you're never ready for it. It never feels good.

But as I told our team, I'm really proud of everything we did. I'm proud of their effort, I'm proud of their character, I'm proud how we handled adversity. Everything about this team I'm proud of. Proud to be their manager.

We congratulate the Royals, a class organization, Ned Yost, the group over there is really good.

This is a hard-fought series. And we accomplished a lot getting into this series. We accomplished a lot in this series, but it doesn't feel very good tonight.

Q. How much do you think a young nucleus like you have, can they grow from this and look at it as a positive at some point?
A.J. HINCH: At some point. Not tonight. I think in time, time heals all wounds. And we'll be able to reflect back on a lot of things that we learned about ourselves, we learned about our team. And a lot of good's going to come out of it.

It doesn't feel like it right now. I got a lot of heartbroken guys in that clubhouse that really believed that we could continue on.

But for the group of players that this was their first time in the playoffs, for me as a manager, first time in the playoffs, I'm proud of how we handled ourselves. I'm proud of how we responded to the challenge of a Wild Card game, how we responded to the challenge of playing the defending American League Champions, and how we gutted it out to the bitter end.

Q. What was your thought about bringing in Fiers when you did and also Dallas to finish it up?
A.J. HINCH: We knew going in to the game that I was going to use our starters, I wanted to give the Royals a couple of different looks, guys they hadn't seen a ton of. We had used Sipp and Harris in almost every game. So when Fiers came in, McHugh was pitching pretty well, they didn't really hit him that hard until the Gordon double, they found a few holes, they put up some tough at-bats, they had the one ball where they scored when Gomez fell down. So McHugh was cruising pretty well until the fifth. And Fiers, he's got a punch-out in him. He had had some success against Rios in the past. It was a different look for him.

That was the pocket that I determined pregame, that was probably going to end up being him.

As far as Keuchel goes, we had to try everything we possible could to keep that at 4-2. And he was one pitch away from doing that. And so to empty our tank with our best to try to give us a chance for a bloop and a blast, a walk and a double and another base hit, against one of the best bullpens in baseball, that's what the thought process behind having Keuchel.

I knew going into the game Keuchel was going to pitch late in the seventh and eighth and try to bridge it to Gregerson. How we got there was going to have to be creative, but I'm proud of Keuchel. He gutted it out. He was one pitch away from getting out of it. And Morales, obviously, was the separator.

Q. I saw you hug Keuchel when he walked in. What do you tell a guy and what did you think of his season? It was a pretty magical season, probably one of the best in franchise history for a pitcher.
A.J. HINCH: Yeah, I told him -- I thanked him for gutting it out. It's not easy coming off of that many pitches on two days' rest. I'll tell you now, he told me immediately that he was going to be available. And we talked about it long before you guys asked me about it.

So I thanked him for gutting it out. I know he gave his best effort to keep our team within striking distance. I appreciated that effort. We had it all mapped out as to what was going on. And we knew he was going to come in. We were hoping that was going to be a 4-2 lead as opposed to a deficit. But that guy's got a lot of guts and he is a special pitcher and a special competitor that I was very fortunate enough to be around and be his manager.

There wasn't a day that he took the ball that I didn't have confidence that he was going to bring his best. He's a unique pitcher in our league.

Q. How do you look back now at Game 4 where you guys were six outs away, 6-2, at home, so close to the ALCS? Does that sting more now?
A.J. HINCH: No. It stings because we're going home. We had Game 5 and in Game 4 -- I'll reflect back on Game 2. That's what you do in a five-game series against one of the best teams in baseball.

But now's not the time for that. I got an entire offseason to go over a lot of different scenarios and a lot of different things, and eventually the bottom line is you got to play 27 outs against good teams. And this series proved that. It proved it the other way for them as well as we put together some pretty good games.

This is a very, very hard-fought season-ending series. And so to cherry pick Game 4 or Game 2 or parts of Game 1 and 3, now's not the time.

Q. What was the biggest difference you saw for Johnny Cueto between Games 2 and 5?
A.J. HINCH: So tonight was Johnny Cueto's night. We didn't get a base runner after the second, is that right? Am I -- by my book. He had the strike little cutter-slider thing that he throws. He threw a couple good change-ups. I thought the crowd got behind him. And he pitches with emotion. He rose to the occasion.

This was his night. He had a good fastball tonight. Got it and crept into the mid 90s. And the good version of Johnny Cueto's really tough. And when he gets strike one with that little cutter, against righties, the changeup against lefties -- he had some finish fastballs. And he was around the plate enough to where we had to be aggressive, and he got some early-count outs and stayed in the game.

But hats off to him. He pitched a great game. And really other than Valbuena homer after Gattis' infield single, we didn't scratch much across for him.

Q. It was the fourth inning, the play with Cain just hits a blooper to right and then Carlos slips on that. How much did that sort of kind of change the momentum of the game?
A.J. HINCH: Well, it got the crowd into it, when you score from first on a ball that goes 150 feet or so. And it was a loud crowd tonight. Once they got going a little bit, I thought Cueto pitched well to the crowd, I thought that their hitters continued to put up quality at-bats, which we saw for five straight games.

And they continued to grind out their -- they're tough outs. So in that play, certainly the swing of momentum, obviously, they creep into 2-1, I don't think it really impacted us a ton, other than it was unfortunate to give up a run with balls not being hit very hard.

Even the Rios double down the line was very well placed. But contact's their friend. We saw this this entire series where they made contact with two strikes, they made contact and put the ball in play to create some havoc for us. And that's what good hitters do. And they took advantage of almost every opportunity they had until the big blast at the end.

THE MODERATOR: Thanks very much.