Touch 'em all, Jose: Legacy secured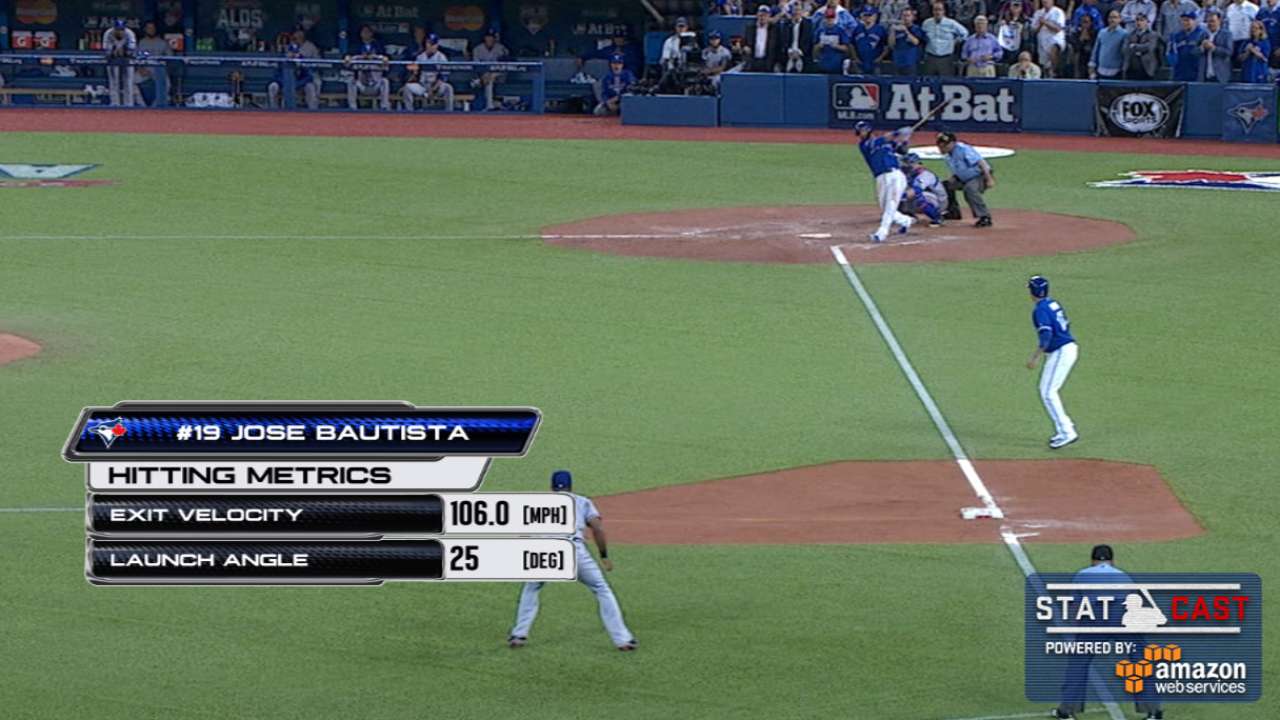 TORONTO -- Jose Bautista is one of the greatest players to put on a Blue Jays uniform, and on Wednesday night he cemented his legacy by delivering one of the biggest home runs in franchise history.
In a defining moment for Bautista's career, he came through with a three-run homer in the bottom of the seventh inning that sent Toronto to a 6-3 victory over Texas in the decisive Game 5 of the American League Division Series and set up an AL Championship Series Game 1 matchup with the Royals on Friday at 7:30 p.m. ET in Kansas City (FOX/Sportsnet).
• Shop for official Blue Jays postseason gear
Move over Joe Carter and Roberto Alomar, there's another postseason hero in town, and it happens to be the same guy who spent the last six years as the face of Toronto's franchise.
"I knew it was gone. I was enjoying it," Bautista said. "It was a huge moment in the game, I knew I did something great for the team and that's it. I don't remember much after that until I ran the bases and got into the dugout. That's when I started coming to again."
Bautista had been waiting more than 12 years for this type of moment. The veteran slugger broke into the league in 2004 but until this year had never appeared in a postseason game. Bautista is the longest-tenured Blue Jays player alongside Edwin Encarnacion, who also homered in Game 5, and now the pair from the Dominican Republic have their moments in the spotlight.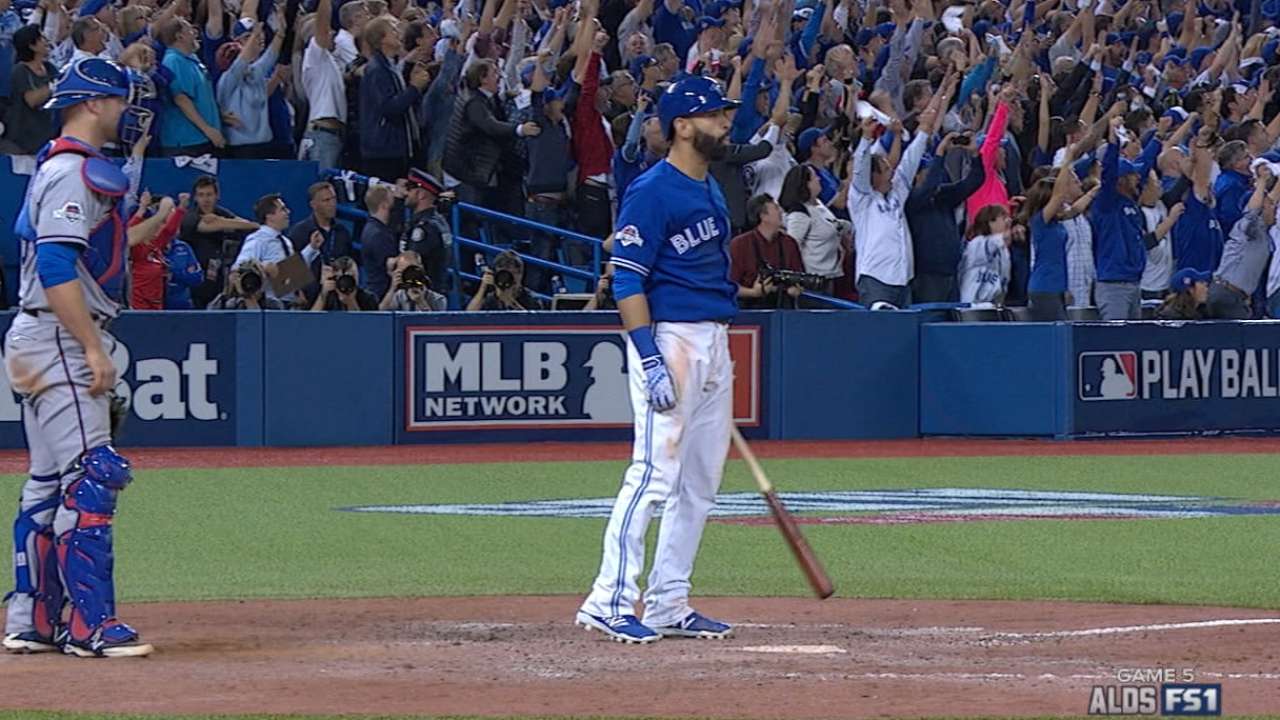 Bautista's dramatic home run came with the score tied at 3-3, runners on the corners and two outs. Toronto had just rallied from a one-run deficit but was in serious danger of letting Texas off the hook in an inning that saw the bases loaded on three consecutive errors. Bautista erased those concerns with one swing, launching a Sam Dyson pitch off the facing of the second deck in left field and was projected by Statcast™ to travel 436 feet.
• Fitting that Bautista plays hero for Blue Jays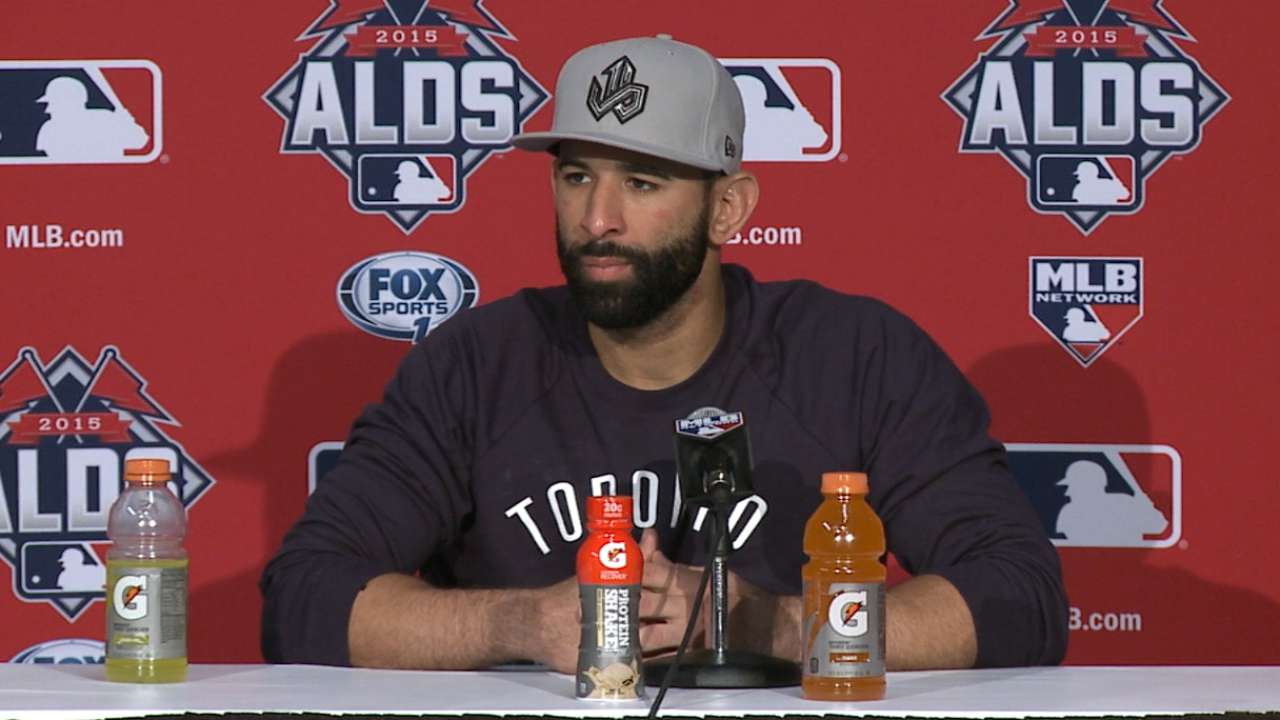 Bautista's blast was the 11th go-ahead home run in the seventh inning or later of a winner-take-all game in postseason history and the second with at least two runners on base. The other was the Pirates' Hal Smith's three-run homer in the bottom of the eighth inning of the 1960 World Series. It doesn't get much bigger than this.
"The guy's amazing. He's my hero," Blue Jays third baseman Josh Donaldson said. "For myself, personally, I haven't been able to make it to this next step that we're about to reach, and I'm very excited to be a part of that. Our team is just amazing."
Bautista's three-run shot certainly ranks among the biggest home runs hit in franchise history. It will be hard for anyone to top Carter's walk-off homer in Game 6 to win the 1993 World Series, but even after that there's an impressive group of candidates -- a group among which Bautista now surely belongs.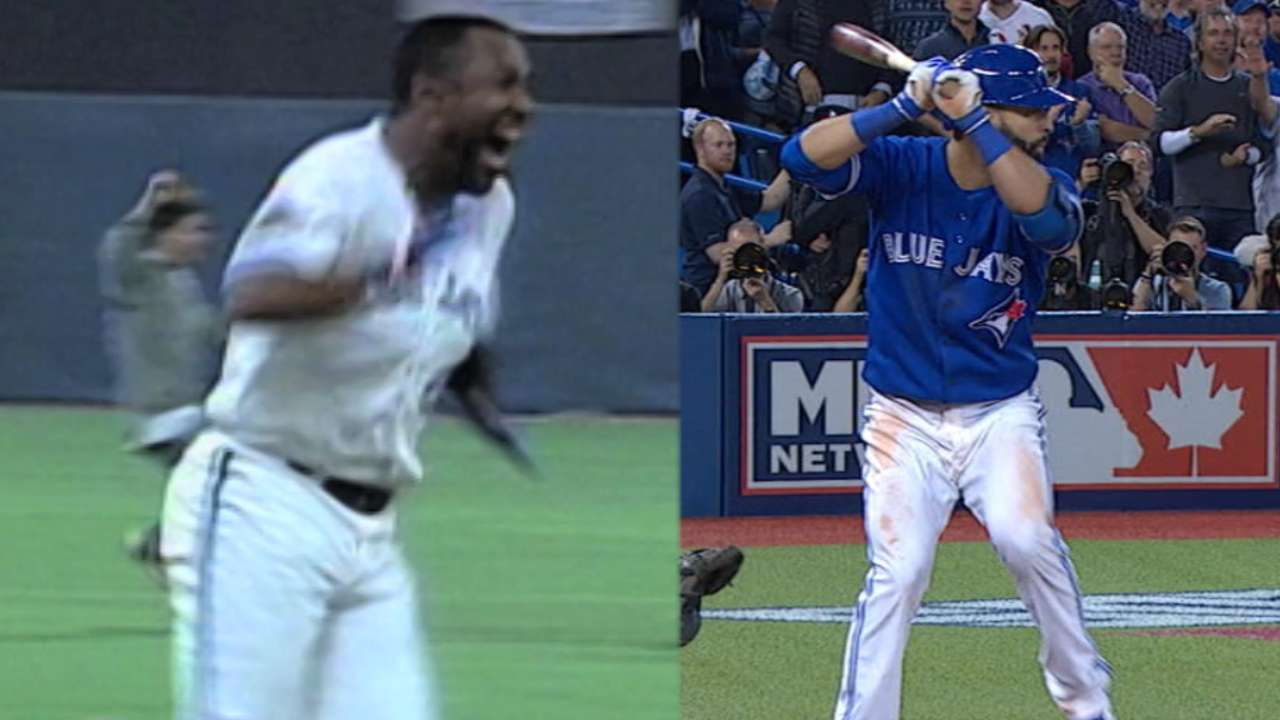 There was the Alomar home run off Oakland's Dennis Eckersley in the 1992 ALCS, Ed Sprague's pinch-hit homer off Atlanta closer Jeff Reardon in the 1992 World Series and now Bautista's mammoth three-run shot off Dyson. The rocket to left was a no-doubter, and Bautista knew it the second it left his bat.
• Huge 3-run blast by Bautista part of wild 7th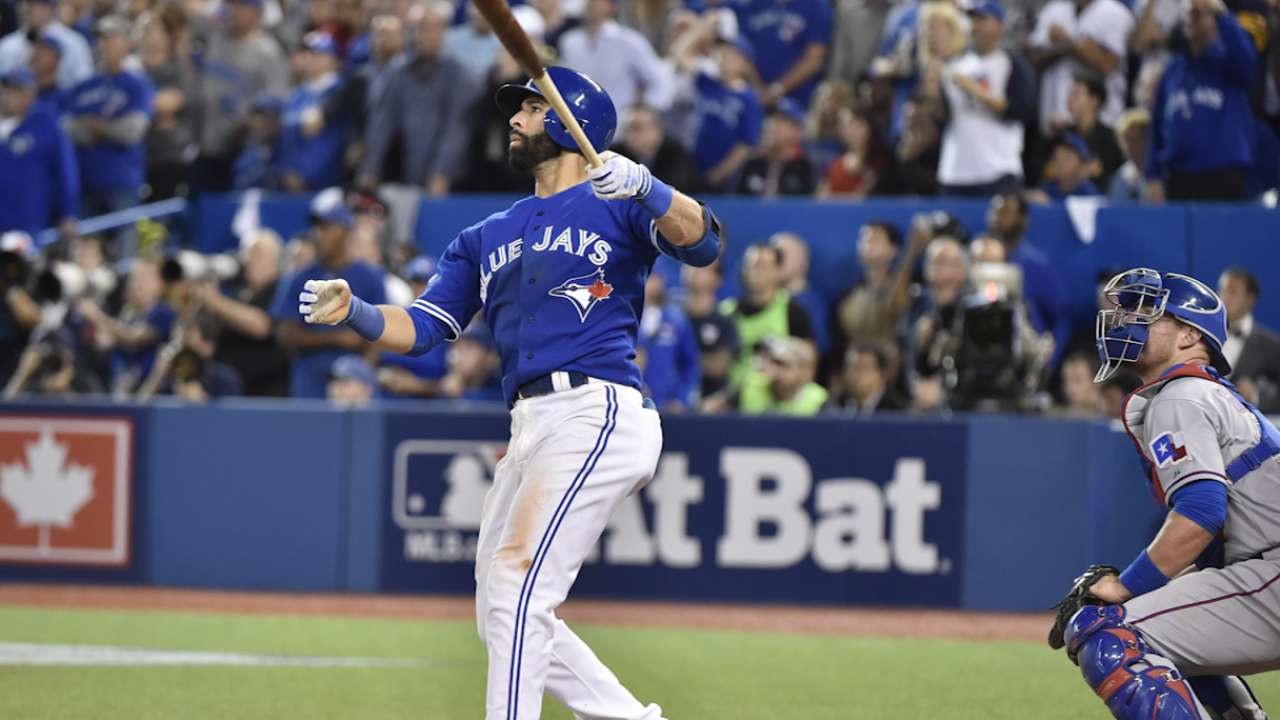 Immediately upon contact, Bautista stood straight up in the batter's box and watched the ball soar toward the seats in left. Once the ball bounced off the second deck, he flipped his bat into the air as the sold-out crowd of 49,000-plus caused Rogers Centre to shake. Forget about Blue Jays history, this is a memory that will go down in history for all of Toronto sports.
"I was just hoping that Dyson was going to elevate one and he did," Blue Jays right-hander R.A. Dickey said. "When he started his swing, I was real hopeful because I knew he was going to hit it hard and I was halfway on the carpet before the ball even left the field. It was an incredible moment."
Gregor Chisholm is a reporter for MLB.com. Read his blog, North of the Border, follow him on Twitter @gregorMLB and Facebook, and listen to his podcast. This story was not subject to the approval of Major League Baseball or its clubs.