Rockies lose Brown, outright three others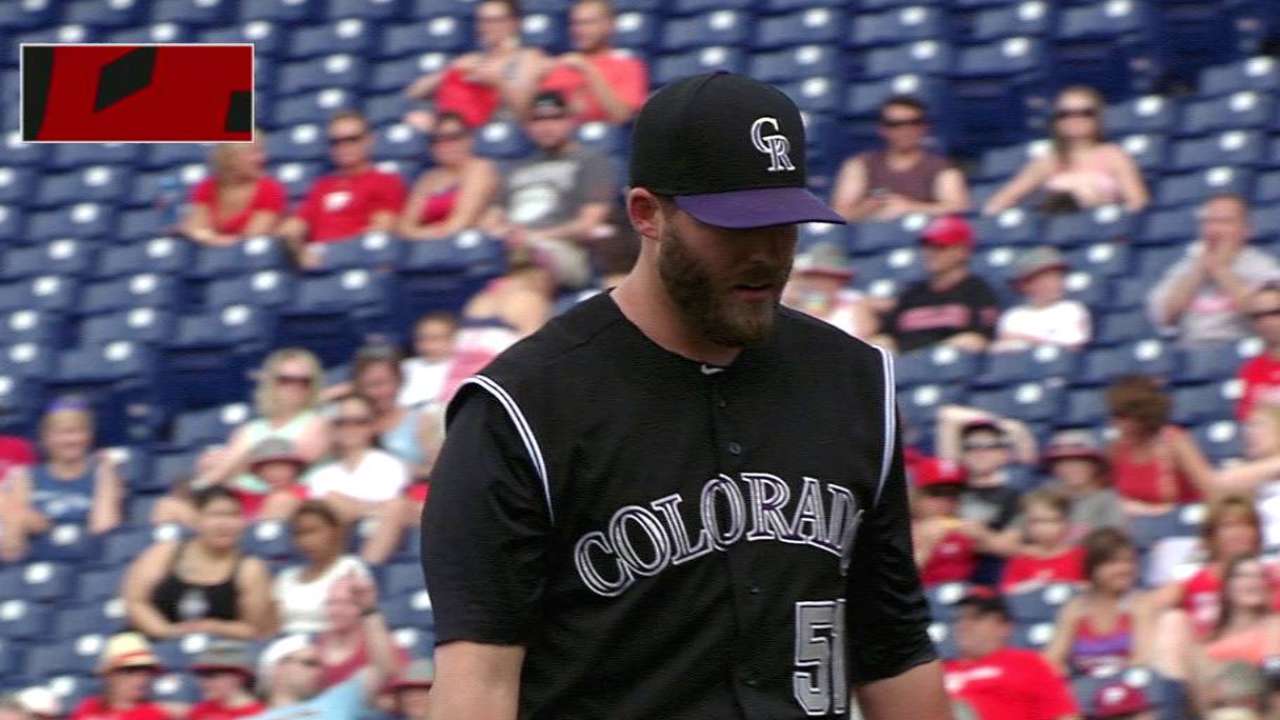 DENVER -- The Rockies lost right-handed relief pitcher Brooks Brown, who was claimed off outright waivers by the Dodgers on Wednesday. The Rockies also outrighted three other players -- including catcher Michael McKenry, who underwent left knee surgery late in the 2015 season -- to Triple-A Albuquerque.
Brown, 30, was limited to 36 appearances with a 1-3 record and 4.91 ERA because of right shoulder inflammation that kept him out of the Majors from mid-July until early September.
McKenry, 30, who underwent left knee surgery to repair his meniscus and remove a cyst, can't sign with another club until after the World Series. He could have accepted the outright and stayed with the Rockies. But, expecting to be healthy by Spring Training, McKenry wanted to explore his options. McKenry would have been eligible for arbitration had the Rockies not outrighted him.
Grateful for 2 seasons back with the team who got this baseball journey started. All the best to my teammates & Rockies fans! #freeagent

— Michael McKenry (@theFortMcKenry) October 15, 2015
In some ways, this is like the circumstance that brought him to the Rockies in 2014. McKenry underwent right meniscus surgery in 2013 while with the Pirates, and he said that team outrighted him a minute and a half before the deadline to tender him a contract under the arbitration process.
"This time it's a lot more relaxing," McKenry said. "I have no worries being a free agent, and being outright right now just made it an easier decision. It gives me so many more options. As soon as I cleared waivers, I got some people calling me to see how rehab is going. It's kind of special. I'll take it one day at a time.
"The main thing is to get healthy. This outright is because I wasn't healthy. I've got some great people around me. Where I end up is not up to me. There is a bigger plan, and I've just got to find out what that is."
In 2015, McKenry batted .205 with four home runs, 17 RBIs and a career-high three triples in 58 games, and he was in pain for his final eight weeks on the roster. He underwent surgery on Aug. 24 to repair meniscus damage and remove a cyst. He began 2014 in Triple-A while completing the comeback from the previous year's surgery, then batted a career-best .315 with eight homers and 22 RBIs in 57 games.
The move leaves the Rockies with veteran Nick Hundley as the starter. Longtime Minor League catcherDustin Garneau, who was promoted after McKenry was injured, and highly regarded prospect Tom Murphy, who received playing time after Hundley suffered a late-season neck injury, stand as the primary backups.
The Rockies also outrighted two right-handed relief pitchers to Albuquerque: Simon Castro, who went 2-0 with a 6.10 ERA in 11 games in a bounce-back season from elbow surgery, and Gonzalez Germen, who went 0-0 with a 3.86 ERA in 29 appearances (one start) for the Rockies after going 0-0 with a 7.50 ERA in six games with the Cubs.
Thomas Harding is a reporter for MLB.com. Follow him on Twitter @harding_at_mlb, and like his Facebook page. This story was not subject to the approval of Major League Baseball or its clubs.