MLB.com Columnist
Richard Justice
Fitting that Bautista plays hero for Blue Jays
In eighth season with Toronto, slugger sends club to first ALCS since 1993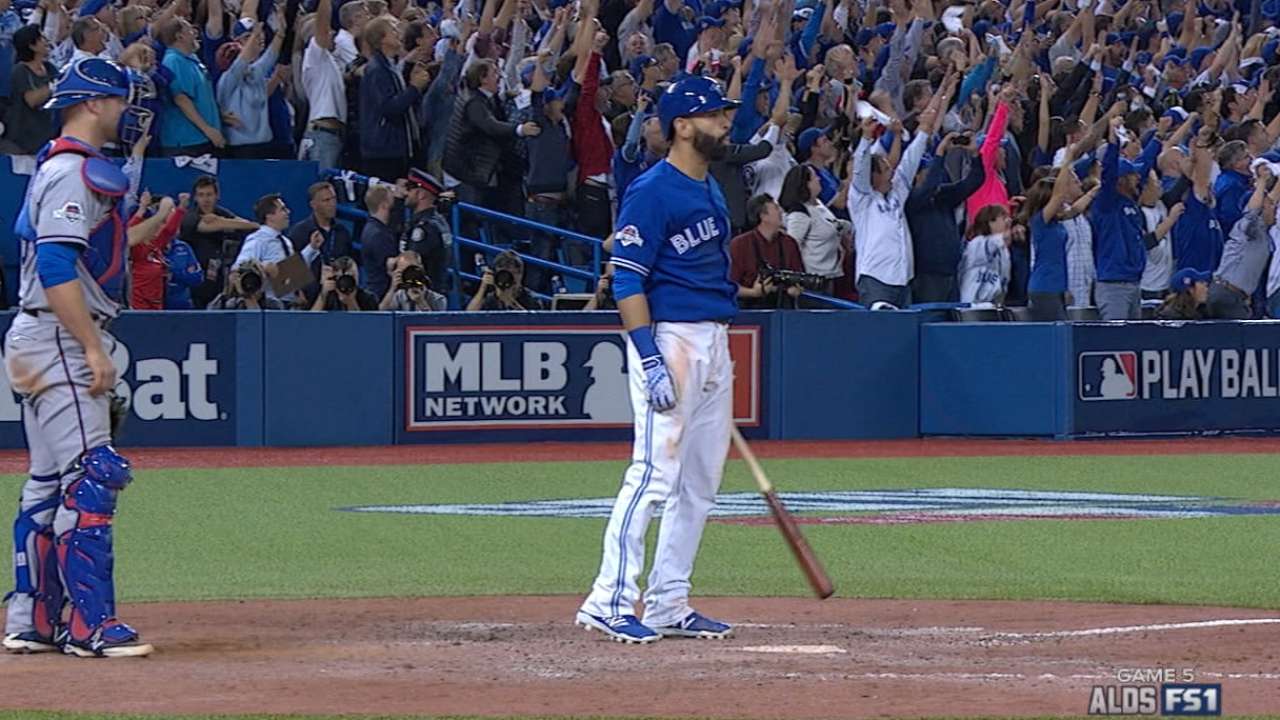 TORONTO -- This one is for Jose Bautista, the consummate pro, the warrior. He has been the face of the Toronto Blue Jays for most of his eight seasons here. Some of those seasons were tough. Some of them tested him.
He may have wondered if the Blue Jays would ever turn the corner they finally and emphatically turned on Wednesday with a 6-3 victory over the Rangers in a deciding Game 5 of an American League Division Series in front of a roaring, happy crowd of 49,742 at Rogers Centre.
Bautista played with toughness and pride during the lean times. He produced, too, establishing himself as one of the best and most respected players in baseball. So how perfect, how appropriate, that he was standing at home plate in the bottom of the seventh inning Wednesday afternoon with a season of such promise on the line.
"This is going to go down as one of the great games that we ever played here," Blue Jays general manager Alex Anthopoulos said.
This moment was 12 seasons in the making for Bautista, 12 seasons when he bounced around some and spent a long time proving he deserved to be mentioned among the game's elite players.
The Blue Jays gave him the opportunity he'd dreamed of, and he took it and ran with it. He has become one of those cornerstone players every franchise tries to find. As Blue Jays third baseman Josh Donaldson said, "He's my hero."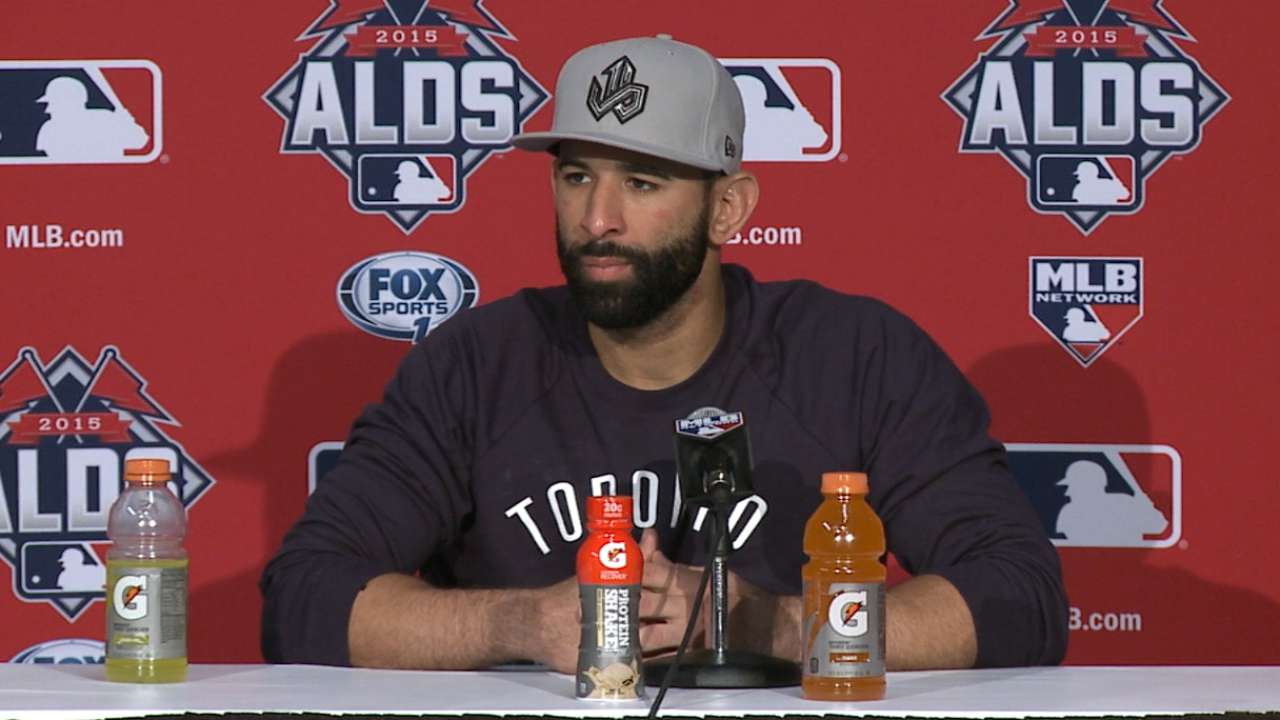 Sometimes the baseball gods get it exactly right. Bautista's soaring, searing three-run home run broke a 3-3 tie and was the highlight of a wild afternoon of tension and drama, an afternoon that somehow said all anyone needed to know about this postseason when games continue to deliver again and again on every level.
He punctuated the home run with an angry, declarative bat toss, and the Blue Jays are back in the AL Championship Series for the first time in 22 years. They'll play the Royals beginning Friday at 7:30 p.m. ET (FOX/Sportsnet).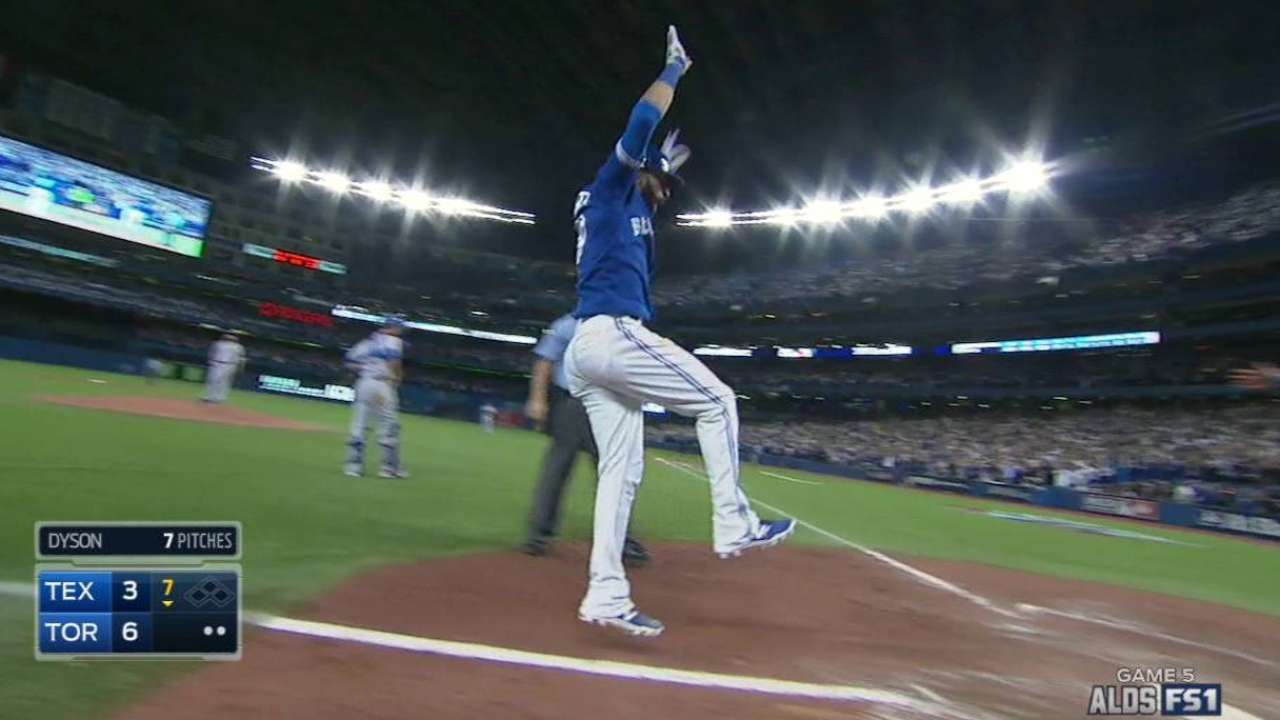 As the Blue Jays chopped away at those final outs, Rogers Centre delivered a scene as magical as any in baseball as the place became absolutely electric. And when it ended, the Blue Jays poured from their dugout to celebrate a series in which they dug themselves an 0-2 hole at home and then methodically reeled off three straight victories.
So much goes into making a successful postseason team like this one. Little things. Big things. So here's to Anthopoulos, who made and remade his club a couple of times the last two years. His gutsy decision to rehire John Gibbons as manager gave the Blue Jays the perfect leader. He's one of those guys players want to play for and want to please.
This day was for Bautista, who never lost the faith, but it was for others, too. The Blue Jays won because Anthopoulos made bold moves that paid off: Donaldson and catcher Russell Martin and left-hander David Price and shortstop Troy Tulowitzki. He made plenty of lesser noticed ones, too: designated hitter Chris Colabello and right-hander Marco Estrada and reliever Mark Lowe.
They got huge contributions from center fielder Kevin Pillar, a 32nd-round Draft pick. They got great work from slick-fielding young infielder Ryan Goins, who filled in at short and third down the stretch and did great work at both. They got huge innings from a string of hard-throwing young pitchers: Marcus Stroman and Roberto Osuna and Aaron Sanchez.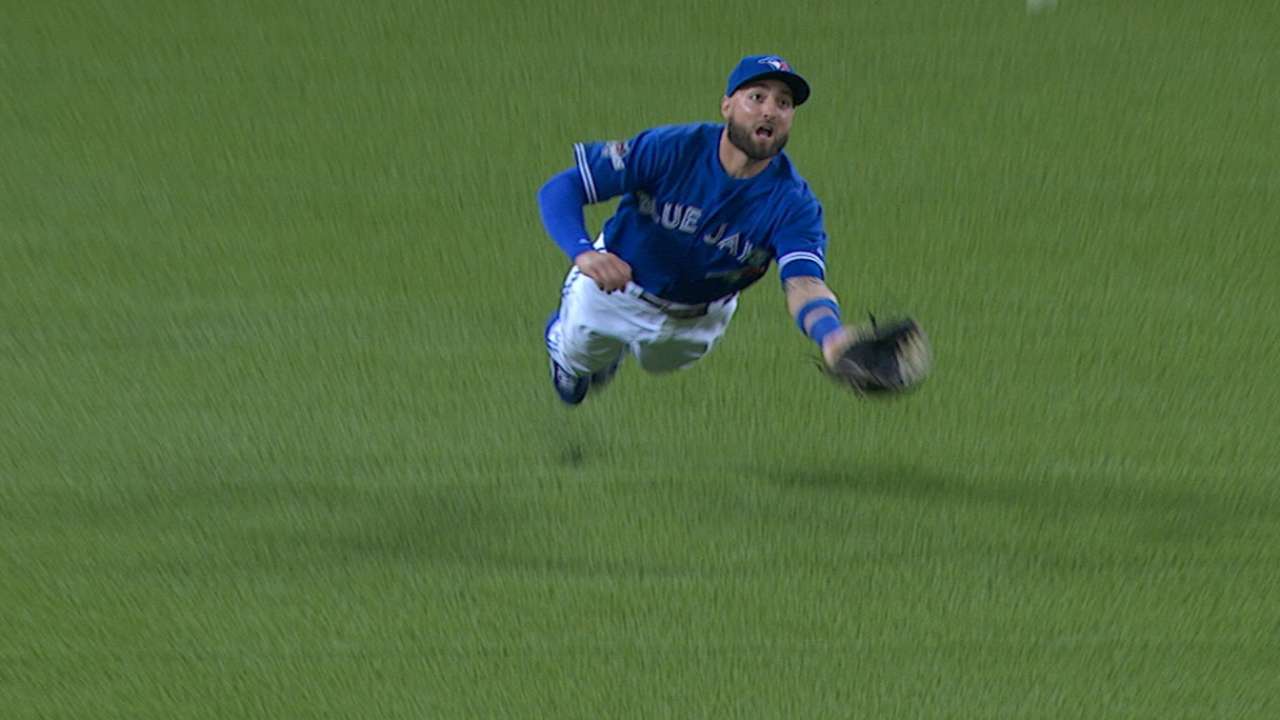 The Blue Jays had a mix inside the clubhouse and on the field that worked, and at a point in the season when they seemed to be going nowhere, they were transformed.
On July 28, Toronto was 50-51 and eight games out of first place in the AL East. Anthopoulos acquired Tulowitzki that day. He got Price and an assortment of others two days later.
And the Blue Jays were changed. Just when it was easy to write them off -- and plenty of people did -- Anthopoulos sent his clubhouse a simple message: I believe in you guys.
Everything changed. They won 43 of their final 61 games and captured the AL East by six games. They had baseball's best offense and one of its best bullpens. Stroman made a remarkable recovery from a knee injury in Spring Training. Those young players got comfortable in the bullpen.
Now the Blue Jays arrive at this point as a formidable team and a confident team. On Wednesday, they trailed 2-0 in the third inning and 3-2 in the seventh. They fought back, literally.
Benches cleared more than once. The Rangers got the lead back in the top of the seventh on a strange throwing error against Martin. But the Rangers couldn't finish the deal.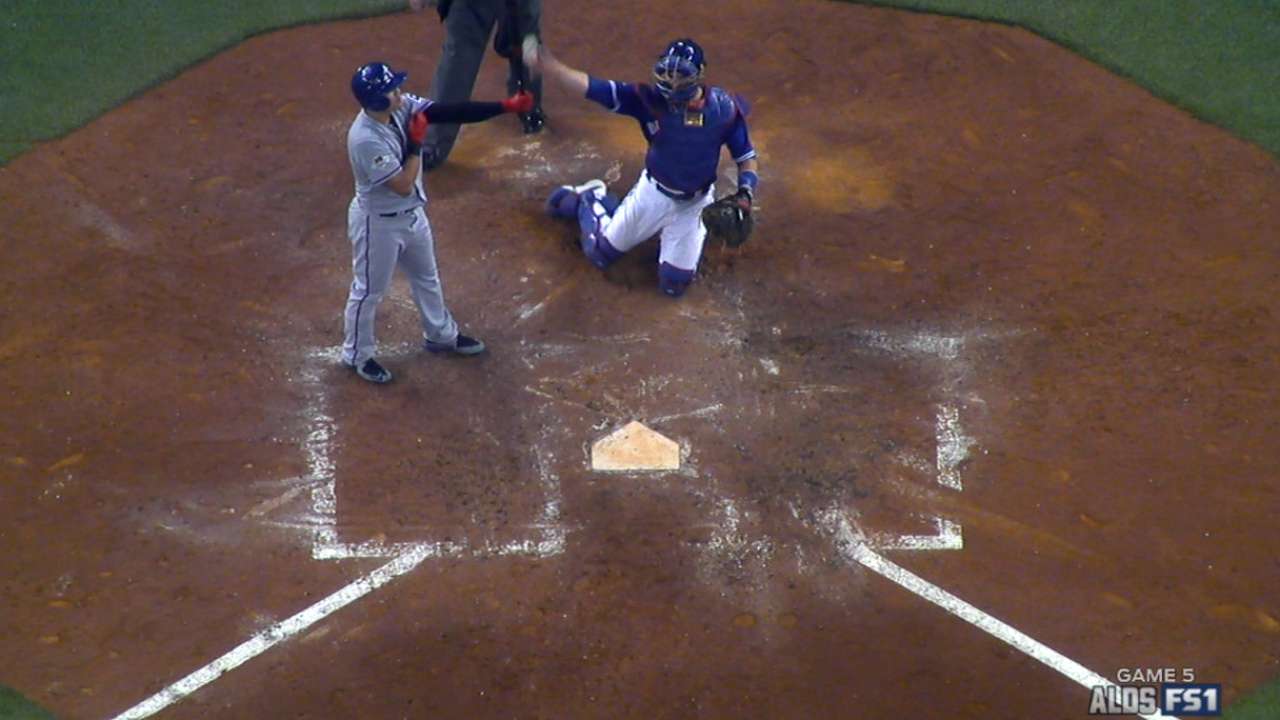 They made three errors on three plays to open the bottom of the seventh. Those mistakes gave the Blue Jays -- and the packed house -- the shot of energy they needed.
"We thought we were too good to bow out in the first round," Gibbons said. "I've said it again and again. There's just something different about this group."
At one point, as Rangers manager Jeff Banister engaged in an animated discussion with home-plate umpire Dale Scott, Bautista stood a few feet away screaming for him to leave the field and let the game resume.
And moments later, he hit one of those home runs that'll be remembered here forever. Baseball has been reawakened this season in Toronto. Every game is sold out, every game an event.
When that kind of environment is combined with all that talent and all the waves of good vibrations, the Blue Jays believe they have enough to finish the deal. They're just the third team to win a best-of-five series after losing the first two at home. They may not be done.
"It's something we've been waiting for a long time for," Blue Jays DH Edwin Encarnacion said. "We're here."
Richard Justice is a columnist for MLB.com. Read his blog, Justice4U. This story was not subject to the approval of Major League Baseball or its clubs.