Blue Jays' clincher a national celebration
Toronto's ALCS berth a long time coming for determined team, devoted fan base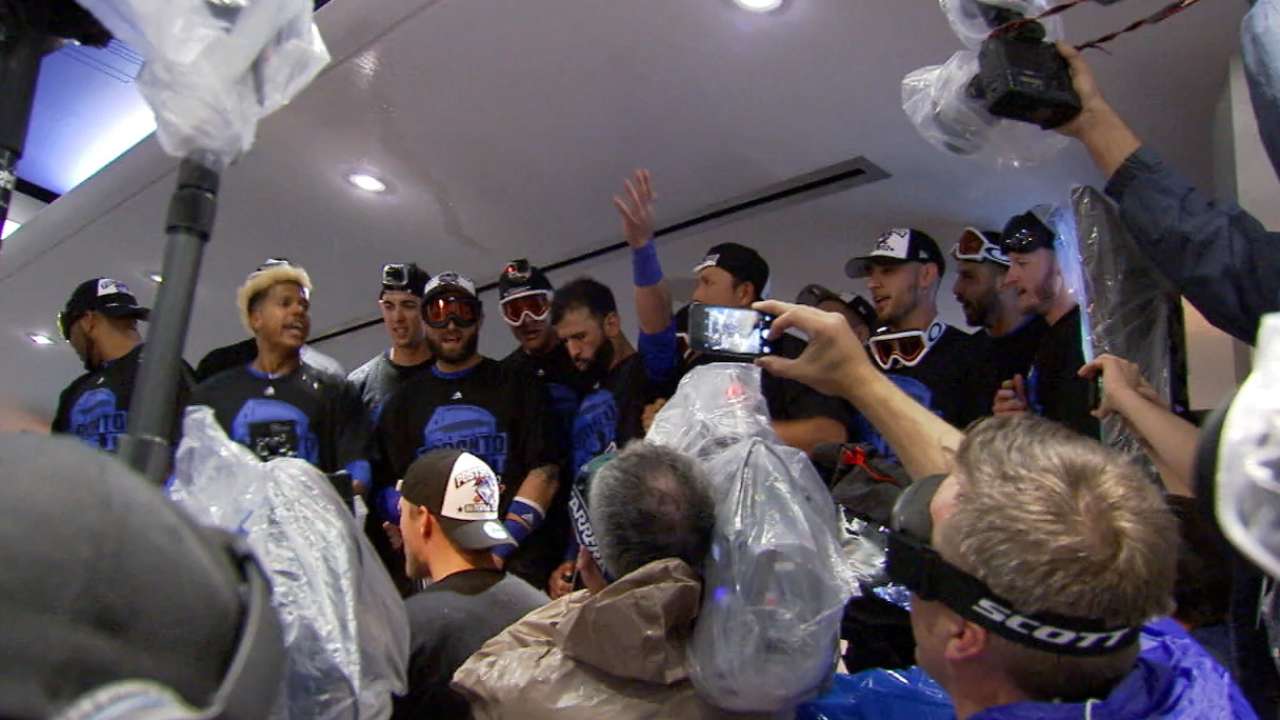 TORONTO -- The Blue Jays' American League Division Series victory over the Rangers was 22 years in the making. And though they probably celebrated more in Baltimore when they clinched the American League East, the significance of the achievement was not lost on the club -- or its fans -- after a 6-3 victory at Rogers Centre on Wednesday.
A crowd of 49,742 erupted with joy as Roberto Osuna fanned Will Venable to end the game, sending the Blue Jays to the best-of-seven AL Championship Series beginning Friday night in Kansas City (7:30 ET, FOX/Sportsnet). In the clubhouse, the Blue Jays had their expected champagne celebration, flocked by media, friends and family.
• Shop for Blue Jays postseason gear
"They've always said in this town, and really this country, you put a good team on the field and the place will explode, and really that's just what happened," manager John Gibbons said.
"Alex [Anthopoulos, general manager] went out and made the huge deals that really set this thing rolling, and they've done their part showing up. But it's been a long time. They've been starved for a winner, and hopefully we can continue and turn out to be that team, but they're just as excited as we are, maybe even more, so I know it's a good relief for them."
The Blue Jays' run has captured baseball fans beyond the city's borders. People have shown their support across the country, and that sentiment hasn't been lost on the organization. Players, most of whom are not from Canada, routinely remark on how surprised they are to see and hear from so many baseball-crazy fans across the country.
"I'm thrilled for the fans, thrilled for everybody across Canada -- what we're seeing now, I get the chills," Anthopoulos said. "It's amazing to see."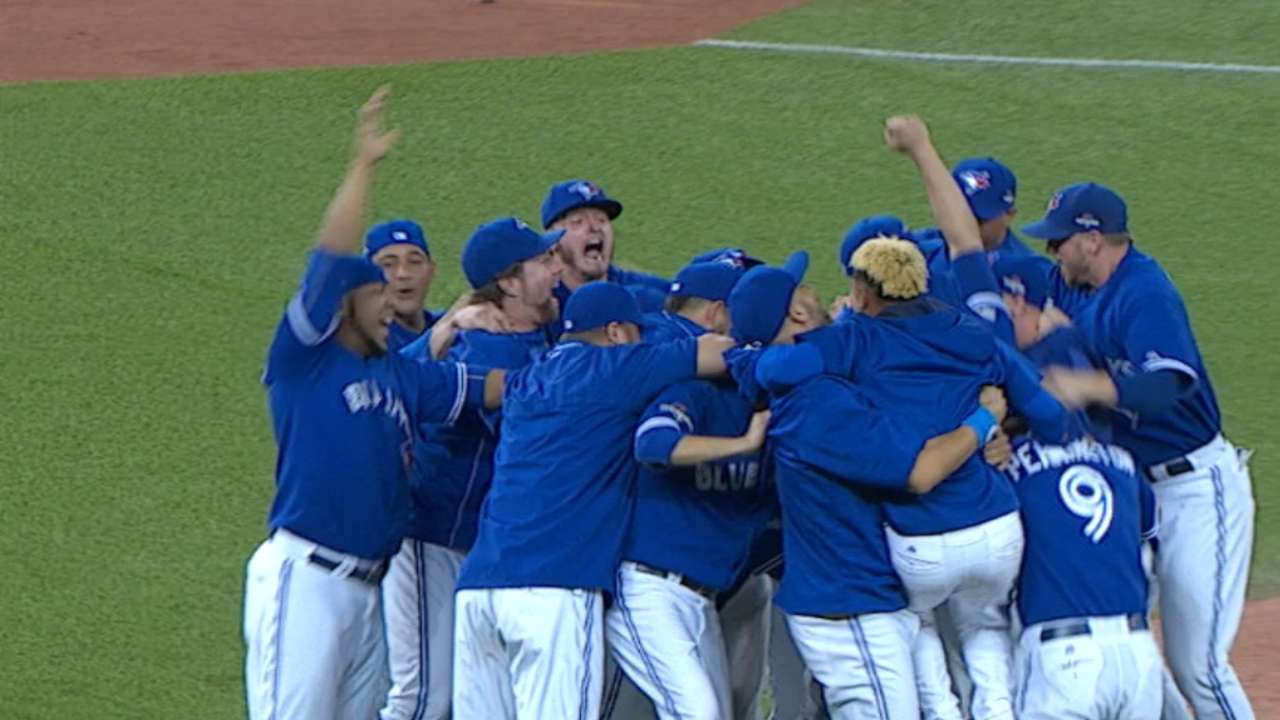 Some fans were upset in the seventh inning after a bizarre play that led to the Rangers' go-ahead run. But they quickly turned to jubilation when Toronto tied it in the bottom of the frame, and they went into overdrive when they immediately took the lead on Jose Bautista's three-run blast that effectively sealed the deal.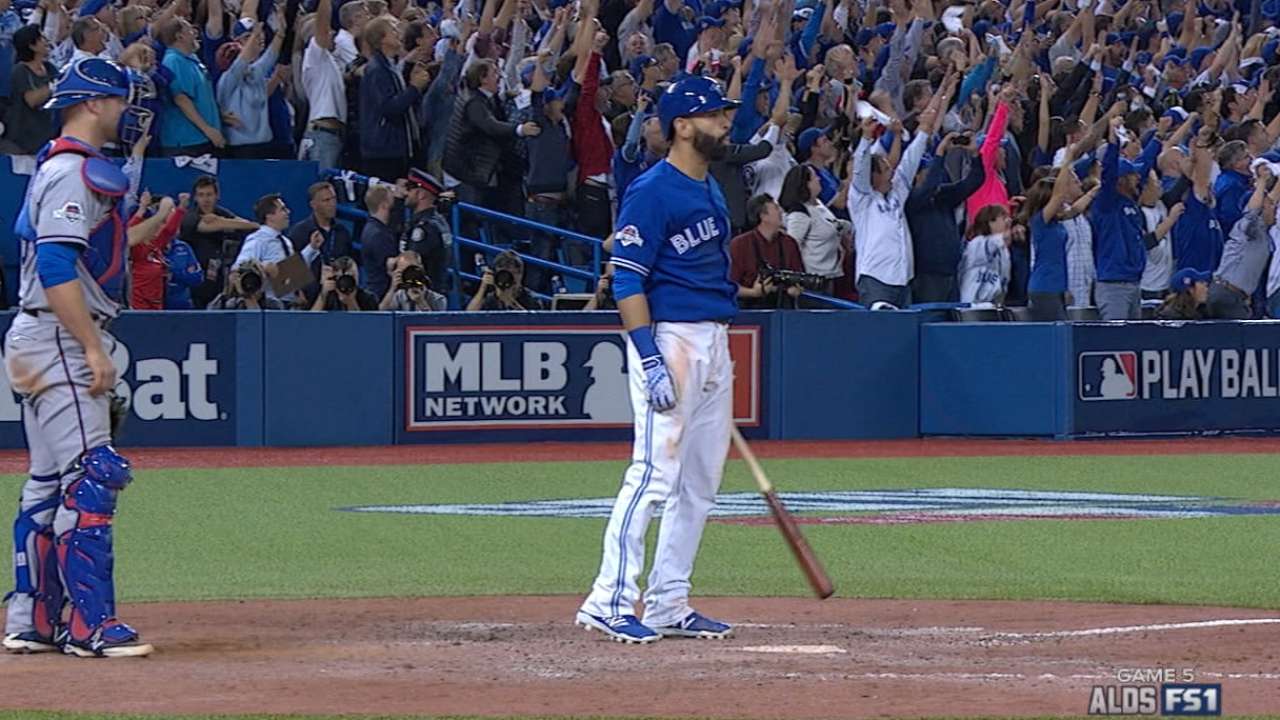 "I've seen some crazy things, but that was pretty intense," said Troy Tulowitzki.
In the tarp-lined clubhouse after the game, some players appeared slightly more tame than they had been when they clinched the division against the Orioles. They were still jubilant, but this time, with friends and young children around, they kept their celebration in check, relatively anyway.
• Cut4: It's time to celebrate with Toronto
Several players still had cameras for the champagne-soaked celebration. Most of them took selfies and posed for group photos in an attempt to capture the moment.
"That's my hero right there," Josh Donaldson shouted as he got into a picture with Bautista. "That's my hero."
Jamie Ross is an associate reporter for MLB.com. This story was not subject to the approval of Major League Baseball or its clubs.