Murphy could be nearing end with Mets
Longtime New York second baseman having strong postseason in final year of contract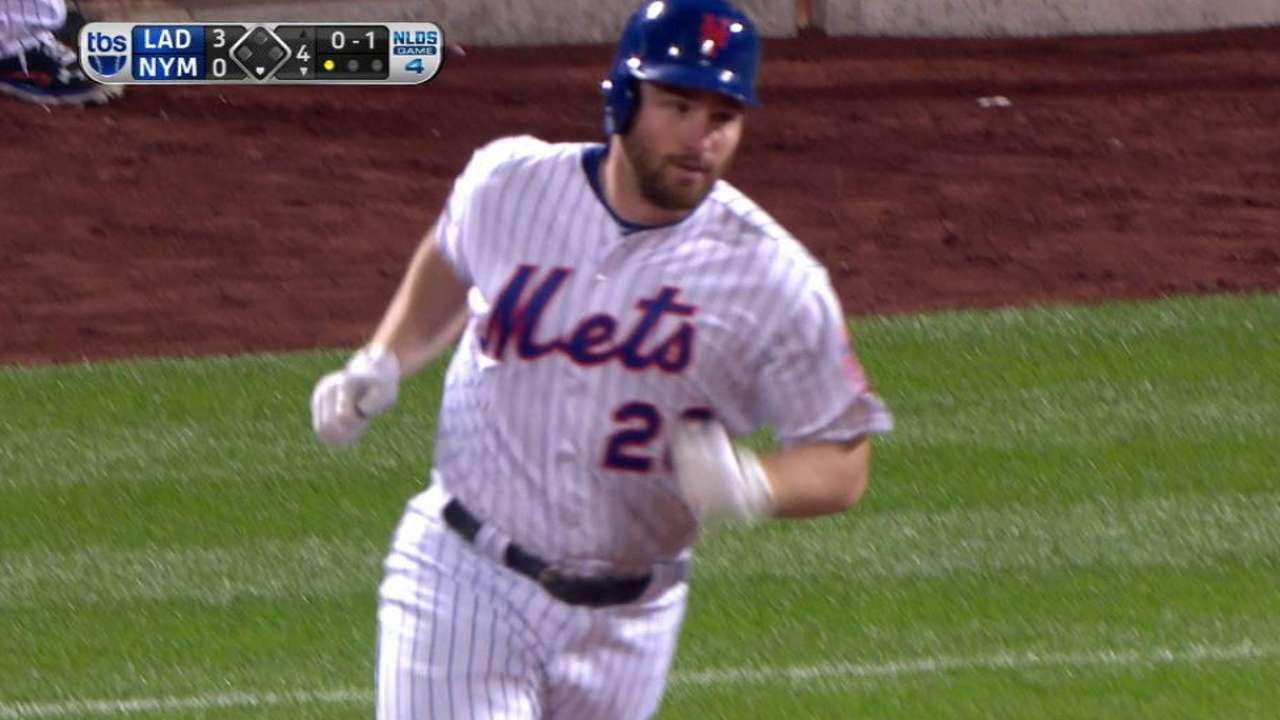 LOS ANGELES -- About two-thirds of the way through the 2008 season, the last in which the Mets competed seriously for a postseason spot, the team brought a gifted group of prospects to the Majors. One was a former top pick, Eddie Kunz. Another, Nick Evans, had shown ferocious power in the Minors. Bobby Parnell featured a triple-digit fastball. Jon Niese was the top-ranked starting pitcher at the upper levels of the farm system.
Also among that group was a little-known 13th-round Draft pick named Daniel Murphy, a player without a defensive position who had demonstrated plenty of hitting aptitude in the Minors.
• Shop for Mets postseason gear
Seven years later, Murphy, Niese and Parnell are the only ones left with a vested interest in National League Division Series Game 5 against the Dodgers (Thursday, 8 p.m. ET on TBS). But while Niese signed a long-term deal and remains under team control for several more seasons, and Parnell is off the postseason roster following his year-long struggle to recover from Tommy John surgery, Murphy could be entering his final game as a Met.
If he is indeed going out, he is doing so with a bang. The second baseman's solo homer off Clayton Kershaw set the tone for an offense struggling to find its footing in Game 1, while his encore home run in Game 4 against Kershaw brought Citi Field to its feet. Overall in his first career postseason series, Murphy is batting just .235, but two of his four hits have been homers.
"He's gotten big hits, and that's Dan," manager Terry Collins said. "Murph's had a good postseason."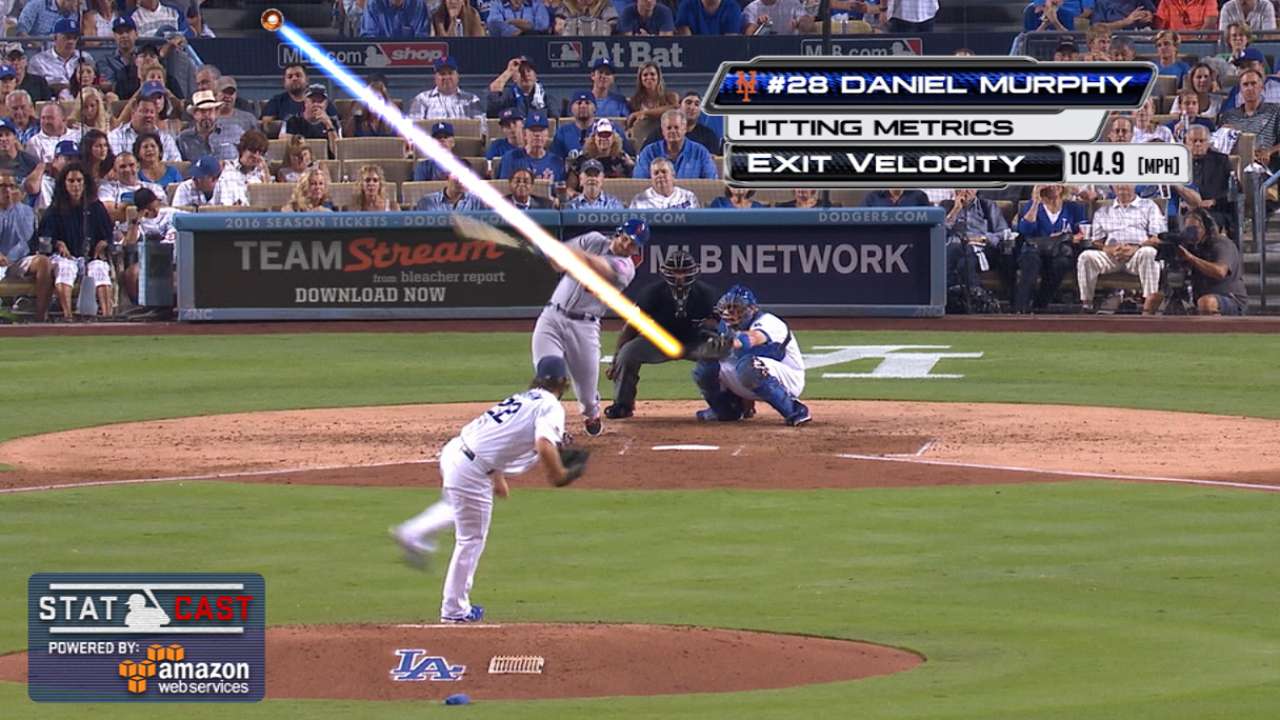 Regardless of how long this postseason lasts, Murphy's first October may wind up being his final act as a Met. With a .331 batting average at Triple-A Las Vegas this summer and a growing measure of big league experience on his resume, second-base prospect Dilson Herrera has proven all he can in the Minors. He or Wilmer Flores offer the Mets the possibility of a cheap starter at the position next season, with either Flores or Matt Reynolds manning short. That would free the Mets to use Murphy's money on a power outfield bat or bullpen help.
Agent scuttlebutt has Murphy penciled in for a three-year deal in the $30-million range, making him a luxury that the Mets -- with Herrera, Flores, Reynolds and Ruben Tejada -- do not need.
Murphy's only realistic chance of sticking around would be if the Mets extend him a $15.8-million, one-year qualifying offer, guaranteeing them a compensatory Draft pick if Murphy declines it. No free agent has ever accepted a qualifying offer from his club, but Murphy -- a lifetime Met without nine-figure megabucks waiting for him on the open market -- could conceivably become the first. Such a deal would give the Mets much-needed David Wright insurance at third base, plus a safety net in the middle infield. But the Mets may not be willing to risk that significant a chunk of their payroll on one player, even if it's someone as entrenched in the Flushing culture as Murphy.
It is with all of that as a backdrop that Murphy enters Game 5, knowing it could be the last of his Mets career. He'll try not to think about it, focused instead on Zack Greinke, the Dodgers and an opportunity he has never had in eight seasons as a Met.
"The organization, since I've been here, has been through a lot," Murphy said. "It's nice to see the fruits of the labor from top to bottom, from ownership all the way down to the players. This was the goal in Spring Training, to put ourselves in this position. There's a great group of guys in that clubhouse. I think we've all gelled really well. It's been a great deal of fun. I think we sincerely pull for each other and it's made this season exciting."
Anthony DiComo is a reporter for MLB.com. Follow him on Twitter @AnthonyDiComo and Facebook, and listen to his podcast. This story was not subject to the approval of Major League Baseball or its clubs.