Harvey will be available out of 'pen in Game 5
Collins: 'If we need him, he'll be out there'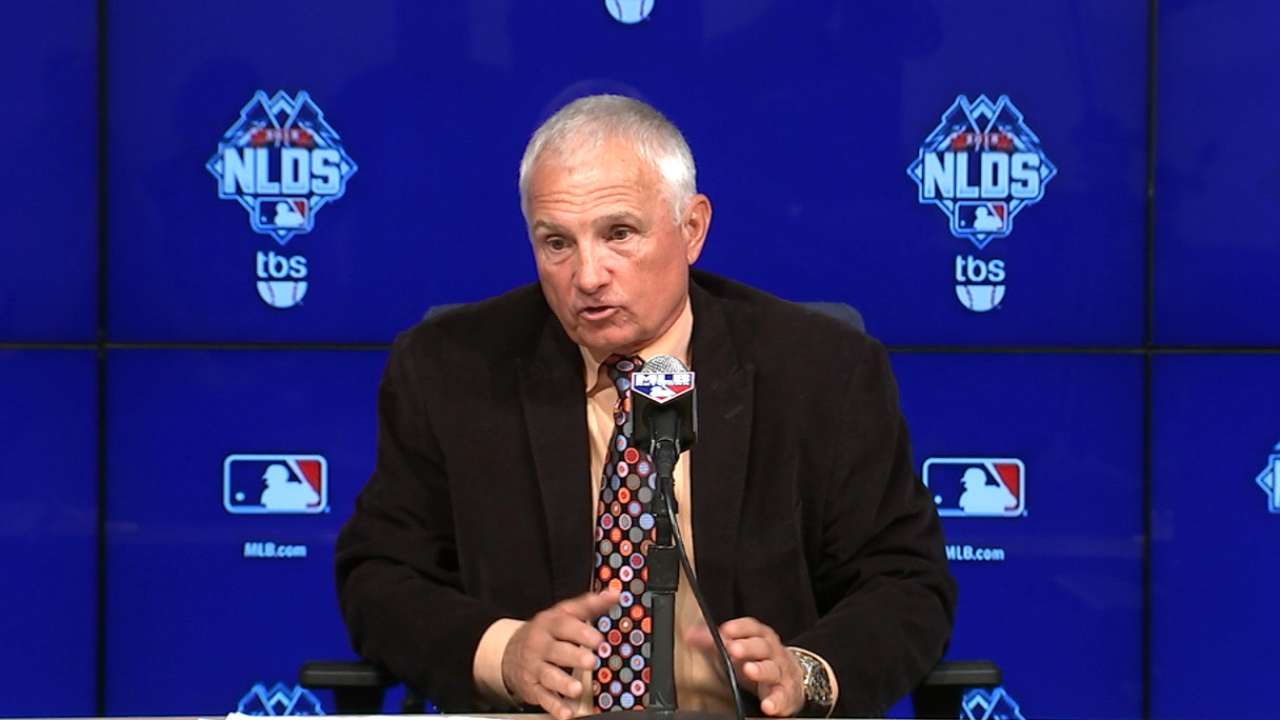 LOS ANGELES -- First, Matt Harvey said he "would love to" pitch in relief in a potential National League Division Series Game 5. Then Harvey's manager, Terry Collins, all but scoffed at a question regarding his availability.
So with Game 5 a reality on Thursday at Dodger Stadium (8 p.m. ET on TBS), Collins and Harvey spoke on their team charter across the country to determine once and for all if and how he might appear.
• Shop for Mets postseason gear
"He said he'd be ready," Collins said upon landing. "So if we need him, he'll be out there."
Realistically, Harvey does not stand atop the list of pitchers that Collins is eager to use. Jacob deGrom will start, and if he is on his game, he can easily pitch deep into the night. Closer Jeurys Familia should be available for more than three outs, and if Collins decides to turn to a starter instead of setup men Tyler Clippard, Addison Reed or Bartolo Colon, Noah Syndergaard is both available and better-rested than Harvey.
Then there is the matter of Harvey's innings total, now 194 1/3 and climbing in his first year back from Tommy John surgery. Considering the Mets' plan to start Harvey twice in the NL Championship Series if they advance, it would make sense to hold him back from NLDS bullpen work unless they faced a clear emergency.
But if such a situation does unfold, Harvey will be ready.
"This is one of those games where you're in a situation where everybody's available," Collins said. "You're looking at Noah's going to be down there tomorrow, Matt if we need him, they'll all be there. So we'll just see how the game's moving along, and what the match-ups are going to be and who would be our best options. But certainly it will be everybody we've got in the 'pen."
Anthony DiComo is a reporter for MLB.com. Follow him on Twitter @AnthonyDiComo and Facebook, and listen to his podcast. This story was not subject to the approval of Major League Baseball or its clubs.