After early home run, Astros bow to Cueto
Valbuena's two-run blast in second club's final hit before Royals starter retires 19 straight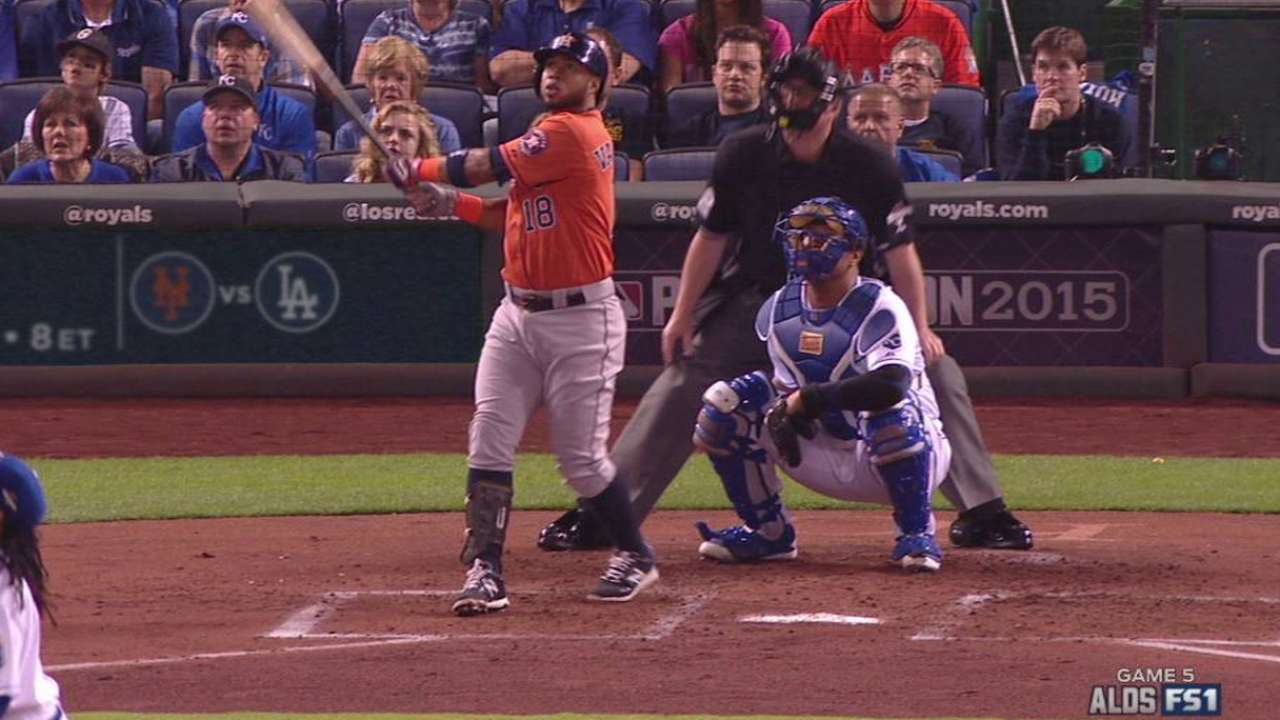 KANSAS CITY -- The Astros rode the long ball all the way to Game 5 of the American League Division Series, utilizing it again to grab hold of a two-run lead in the second inning over the Royals in the winner-take-all matchup at spacious Kauffman Stadium on Wednesday evening.
Then Houston was silenced, retired in succession in the final seven innings of an otherwise wildly successful season that few people saw coming.
This wasn't the way the Astros wanted to go out, flailing in front of a brilliant Johnny Cueto in a 7-2 loss, "but everyone left everything they had on the field today," second baseman Jose Altuve said. "That was it. We don't have anything more than that."
Both of Houston's hits came in the second inning, and even those might've never come to be had Evan Gattis' ground ball to third baseman Mike Moustakas not culminated in an infield base hit. But Moustakas' throw to first baseman Eric Hosmer was off line, forcing Hosmer off the bag with a ball he couldn't grasp.
A potential inning-ending grounder quickly morphed into a run when Luis Valbuena stepped to the plate and promptly swatted the first pitch he saw from Cueto to right field for his first home run of the postseason, giving the Astros a 2-0 lead.
But Cueto, who allowed four runs on seven hits and three walks in Game 2, was perfect thereafter, setting down his final 19 batters with ease. Closer Wade Davis handled the ninth and followed suit.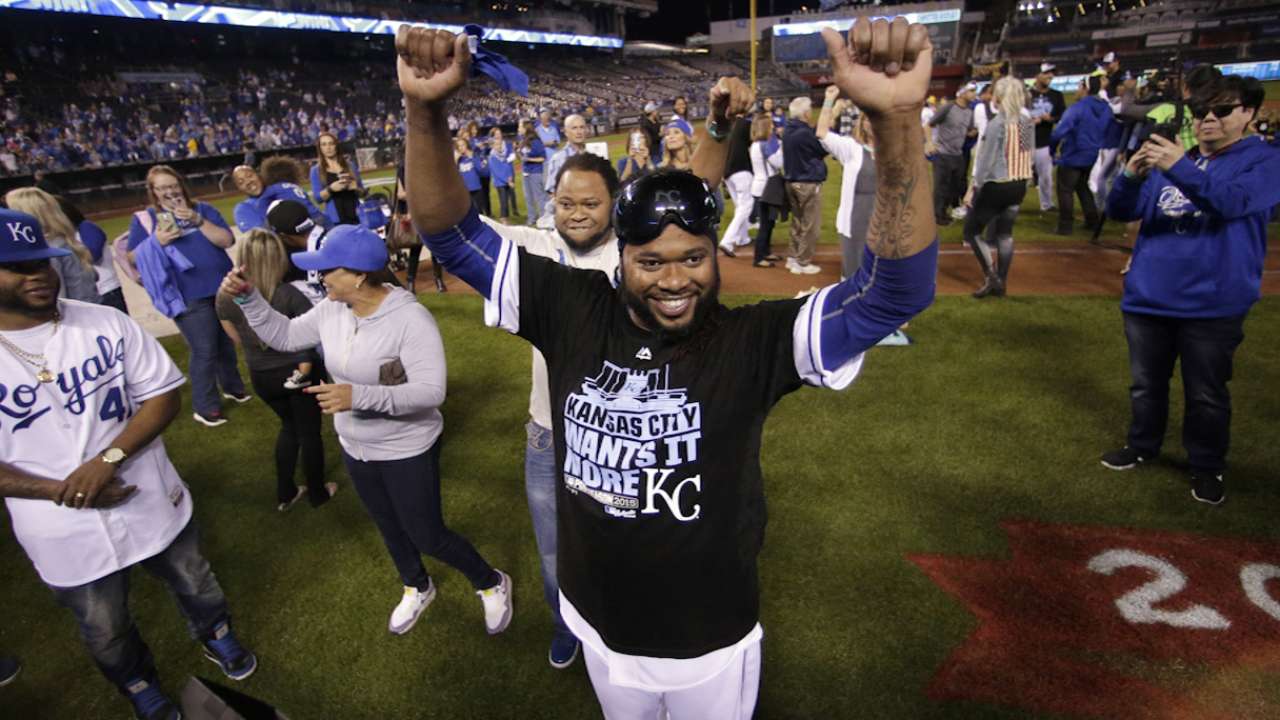 A team that thrived so long with its offensive firepower -- Houston totaled 230 home runs in the regular season and nine in six postseason games -- was simply handcuffed by the version of Cueto that looked every bit the ace that Kansas City hoped for when it acquired him from Cincinnati at the non-waiver Trade Deadline.
"This was his night," Astros manager A.J. Hinch said. "He had a good fastball tonight. Got it and crept into the mid-90s. And the good version of Johnny Cueto's really tough. And he was around the plate enough to where we had to be aggressive, and he got some early-count outs and stayed in the game."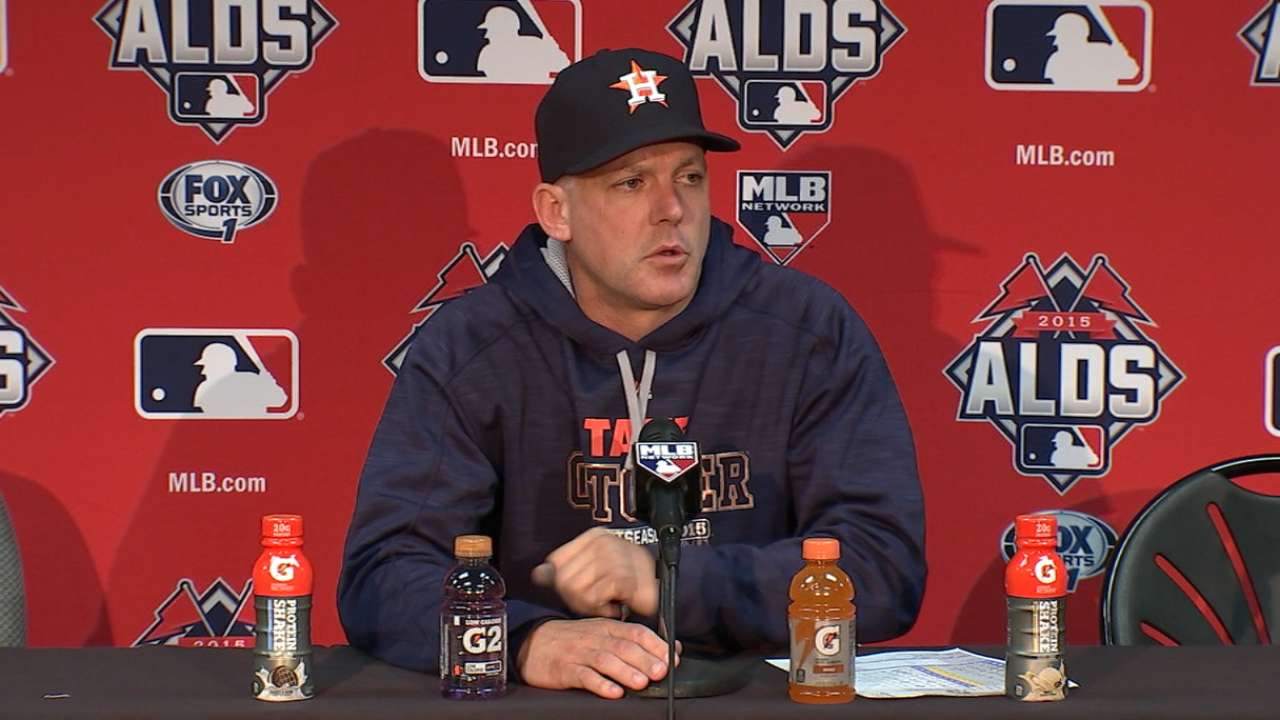 Altuve was hitless in his final 19 at-bats of postseason play. George Springer and Gattis hit just .211 in the club's six playoff games, while Colby Rasmus led the way with a .429 average -- even after striking out in each of his three at-bats Wednesday, all against Cueto, who fanned eight total.
"He had it working tonight," Rasmus said. "He was throwing some good stuff. He might've thrown me one strike, maybe two. He was just spraying around the zone, he got some pitches off the plate. And when you get a guy like that when he's on, he's going to be tough, and that's what happened."
Jane Lee is a reporter for MLB.com. This story was not subject to the approval of Major League Baseball or its clubs.