MLB.com Columnist
Alyson Footer
Stirring anthem precedes Game 5 in KC
Wilson, retired veteran of US Navy, performs as Kauffman Stadium honors fallen firefighters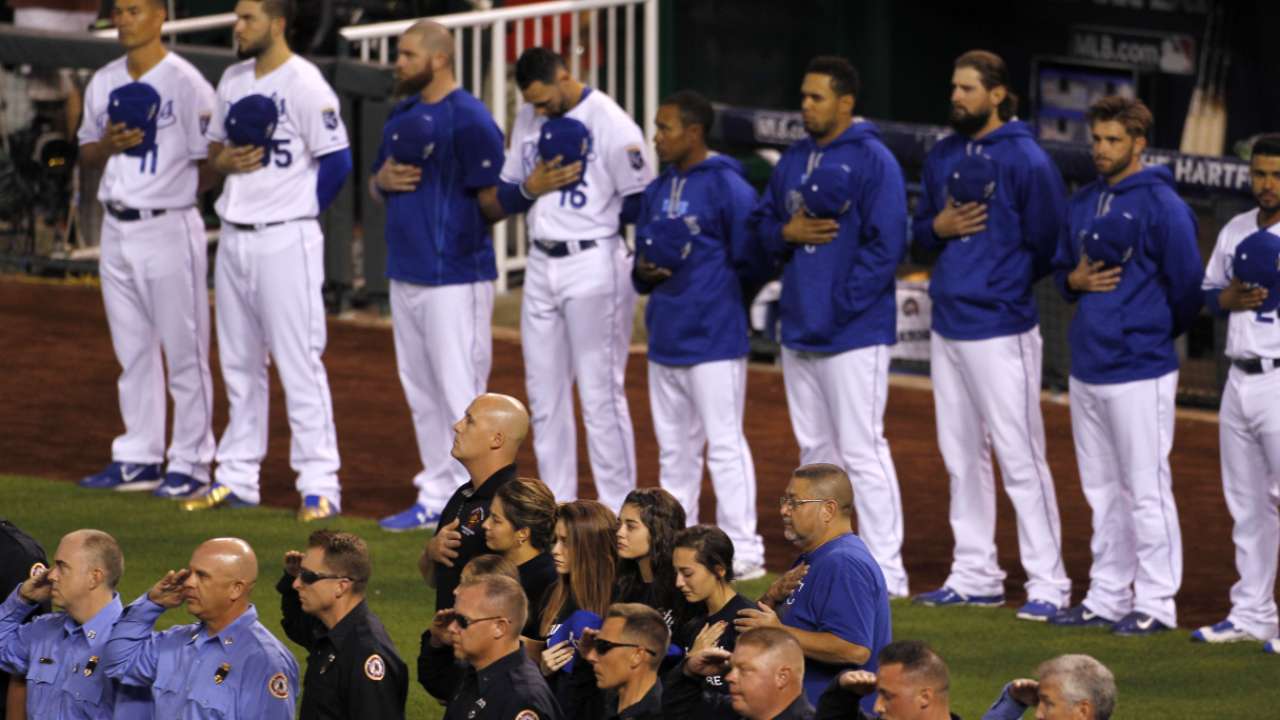 KANSAS CITY -- The fans at a jam-packed Kauffman Stadium on Wednesday night were expecting at least a few hair-raising moments during Game 5 of the American League Division Series -- and there certainly were as the Royals beat the Astros, 7-2, to advance to the AL Championship Series. But thanks to one hugely talented singer, the goosebumps began even before the first pitch.
Petty Officer 1st Class Ret. Generald Wilson is a regular on the national anthem circuit, not only at Kauffman Stadium -- where he has performed many times -- but also all over the country. A St. Louis native, Wilson has traveled to several cities to perform the anthem for most of the major sports.
• Shop for Royals postseason gear
Wilson mostly flew under the radar when it came to performing anthems, granting requests here and there ever since singing his first in 1998 at a St. Louis Rams game. It was an appearance at a Rams game -- when his anthem was televised before a Monday Night Football game -- that things really took off.
"It was a snowball effect," Wilson said.
Pretty soon, Wilson was singing before a host of big games at huge venues, for the Philadelphia Eagles, Carolina Panthers, Kansas City Chiefs, Seattle Seahawks and Seattle Mariners.
Wilson does a lot of Monday Night Football games, and he has performed at the World Series. He delivered the anthem before the first game of the World Series in Kansas City last year, and he has performed at Cardinals postseason games as well.
A 20-year veteran of the United States Navy who has been retired since 2010, Wilson no longer gets jitters before he performs, but he still loves doing it.
"It's still fun, still exciting, because you get to hear people singing with you, instead of them just looking at you," Wilson said. "In the beginning, it was just like, 'Who is this guy? Let's see what he sounds like.' Now, I think they're kind of familiar with me, and they sing along with me, and that makes you feel pretty good."
The Royals' pregame ceremony had a somber overtone, because it paid tribute to the two Kansas City firefighters who lost their lives Monday night while on duty.
• Royals salute fallen firefighters before Game 5
The families of Larry Leggio and John Mesh, the two fallen firefighters, were escorted onto the field, flanked by more than 40 firefighters and family members.
Following a moment of silence, several Royals players stopped to hug the family members, including Eric Hosmer, whose father was a firefighter for the City of Miami, Fla., for 29 years.
The ceremonial first pitch was thrown by a longtime Royals season-ticket holder, Harry McLear. In 1943, he tried out and was signed by the New York Yankees, but the following year, he enlisted in the United States Army. He was stationed in the Philippines during World War II, and he never got a chance to play in the Major Leagues.
Upon moving to Kansas City, McLear purchased season tickets to the Kansas City A's, and then later the Royals, and he has been a regular at The K ever since.
Alyson Footer is a national correspondent for MLB.com. Follow her on Twitter @alysonfooter. This story was not subject to the approval of Major League Baseball or its clubs.