Yost has all hands on deck for Game 5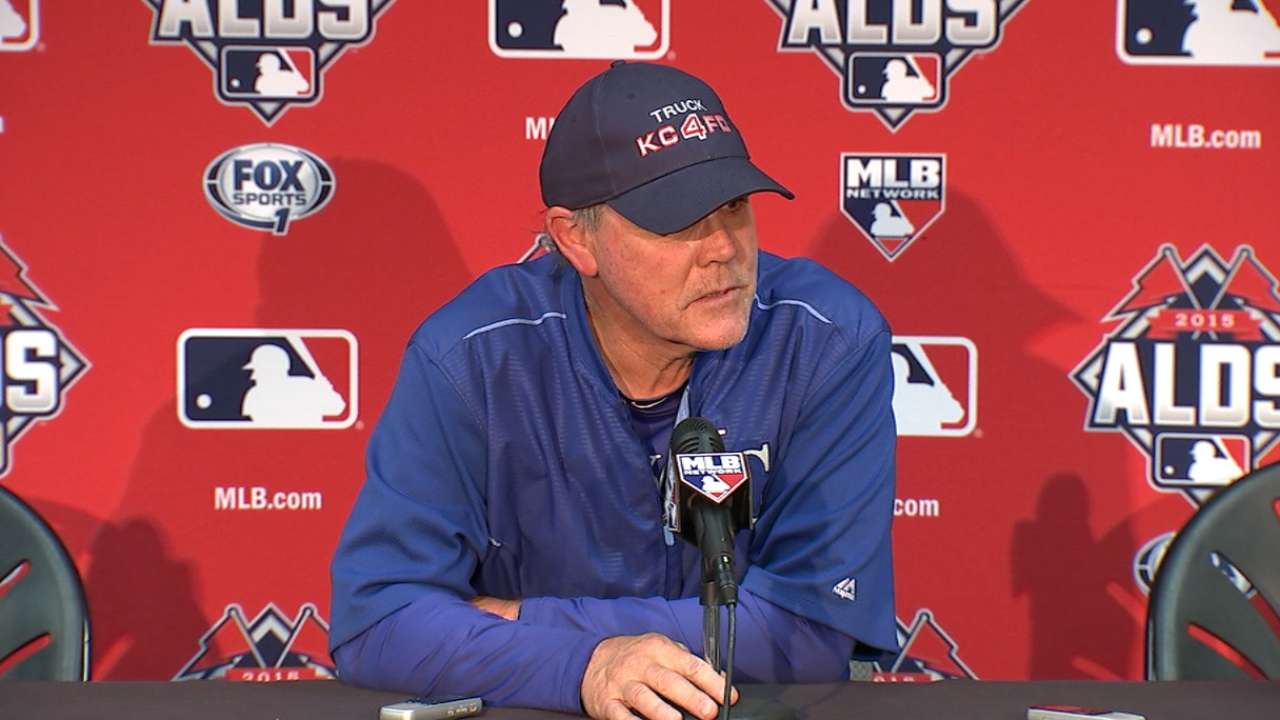 KANSAS CITY -- As one would expect, it's all hands on deck for the Royals and manager Ned Yost in Game 5 of the American League Division Series on Wednesday.
Yost will have everyone available to pitch if needed, even Yordano Ventura, who started Game 4 on Monday and threw 94 pitches in five innings.
• Shop for Royals postseason gear
"We'll have everybody down there," Yost said. "We'll have Ventura down there late in case we get into a bind, but pretty much everybody."
That may even include closer Wade Davis going three innings if necessary.
"I imagine he could," Yost said. "I'm not really planning on him throwing three innings, but I imagine he could.
"Again, you kind of start with your basic plan. If [starter] Johnny [Cueto] can come out, be aggressive, stay on the attack, get us through six, then you got [Ryan] Madson, you got [Kelvin] Herrera, you got Wade. You would like to use that scenario.
"But we can use Herrera for two, Madson for two, Wade for two, whatever we need to do. We have got Chris Young on five days' rest, we got [Kris] Medlen on 11 days' rest. We got Danny [Duffy] on two days' rest who can pitch if needed. So we have got a lot of different pieces down there that we could use."
Sleep, perchance to dream: Unlike on Sunday night, when he couldn't sleep after waking up at 1 a.m. prior to Game 4, Yost got plenty of sleep on Tuesday night.
"I slept great last night," Yost said. "I really did. Yeah, just relaxed. Felt good. Watched the ballgame, slept good."
Confidence is high: Yost has always felt confident about his team in a playoff game.
"I always feel good about this group," Yost said. "It's all about execution. If you go out and, especially in a game like this, if you capitalize on opportunities when you can and execute -- you have to execute pitches, you have to execute defensively, execute offensively -- we're going to be in great shape.
"These are both talented baseball teams. Both teams have seen these pitchers in the last week, so they have got an idea of what to expect. And I just think, when you go in and sense the confidence in that room, it's just a good feeling."
Jeffrey Flanagan is a reporter for MLB.com. Follow him on Twitter at @FlannyMLB. This story was not subject to the approval of Major League Baseball or its clubs.