Mets can feel safe if Game 5 needs closing
Familia has enjoyed breakout season in 2015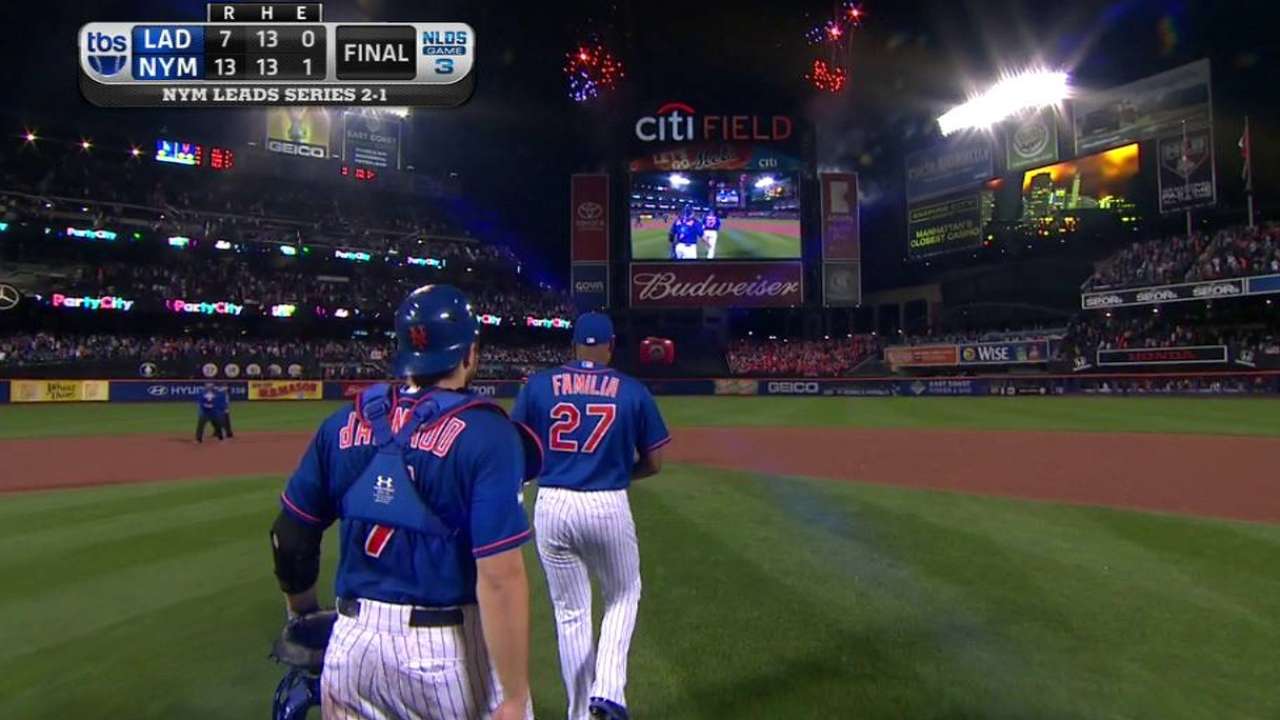 LOS ANGELES -- As loose and witty Mets manager Terry Collins addressed the media before his team lost Game 4 of the National League Division Series to the Dodgers on Tuesday night at Citi Field, he responded to a question about the added urgency he has shown throughout the postseason by saying, "I'm old. Sense of urgency is right now. I either get this done right now… I don't have a lot of shots."
If Collins' team is fortunate to have a lead after the seventh inning of Thursday night's decisive Game 5 of the NLDS (8 p.m. ET on TBS), there is a good chance he will react to the moment's urgency by confidently handing the ball to Jeurys Familia, the imposing right-hander who has skillfully and successfully served as the Mets' closer since the role was abruptly handed to him in early April.
• Shop for Mets postseason gear
"As long as you have confidence, it doesn't matter what type of game this is, you go in feeling good," Familia said.
The Mets have certainly been given reason to have confidence any time they have handed the ball to Familia, who produced a 1.85 ERA and limited opponents to a .207 batting while securing 43 of his 48 regular season save opportunities. During the NLDS, the 26-year-old reliever has retired each of the 10 Dodgers he has faced.
When the Dodgers cut their deficit to two runs with two outs in the eighth inning of Game 1, Familia trotted in from the bullpen and quickly notched four outs to record the first postseason save of his career. He successfully converted five of his seven multi-inning save opportunities during the regular season and in the process allowed three runs over 10 1/3 innings.
"I'm prepared for whatever situation comes up," Familia said. "Like last night, I'd be OK if that happened again if I needed to be in that situation. I just kind of put my mind on being prepared for whatever the team needs me to do."
Though there are some scouts and executives who have long considered him to be Mets' best option for the role, Familia did not gain the closer's role until April 11, when Jenrry Mejia was handed the first of the two performance-enhancing drug suspensions levied against him this season.
Familia produced a 1.22 ERA and converted 27 of the 30 save opportunities he garnered through July 25. He then blew two consecutive save opportunities -- one during a multi-inning appearance in a July 26 win over the Dodgers and the other the July 30 rain-delay loss to the Padres. But instead of being burdened by the resulting frustration, he proceeded to produce a 1.23 ERA while converting each of his final 16 save opportunities.
As Familia evaluates the success he has had thus far, he credited the guidance provided by veteran pitcher Bartolo Colon and bullpen coach Ricky Bones, who both compiled a vast understanding of the art of pitching during their long Major League careers.
"They always talk to me about the importance of being confident whenever I go out there to do my job," Familia said. "That's what I do right now. Every time I go out there, my confidence grows. I enjoy what I do."
Mark Bowman is a reporter for MLB.com. This story was not subject to the approval of Major League Baseball or its clubs.