MLB.com Columnist
Anthony Castrovince
5 keys for Mets to beat LA in Game 5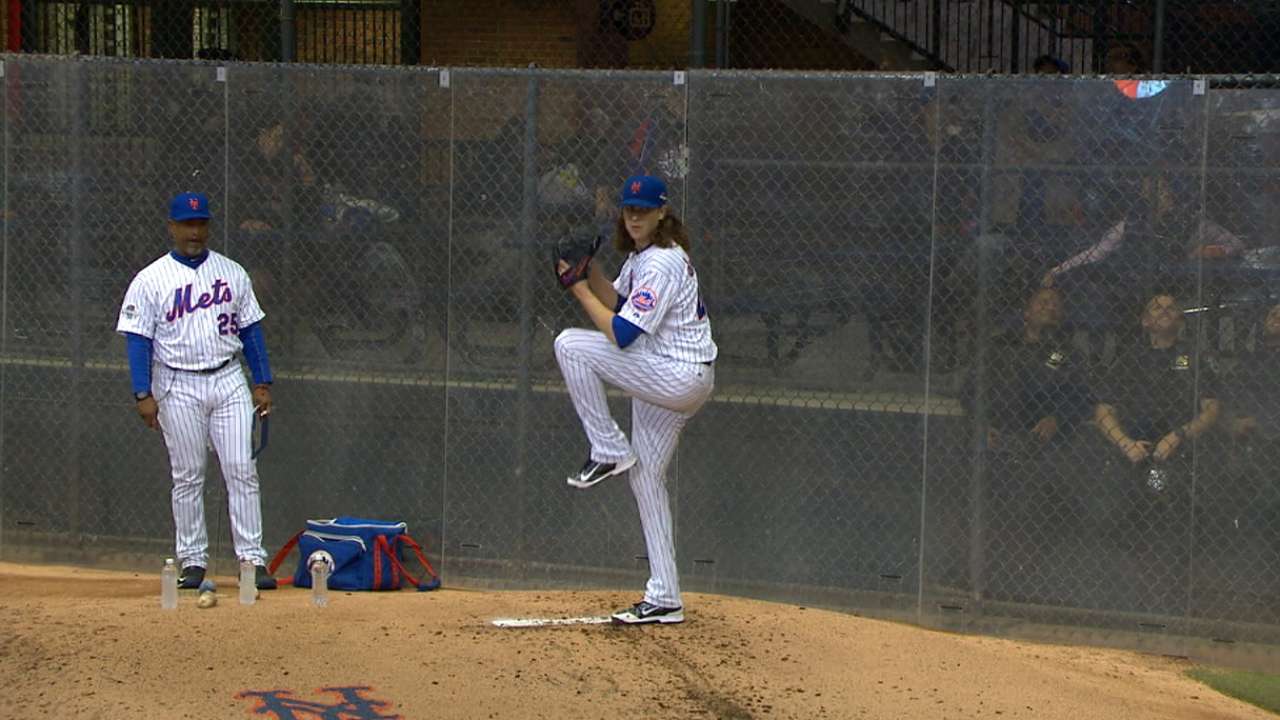 The Mets and Dodgers have pushed themselves -- and their traveling secretaries -- to the limit in this coast-to-coast, National League Division Series set, which has come down to a decisive Game 5. At 8 p.m. ET Thursday (TBS), we'll see which one of these division-winning clubs can win the right to counter the Cubbies in the NL Championship Series.
For the Mets to advance to their first NLCS since 2006, these are the five things that need to happen in Game 5.
1. deGrom bringing deHeat
Some Dodgers folks were saying they were surprised at the usage patterns they saw from Jacob deGrom and Noah Syndergaard in Games 1 and 2 in L.A. Both guys had effective outings (and deGrom was, in fact, sensational), but they strayed from the four-seamer more than we had seen in the regular season. Per Brooks Baseball, deGrom used his fastball 46.6 percent of the time this season but just 41.9 percent in Game 1. Syndergaard's fastball usage favored his four-seamer (38.0) over his two-seamer (23.7) by a decent margin, but in Game 2 the count was much closer -- 28.8 vs. 26.1.
Why is this relevant? Well, in the regular season, the Dodgers had a below-average batting average (.238, vs. the league average of .242) against pitches at least 95 mph -- and Syndergaard and deGrom are both capable of cranking it up that high. The hard-flinging Matt Harvey is also an option out of the 'pen.
Perhaps deGrom will take a page from Clayton Kershaw, who also shied away from the four-seamer a bit in Game 1, only to utilize it more frequently in a strong start in Game 4.
• Shop for Mets postseason gear
2. Take a time machine to December 2013 and don't non-tender Justin Turner
With the Cubs advancing and all this "Back to the Future II" talk in the air, I suppose I'm only half-kidding here.
But the gist of this one, clearly, is that the Mets need to contain Turner, whose offensive outburst in this best-of-five set has probably been as predictable as it's been damaging. Baseball tends to lend itself to the ol' revenge storyline, and that's especially true on this postseason stage. When the Mets let Turner go two years ago, there were reports of anonymous front-office frustration with Turner's lack of hustle. And in this series, he's hustling around the bases quite well, thanks.
Turner's two-run double was the difference-maker in Game 4, and he's 7-for-15 with four doubles and 11 total bases overall.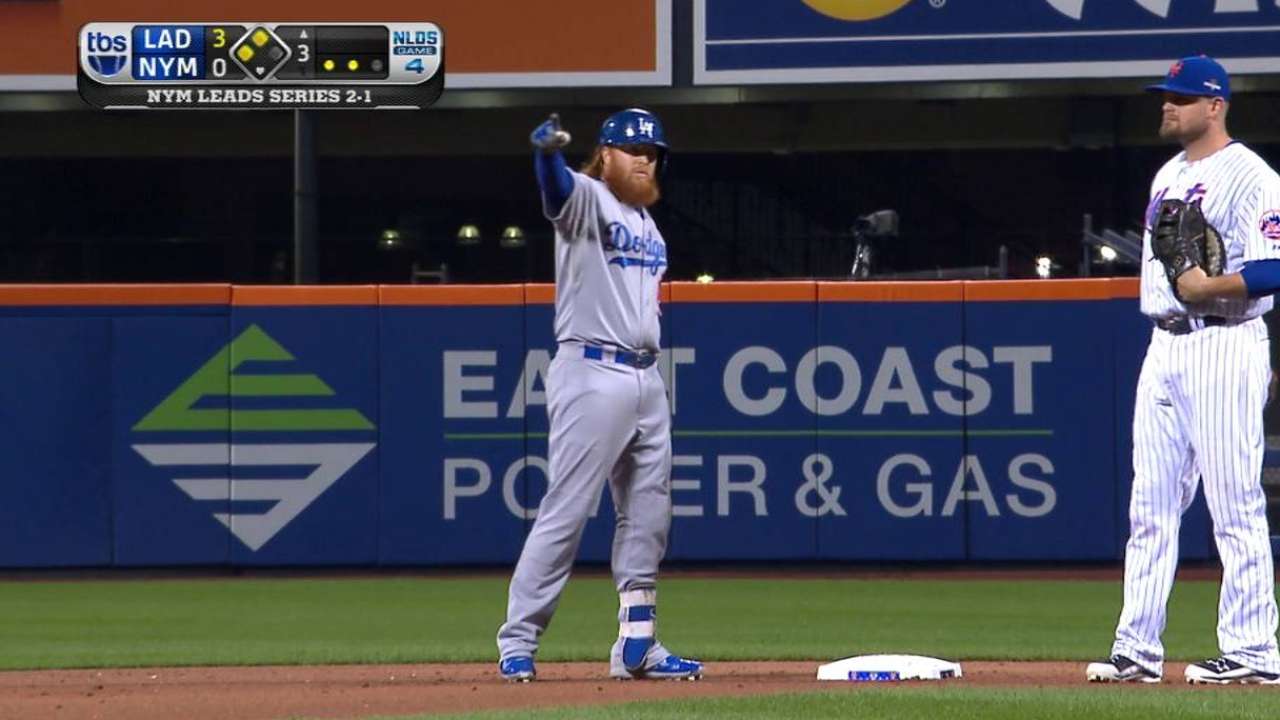 "He's changed his batting style a little bit, but he's a good baseball player," Mets manager Terry Collins said. "He always has been. He did a great job while he was here. We root for him. We all cheered for him. We like him. We like him in the clubhouse. Tremendous guy in the clubhouse. And he's a good player. When he was here, there wasn't a position that he played that we were concerned about."
Turner is 2-for-8 with a double in his career against deGrom -- and, yes, both of those hits came in Game 1.
• Turner's epic series continues in Game 4
3. A big day for Duda
Lucas Duda is in some kind of funk right now, and that can't continue. Duda's two flyouts to center field in his last two at-bats in Game 4 were the closest he's come all month (encompassing not just this series but the last four games of the regular season) to what is considered a hard-hit ball. Duda has struck out in 13 of his last 24 plate appearances.
This is a guy known to run hot and cold, and right now he's cold as can be. Duda was 3-for-12 with a homer and two doubles off Game 5 starter Zack Greinke before going 0-fer off him in Game 2.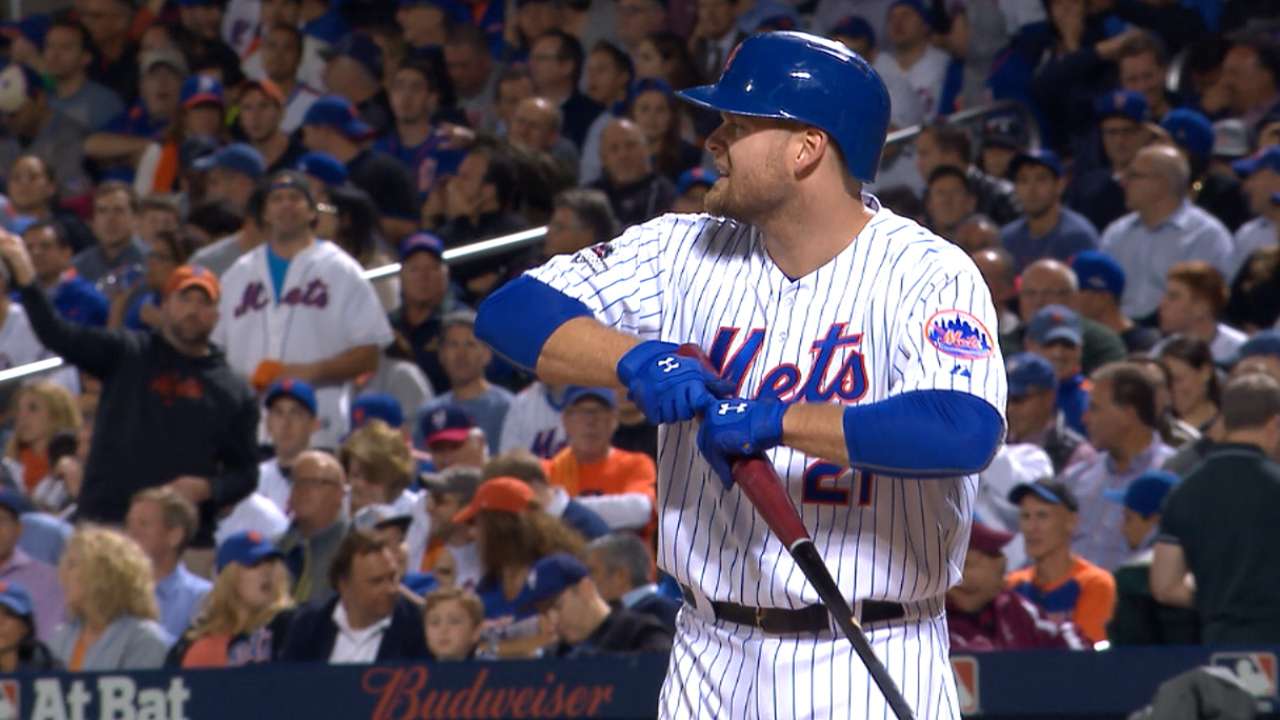 "There are times when [Duda] gets himself in situations where he thinks he's got to hit home runs instead of just getting some line drives and getting some base hits, and right now he's not getting good pitches to hit," Collins said. "And when he does, he might foul them off. I mean, the pitch he saw late in [Game 4] off of Clayton, he finally got a ball off the plate that he hit pretty good. But he's a piece of our lineup that we desperately need to produce runs for us, and right now he's struggling."
4. More Murphy
Prior to Game 4, I was talking to Mets hitting coach Kevin Long about the improvement of this Mets offense this season, beyond the obvious (acquiring Yoenis Cespedes). I asked him which player has made the most in-season strides, and he immediately pointed to Daniel Murphy.
"All I would hear [when first arriving to the Mets this year] is how he hits balls to left field, he hits balls to left field," Long said. "And he's driving balls all over. He's a threat every time he comes up. I think other teams are starting to realize that."
Sure enough, Murphy was responsible for the Mets' only run off Kershaw in Game 4 -- a fourth-inning shot to his pull side in right. That was his second homer off Kershaw this series. He was 1-for-3 off Greinke in Game 2.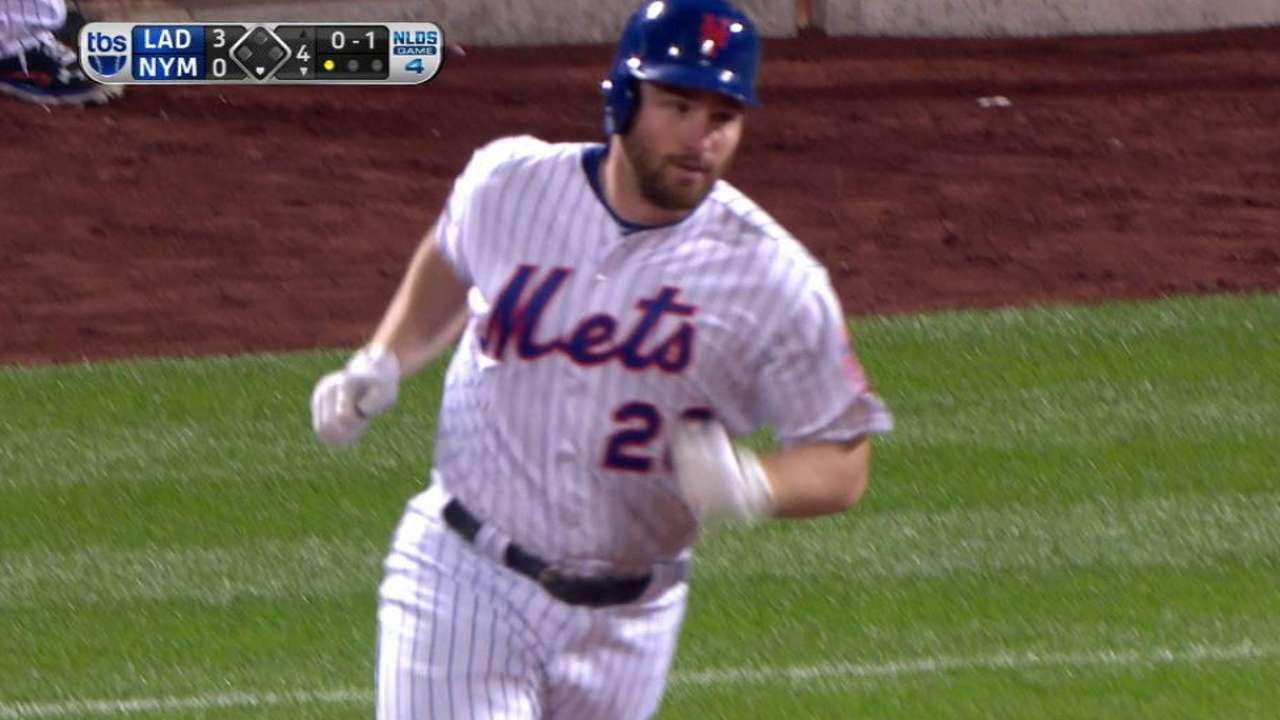 Murphy's days with the Mets are numbered. All signs point to the club letting him sign a multiyear deal elsewhere in his first free-agent foray, going with the more inexpensive options in Dilson Herrera and Wilmer Flores and allocating those dollars elsewhere. But even if the Mets aren't going to extend the 30-year-old Murphy after this 2015 run is over, the way he's swinging the bat right now gives him a good opportunity to extend this relationship deeper into October.
5. Get to the bullpen
This is actually a somewhat antiquated notion in baseball, at large, because bullpens are pretty bullish these days. But, obviously, if the choice is Greinke or the hodgepodge Dodgers skipper Don Mattingly has at his disposal in front of Kenley Jansen, the latter sounds a lot more appealing.
Greinke's had a great, potentially Cy Young-worthy season in which he's gone a minimum of six innings every time out. So don't count on the Mets to become the first team all year to limit him to a five and dive. But they did drive up his pitch count enough in Game 2 to get him out of there after seven, and his two regular-season outings against the Mets were also seven innings apiece.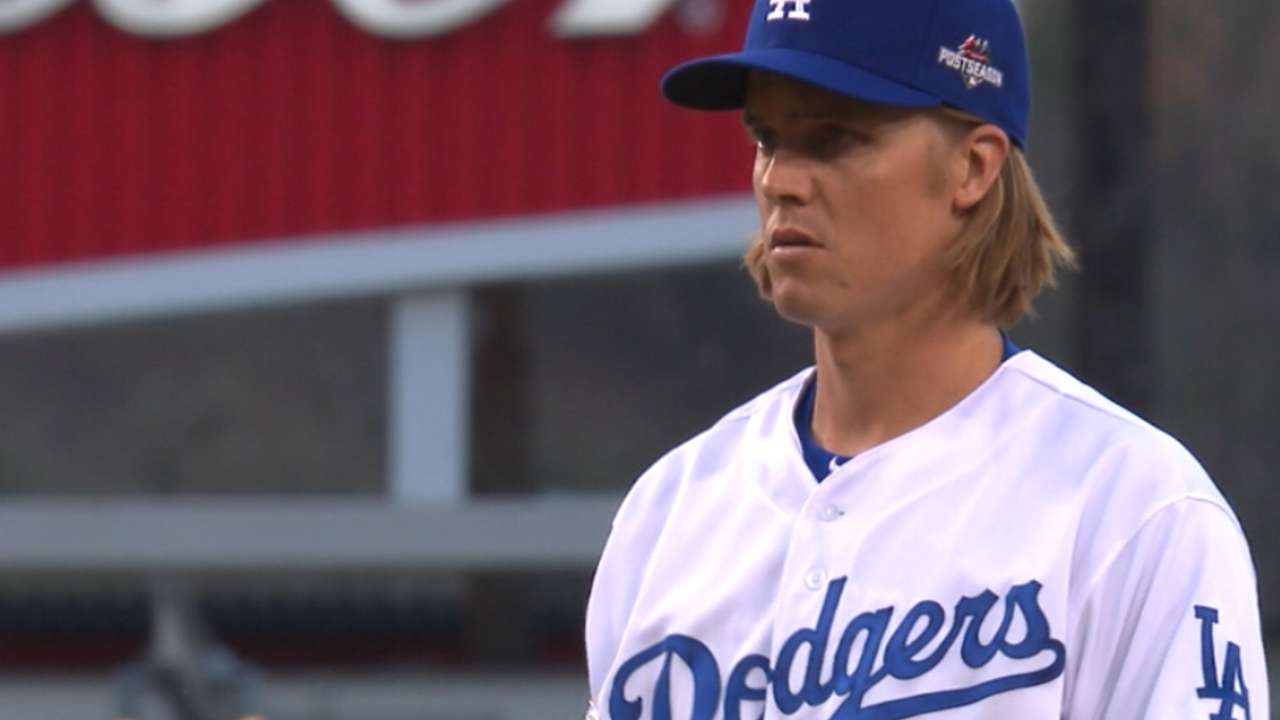 The caveat, of course, is Kershaw. Would the Dodgers use him in relief in this game in a setup situation? Elimination games are generally "all hands on deck," so don't rule it out. But we haven't seen the guy pitch out of the 'pen since way back in the 2009 postseason, so who knows what would happen there?
The bottom line for the Mets is making Greinke work and, hopefully, attacking the Dodgers where they're most vulnerable.
Anthony Castrovince is a reporter for MLB.com. Read his columns and follow him on Twitter at @Castrovince. This story was not subject to the approval of Major League Baseball or its clubs.